Last year Ilya Bryzgalov found himself in a pretty odd situation. Bryzgalov's career was on a sour path after being bought out by the Philadelphia Flyers at the end of the 2013 NHL season. He ended up signing with the Las Vegas Wranglers of the ECHL before being picked up by a struggling Edmonton Oilers team. Bryzgalov served his time there before the goaltending-cursed Minnesota Wild came calling for the 33 year-old veteran. The Wild needed some insurance as they headed to the playoffs with a few injured netminders. What happened next was eerily similar to what we've been seeing out of this year's Minnesota goaltending pickup. While Devan Dubnyk has impressed us all with his 26 wins in 36 games in Minnesota in 2015, Bryzgalov finished the Wild's season last year with an equally impressive 7-1-3 record to secure Minnesota's playoff spot. He also gave us one of the best moments of the year when he was egging the Winnipeg fans on with their mocking chants.
2014 Playoffs
The postseason didn't quite bring us Bryzgalov's best performance. After surrendering 5 goals to Colorado in a Game 1 loss, he was pulled in Game 2 after giving up 3 tallies on 14 shots. Darcy Kuemper took Bryzgalov's place and won 3 out of the next 4 games to set up a game 7 in Colorado.
Which was when the wackiest of things happened. Darcy Kuemper left Game 7 with 8:13 left in regulation. Minnesota fans were probably a little concerned seeing the struggling Bryzgalov enter the pivotal game in the 3rd period down a goal. But Bryzgalov didn't face a single shot in regulation and only had to turn aside 1 in overtime and Minnesota pulled the upset over the Avalanche.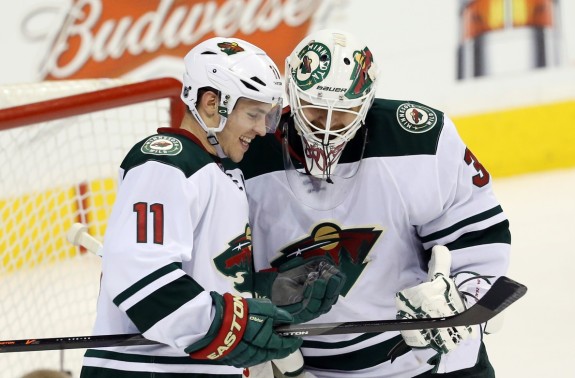 The second round against the Chicago Blackhawks gave us a couple of solid Bryzgalov performances but the Wild were a bit overmatched and ended up falling to the Hawks in 6 games.
What Ilya Bryzgalov's Done Since
After failing to crack the Wild roster during training camp, Bryzgalov ultimately signed mid-season with the Anaheim Ducks. His first start didn't go as planned, as he got shelled in a 6-2 loss to the Ottawa Senators on December 19th. Things continued to go south as Bryzgalov went 1-4-1 with an .847 SV% and a GAA north of 4. He was eventually placed on unconditional waivers and had his contract terminated and finally went home on February 27th. "It's not the way I had hoped things would work out," Bryzgalov said at the time. "But when you can return to a family you love, could life be any better?"
Now, one year removed from one of the craziest backup-goaltending situations in recent NHL history, how is Ilya Bryzgalov spending his time with the playoffs just around the bend?
Glad you asked.
OMG! I just scored 0 on Roasty Bird. Challenge me!#roastybird https://t.co/UU5g4PktzQ pic.twitter.com/enmmqa1uFx

— bryzgoalie30 (@bryzgoalie30) April 7, 2015
What you see is a tweet from Ilya Bryzgalov's verified Twitter account. This tweet, sent out Monday night, is his first tweet since May 9, 2013. He later posted his second attempt at Roasty Bird which showed a slight improvement.
Bryz's account used to be filled with mobile game scores like Doodle Jump results and Angry Birds Star Wars Edition attempts. It seems that now he's spending his time with Roasty Bird, the Flappy Bird knock-off.
Well whatever he's doing we all hope that Ilya is enjoying himself and we hope to see him back in the NHL one day. Because the NHL was always more interesting with him in it.
Joseph is a Jersey native and has been a hockey fan since he entered this world in 1995. He started his own hockey blog in high school and has been posting his thoughts on the game ever since. He has a really neat Twitter account.