The first-ever Isobel Cup Final game had a bit of everything — lead changes, power play goals, clutch saves and a thrilling end to a remarkably contested game. Thrilling of course, unless you are a member of the Buffalo Beauts that is. Tied 3-3 in overtime a Buffalo skater was penalized for covering the puck in the crease with her hand, giving the Boston Pride a penalty shot; with the player of their choice.
Boston chose Hilary Knight (shocker) as it was Knight who tied the game late in the third period after Buffalo had roared back from being down 0-2 with three consecutive goals. Knight, who was the league leader across the board in most, if not all statistical categories, beat her former Olympic teammate Brianne McLaughlin with a crafty move — briefly faking to her backhand before scoring on her forehand.
A Cup Final game. That ended on a penalty shot. In overtime. When's the last time you saw that happen? Not to mention it was two of the league's highest profile players going one-on-one. It was a great showcase for the NWHL in so many ways, on and off the ice as the crowd was large and loud, and witnesses to history.
"We just have to forget about this one. We had our moment to be frustrated in the locker room and build each other back up," McLaughlin said when asked about losing in such a tough way on a big stage. The Beauts have been here before though. Their backs to the wall; again. They were the last of the four NWHL teams to win a regular season game and they rebounded from that to have a strong second half of the season.
It was just last week when they dropped the opening game of their semifinal series against the Connecticut Whale. They won the next two games on consecutive nights. "We did this last weekend," said McLaughlin during her post game presser. "We know we can do it."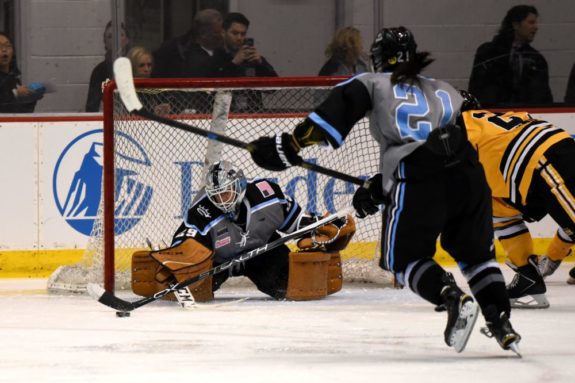 "Tomorrow, we just have to bring the same energy we had today," Buffalo's Kelley Steadman would say following the 4-3 loss. "Keep capitalizing on our opportunities. We can't worry about what they're doing. We just have to play our game."
How can they do it again though? How can they rally in Game 2, save their season and set up a winner-take all scenario on March 13? For starters, they have to erase the memory of how Game 1 ended, they need to get that bad taste out of their mouths. Following the game while addressing the media, captain Emily Pfalzer — who had a phenomenal game — admitted, "We're frustrated but we can't control it. We are going to come out fighting tomorrow. We've got a chip on our shoulders."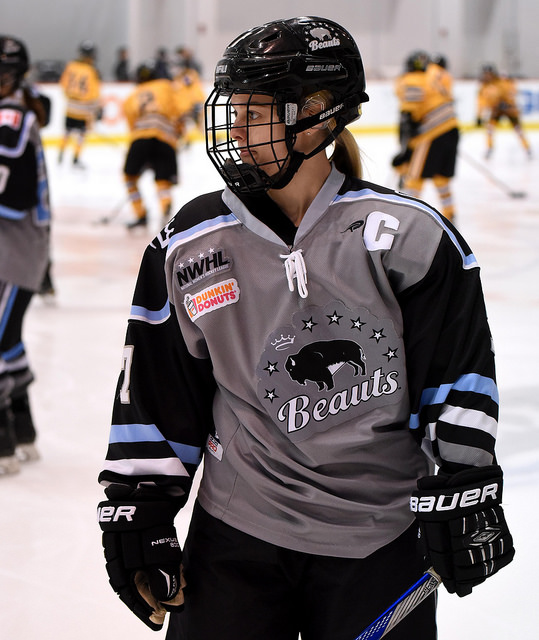 "She (the referee) said that she (Hailey Browne) dropped on the puck. I don't know. It's done and over with so. We just have to forget about it," Pfalzer said when asked about the somewhat controversial call that led to the penalty shot in overtime. The Buffalo captain was all over the ice in Game 1 and if not for Knight's late game heroics, she surely would have been the game's no. 1 star with a goal and two assists. Another effort like that would go a long way in pushing the Beauts towards a Game 2 victory.
In Game 2 their lineup will likely be boosted by the return of Meghan Duggan who was not in the lineup for Game 1 (personal reasons). Duggan is an all-world player, and although the Beauts went blow-for-blow with the Pride in Game 1, how different would the game had been with her presence on the ice and on the bench? She missed Games 1 & 2 last weekend and her return in Game 3 was one of the difference-makers in Buffalo's elimination of the higher-seeded Whale. "She brings fresh legs tomorrow," Steadman said with a smile, "which is awesome. Fresh Duggan."
Enjoy the show Beauts fans! @mduggan10 with a preview of what's to come! pic.twitter.com/LGJiX2EFw0

— Buffalo Beauts (@BuffaloBeauts) February 28, 2016
McLaughlin has been locked in the last two weekends and there's no reason to expect that she won't be again in Game 2. She and her teammates know the do-or-die scenario they find themselves in now and big time players show up in big time games. "They're great players, we just have to take away their space," said Pfalzer about trying to slow down Boston's top players, like Knight in Game 2. "Great players use their space and take advantage of that so we need to get rid of that."
"We were communicating pretty well and everybody was helping me out with the rebounds, she save my butt a couple of times," McLaughlin (30 saves) said of Pfalzer.
"We had a slow start (this season), it took us a while to figure out who the Beauts were going to be, what kind of team are we going to be," said McLaughlin in reference to a question if Buffalo was underrated as a team. "Once we figured that out, we could hang with anybody. We work so hard, that's probably one of the biggest compliments we get after games; we never stop. We're hard to play against, we don't give them room and that's kind of what we pride ourselves on."
.@BrianneMcL is excited and ready to go! Are you? pic.twitter.com/d4oy9CUCCu

— Buffalo Beauts (@BuffaloBeauts) March 12, 2016
After watching the Beauts battle back from a 2-0 deficit against the league's top team and possibly put the fear of you-know-what in them, no one should count out this Buffalo team. There were times where they didn't seem to have much going on and that the Pride would run away with the game. But McLaughlin made key saves at key times and their leaders stepped up and made a huge impact on the game. Expect more of the same in Game 2 from Buffalo.
"We may have lost tonight, but I still think we have them right where we want them," Steadman confidently said after the game. "We said that last weekend too, after losing the first game."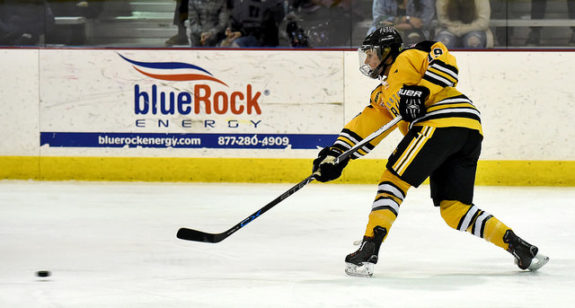 Game Notes: Boston's Blake Bolden scored the first goal ever in an Isobel Cup Final 1:28 into the second period. Pfalzer was the only player on Buffalo with a multipoint game (1g-2a). Knight led all players with ten shots on goal, while Steadman led the Beauts with six. Gigi Marvin (1g-1a) and Knight (2g) had multipoint efforts for the Pride. Shelby Bram scored Buffalo's first goal of the game and also picked up her first penalty of the entire season (19 games) in the opening period. Full scoresheet here.
Related: 3 Reasons the Buffalo Beauts Could Win the Isobel Cup
Dan Rice can be reached via Twitter: @DRdiabloTHW or via Email: drdiablo321@yahoo.com. 
Can't get enough hockey? Want to talk about it with our writers, and fellow fans? Join The Hockey Writers Group on Facebook today for the best hockey conversations on the web!