Life can be full of ironies, as Buffalo Sabres winger Patrick Kaleta found out the hard way on Wednesday night. Kaleta was on the receiving end of a dangerous hit during the second period of the Sabres 2-1 loss against the Winnipeg Jets.
Controversial Hit by Adam Lowry
The hit – which was late and from behind – was registered by Jets rookie Adam Lowry. Here it is again for anyone who missed it:
Unsurprisingly, Lowry had a hearing with the NHL earlier today. The result was that the winger was suspended for one game.
Winnipeg forward Adam Lowry has been suspended 1 game for boarding Buffalo forward Patrick Kaleta.

— NHL Player Safety (@NHLPlayerSafety) November 27, 2014
Full Circle After 13 Months
In many respects, this could be viewed as Kaltea coming full circle. The last time he played in Buffalo 13 months ago, he was ejected for boarding Columbus Blue Jackets defenceman Jack Johnson.
Ironically, the incident didn't look too bad at the time, although that doesn't change the fact it was an illegal hit by Kaleta. No doubt the 28-year old's past reputation played a part, as he was subsequently suspended for 10 games.
Welcomed Back By the Buffalo Sabres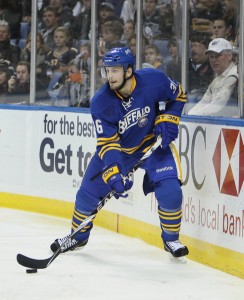 What followed was a well-publicized dispute with the NHL. Gary Bettman even allegedly pressured then-Sabres GM Darcy Reiger to expel Kaleta from the league.
The Sabres placed Kaleta on waivers after being unable to find a trade partner, and he was eventually assigned to the Rochester Americans. However, after recovering from an ACL injury, he was welcomed back into the Sabres locker room by head coach Ted Nolan.
The incident with Lowry is unlikely to bother Kaleta too much, having already dealt with a slapshot to the face from Toronto Maple Leafs defenceman Morgan Reilly during the preseason. The 2004 sixth round draft pick had to have his face reconstructed, which included needing three plates and 14 screws.
'Armed' with a journalism degree, I have covered numerous NFL, MLB, NHL, MLS, CFL & NLL events for the BBC, TO Sports & Blue Toro, while being fortunate enough to interview various sporting personalities, including Rogers Goodell. Throughout it all, the one message I have for anyone in this industry is to never take it for granted.