Following a first-round exit from the Calder Cup playoffs last season, the Rochester Americans are off to a hot start in 2018-19. With a healthy mix of rookie talent and returning veterans, they currently sit atop the North Division with a record of 8-3-1.
While their place in the standings is impressive, the most encouraging thing about the Amerks is the immediate success of their younger prospects, all of whom figure into the Sabres' long-term plans. As depth scoring and consistency on the blue line continue to be areas of concern in Buffalo, fans are eager to see a few of the young guns get their shot with the big club.
Pilut Flying High
As one of the two rookie Swedes who has taken Rochester by storm, Lawrence Pilut is emerging as one of the top defensive prospects in the organization. After being recognized as the SHL's "Most Outstanding Defenseman" last season, the Sabres signed the 22-year-old to a two-year, entry-level deal this past summer. As a member of HV71, he posted an impressive 38 points in 52 games in 2017-18, the highest total among SHL defensemen.
Much to the delight of the Sabres' fan base, Pilut has picked up right where he left off, taking almost no time to adjust to North American ice. With 15 points in 10 games with the Amerks this season, he's currently tied for fourth in the AHL in that category.
The high-flying @AmerksHockey
have three of the top six scorers in the AHL on their team:

1. Victor Olofsson (12 points)
2.(T) Lawrence Pilut (10 points)
4.(T) Zach Redmond (9 points) pic.twitter.com/jx86UZx9Wt

— American Hockey League (@TheAHL) October 19, 2018
Not only has he produced offensively, but his play in the defensive zone resembles a level of competence and poise beyond his years. His outlet passes have been a revelation and he's the exact type of defender the Sabres need moving forward to help execute Phil Housley's system. As the Sabres continue to be inconsistent in that area, it's only a matter of time before Jason Botterill gives him a chance to show what he can do in the big league.
Veterans like Marco Scandella continue to struggle early in the season, so Pilut's time in Rochester may be short-lived. Botterill is notoriously patient with developing prospects, but at some point, he'll have to make a move. As crazy as it sounds given his rookie status, Pilut might already be one of the top-four defensemen in the entire organization.
The Swedish Sniper
The second rookie Swede making waves at Blue Cross Arena is 2014 seventh-round pick, Victor Olofsson. Last season with Forlunda of the SHL, he led the league in goals with 27 on the season. As another player whom fans expected to experience growing pains as he transitioned to the AHL, the 23-year-old has been sensational, posting 16 points in 12 games so far, which ties him with fellow Amerk, Zach Redmond for second in the league thus far.
From a secondary scoring standpoint, the Sabres have had a rough go of it so far this season. With over 50-percent of their even-strength goals coming from the top line of Jack Eichel, Jeff Skinner, and Jason Pominville, the rest of the team's forwards have struggled to consistently produce offense. If that continues to be the case, the man playfully dubbed by fans as "The Swedish Sniper" might be a viable option to help add an infusion of goal-scoring talent in the top-nine.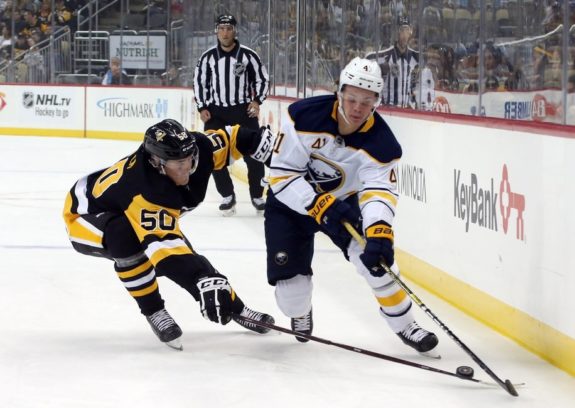 Realistically, barring a rash of injuries, Botterill will look to keep Olofsson in the AHL for a majority of the season. Though he has had no trouble appearing on the scoresheet, there are still defensive flaws in his game that he'll need to shore up at the AHL level. Either way, fans should be encouraged by his hot start.
Another young Swedish standout who the Sabre faithful have been eager to see is Alex Nylander. Last season, fans started to utter the "B-word" as the former eighth-overall pick continued to struggle (which could be attributed to a lower-body injury that he suffered during camp last season), but after a strong preseason performance in Buffalo this summer, their tune has changed in a big way.
Despite his encouraging start to the year, it may be wise to leave him in Rochester for now. With nine points in 12 games so far, he's clearly improved but still has some developing to do. Similar to Olofsson, he continues to exhibit some shortcomings defensively.
Elder Statesmen
We can't let the kids have all of the fun, can we? On top of the aforementioned stellar rookie campaigns taking place in Rochester, there are a couple of veteran prospects who are also making strong cases for a call-up.
It's no secret that Tage Thompson isn't off to a great start with the Sabres this season. With just one assist in nine games, he's been a healthy scratch five times. At just 20 years old, the decision to keep him in the press box is curious, especially considering the fact that he wouldn't have to pass through waivers if the team wanted to reassign him.
If he continues to struggle in limited action, it might be a wise choice to send him down to build confidence and replace him with a player who can help catalyze offensive production in the bottom-six. That's where C.J. Smith and Daniel O'Regan come in. As steady producers for the Amerks this season, one of these two could be Botterill's first selection, especially if he's dead-set on letting players like Olofsson and Nylander focus on honing their craft in the AHL for as long as possible.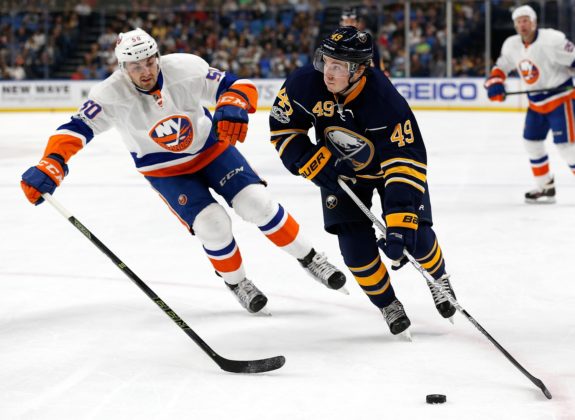 Smith was one of the Amerks' top forwards last season, posting 44 points in 57 games. With nine points in the team's first 12 games this season, he's off to a nearly identical scoring pace, proving at the very least, that he's consistent. The same cannot be said for a majority of the forwards currently on the Sabres' roster.
O'Regan is also off to a decent start with eight points. In particular, the Sabres have had issues with depth at the center position. This gives O'Regan somewhat of an advantage in terms of a potential call-up. If current third line center, Vladimir Sobotka (who has 2 points in 12 games thus far) continues to be ineffective, O'Regan could be viewed as a viable option to replace him and provide a spark between Patrik Berglund and Kyle Okposo.
Both Smith and O'Regan are on one-year deals and are slated to become restricted free agents this summer. In what could certainly be their last chance to stick with the organization long-term, both of them will have added incentive to succeed, should they get an opportunity with the big club this season.