Heading into the World Junior Hockey Championship, Samson "Sam" Reinhart was expected to be one of the players crucial to the success of Team Canada, and he certainly delivered. He was a key contributor to a Team Canada campaign that concluded with the country capturing the gold medal after a 5-4 victory over Russia, Monday night.
A Complete Game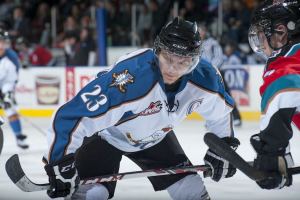 Having played in the previous World Juniors tournament, Reinhart's experience was apparent. In spite of playing in front of a hometown Canadian crowd oozing with expectations, the forward remained unwavered and poised, providing locker room leadership.
"The character in the room prevailed. The depth and character," said Reinhart after the gold medal game. "We didn't panic or tried not to panic throughout the game and stayed with it in the third period."
Team Canada head coach Benoit Groulx trusted Reinhart in crucial situations, including the penalty kill and defending the lead to close out games. He excelled in all facets of the game and was clearly one of the tournament's best players. Reinhart's hockey IQ and playmaking ability was on full display in Canada.
Samson was Canada's most versatile most consistent player in this tournament. He won t faceoffs it critical times he scored game winners

— SabresBuzz (@SabresBuzz) January 6, 2015
On his way to earning a spot on the all-tournament team, Reinhart tallied five goals, six assists and had a plus-13 rating, including the eventual game-winning goal in the gold medal game.
Perhaps Reinhart can parlay his World Junior triumphs into NHL success the following season, just as his Sabres teammate Rasmus Ristolainen has done after capturing gold for Finland a year ago.
Other World Junior Sabres
Overall, it was a good tournament for participating Sabres prospects. Among them were Americans J.T. Compher and Hudson Fasching, despite USA's disappointing quarterfinals exit. Particularly, Fasching turned in a stellar tournament.
in the end, it was a very good tourney for Hudson Fasching. I liked Compher for what he brought, but lots of people know who Fasching is now

— Kris Baker (@SabresProspects) January 2, 2015
Fasching along with Dylan Larkin and Sonny Milano formed Team USA's most productive line of the tournament. Both Fasching and Larking (along with defenseman Will Butcher) were named Team USA's three best players.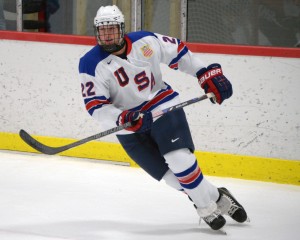 Fasching used his size and skill to outmatch his opponents and play a solid two-way game. He's able to create space and opportunities for his teammates by going to the dirty areas and winning battles along the boards. The Minnesota University forward had a goal and two assists to go along with his plus-7 rating.
Compher didn't record any points, but proved to be a strong presence in the lineup, specifically in the defensive end. Rounding out the Sabres World Juniors participants was Victor Olofsson who recorded three goals for Team Sweden.
The 2015 World Junior Championship is the latest event to suggest that the Buffalo Sabres have a very bright future in spite of the organization's current struggles.
As an American based in Amsterdam, Joe provides a unique hockey insight, bringing a global perspective to the game. Joe has several years of experience covering the game on both a domestic and international level, including being credentialed for multiple World and World Junior Championships.