If Nazem Kadri is known in Toronto as "The Dream" then Tampa Bay Lightning 2nd year center Tyler Johnson is "The American Dream". Johnson was a Calder Trophy Finalist his rookie year in the NHL and was an ironman. While appearing in all 82 games, Johnson scored 24 goals, added 26 assists, 50 points, and was a +23.
He also showed his hockey smarts by only having 26 penalty minutes. He contributed on special teams and finished with 5 power play goals as well as 5 shorthanded goals. In other words he was a key contributor on a playoff team without their superstar (Steven Stamkos) all season, in a league he was essentially told he was too small (5'9, 180) to play in.
Tyler Johnson was not drafted into the NHL despite a stellar career in the WHL for the Spokane Chiefs. This season has been an even better one for Tyler Johnson. "The American Dream" currently leads all Americans in scoring this season and is tied for 4th in the NHL in points with Evgeni Malkin, Sidney Crosby, and Claude Giroux. Not bad company for the 2nd year pro.
#tblightning @tjohnny09 is tied for 4th in the NHL in points (43) with Evgeni Malkin. When All-Star team announced Sat, will he be rewarded?

— Joe Smith (@JoeSmithTB) January 5, 2015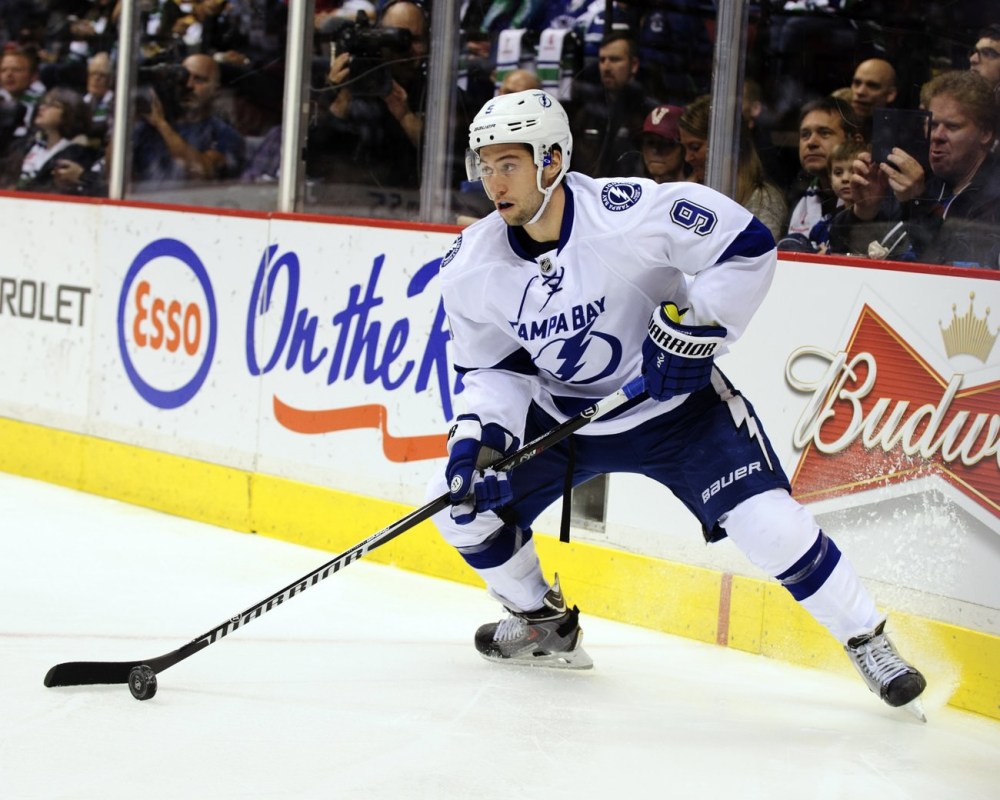 Tyler Johnson Excelled in the Western Hockey League
Tyler Johnson played for his hometown Spokane Chiefs in the WHL for 4 seasons. Tyler Johnson was born and raised in Spokane, Washington and played his junior hockey in his hometown where he made an impact on the ice and in the community.
From the 07-08 season through 2010-2011 Tyler Johnson improved his point total each year. He went from a mediocre 35 pts, to 61 pts, to 71 pts, and then to 115 pts his final year of junior hockey. It's clear why he was the favorite player of so many kids, and it is because he is a fun player to watch and is very humble and encouraging to others off the ice.
Good luck to everyone at the @NHL draft. Remember though everyone has a different path! Your futures up to you. Not what round your taken!

— Tyler Johnson (@tjohnny09) June 27, 2014
Tyler Johnson finished his final season of Junior Hockey with  53 goals and 62 assists in 71 games. Following his 2011 season Johnson, undrafted, realized his dream when he signed a 3-year contract with the Tampa Bay Lightning.
All He Does is Win, Win, Win, No Matter What
Tyler Johnson is a winner and has won at every level. It is all he knows. In 2008 his WHL team, Spokane Chiefs, won the WHL championship as well as the Memorial Cup as the best junior team in all of Canada.
It was 17-year-old rookie Tyler Johnson that was named the most valuable player of the WHL playoffs.
Tyler Johnson represented the United States at the World Junior Championships in 2009 and 2010. In 2009 he only registered 1 goal in his 6 games as the United States finished 4th in the tournament and Canada captured the gold medal.
The following year was a completely different story. Tyler Johnson was excellent at the tournament while playing with a stacked Team USA squad in 2010. Johnson scored 3 goals, 2 assists, and 5 points in 7 games and Team USA captured their 2nd World Juniors gold medal (at the time) in history.
Johnson played two full seasons in the American Hockey League and again carried his winning pedigree to the club. In 2011-2012 the Norfolk Admirals won the Calder Cup as the champions of the AHL.
In Tyler Johnson's first year as a professional playing in the AHL he scored 31 goals, 37 assists, and 68 points in 75 games. The following season the team became the Syracuse Crunch and Johnson averaged over a point per game with 65 pts in 62 games.
His play as a hardworking two-way forward translated into the AHL and in his two seasons he finished a combined +43 in the regular season.
Tyler Johnson The Hockey Player
Tyler Johnson is a fast two-way center with incredible speed and work ethic. His skating, ability to make plays, high hockey IQ, and extremely high compete level is what makes him and outstanding hockey player. He is the center on arguably the best line in hockey at the moment.
The 'Triplets Line' features Tyler Johnson centering Ondrej Palat and Nikita Kucherov. What makes the line unique is the unreal chemistry the trio has on the ice together. For Palat and Johnson it is natural because the pair has played together for almost 4 seasons now.
Palat and Johnson played in the AHL together and shared the same rookie year in 2013-2014. Palat was also a Calder Trophy Finalist. "The American Dream" is always looking to improve his game, and after the Lightning's unfortunate first round defeat last season to the Montreal Canadiens, Johnson went to play for Team USA at the World Championships and scored 7 points in 7 games.
Tyler Johnson is going to continue to lead on and off the ice at the NHL level and look to add that last trophy to his hardware, a Stanley Cup.