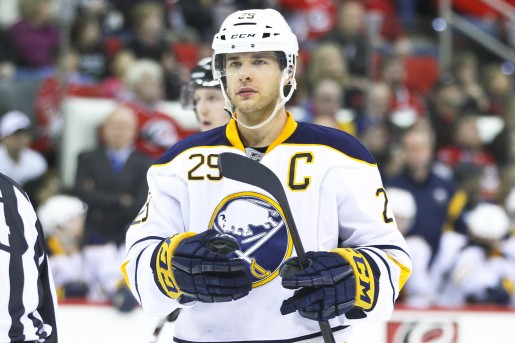 The NHL trade deadline has come and gone, and the Buffalo Sabres were open for business. The Sabres made three major moves, one on deadline day and two leading up to it. By sending out Jordan Leopold, Robyn Regehr and captain Jason Pominville, the team is moving in a new direction. They acquired a slew of draft picks and a pair of prospects in order to improve the franchise.
Jordan Leopold
The first major player that was dealt was Leopold on March 30 to the St. Louis Blues for a second round draft pick in 2013 and a conditional fifth round draft pick also in 2013. The conditional pick could become a fourth rounder, if the Blues advance past the first round of the playoffs.
The Sabres get a pretty good haul here considering that Leopold only played in 24 games with the team registering two goals, six assists, for eight points, 14 penalty minutes and a +/- rating of -6.
Leopold traditionally has been an offensive defenseman but at 32, it appears as though age was catching up to him. Leopold is set to become an unrestricted free agent this summer. He was in the final year of his contract that paid him $3-million per season. With his age, the deal is very good for the Sabres because, with the defensive prospects in the system, there was no guarantee they would resign Leopold and so they got something rather than letting him go for nothing.
As for the picks, a second rounder in a deep draft helps give the Sabres options. The Blues are on the bubble, sitting in eighth in the Western Conference Standings as of April 7. So if the Blues don't make it at least the pick is higher and if they do, well the Sabres will hope for an upset by St. Louis in the first round to get more from that conditional pick.
Robyn Regehr
If the Sabres thought they did well for Leopold, then they must have thought they won the lottery when they traded Regehr to the Los Angeles Kings on April 1 for second round picks in 2014 and 2015. Regehr had a terrible season in Buffalo registering just three assists, 21 penalty minutes and a -1 rating in 31 games.  Buffalo acquired Regehr in 2011 when the Calgary Flames needed to clear cap space and Regehr's $4.02-million contract was targeted. He was sent to Buffalo with Ales Kotalik and a second round pick for Paul Byron and Chris Butler. Regehr was never the player in Buffalo that he was in Calgary. In 2011-12, he managed only five points and a -12 rating.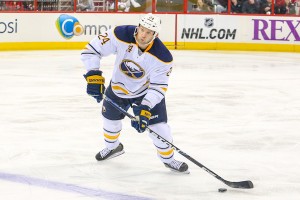 The fact that the Sabres were able to get two second round picks for Regehr is another positive. They may not be in this year's draft, but the organization was probably willing to settle for less. Much like Leopold, Regehr is 32-years-old and will be an unrestricted free agent this summer. Once again, getting something rather than losing, or letting him go for nothing, means the Sabres turned a diminishing asset into more valuable future assets.
Jason Pominville
On trade deadline day, April 3, the Sabres made one move but it was one of the biggest of the day sending their captain, Pominville, and a fourth round pick in 2014 to the Minnesota Wild for goaltender Matt Hackett, forward Johan Larsson, a first round pick in 2013 and a second round pick in 2014.
Unlike the two blue liners that were shipped out of town, Pominville was having an offensively productive season.  Pominville had 10 goals, 15 assists, 25 points, eight penalty minutes, a power-play goal, short-handed goal and game-winning goal.
While in no way is the Sabres lack of success this season on Pominville, fans were demanding that someone take the fall and it just happened to be him.  At 29-years-old, Pominville is still in his prime making the return much greater than the older players. He also has a year to go on his contract at $4.5-million so he is not a rental.
General manager Darcy Regier did a good job with this move too, especially acquiring the first round pick. The second rounder is a bit of icing on the cake, but let's have a look at the prospects that are heading Buffalo's way.
Matt Hackett
Hackett, 23-years-old, has played in 43 games for the Houston Aeros this season registering 19 wins, a goals against average of 2.66 and a save percentage of .907. Hockey's Future says that Hackett uses his size (6'2, 170lbs) to his advantage and has solid positioning. They are quick to note, that he does have a long way to go.  If anyone is thinking that Hackett is the replacement for Ryan Miller, it isn't happening in the near future, but it does give the organization depth and options at the position.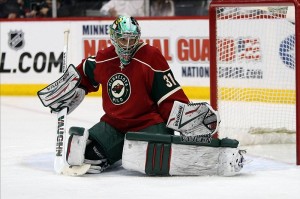 As for Larsson, he is just 20-years-old. In his first season in North America, the Swede had 15 goals, 22 assists for 37 points in 62 games with the Aeros.
Larsson has found success internationally; he won the Swedish Elite League Championship with Brynas in 2011-12 and won gold with Sweden at the 2012.
Hockey's Future describes Larsson as a hard-working, two-way player with an eye for the game.
It appears that Larsson may end up being the key to this deal, along with the picks but the Sabres scouting staff will have to make the right decisions.
Overall the Sabres made the best of a bad situation. They managed to get good returns for the players they moved out and have gained cap flexibly especially with the roll back that will come next season.
In addition, the Sabres shipped the players out to the Western Conference so they won't even have to see then come back and burn them, at least this season.
The attention now turns to the offseason. What will the Sabres do with their picks? Will they use them to make acquisitions or rebuild through the draft? Either way, the pressure is now on Regier, director of amateur scouting Kevin Devine, and director of pro scouting Jon Christiano.