Who would've guessed that coming into this COVID-shortened season that rookies would be stealing the show all across the league. Already freshmen players in a number of markets are making a name for themselves with some key role-playing for their respective teams. So much so that it could be a fun race to the Calder Trophy in 2020-21.
Coming into the season, many would've guess that top pick Alexis Lafrenière would've been a frontrunner for the top rookie award. That said, 13 games into his debut season and the 19-year-old has one goal – albeit a beauty – and a minus-five rating for the New York Rangers.
But the race, thus far, is much different than many would've thought. Instead, it's made up a member of the Minnesota Wild, one with the Washington Capitals and a trio of Chicago Blackhawks.
With that, here's a look at some of the top rookies so far vying for the NHL's 2020-21 Calder Trophy.
Kirill Kaprizov, Minnesota Wild
The Wild waited a long time to get him over to North America, but at 23, Kirill Kaprizov has had quite the start to his rookie campaign. He's one of the older players in the pack, but the 135th overall pick from 2015 is still making a case for the Calder Trophy with four goals and 13 points in 15 games for the Wild – including an overtime winner.
Kaprizov leads the Wild in points this season and took the fewest games amongst rookies in franchise history to reach the 10-point mark – bettering Rickard Wallin (18 games played), Marian Gaborik (18 games played) and Mikko Koivu (19 games played).
While his 15 games are just a brief glimpse into what he's going to bring to the Wild lineup, his ability to open up the game in the offensive end is a prime example as to why the team waited patiently to get him to come play in Minnesota.
2020-21 Stats: 15 GP | 4 G | 9 A | 13 PTS | 1 PPP | 1 GWG | 1 OTG
Vitek Vanecek, Washington Capitals
He was the NHL's Rookie of the Month in January and at 25, Vitek Vanecek has seemingly come out of nowhere to take on the starting role in Washington. The Capitals' rookie forced the arm of the team, so much so that Craig Anderson has been backing him up and Ilya Samsonov has taken a back seat to the ride that is the 2020-21 NHL season.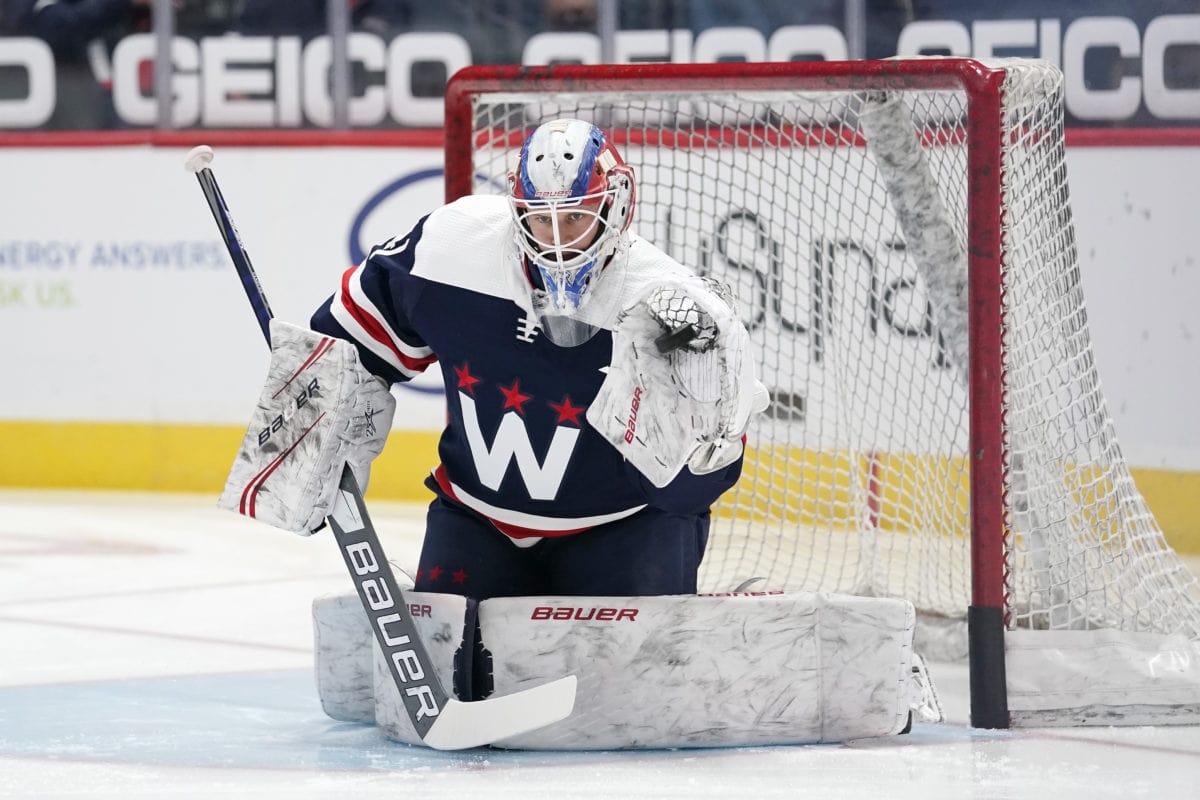 Vanecek has started 15 games for the Capitals this season with a 7-4-3 record along with a 2.92 goals against average (GAA) and .908 save percentage (SV%). He's second among rookie goaltenders in wins and fourth in GAA among rookie goaltenders who've played 10 or more games. On top of that, he's made the second most saves amongst rookie goalies and the third most (422) among all goaltenders this season.
If the demotion of Samsonov was any indication of how the team feels, have confidence that Vanecek will continue to be their guy moving forward this season. While he's won one monthly accolade already, the NHL is already recognizing what he's done for a team that was counting on having Henrik Lundqvist between the pipes this season.
2020-21 Stats: 15 GP | 7-4-3 | 2.92 GAA | .908 SV% | 43 GAA | 422 SVS | 0 SO
Kevin Lankinen, Chicago Blackhawks
Sticking with first-year goalies, the Chicago Blackhawks have one of their own who's beginning to make a name for himself – Kevin Lankinen. A team that is in a so-called rebuild, Lankinen has taken the reins in Chicago. He's played 14 games for the Blackhawks with an 8-3-3 record, a 2.59 GAA and .921 SV% to go along with one shutout and the Blackhawks continue to pull out victories.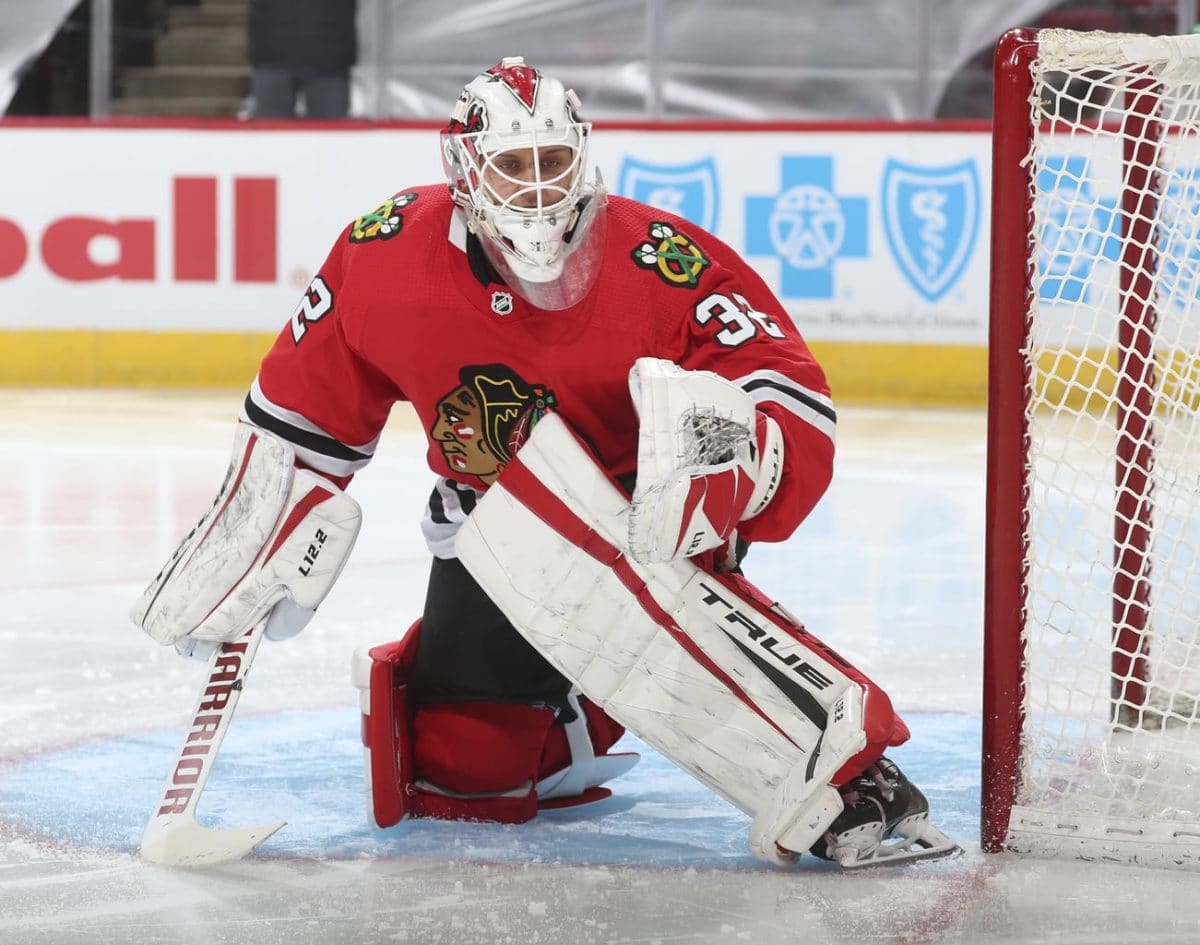 As for Lankinen, the 25-year-old who was signed as a free agent in 2018, ranks first in rookie wins, third in GAA among rookie goaltenders who've played 10 or more games and first in saves among rookie goalies.
Even if the Blackhawks were expecting to have a rough year with the condensed schedule and the reboot to their roster, Lankinen and two other freshmen on their squad have other ideas.
2020-21 Stats: 14 GP | 8-3-3 | 2.59 GAA | .921 SV% | 37 GAA | 433 SVS | 1 SO
Pius Suter, Chicago Blackhawks
Along with Lankinen, the Blackhawks have received a lot of support offensively from two first-year skaters, including Pius Suter. Suter has played all 20 games for the Blackhawks this season and has fit in quite well.
He leads all rookie skaters with six goals and sits in third in rookie scoring with 11 points. His six goals also puts him fourth on the all-time list for goals in a season by a Swiss-born rookie – behind Nico Hischier (20 in 2017-18), Kevin Fiala (11 in 2016-17) and Sven Andrighetto (seven in 2015-16).
His early season success has given Suter more opportunity with the Blackhawks as he's climbed the team's depth chart, but what makes his journey even better is that the team just signed Suter as a free agent on July 16, 2020.
2020-21 Stats: 20 GP | 6 G | 5 A | 11 PTS | 2 PPP | 2 GWG | 1 OTG
Philipp Kurashev, Chicago Blackhawks
Finally, the Blackhawks' third rookie who could make a push for the Calder is Philipp Kurashev who has appeared in 19 of the team's 20 games this season. Over that span, he's put up five goals and nine points – good enough for second in the NHL in goals among rookies this season.
While he's not sitting top three in scoring, Kurashev has played a key role with the Blackhawks who – as mentioned – weren't expected to overcome the loss of some key members of their lineup this offseason.
Still, players like Suter and Kurashev – who was drafted 120th overall in 2018 – have stepped up and continue to push the likes of Patrick Kane and Alex DeBrincat to carry this team to continued success this season. As such, Suter and Kurashev sit fifth and sixth in team scoring respectively – certainly worth noting as they look to pursue the NHL's Calder Trophy.
2020-21 Stats: 19 GP | 5 G | 4 A | 9 PTS | 4 PPP | 1 GWG | 0 OTG
While there are other players vying for the league's honour as top rookie in 2020-21, certainly not all of them can be atop this list. Still, don't count out players like Ottawa Senators' Josh Norris or Tim Stützle who are carving their own path for the lowly Sens.
With lots of hockey left to play, our top Calder candidates could definitely change as the season progresses.