Through the first quarter of the 2013-14 NHL season, the Calgary Flames have hit a bit of a skid as they begin their long-awaited rebuild.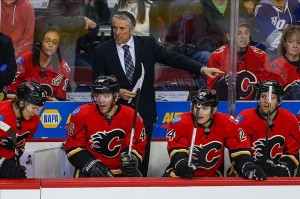 After 19 games, the Flames have scored the first goal just five times, primarily in the first chunk of the season. That means that in 14 of their contests, they've spotted their opposition goals, sometimes several, before attempting a comeback. In all but three games, the Flames have been up a goal, down a goal or tied at some point in the third period. However, all those close games have resulted in only six wins (and three overtime losses) to date.
On several occasions, the team has bounced back from allowing just the first goal: October 6 against Vancouver, October 11 against New Jersey and October 21 against the LA Kings all featured the Flames dropping to a 1-0 deficit and then storming back to tie things up and eventually earning points in the form of two wins and an overtime loss.
However, while the club has spotted the opposition two or three goals on several occasions and come back to make things competitive in the third period, only once in recent weeks have they gotten a point under such circumstances – on November 12 against San Jose featuring a heroic performance by goaltender Reto Berra. The team last had a lead in their 3-2 overtime win in Chicago on November 3 (and last held a lead in a game on October 26 against Washington). For the balance of the last three weeks, they've been chasing.
Prior to Calgary's home date with the Dallas Stars, Flames center Joe Colborne discussed the team's ability to stay in games, despite giving up early goals.
"We have a team that kinda has a never-say-die attitude," said Colborne. "We refuse to give up no matter how it looks. We've been getting some timely scoring from guys like [Mike Cammalleri], he's really been stepping up, [Kris Russell] has been playing unbelievable. We have guys that we're kinda rallying around right now. It's a fun atmosphere to be around, but we can't be spotting teams two, three goals every game."
Colborne's teammate Shane O'Brien reiterated the concern about giving up too many early goals, particularly as other teams find momentum and hone their games throughout the season.
"We've had a couple times where we've come back and tied it up or found a way to win when we were trailing after the first or second, but it's definitely not a league that you want to fall behind in on a consistent basis. As the season gets deeper and deeper into the schedule, it gets tougher and tougher to come from behind," said O'Brien.
While Hartley praised his team for its resiliency and mental toughness in regards to their third period comebacks prior to hosting Dallas, following his team's 7-3 setback to the Stars his comments had a different tone. In particular, he downplayed the team's push-back in the third period; they scored a pair of goals and were markedly more physical, but were already down 6-1 by that point and had been badly out-played for the first 40 minutes.
"There's no value to this. The game is over. We didn't show up for 40 minutes, we gave so many goals that…that was basically the end of the game," said Hartley. "After this, we worked, we showed some pride, but it's just a waste of energy."
With three-quarters of the schedule still ahead of his team, Hartley and his coaching staff must find a solution to the team's uneven, and occasionally uninspired, play early in games. If not, the Flames – once showing a great deal of promise – will continue to topple down the NHL's standings.
Ryan Pike has covered the Calgary Flames and the NHL Draft extensively since 2010 as a Senior Writer for The Hockey Writers and Senior Contributing Editor of FlamesNation.ca. A member of the Professional Hockey Writers Association, he lives in Calgary.