Once again the Calgary Flames enter the offseason with a tough situation involving goalies. General manager Brad Treliving thought he had solved that issue last year when he went out and acquired Brian Elliott and Chad Johnson. There were some bright spots in goal but for the most part, it was terribly inconsistent and often unreliable.
2016-17 Goaltenders
Chad Johnson
Many people need to be reminded that Johnson was arguably the main reason why the Flames made the playoffs. At the beginning of the year, Elliott was bad, very bad. When Elliott couldn't get the job done Johnson took over, winning 11 of his 13 starts during November and part of December which also included a six-game win streak. However, Johnson cooled down at the end of January and that's when Elliott took over. Johnson did not play much at all during the final two months, but he won a game that was a big part of the 10-game winning streak the Flames went on.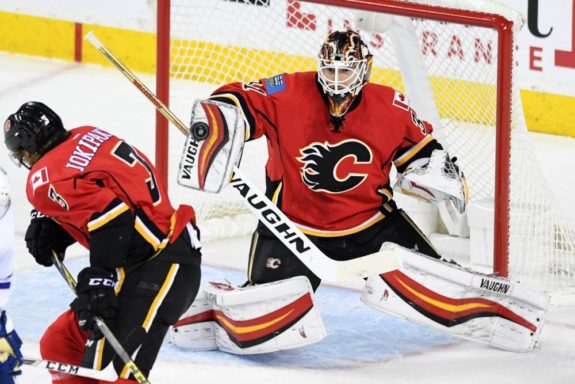 Brian Elliott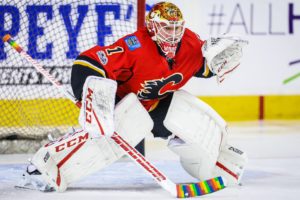 Elliott got off to a disastrous start, going 3-9-0 in his first 12 starts. Treliving acquired him at the draft after his terrific playoff run with the St. Louis Blues. There were high expectations for Elliott. He was brought in to replace Jonas Hiller/Karri Ramo and finally bring solid, consistent goaltending to Calgary. He started to regain his Blues self in the beginning of February and then was lights out for the rest of the regular season. At the end of the regular season, it seemed pretty certain that Elliott would come back, then the playoffs happened. In Game 1, Elliott played very well, stopping 38 of 41 in a 3-2 loss. But in Games 2, 3 and 4 Elliott was not good at all.
After the playoffs, it seemed like nobody really wanted Elliott to be back next year, which puts the Flames in a tough situation again. Both Elliott and Johnson are now unrestricted free agents looking for somewhere to sign. It remains unclear what the plan is with both of them, but you can bet the Flames will be out looking for a starting goalie.
Should They Bring Them Back?
Chad Johnson would be a good option to come back as a backup. Nobody expected him to do what he did this year. He is a backup goalie, but if the starter is struggling he can come in and give the team a chance to win. This is everything you want and need in a backup goalie. Some disadvantages from bringing back Johnson are that it may be taking a backup spot away from Jon Gillies or David Rittich. If Johnson returns, there would be three goalies in the American Hockey League — Gillies, Rittich and Parsons — which would not be good for one of those three.
As for Elliott, I cannot see them bringing him back. The only way he would be back is if the contract was short and very cap friendly. He had some bright spots in the regular season but what he didn't have was consistency. What has killed the Flames ever since Mikka Kiprusoff left has been the inability to get consistent goaltending. Elliott could be back, but it is unlikely especially after his playoff performance.
Biggest Names in the Market
Ben Bishop
Bishop will be the top goalie in the free agent market come July, but there are some important things to consider before trying to get him. First of all, Bishop's history includes a list of lower-body injuries including a bad knee injury. These will factor in if the Flames discuss a contract with him. Secondly, with respect to the term, it seems unlikely the Flames would want to agree to a long-term deal, as they have promising goalie prospects who are almost NHL-ready. If the Flames go out and get a new goaltender, I expect the term to only be one to three years.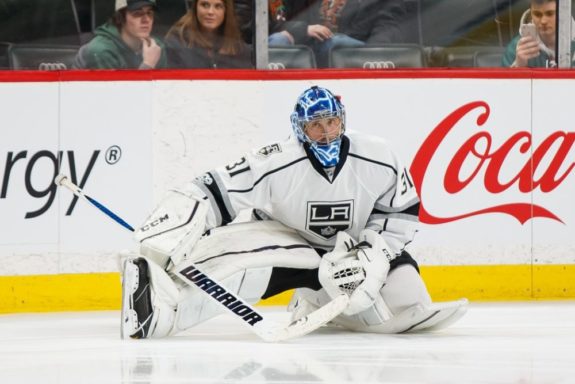 Marc-Andre Fleury
With Fleury's playoff performance so far it has raised a lot of eyebrows among Flames fans. Fleury's term is perfect, two years left at $5.75 million per year. With the expansion draft around the corner, the Penguins will likely be protecting Murray. Fleury has been terrific for the Penguins but Murray is 22 and Fleury is 32. Whoever they protect, the other will be gone. Whether it is by trade of expansion draft, they will be on the move.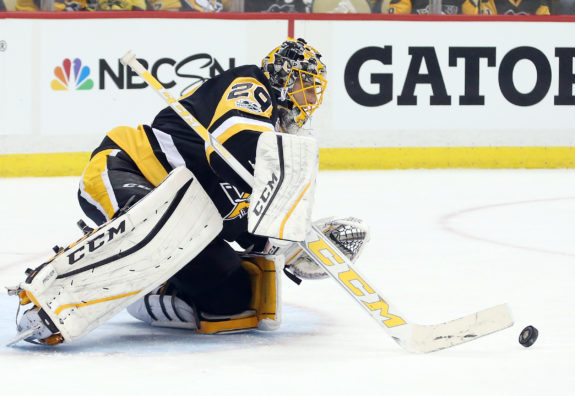 The main argument with Fleury is that the last time the Flames brought in someone based on their playoff performance it did not go well (Elliott). However, Fleury is a proven winner and has proven he can be a very successful starting goalie. He has also shown to be a very solid person in the locker room. Fleury would bring playoff experience and he could help mentor goalies such as Gillies, Rittich and Parsons
Whether it is Murray protected or Fleury, they would both be a good fit in Calgary.
Other Potential Targets
Steve Mason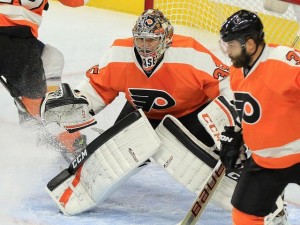 Mason seems unlikely but could be a possibility. The 28-year-old will be a UFA come July 1st. With the Philadelphia Flyers extending Neuvirth, Mason will most likely be available. But Mason's has been very inconsistent at times, which would factor into a decision with him. It is always a possibility, but it would be a risk I don't think would be worth taking.
Jonathan Bernier
Bernier has had a career full of ups and downs. His time in Toronto was something he would probably like to forget. He got traded from the Leafs to the Anaheim Ducks in the offseason. During his time with the Ducks, he has really got his career back on track. He has a record of 21-7-4 with a 2.50 goals-against average and a .915 save percentage, which is a very large improvement from his time with the Leafs. But all of that was from him backing up John Gibson. He will be a UFA, but it seems unlikely and very risky to bring him in as a starter.
Prospects Coming Up
Jon Gillies
Arguably the Flames top goalie prospect, Gillies appears to be almost NHL ready. The 23-year-old has one NHL start in his career, coming in the second last game of the regular season, a 4-1 win over the Los Angeles Kings. He stopped 27 out of 28 shots including a couple amazing saves to help earn the win.

In the Stockton Heat's Game 5 loss that ended their season, Rittich went down with an injury to end the first period. Gillies came in relief and played probably his best hockey ever. He recorded 23 saves in the second period and a total of 37 saves in the overtime loss. He is looking to be almost ready for the NHL, could be as soon as next year. But if Chad Johnson comes back, Gillies could see another year down in Stockton.
David Rittich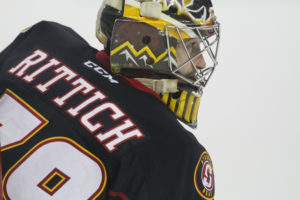 Rittich played very well for Stockton, ending the regular season with a .924 SV% in 31 starts. He has shown to not be so consistent at times, which is a reason why Gillies got more starts than him. Both goaltenders contracts are now up, and with Parsons coming into the mix, it will make an interesting situation with what they do with Rittich and Gillies.
Tyler Parsons
Many Flames fans are very excited about Parsons, he has been dominant with the London Knights for the past few years. In the Knights memorial cup run last year, he finished with a 1.78 GAA and a .942 SV%. With the Knights missing key players due to them being up in the NHL, Parsons played the biggest part to the team making the postseason. Over the past two years Parsons has built up quite the resume, OHL Championship, Memorial Cup Championship and he helped Team USA win the World Juniors.
Final Thoughts
Treliving and the Flames management are in a very tough situation. There are many options, all risky but could have a high reward. Whatever they do, there will be many people who are happy with it and equal as many who are upset about it. Or they could just stick with Elliott for another year and see if he gets the job done. It will be very interesting to see what they do about their goaltending problems.
If you were in Treliving's spot, who would want to be in net for the Flames next season?