Cam Squires
2022-23 Team: Cape Breton Eagles (QMJHL)
Date of Birth: Apr. 1, 2005
Place of Birth: Charlottetown, P.E.I
Height: 6-foot, Weight: 165 pounds
Shoots: Right
Position: RW
NHL Draft Eligibility: 2023 first-year eligible
Rankings
One of the biggest risers on NHL Central Scouting's north american skaters list, jumping 58 spots from the midterm rankings to the final report, Cape Breton Eagles forward Cam Squires heads into the 2023 Entry Draft as one of the top five Quebec Major Junior Hockey League (QMJHL) prospects available. The right winger spent the season working on his 200-foot game, becoming a more complete player that can be effective at both ends of the ice. A player with a high motor that rarely takes a shift off, he isn't afraid to be aggressive in his own zone as he looks for every opportunity to pressure the opposing puck carrier, looking to create a turnover.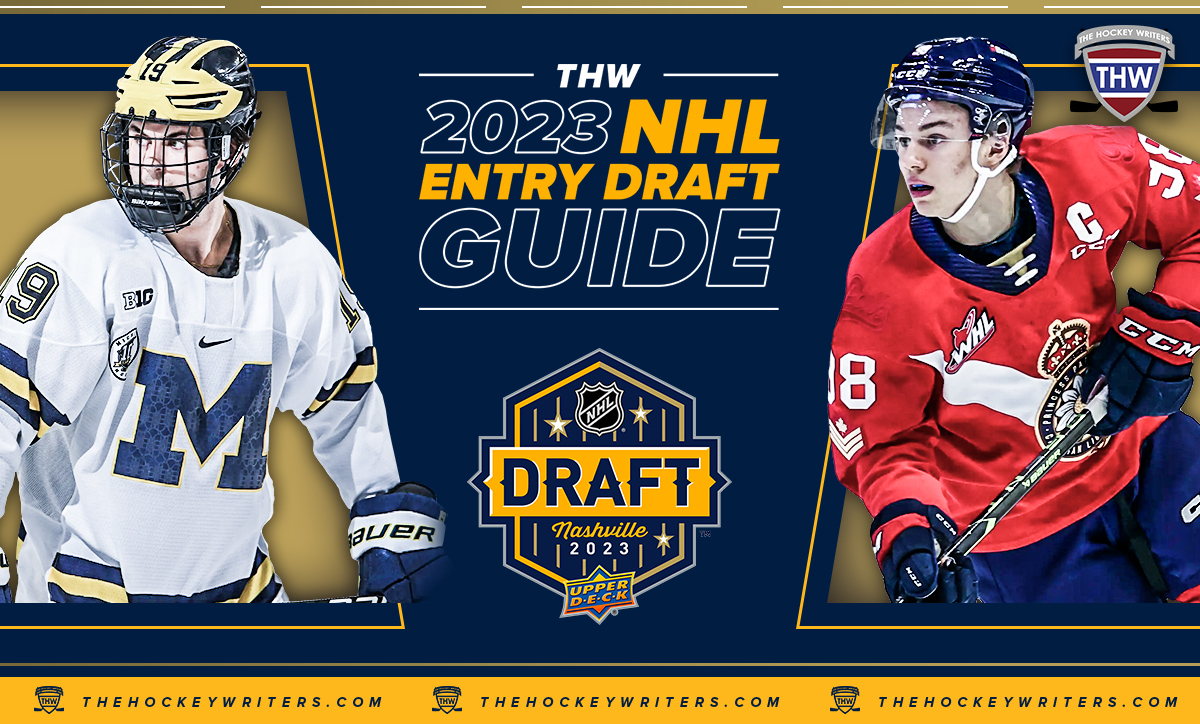 In the offensive zone, Squires likes to play a north-south style of game and tries to create opportunities as close to the net as possible. He has strong hand-eye coordination and puckhandling, which allow him to maneuver in tight spots and either get a shot off or deliver a pass to his teammates. When he doesn't have the puck, he can find the soft spots in the defensive coverage while being skilled enough to collect passes and create scoring opportunities with his shot. He has been a skilled offensive player since his U15 days and has continued to adjust and improve his game to the point where he was 30 goal scorer this season in the QMJHL.
Related: 2023 NHL Draft Guide
Squires' play away from the puck in a defensive capacity is arguably his biggest improved area this season. He is able to stay in a good position when the opposition is cycling the puck and knows when to cover for his teammates if they are involved in a board battle. The next step in his development will be to better time when to be aggressive and challenge the puck carrier so as to not get caught, allowing for a scoring chance the other way. Overall, there is enough growth in his defensive game that shows he is not only willing but able to be an effective player in his own zone and one that teams can work with as soon as he enters their development system.
Squires didn't just have a strong year on the ice but showed how dedicated he was to giving back to the community. This season, he won the QMJHL's Humanitarian of the Year Award, thanks to his work with the Boys & Girls Club of Cape Breton. While some may overlook this award, recognition from the league for a player's community service does play a factor in an organization's decision to draft a player. Teams want players who can not only perform on the ice but also be good citizens and give back to their community. This is an underrated trait and one that should help him acclimatize to whatever organization drafts him this season.
---
Latest News & Highlights
---
The biggest part of Squires' game he needs to work on is his skating. While he does have decent speed, he needs to work on his explosiveness and overall skating to one day become an NHL player. He took some big steps this season in terms of his overall development, which makes him a very intriguing prospect heading into draft day.
Cam Squires – NHL Draft Projection
Squires' accent up Central Scouting's list shows that scouts and organizations have become more interested in his play as the season has progressed. He possesses a lot of on-ice qualities that teams look for, but his position and size could be factors that could drop him in the draft. Expect him to go in the fourth round somewhere between the 100th and 115th overall selection.
Quotables
"Goal scorers will always get the attention of NHL scouts. Reaching 30 goals in major juniors will help a player jump up the rankings. That explains Squires' 58-spot jump on the final list." – Mark Scheig, The Hockey Writers
---
---
"Squires is a stealthy forward with a slick set of hands who can move the puck to linemates or bulge the twine himself. I love his skills in tight spaces where his agility and spatial awareness allow him to maintain possession and attack the net from high traffic situations." – Shaun Richardson, FC Hockey
"Deadly from the dots down with excellent touch around the net." – Sam Cosentino, Sportsnet
Strengths
Puck control
Positioning in front of the net
Willingness to crash the net
Shot release
Under Construction – Improvements to Make
Size
Physicality
Skating mechanics
NHL Potential
If Squires can continue to develop as he has since joining the QMJHL, he has a chance to play in the NHL one day. He has already shown how dangerous he can be in the offensive zone; now it is about how defensively reliable he can be. Based on his style of play, he could be an effective fourth-liner one day who is annoying to play against and flirts with scoring double-digit goals during the season.
Risk-Reward Analysis
Risk – 1/5, Reward – 3/5
Fantasy Hockey Potential
Offense – 6/10, Defense – 4.5/10
Achievements & Awards
2018-19 PEIBAAA Champion
2018-19 PEIBAAA Most Assists
2018-19 PEIBAAA Most Goals
2018-19 PEIBAAA Most Points
2018-19 PEIBAAA Rookie of the Year
2019-2020 PEIBAAA Most Assists
2019-2020 PEIBAAA Most Goals
2019-2020 PEIBAAA Most Points
2019-2020 PEIBAAA Most Valuable Player
2022-23 QMJHL Humanitarian of the Year
Cam Squires' Stats
Interviews/Links
Videos