Think about it: if you were playing mad scientist and stitching together your own "perfect" hockey team monster, you'd assemble a squad that looked in many ways like the Los Angeles Kings do today.
Franchise center? Check. Last year's slight regression notwithstanding, Anze Kopitar is generally considered amongst the top fifteen centers in the NHL — and at 26, is just now entering his prime.
Franchise defenseman? Check. A perennial double-digit goal scorer, Drew Doughty was a Norris Trophy finalist just three years ago. By the way, he's still just 23 years old.
Franchise goaltender? Check. 27-year old Jonathan Quick is one of the best in the business and is locked up for eternity.
40-goal scoring threat? Check. Jeff Carter notched 46 with the Flyers in 2008-09, not to mention 30+ two other times. Compared to the others, he's a graybeard at age 28, and mans the right wing on the Kings' second line.
Elite power forward? Check. Top line left winger Dustin Brown scores 20-30 goals every year, hits anything that moves, and is also 28 years old.
Playoff-savvy second line stud center? Check. Mike Richards could play top-line center on a hell of a lot of teams. Like Carter and Brown, he's a seasoned-but-not-saggy 28 years old.
Crafty veteran top-six right winger with two Cups on his mantle? Check. Finally a Kings player on the wrong side of 30, the 31-year old Justin Williams nevertheless averaged .7 points per game last year and recorded 57 and 59 points the previous two seasons.
A scoring left winger for the second line to compliment the Mike Richards/Jeff Carter tandem? Well …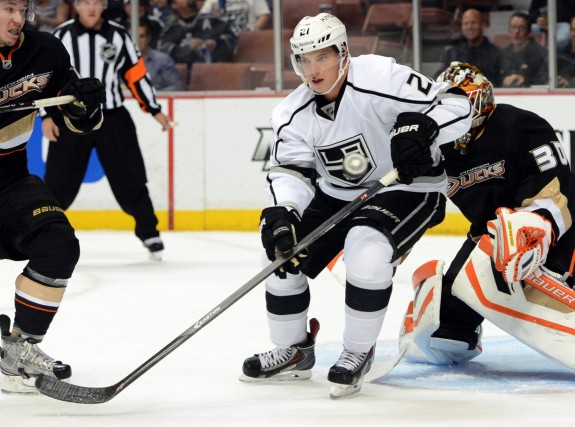 The left wing has been an Achilles' heel for the Kings for years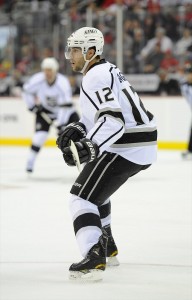 The second line left wing position has been a trouble spot in Los Angeles for several years now. In 2010-11, the skates-in-concrete veteran left winger Ryan Smyth nevertheless managed 22 goals and 47 points on the top line. The second line slot, however, provided remarkably little offense: Alexei Ponikarovsky was a failed experiment, as was Marco Sturm, and Scott Parse was an injured mirage. In 2011-12, offseason free agent signing Simon Gagne proved it wasn't 2008-09 anymore, and although Dustin Penner provided some playoff heroics, seven goals in 65 games pretty much said everything that needed to be said. Last year, Gagne was traded away after just eleven games and zero goals, and nobody stepped up to fill the void.
With Kopitar, Brown, Williams, Richards and Carter firmly entrenched as top-six forwards, primary scoring shouldn't be a problem as long as the team remains generally healthy. The second line left wing position, however, remains a mystery — one which the newly-acquired Matt Frattin hopes to solve.
Matt Frattin's profile
Selected in the fourth round of the 2007 entry draft, the 6'1″, 205-pound Frattin is accustomed to seeing his name prominently displayed in box scores. He led the Fort Saskatchewan Traders in goals by a country mile in 2006-07, potting 49 in just 58 games. During his senior season at the University of North Dakota, he once again led his team in goals, this time scoring 36 in 44 games. He had fourteen in just 23 games for the Toronto Marlies in 2011-12, nine in 21 last year, and upon being called up, recorded seven in 25 games for the Maple Leafs.
Although not a particularly physical player, Frattin is not afraid to battle for the puck in the corners, and has a quick, accurate snap shot. He is considered a smart two-way forward, the type that works most effectively in Darryl Sutter's offense where back-checking and straight lines to the net are key. Commenting on Frattin's likely best style, Kings head coach Darryl Sutter said, "If he wants to play with them guys, he's got to be a real north-south, energy sort of guy. We'll give him power-play time, give him some penalty-kill time. Make him work."
Frattin's first exhibition game with the Kings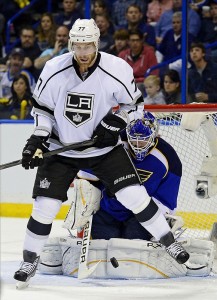 Los Angeles played cross-town rival Anaheim in their exhibition opener on Tuesday, and started off with a flourish, winning 6-0. Jeff Carter was the first star of the game with two goals and an assist, and Drew Doughty was third with a goal and two assists. The second? None other than Frattin, who scored the first goal of the game on the power play and later had two third period assists, all in 16:05 of ice time.
Commenting on playing on the second line with Carter and Richards, he said, "They're two great players. Carts has the fast speed down the wing, and he's got that long reach, and he has a great shot. Richie is just a smart, hard-working guy, and he'll get you the puck if you're wheeling. They're guys who have played in the Olympics and for Team Canada plenty of times, so they've definitely proven themselves. They definitely bring me along, and they're great linemates for me."
With Frattin appearing to fit in quickly with his new team and tackling the challenge of the second line left wing slot head on, it may just be a matter of time before we can say something that hasn't been said in over three years in Los Angeles:
A scoring left winger for the second line to compliment the Mike Richards/Jeff Carter tandem? Check.