2013-14 American Hockey League Previews
Hamilton Bulldogs
Coaching Staff: Sylvain Lefebvre, Head Coach; Donald Dufresne, Assistant Coach; Stephan Lebeau, Assistant Coach; Vincent Riendeau, Goaltending Consultant
Affiliates:Montreal Canadiens (NHL), Wheeling Nailers (ECHL)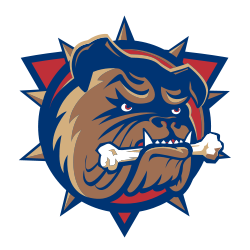 2013-13 Recap
Record: 29-41-1 (64 points)
Conference Finish: 15th overall
Calder Cup Playoffs: Did not qualify
THE OFF-SEASON
 Roster Departures
Blake Geoffrion (C),  Jason DeSantis (D), Petteri Nokelainen (C), Frederic St. Denis (D), Joe Stejskal (D), Danny Kristo (RW), Zack Stortini (RW), Ian Schultz (RW), Kyle Hagel (LW), Alexander Avtsin (RW)
Roster Additions
Sven Andrighetto (RW), Stephen MacAulay (LW), Martin St. Pierre (C), Nick Tarnasky (LW), Stefan Fournier (RW), Christian Thomas (LW), Erik Nystrom (LW), Dalton Thrower (D), Matt Lashoff (D), Darren Dietz (D), Magnus Nygren (D), Drew Schiestel (D), Justin Courtnall (LW), Max Grassi (D)
2013-2014 Season Preview
The Hamilton Bulldogs are beginning their 17th season playing out of the Copps Coliseum in Hamilton, Ontario. They enter this season as the longest serving non-NHL pro hockey franchise in Canada for the American Hockey League.
The last couple years have seen many rumours of the Bulldogs moving out of Hamilton and closer to Montreal, potentially Laval in Quebec. However this year the team signed a new three year lease that will keep them in Hamilton through the 2015-16 AHL season, which will be their 20th season.
The Hamilton Bulldogs have a long history of success playing in six conference finals and three appearances in the Calder Cup Finals, winning one in 2007. They have also graduated over 170 Bulldogs to the NHL level over the past 17 seasons.
Off the ice Team President Steve Ostaszewicz was busy signing a new three year radio deal to broadcast all the Bulldogs games on local Hamilton radio mainstay AM band 900CHML.
http://youtu.be/u9etRMUja3o
As well the Dog Pound (Copps Coliseum) was opened in November 1985 and it was beginning to become dated inside. With Global Spectrum now managing the arena it underwent an exciting refresh with the addition of LED technology also pending.
Aside from these changes off the ice the Hamilton Bulldogs have also made many changes to the players you will see lace up at Copps this season. Rightfully so after finishing last season placing last in the American Hockey League with only 64 points.
The Bulldogs were also the lowest scoring team in the AHL last season with a grand total of 159 goals. That is just over two goals scored per game, while they allowed three goals per game. Clearly the offense needed a revamp coming into this season.
The biggest impact in terms of players leaving will be the Bulldogs second leading scorer on defense Frederic St. Denis (seven goals, 11 assists in 63 games). Aside from him the leading scorer at forward last season was Gabriel Dumont (16 goals, 15 assists in 55 games), and on defense was Nathan Beaulieu (seven goals, 24 assists in 67 games).
The Bulldogs added a lot of offense this summer to try to attempt to light the lamp in the revamped Dog Pound more often this season. A big addition of skill will be rookie pro Sven Andrighetto. His offensive pedigree is apparent from his scoring totals in the Quebec Major Junior Hockey League with the Rouyn-Noranda Huskies last season (31 goals, 67 assists in 53 games).
The other two key additions at forward were Christian Thomas (acquired for Danny Kristo from the New York Rangers). The son of "Stumpy" Steve Thomas had a respectable rookie AHL season with the Connecticut Whale scoring 19 goals in 73 games.
The Hamilton Bulldogs also signed AHL veteran Martin St. Pierre. The majority of his career between 2004-05 and 2009-10 was player in the AHL. Then we went to Europe and played in the Austrian league, the KHL and the Finnish Elite League for the 2010-11 season. He returned to the AHL for the 2011-12 season and continued his solid play. Since 2004-05 he has topped 11 goals and 48 assists in every AHL season he has played in. He is clearly key to the Bulldogs offensive revival.
On defense Darren Dietz, a former fifth round pick of Montreal in 2011, has offensive talents as well. His last two seasons with the Saskatoon Blades of the Western Hockey League saw him score 39 times and assist on 63 goals in 144 games. The Bulldogs hope he can translate his offensive ability to the pro level.
Another bright spot on defense is the addition of Magnus Nygren, picked in the fourth round in 2011 by Montreal. He is known for having a good release and being a good power play quarterback. The 23 year old spent last season with Farjestad of the top tier Swedish Hockey League contributing 13 goals and 19 assists in 51 games. He should be able to contribute at a comparable level once he adjusts to the North American sized ice surface.
Along the lines of Martin St. Pierre, the Bulldogs need  a veteran presence on defense with a very young defense core this season. If Matt Lashoff fails to make the Canadiens he will be a key part of Hamilton's playoff push this season. The 26 year old was a former first round, 22nd overall, pick of the Boston Bruins in 2005. In 312 AHL games he has 42 goals and 111 assists.
In goal the Bulldogs enter the 2013-14 season with the solid tandem of Dustin Tokarski and Robert Mayer. During Tokarski's four AHL seasons his save percentage has averaged 0.911, while Mayer has spent the last three seasons in Hamilton with a 0.902 save percentage.
Potential Call Up Impact
At forward Gabriel Dumont is expected to be the first call up in the event of injury or under performance. He is a key player that kills penalties and see power play time at the AHL level, so he would be a big part of the Bulldogs lineup to remove.
On defense Brian Lashoff is expected to bounce between the NHL and the AHL as a swingman if he is signed. His impact would be big in Hamilton, however he does still have the potential to grab the seventh defenseman role at the NHL level this season.
http://youtu.be/znYs2po7rHI
The Montreal Canadiens will also be looking long and hard at the hulking Jarred Tinordi at the NHL level. While it may be best for him to spend another full season in Hamilton to fine tune his game, his combination of size and defensive play is difficult to pass up in an NHL lineup.
If both Tinordi and Lashoff see significant stints with the Canadiens expect Darren Dietz, Magnus Nygren and Drew Schiestel to see more playing time. Between Dietz, Nygren and Nathan Beaulieu (once healthy) the Bulldogs will have a great amount of depth to fill in for call ups on the back end.
2013-2014 Prediction
With the additions made by the Bulldogs on offense this offseason I would expect approximately 50-65 more goals in 2013-14. This would bring them from 159 goals to roughly 209 goals in 2013-14. If their goaltending stays consistent as to what it was last season at around 228 goals I would predict the Bulldogs to win 38 games this season. That would give them 76 points on the year.
This would not be enough to move them out of fifth place in the North Division based on 2012-13 standings. As well, it would still leave them sitting outside the playoff picture at 13th place in the Western Conference.
With the influx of talent coming from the Montreal Canadiens prospect pool the Bulldogs will play their way back into the playoff picture in the next couple seasons. However this season will be mainly about developing those players that are expected to not only be key to the Bulldogs future, but key to the Canadiens future as well.
Loyal Hamilton Bulldogs fans will be rewarded this season with a revamped arena and in game experience. They will also be the chance to cheer on local boy Drew Schiestel in his first season at home playing in Hamilton. Overall fans will be treated to a more skilled and competitive team, with potential to surprise this season.
Breakout Prospect Prediction: Sven Andrighetto was a third round pick by the Montreal Canadiens in 2013. He has the potential and skill to be an above average second line winger at the NHL level, however that projection does come with some uncertainty.
Both his size (5'9″ 188lbs) and his defensive play will be challenges in his development. However I believe with his tools and the Bulldogs need for offense he should get plenty of opportunity to put up points in the AHL this year.