The Los Angeles Kings have needed help this year. The injury bug found its way into their locker room and has put plenty of stress on the team's depth to start the 2016-17 season.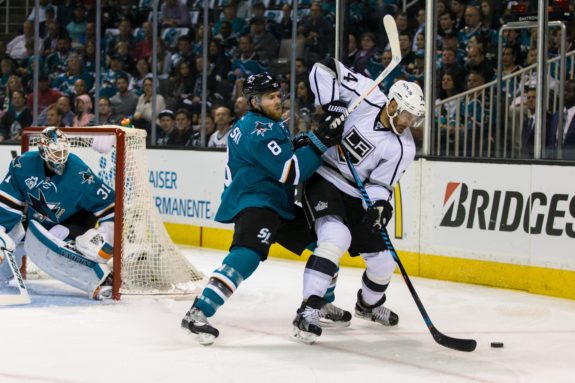 Injuries to key players like Jonathan Quick, Marian Gaborik and Anze Kopitar have put the team in tough positions this season which at times has made it difficult to string wins together.
The Kings sported a paltry 3-4-1 record by mid-November. A five-game road trip where Los Angeles went 1-3-1 had most panicking and asking for something to do be done. In those four losses, Los Angeles was outscored 12-5 and was held to one goal in three of four games. It doesn't take a rocket scientist to figure out that giving up an average of three goals a game and averaging only one of your own isn't going to work.
But the Kings' luck changed in the second half of the month, as did their play.
Clutch Carter
Since Nov. 15, the Kings have gone 5-0-0, have averaged 3.4 goals a game and have not given up more than two goals against in any matchup. During the course of their winning streak, Jeff Carter has scored the game-winning goal in four of five contests. His most recent game-winner was a shot rifled past Corey Crawford to beat the Chicago Blackhawks.
Along with Jeff Carter's knack for clutch goals, team captain Anze Kopitar's return to the ice for their last two victories proved to be another spark for the surging Kings.
Now, there is one last test before the month is over, a home game against division rival San Jose Sharks. A win against the Sharks would give the Kings a November record of 8-5-1, push their winning streak to six games and give them 13 wins in 23 games on the season.
Peter Budaj, who will play in his 21st consecutive game, will try to keep the streak moving into month 12 . He has a 12-6-1 record with a 2.04 goals against average and .917 save percentage so far this season.
After the Kings wrap up this month, they will move into a December that will test their legs with a nine-game road trip, while ten of their total 14 games of the month will be played away from Staples Center. Any kind of momentum moving from November into December would be welcome.
But before Los Angeles moves forward they have to take care of things against San Jose. Will they be winners of six in a row or will they be looking to rebound in their game against the Arizona Coyotes on the first of December?