Who are the Edmonton Oilers? The team that beat up on Chicago or the team that can't figure out Arizona? Are they the team that won seven of nine in October or dropped five straight in November? The Oilers lost to the Maple Leafs last night, and for the second time this month, they displayed some of their worst tendencies. Head coach Todd McLellan lamented the team's defensive woes:
They valued checking and we neglected it. We neglected our assignments around the net; had an inability to play well in our own end.
So in other words, the team played soft and passive in their own zone. It's an issue that has plagued the Oilers for years. As good as the team has looked at times this season, they've looked pretty awful at others. So who are they exactly?
The Oilers Have Trust Issues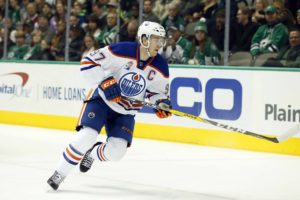 There have been many highs this season, including the play of NHL scoring leader Connor McDavid and the team's success against high-quality opponents. But there have also been plenty of lows, only this with this team it's a "here we go again" kind of low. No matter the personnel or management changes, the team is saddled with an ugly reputation for failure. Fans have learned to assume the worst every time the team starts to lose. They're assuming this edition of the Oilers is no different from that of years past.
The Oilers aren't trustworthy. They don't deserve the benefit of the doubt. They haven't proved anything. The fans won't abandon them, but they're jilted. They've been let down so many times, and so far this season, they haven't been given a sense of security. It feels like the team takes one step forward and two steps back. You want to believe they've changed, but you still think of the adage "once bitten twice shy."
The game against the Leafs wasn't pretty. The powerplay was abysmal, and the team looked completely lost in their own zone. They had a lot of possession, but it wasn't good possession. They gave the Leafs a few great scoring chances, on which they capitalised. It was a home game, it wasn't a back to back, there was no reason for the team to be lacklustre, and yet they were. But here's some perspective for you: tomorrow is December 1st, and the Oilers are in a playoff spot.
Time to Make Changes?
Justin Schultz was a disaster, so the team traded him. Nail Yakupov wasn't fitting in, so the team traded him. Taylor Hall wasn't the answer, so the team traded him. Three major parts of the team's woes (parts, not reasons, just to be clear), have been exiled, yet the bones of failure remain. There are still two left, two players who were supposed be part of the solution but have suffered through the bad times.
@sunterryjones oilers of old coming back in full force. Need to rid the team of the last of the MacT signings

— Corry Shantz (@shantzc) November 30, 2016
Making a big trade can sometimes feel like waving the white flag. The Oilers shouldn't tear things down and start over because they have some good pieces. But they also have some remnants of old, remnants of a culture that needs to be torn down. There are two camps out there. One wants to move out Jordan Eberle and Ryan Nugent-Hopkins, and the other feels making such moves will weaken the team. The first camp believes in addition by subtraction, the second believes that those two guys aren't the problem.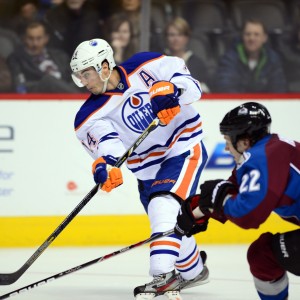 Here's the reality: One or two players can't be the problem. They also can't be the solution. Connor McDavid may run away with the scoring title and the team could still miss the playoffs. One guy can only play about one-third of a game. You need a full team to get the job done. So to place the blame on Eberle and Nuge wouldn't be fair. But it's possible that they carry with them the stench of failure, and it spreads in the room.
Then again, Hall and Yakupov were shipped out before the season started and the team has looked just as bad as they did when those guys were around. That's why there's concern about trading Nuge and/or Eberle. It might be a change for change's sake and could ultimately set the team back. Plus, what kind of value will they receive in return? Both players carry a $6 million dollar cap hit, and they don't look particularly appealing right now.
Is a Trade the Answer?
The onus now is on the players and the coaching staff to figure things out. They shouldn't be soft anymore, not with Milan Lucic, Kassian, Maroon, Nurse and Hendricks on the ice. The fact of the matter is that they still aren't strong enough on the blue line, and they still lack a true power play quarterback. Will a trade fix any of that? Possibly. No one other than McDavid, Jesse Puljujarvi and Leon Draisaitl should be untouchable.
Does Ryan Nugent-Hopkins make too much to be a third-line centre? Maybe, maybe not. If he continues to improve defensively, he could end up being an important asset for the Oilers. But there is certainly a big question floating around, and that is, can the team find a defensively responsible third line centre for half the price? Granted he doesn't always get prime minutes, but is three goals and 10 points good enough for a guy making his salary?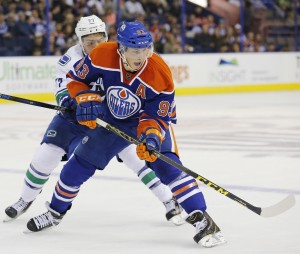 Nugent-Hopkins, points-wise, is in the company of fellow centres such as Mikael Backlund, Vladislav Namestnikov, Derick Brassard and Leo Komarov. There's a belief that he doesn't need to score so long as he's providing defence, and shutting down the opposition's best forwards. He's currently a minus -4 on the season, but his evolution into a defensive-minded forward could be the best solution.
As for Eberle, well when he isn't scoring he isn't doing much else, hence the clamouring for a trade. But again, what are you going to get back for him? The time isn't right to start making big changes just yet. Eberle and Nugent-Hopkins may not be seen as long-term fits. Maybe one is. In any case, the team has to start figuring out who they are, because this next month will tell us a lot about the Oilers. And it may not be pretty.