Well, that happened quickly.
Peter Holland's career with the Toronto Maple Leafs seems to be over. After talking to his agent and Leafs general manager Lou Lamoriello, the 25-year-old center has decided not to accompany the team on their Western Canada road trip. Apparently already on the trading block, there will now be a concerted effort to trade him.
Talks between Holland, his agent Joe Resnick and Lou Lamoriello in the last 72 hours certainly point to the team trying to trade the player.

— John Shannon (@JSportsnet) November 29, 2016
Let's look at how this came to be, starting with the acquisition. The Leafs acquired him, along with Brad Staubitz, on November 16, 2013, in exchange for Jesse Blacker and two picks in the 2014 Draft. In the rest of the 2013-14 season, he played 39 games with the Maple Leafs, scoring five goals while adding another five assists for 10 points. In the following two seasons, he totaled 52 points in 127 games. He was at least a semi-reliable bottom-six center who could perform well in stretches.
He was a restricted free agent going into the 2016 offseason. This is where things started to go wrong for him. The Leafs placed Holland on waivers prior to an arbitration hearing, presumably to help their case. He went unclaimed and the two sides eventually settled on a one-year deal with Holland carrying a $1.3 million cap hit. Maybe it was best that he won his case and the Leafs chose to walk away.
He looks to have lost his spot as the 2016-17 goes on. Twenty-two games into the season, Holland has only played eight games and registered one assist. He's only played two games in November and they came two weeks apart. Obviously, things have not gone his way and he wants another chance elsewhere if the Leafs aren't going to give him one.
Not Much Help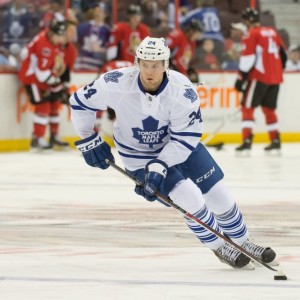 Unfortunately, this doesn't really work out for the Leafs. Trading him now, when he's at his lowest value, will not yield the organization much of a return. Since it looks like the team will want to get a deal done as soon as possible, it's unlikely that he will be part of a bigger deal to get the Leafs that shutdown defenseman they need. Alone, the Leafs would be lucky to get a fourth or fifth round pick in return at this point.
The thing is, this situation is unlikely to make much of an impact on the Leafs this season. The organization will lose Holland and they get a pick or a low-level prospect that won't be playing in the NHL. Right now, any move the Leafs make should improve the team and not hurt it. This move won't hurt them because it will barely do anything. If Holland leaves, does Josh Leivo suddenly heal and become the extra forward? If so, the Leafs will be in the exact same spot. Again, you want the team to improve and not stay stagnant.
So, how long will it take for the Leafs to trade Holland? Where will he go and what will the Leafs get in return? Should be an interesting next few days or so.