Flames' Hamilton Not Being Traded
Calgary Flames defenseman Dougie Hamilton has been the subject of rampant trade speculation of late, but the organization put an end to it on Wednesday.
Flames general manager Brad Treliving and president of hockey operations Brian Burke each addressed the rumors in separate appearances before the team's road game against the Toronto Maple Leafs.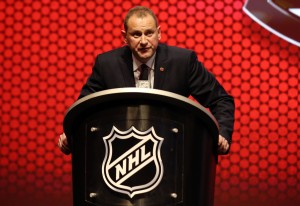 Treliving spoke about how important Hamilton is to the Flames and called rumors he's being shopped for a trade 'completely false.'
"I will say it's interesting … I was at a game in Toronto and all of sudden … I wouldn't read anything into that. I go to a lot of games. I was at a couple of other rinks after that and nothing came out of it. Don't believe all that you hear," Treliving said, according to a report from Torie Peterson of CalgaryFlames.com.
"Dougie's an important part of this team. It's hard to find players of his ilk. I don't put a whole lot of stock into all those comments. We always look to improve our team but the comments that we're shopping a particular individual is completely false.
"We go to games all the time. It just seems like you show up in one place and things start to happen."
#Flames GM Brad Treliving gives updates on Johnny Gaudreau and Lance Bouma and addresses the Dougie Hamilton rumours. pic.twitter.com/1vZ7hXKEhV

— Calgary Flames (@NHLFlames) November 30, 2016
Burke addressed the situation during a radio appearance on TSN 1050 in Toronto later on Wednesday, when asked about whether or not he was 'at least listening to trade proposals' on Hamilton.
"No. Let's step back. This is one where…it's very frustrating when you have to deal with leaks. As soon as one of teams that's in the mix in the leaks is the Toronto Maple Leafs, now it's an army of leakers — an army of people who have no goddamn idea what they are talking about who will happily go on and say 'The Toronto Maple Leafs are doing this, and they're in on that,'" Burke said.
https://twitter.com/NicholsOnHockey/status/804094019206684672
"This is one where we think we can trace the leak. We got a call, our GM got a call, Brad Treliving is the GM. Tre got a call from a team, who shall remain nameless, at least for now — if this goes on much further I'm probably not going to remain nameless — and said 'Would you move Dougie Hamilton?' and Tre said 'no …'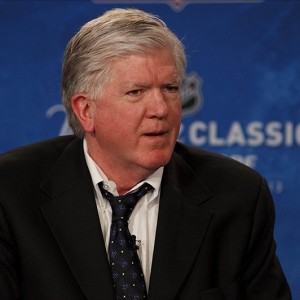 Burke went on to explain that the Flames gave up a lot to obtain Hamilton and that his size and skill, coupled with being a right shot defenseman in the NHL, make him a player they want to keep.
Burke thinks things became leaked to other teams and the wheels of the rumor mill began to spin from there.
"So we told this team —and by the way, the offer they made was insulting. We told the team, 'No we're not moving him, and next time you have an idea that stupid, just save the quarter, don't go to the payphone.' That team started telling teams, 'Yeah, we made an offer on Hamilton.' Now it's a rumor — it's got legs. Someone's like, 'Well, they must be moving him.'"
Burke also said that Hamilton has not been offered to any team and they have no intention of trading the 23-year-old blueliner.
Based on those comments, it looks like Hamilton will be in Calgary for the foreseeable future.
"It's been fun to play with Gio – taking on other teams' top lines and taking on that challenge." – Dougie Hamilton pic.twitter.com/LSUdOFHgp4

— Calgary Flames (@NHLFlames) November 30, 2016
Odds and Ends
— The Colorado Avalanche placed forward Gabriel Landeskog on injured reserve, retroactive to Nov. 15, with a lower-body injury.
UPDATE: Landeskog has been placed on IR. Gabriel Bourque & Samuel Henley have been recalled from @sarampage.

MORE: https://t.co/leMJaolljq

— Colorado Avalanche (@Avalanche) November 30, 2016
— The Quebec Major Junior Hockey League announced on Tuesday that the league will be inducting five new members into the league's Hall of Fame.
5 new members will be inducted into #QMJHL Hall of Fame: J-S Giguère, Francis Bouillon, Gaston Therrien, Brad Richards and Luc Lachapelle

— QMJHL (@QMJHL) November 30, 2016
— Florida Panthers goaltender Roberto Luongo, or @strombone1, as he's known on Twitter, poked fun at himself again on social media after the team's 3-2 shootout loss to the Chicago Blackhawks. During the shootout, Artemi Panarin scored on this attempt:
The veteran netminder provided this commentary on it:
If anybody finds my jock kindly return it thanks https://t.co/6Rt9S2if4g

— Strombone (@strombone1) November 30, 2016
— The Tampa Bay Lightning have recalled forwards Joel Vermin and Michael Bournival from the American Hockey League's Syracuse Crunch.
We have recalled forwards Joel Vermin and Michael Bournival from the @SyracuseCrunch. https://t.co/opHCwGuG63

— Tampa Bay Lightning (@TBLightning) November 30, 2016
The team is battling injuries to forwards J.T. Brown and Ryan Callahan, and defenseman Anton Stralman. Head coach Jon Cooper announced early on Wednesday that Callahan would miss Thursday's game against the St. Louis Blues and was considered day-to-day, but general manager Steve Yzerman had more news later on in the day.
Yzerman said Ryan Callahan is on injured reserve with the lower-body injury #tblightning.

— Joe Smith (@JoeSmithTB) November 30, 2016