Sunday night, the Florida Panthers shocked the hockey world by being the first team to fire a head coach this season. It was unexpected. Gerard Gallant recently received a contract extension, led the team to an Atlantic Division title (riding a tidal wave of PDO at 102.1), was a 2016 Jack Adams finalist and was coaching a team only two points removed from a wild card spot.
While it was unexpected, it's not the first shake-up in Sunrise over recent months. After winning the division and ending their playoff drought, ownership reorganized the front office. General Manager Dale Tallon transitioned to President of Hockey Operations and Tom Rowe, who started the season as the Head Coach of their AHL affiliate and was promoted to Assistant General Manager midseason, became the General Manager. The shake-up also involved relieving or not renewing contracts for scouts, equipment managers, and other staffers.
A significant piece of the story is a shift toward being the most analytics savvy organization in the NHL. Moves have been philosophically driven and that's how we arrive at the firing of a coach as well-respected and successful as Gallant.
"As a management team and front office we got together around the 20-game mark and we just have been unhappy with the inconsistent performance and we think we can be playing better at this stage of the season," said President and CEO Matthew Caldwell on a conference call Monday. "We decided a change was necessary to move in a different direction."
http://gty.im/544170486
No Friction
On the call, General Manager and newly minted Interim Head Coach Tom Rowe said there was "no friction" between Gallant and himself. "I had a real good relationship with Gerard and [former assistant coach] Mike Kelly," said Rowe, who, like Gallant, is an NHL veteran. "I'd have to say the relationship was good. We spent probably a good 35-40 minutes together last night after Gerard and Mike were informed of the decision. So as far as friction goes, there really wasn't any.
"You have disagreements within a family like you would anywhere and we had disagreements, but we definitely worked together. This is a guy that I admire and respect an awful lot. I think he's a great guy. The players loved him. But it's a tough business and when the results aren't there, decisions have to be made and they aren't easy ones."
It's a revealing statement and definition of friction. By all accounts, Gallant disagreed with many roster decisions under Rowe, including the trade of Logan Shaw to Anaheim for Michael Sgarbossa. The deal took size from the organization and added speed and talent, even if it's largely felt at the AHL level.
Gallant had said he felt the team needed more size. Management clearly disagreed.
#FlaPanthers Name Tom Rowe Interim Head Coach.

Details » https://t.co/pYHnLglKDO pic.twitter.com/xLb8F7K5D2

— Florida Panthers PR (@FlaPanthersPR) November 28, 2016
Though it should be noted management did make a move to acquire 6-foot-5 defenseman Dylan McIlrath from the Rangers. So it wasn't as though every move ran in opposition to this false dichotomy.
Rowe elaborated, marking a distinction between friction and differences of opinion. "There was obviously a philosophical divide," Rowe said. "We wanted to develop a team, build a team that was fast, could move the puck quickly, attack the offensive net, pressure the puck in all three zones. Gerard and I talked about it. He said that we need a little bit more size and we just decided to go in a different direction. Were we on the same page every day of the week? No.
"The philosophy was different and that did weigh into the decision."
With the divide apparent before the season even started, the fix might have been in for Gallant. To say the "results aren't there" on Gallant is taking a small sample size and extrapolating it. Though Rowe isn't wrong. The results weren't there recently, but a small blip like this after the season Gallant just had doesn't generally result in the coach getting axed.
That's especially true considering the Panthers have done an OK job controlling play with a 52.29% CF%, according to Corsica. That ranks eighth in the league. They've also been dealing with an injury to Jonathan Huberdeau and saw Nick Bjugstad and Alex Petrovic miss significant time. That's in addition to likely needing a bit of an adjustment period with the massive turnover their roster saw during the summer.
Management Adjustments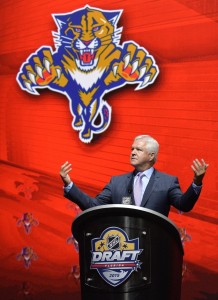 With plenty to juggle as the new coach, Rowe, who still retains his General Manager title, will step back from many of the GM duties. "I'm going to be totally focused on the coaching," Rowe said. "Dale [Tallon], Steve [Werier] and Eric [Joyce] will be making the decisions on personnel, trades and anything we do in the future."
The statement dovetails nicely with the call's leitmotif: Decisions are reached together. "We took everything into consideration in our meeting at the quarterly point of the season," Tallon said, "and as a group, we decided that as a group we wanted to go in a different direction."
Tough Tallon repeated decisions were made by committee, one response stood out as particularly unenthusiastic. "I'm satisfied and happy with the position I'm in. I'm fine with it," he said.
Dale Tallon asked if he feels the Panthers were NOT playing hard for Gerard Gallant. "Not necessarily," he said. "We're just inconsistent."

— Dan Rosen (@drosennhl) November 28, 2016
Next Steps
Rowe sounds eager to make a few minor adjustments to the team's system immediately. "The first change," he said, "and I've already talked to the coaches this morning about it, is that we are really going to attack our defensive zone system. We've got to tweak that a little bit. We want to go more into of an area zone coverage-type system. As far as the systems go, that's the only area that we're going to fix and talk about with the players tomorrow."
"The one thing we don't want to do as a coaching staff is come in with a million different changes. We don't think we need to make a ton right now."
"The immediate impact is going to be in the defensive zone."

Hear more from @GoldieOnIce's one-on-one with Tom Rowe pic.twitter.com/F9k5uLRcuk

— Florida Panthers (@FlaPanthers) November 28, 2016
The team could benefit from more consistency and they'll benefit from getting healthy, certainly, which could help catapult them into the playoff picture.
In the end, it was a decision to have everyone on board what the management group wants to do. That's not uncommon. But with the Panthers' emphasis on analytics, many will see the remainder of the season as a referendum on analytics, as though every piece of analysis is created equally or that having an analytics department somehow supersedes the importance of a coach's ability or the roster they have.
It puts the pressure on Rowe and his group to produce results. However, their willingness to make a bold move at the season's quarter mark indicates they're putting the same kind of pressure on themselves.