Earlier this week, the selection process started for Hockey Canada and their Under-20 World Junior team as they announced the 32 players that were invited to the selection camp. The list includes 19 forwards, 10 defence and three goaltenders.
For a number of hockey fans in Canada (and around the world), the World Juniors has become a holiday tradition – starting a Boxing Day and running into the new year. With that in mind, it's never too early to get to know the forwards that will be suit up for (or against) your country.
Mathew Barzal (Seattle Thunderbirds, WHL)
In 2015, Barzal was a first round selection of the New York Islanders – 16th overall. While he's only played two games for his NHL club (both earlier this season) Barzal's had significant success at the junior level.
Over the past three seasons, he's recorded three 50-point campaigns with the WHL's Seattle Thunderbirds. In fact, from the 2013-14 season to the 2015-16 season, Barzal's notched 199 points (53g-146a) in 161 regular season games.
So far this season, the centre has 11 points (1g-10a) in just eight games for the Thunderbirds and will look to carry that success to the World Junior for his second stint in the under-20 tournament. Last year, he recorded just three points (2g-1a) in five games for a Canadian team that had a disappointing sixth place finish at the tournament.
Anthony Cirelli (Oshawa Generals, OHL)
One of the many OHL representatives on this list, Cirelli is a 2015 third round pick of the Tampa Bay Lightning (72nd overall). A native of Woodbridge, Ontario, Cirelli captains the OHL's Oshawa Generals and has since the beginning of the 2015-16 season.
Currently in his third season with the Generals, the centre also saw three games with the AHL's Syracuse Crunch to close out the season last year without recording a point. However, in his three seasons with Oshawa, Cirelli has recorded 125 points (47g-78a) in 152 regular season games.
This season, he's on pace for a career year with 30 points (13g-17a) in just 22 games so far. In a high-powered, offensive league he ranks 15th among league scoring. While he's never been a part of the World Junior team, Canada may have swiped the 19-year-old in the midst of his coming out party.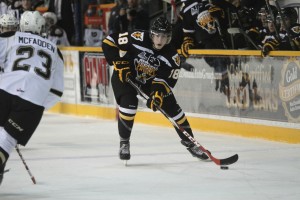 Dillon Dubé (Kelowna Rockets, WHL)
Taken just this past year by the Calgary Flames as their second-round selection in the 2016 NHL Entry Draft, Dubé has made a name for himself in the WHL with the Kelowna Rockets.
He's currently in his third season with the Rockets, Dubé is coming off a career year in which he recorded 66 points (26g-40a) in 65 games. While he's only appeared in six games so far this season for Kelowna, the 18-year-old centre-winger mix has a goal and seven points.
He's another player who hasn't seen the international stage just yet, but could add some west coast feel to a Canadian team that will be looking to better their finish from last year.
Pierre-Luc Dubois (Cape Breton Screaming Eagles, QMJHL)
A slightly surprising third overall pick in the 2016 NHL Entry Draft, Columbus Blue Jackets' prospect Pierre-Luc Dubois is off to a bit of a slower start for the QMJHL's Cape Breton Screaming Eagles.
That being said, the lanky left winger has 15 points (4g-11a) in 17 games in his third season for the Eagles. Dubois was taken third overall in the NHL draft following an unbelievable year where he notched 99 points (42g-57a) in just 62 games and added 12 points (7g-5a) in 12 playoff games for Cape Breton.
Dubois was an invite of Hockey Canada last season, but became a late cut for the red and white. However, with his success as of late and the direction Canada will be looking to go, expect the tall winger to see his name on the back of a Canadian jersey come Boxing Day.
Julien Gauthier (Val-d'Or Foreurs, QMJHL)
Another first round pick from the 2016 NHL Entry Draft, Gauthier was taken 21st overall by the Carolina Hurricanes. Currently second on his QMJHL team in scoring with 26 points (7g-19a) in 20 games, shouldn't be overlooked to make his second appearance at the under-20 tournament.
In his fourth season with Val-d'Or, Gauthier has recorded 185 points (94g-91a) in 204 regular season games. As mentioned, he was a part of Canada's 2015 World Juniors team when he added two assists in five games for his country.
Brett Howden (Moose Jaw Warriors, WHL)
At just 18, Howden was a first round pick (27th overall) of the Tampa Bay Lightning in 2016. Currently in his third full season with the WHL's Moose Jaw Warriors, the winger has played over 150 games for his current club.
Off to a great start with the Warriors, Howden has 20 points (11g-9a) in just 13 games so far this season. Another player wearing a letter for his current club (an 'A' in this case) it's clear that Canada wants to get as many leaders on their team as possible.
While Howden's played in the under-18 tournament twice over the past two seasons, this will be the first time that he'll join the under-20 squad in the hopes of continuing his international success.
Mathieu Joseph (Saint John Sea Dogs, QMJHL)
Another Tampa Bay Lightning draft pick, Joseph was drafted in the fourth round (120th overall) of the 2015 draft. Starting back in 2013-14, he joined the QMJHL's Saint John Sea Dogs where he's played the last four seasons.
During that time, he's notched 163 points (78g-85a) in 171 regular season games for the club – including 37 points (23g-14a) in just 24 games this season. That total has him ranked fifth among league scorers just 10 points behind Maxime Fortier who leads the QMJHL's scoring race.
If he makes Team Canada, this will be Joseph's first international stint for his country and what a place to do it – at home.
Tyson Jost (University of North Dakota, WCHA/NCAA)
One of only two players to not come out of the CHL for this selection camp, Tyson Jost was a first round selection of the Colorado Avalanche in the 2016 NHL Entry Draft. Currently playing in the American university circuit, Jost is third on North Dakota in scoring with 15 points (5g-10a) as a freshman.
He's ranked first on the team in shots (51) and second on the team in plus-minus (+9) which could help a Canadian team that is filled with play-making forwards.
As part of the under-18 Canadian team last season, Jost recorded 15 points (6g-9a) in seven games for his country on his way to winning the tournament's best forward award. That being said, this will be his first stint with the under-20 team and he should add some offensive prowess to the lineup.
Michael McLeod (Mississauga Steelheads, OHL)
Taken 12th overall by the New Jersey Devils in 2016, McLeod is another lanky forward invited to Canada's selection camp. In his third season with the OHL's Steelheads, the 18-year-old forward has 112 points (38g-74a) in 141 regular season games.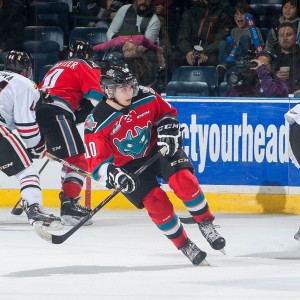 McLeod, unlike some invited to camp, does have an international resume as well. In fact, he was a part of the Ivan Hlinka Memorial gold winning team last season scoring two points (1g-1a) in four games for Canada.
Like many, this will be his first under-20 tournament if he does find a way to make the team out of camp.
Nick Merkley (Kelowna Rockets, WHL)
One of the smaller forwards invited to camp, Nick Merkley will be representing the Arizona Coyotes who drafted the 19-year-old 30th overall in 2015. Yet another play-making forward, the Rockets' forward has 212 points (68g-144a) in 202 regular season games over four seasons with Kelowna.
He will also become a first-time World Junior participant if he's able to make Team Canada and with his 16 points (6g-10a) in 20 games so far this season should not go unrecognized.
Nolan Patrick (Brandon Wheat Kings, WHL)
Expected to go first overall in the NHL's 2017 Entry Draft this coming summer, Nolan Patrick is the lone invitee not already drafted by an NHL club. Captain of the WHL's Brandon Wheat Kings, Patrick has nine points (4g-5a) in just six games so far this season after a 102-point season in 2015-16.
Over parts of four seasons with Brandon, Patrick has an incredible 168 points (76g-92a) in 136 regular season games. He possesses the all-around game and should be a no-doubter when the selection committee decides who'll make Team Canada.
Nolan Patrick the lone draft eligible invited to the final #TeamCanada WJC camp. He's expected to go first overall this June.

— Kathryn Jean (@msconduct) November 29, 2016
Taylor Raddysh (Erie Otters, OHL)
Half of the OHL's most dynamic duo this season, Taylor Raddysh is another prospect of the NHL's Tampa Bay Lightning. After being drafted in the second round – 58th overall – this past summer, Raddysh has cleaned up so far this season with the OHL's Erie Otters collecting 55 points (23g-32a) in just 24 games.
He ranks first in league scoring (four points ahead of teammate Alex DeBrincat) as well as first in assists and second in goals scored. He's played just three seasons with the Otters scoring 68 goals and 155 points in 149 regular season games.
His willingness to shoot the puck should be intriguing to the Canadian coaching staff as they make their selections for the upcoming tournament.
Nicolas Roy (Chicoutimi Saguenéens, QMJHL)
Selected in the fourth round of the 2015 NHL Draft by the Carolina Hurricanes, Roy is a big centre that should add some grit to the selection camp for Team Canada. Like many, this would be his first under-20 World Junior tournament.
With 15 goals and 33 points so far this season in just 20 games, Roy is a prototypical power forward. In his first year as the captain of Chicoutimi, Roy has collected 214 points (95g-119a) in 214 games during his stint with the QMJHL franchise.
A solid force on the ice, Roy shouldn't be overlooked when it comes to his skill as well. He'll be a player that the selection committee will have a tough time getting rid of if they decide to cut him.
Zach Senyshyn (Sault Ste. Marie Greyhounds, OHL)
A first-round pick of the Boston Bruins in 2015, Senyshyn has an eye for offensive position and could open up the game for Canada if he can crack the roster. Another leader among the invitees (wearing an 'A' in Sault Ste. Marie) Senyshyn is in his third full season with his OHL club.
Over that time, the 19-year-old Ottawa native has recorded 129 points (81g-48a) in 156 regular season games. After recording a career-high 65 points (45g-20a) in 66 games last season, Senyshyn has 17 points (9g-8a) in 20 games this year.
Blake Speers (Sault Ste. Marie Greyhounds, OHL)
Like Senyshyn, teammate Blake Speers was drafted in 2015. Speers, however, was a third round choice of the New Jersey Devils. In his second year as captain of the Greyhounds, Speers has had a chance to play three games with the NHL's Devils – recording zero points thus far.
Like many on this list, Speers hasn't played for the under-20 team in the past. Yet he remains a valid option this season coming off a 74-point campaign in 2015-16 with Sault Ste. Marie. In his OHL career, Speers is averaging nearly a point per game. He has 181 points (69g-112a) in 188 games and is a viable option as a playmaking centre or winger for Canada moving forward.
Sam Steel (Regina Pats, WHL)
The leading scorer in the WHL right now, Sam Steel is a first-round pick of the Anaheim Ducks in 2016. After 70 points in 2015-16, Steel has taken his league by storm this year already notching 41 points (17g-24a) in just 19 games for the Regina franchise.
He has 165 points (57g-108a) in just 157 career games in the WHL and continues to push his name of the prospect depth chart for the NHL's Ducks. Another centre, he could be in tough at Canada's selection camp, but should be considered a good option down the middle for a team that will be looking for big-game players to help them to a gold medal at home this year.
Mitchell Stephens (Saginaw Spirit, OHL)
One of many Tampa Bay Lightning selections, Stephens is a returning invitee for the under-20 Canadian team. He played in five games during last year's tournament recording a goal and an assist.
Now, the captain of the OHL's Saginaw Spirit, Stephens could play a veteran role on a team that doesn't have a large number of returning forwards. So far this season, he's off to a good start with Saginaw recording 25 points (10g-15a) in 20 games.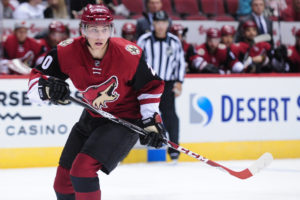 On top of that, he does bring a little extra experience to the table having had the opportunity to join the AHL's Syracuse Crunch to close out last season. He scored a goal in five games for the Lightning's affiliate before returning to junior this season.
Dylan Strome (Erie Otters, OHL)
Having just been sent back to junior by the Arizona Coyotes, Dylan Strome is the perfect candidate to make Canada's team again as he surely feels like he's got something to prove. He recorded just one assist in seven games for the Coyotes, but has 10 points (2g-8a) in just three games since returning to the Otters.
Strome is coming off consecutive 100-point seasons with 129 (45g-84a) in 2014-15 and 111 (37g-74a) in 2015-16. He was also part of the under-20 World Junior tournament where he scored six points (4g-2a) for Canada in five games.
His experience and pure skill should make him a lock to crack Canada's roster again this year with his determination to prove himself an added bonus for a team that surely cannot miss out on the medal standings for another year.
Austin Wagner (Regina Pats, WHL)
A fourth-round pick of the Los Angeles Kings in 2015, Wagner is likely one of the lesser known forwards invited to camp. A member of the Regina Pats for the past four seasons, Wagner's collected 122 points (60g-62a) in 192 regular season games in the WHL.
This will be his first tournament if he's able to don the red and white for his country and with 19 points (11g-8a) so far in 18 games this season, he could be a player that flies under the radar for most people following the selection process.
However, his size and skill should be of interest to Canada's coaching staff as he's a player that can use his creativeness to open up space in the offensive zone.
While all of these players won't make Canada's cuts, it's good to know who could be representing the country when the tournament opens up on Boxing Day. If for no other reason, this will give hockey fans a chance to get to know some of hockey's next generation. That being said, we'll look to introduce you to Canada's defensive invitees in the coming days.