Tuesday, Hockey Canada announced a 32-man roster they've invited to their World Junior Selection Camp, slated to get underway Dec. 10. While it doesn't have the jaw-dropping surprises of last year's rosters for both Canada and (especially) the U.S., it's our first glimpse at what Canada's entry might look like in about a month's time.
1. Going Older
Canada's brain trust says they're intentionally going with an older group at Selection Camp. Of the 32 players headed there, 19 are 1997-birth year players and there's the possibility that more '97s, like the Coyotes' Jakob Chychrun, are available if they're loaned from their NHL clubs.
"We think that's where our strength is with the depth of our '97s. And yet we like the top end of the '98s to fill out the roster," said Hockey Canada director of player personnel Ryan Jankowski.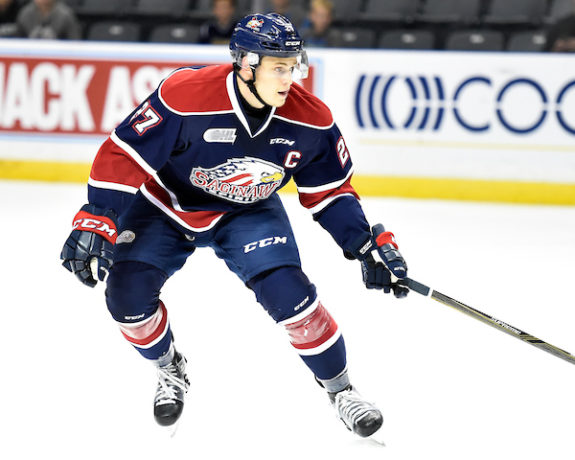 2.The Returnees
Canada will be bringing some experienced players to camp. Of those older players, Dylan Strome (4-2-6), Thomas Chabot (0-3-3), Julien Gauthier (0-2-2), Mathew Barzal (2-1-3) and Mitchell Stephens (1-1-2) all played at last year's tournament.
Canada had a quite disappointing tournament, but many of the bright spots were their younger players, including Strome, Chabot, Mitch Marner and Travis Konecny. In fact, 15 of Canada's 18 goals in last year's tournament were scored by 1997-birth year players. They also accounted for 15 assists and Barzal notched the game-winner in a shootout against the Swiss.
"I think there was a level of embarrassment to the result last year," said Scott Salmond, Hockey Canada's vice-president of hockey operations and men's national teams. "I don't necessarily think to the performance, but to the result. I think there's some guys like Dylan Strome, who is very focused on coming back, making an impression and trying to redeem what happened last year."
3. Reinforcements
Marner, Konecny, Anthony Beauvillier and Lawson Crouse were also on last year's team and are eligible to play for Canada this year. However, all four are playing in the NHL. You never know who will get the green light to be loaned out, but Canada is hoping for reinforcements.
"It doesn't look good for Connor McDavid," Salmond joked at the announcement. "I don't think we're going to get him."
It's enormously unlikely that Marner or Konecny will be joining Canada. Both are thriving in the NHL. At this point, it's impossible to say who else might be in line for a loan, but getting Crouse and Jakob Chychrun from Arizona would be a huge win for Team Canada. Both have spent time as a healthy scratch recently, but a report Wednesday from the Arizona Republic's Sarah McLellan says that GM John Chayka isn't planning on loaning either player.
"Certainly we've had the conversation with their GMs," Salmond said of the NHLers. "We haven't given up hope, but it's doubtful."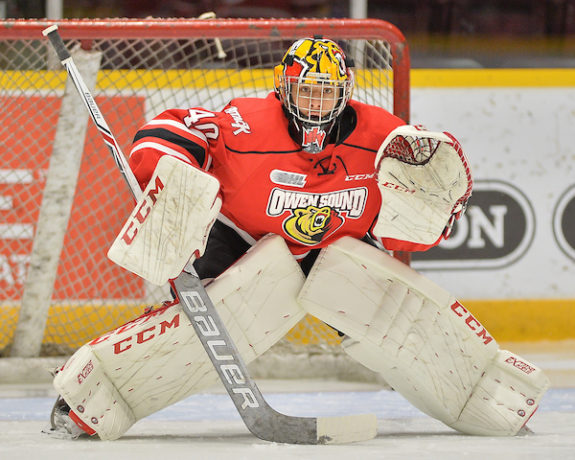 4. Goaltenders Almost Set
Canada is bringing three goaltenders to camp, but reports indicate they only want to carry two goaltenders during the tournament this year. Carter Hart, who has been the WHL Goaltender of the Week for the last two straight weeks, is carrying a .937 save percentage for the Everett Silvertips and is the likely starter for Canada. He was named CHL goaltender of the year last season at age 17.
Middling goaltending has been an issue for Canada before, but Hart has the potential to be much more than that. (Though, nothing is a guarantee.) Hart struggled at the summer's Evaluation Camp, but has impressed in the WHL season and during the WHL game against Russia.
NEWS: Carter Hart named @TheWHL Goalie of the Week. Again.

📝 » https://t.co/5NoTgx7qWv pic.twitter.com/2Ai6m0HSaB

— Everett Silvertips (@WHLsilvertips) November 28, 2016
Additionally, Connor Ingram has been impressive for the Kamloops Blazers with a .932 save percentage. It likely means Owen Sound's Michael McNiven the odd man out. Much like last year's selection camp, Canada's goaltending situation might be sorted out before camp even starts (barring a Mackenzie Blackwood-esque last-minute suspension). Though, they're at least entering camp with a sense of competition.
5. Injuries
Instead of waiting to see if players get healthy and adding them to camp at that time, Hockey Canada has invited both Blake Speers and Nolan Patrick, prospective number one overall pick in the 2017 NHL draft, to camp. Both are currently injured and not playing.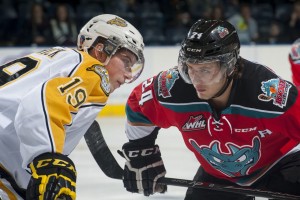 Patrick, in particular, is an interesting addition. He has been sidelined for all but six games this season with an upper-body injury. He had sports hernia surgery in the summer.
There have been rumblings that he'll be back soon, but a Vancouver Province report says he won't return to the Brandon Wheat Kings this week. If he's healthy and approaching 100 percent in the next couple weeks, as he believe he will be, he's enormously talented and could be a significant addition.
"That camp is still an option for me; I think I'll be ready to go before that and obviously that was one of my goals coming into the season," Patrick told NHL.com. "I think if I get back in time, they'll hopefully give me a shot at it."
However, Jankowski makes it sound like a late addition to the roster isn't on the table. He'll need to be healthy for camp in order to make the team. "For what we're trying to accomplish this year and with everything being earned, [Patrick] will have to participate in the games on Dec. 12-13-14 [in order to make the final roster]."
6. NCAA Flavor
While Canadians might call them former BCHLers, there are two NCAA players getting an invite to Canada's camp. Both North Dakota's Tyson Jost and Boston University's Dante Fabbro have a good chance of wearing the Maple Leaf come Dec. 26.
As usual, the NCAA is the least represented league at Canada's camp. Leading the way is the WHL with 12, followed by nine each from the QMJHL and OHL.
Last year's roster sported just one NCAA player, Boston University's Brandon Hickey.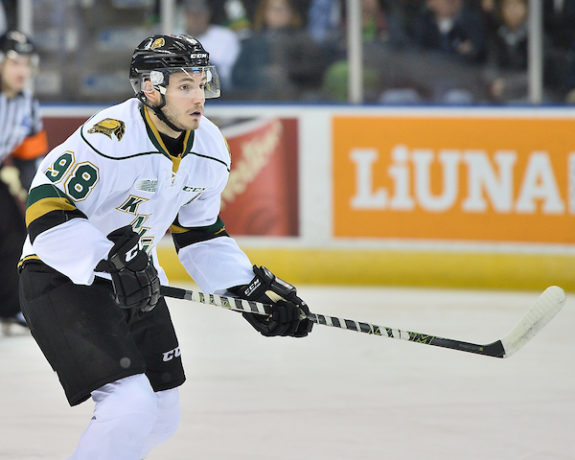 7. Untested Blue Line
The defensive group might be one Canada's biggest question mark. It should be a solid group, but may lack the elite players the team will have up front.
Chabot, the only player at camp who has skated in a World Junior tournament, is an excellent two-way defender who should be the group's anchor. He's a lock. Jake Bean, Noah Juulsen, Jeremy Lauzon and Fabbro are all players to watch, capable of eating up some good minutes. Guillaume Brisebois may not have the offensive upside of Vitor Mete or Samuel Girard, but he's capable of playing a role and being a strong penalty killer.
WJC: Ryan Jankowski: "We want to play hard, want team w/ speed and skill that's able to mesh & bring what i feel is a true Canadian team"

— Mike Morreale (@mikemorrealeNHL) November 29, 2016
8. Missing Pieces
Graham Knott (CHI), Jeremy Roy (SJS), Matthew Spencer (TBL), Keegan Kolesar (CBJ), Deven Sideroff (ANA), Tyler Soy (ANA), Connor Hobbs (WSH), Mitchell Vande Sompel (NYI), Evan Cormier (NJD) and Zach Sawchenko (2017 eligible) are all absent from the camp roster after having been a part of Development Camp over the summer. Meanwhile, seven players not at summer camp are headed to Selection Camp, including Sam Steel, Taylor Raddysh, Austin Wagner, Kale Clague, Mete, McNiven and Speers. (That is, outside of players now playing in the NHL. Chychrun, Marner, Crouse and Konecny were also a part of Development Camp.)
Additionally, Kelowna Rocket d-man Cal Foote, who was born in Colorado and was a part of Development Camp, is a part of the Canadian program, but has been ruled ineligible for this year's World Junior Championship because of IIHF residency rules.
There's really not much to be surprised about here. The only omissions that may have people up in arms are the absence of Tyler Benson, Logan Stanley, Cliff Pu and Ethan Bear, but those omissions were, to some extent, expected. All four will be eligible to make the team next year.
In the next couple weeks, Hockey Canada will start the tough process of culling this group down to 22 players prepared to go for World Junior gold on home ice when the tournament starts in Montreal and Toronto on Dec. 26.