The Edmonton Oilers lost again on Tuesday. This makes for another three-game losing streak and the third time in the 2016-17 season that Edmonton has lost at least three straight games. It also puts the Oilers in a spot where they now sit third in the Pacific Divison and two points from losing a playoff spot in the Western Conference. It's a far cry from the October team that looked like it had turned a corner in its development.
With just over a quarter of the season gone, and now the month of November in the books, the Oilers are showing they are a team that can and will go on a string of wins and then follow it up with a run of losses. In short, there seems to be little consistency in their play and it's a pattern that shows up, not just in the win/loss column, but in the deployment of the roster. It's starting to become a real concern.
Don't look now but the Oilers have finally dropped out of first in West and could be out of a playoff position by the weekend.

— Terry Jones (@sunterryjones) November 30, 2016
Lack of Consistency
Like any team, the Oilers have had players who lack consistent performances. Even Connor McDavid  — who is on pace for 106 points this season — has gone consecutive games without scoring. It's the nature of the beast, in that, not every player will perform their best game every time out. To be critical of players who struggle here and there simply isn't fair. It happens on every team and it can happen to anyone.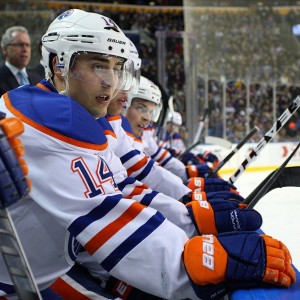 With that in mind, when a player struggles for extended periods of time, they come out of the lineup in lieu of a player who deserves an opportunity and can bring a spark to the team. So far this season, players like Benoit Pouliot, Jesse Puljujarvi, Eric Gryba, Mark Fayne and others have been sat. Some may argue, players like Jordan Eberle should have been.
In professional hockey, roster changes should be expected. After all, the name of the game is winning and a coach should and must do his best to ensure the proper formula to create success. Fans would hope, this is the mindset of the Oilers coaching staff for every game. Yet, in recent weeks, this doesn't always appear to be the case.
Is It Todd McLellan?
McLellan has earned his right to be considered a respected NHL head coach. His career record as a bench boss (in 645 games, his resume posts a 354-215 record) suggests he should be considered one of the better coaches in the NHL. There are, however, some serious questions that are arising in respect to his choices when it comes to playing and benching certain players on his roster.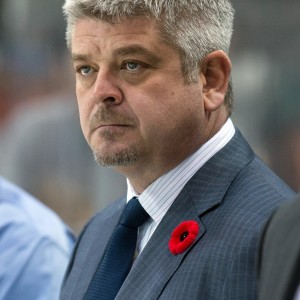 Clearly, the roster that has played in the last three games has not gotten the job done. In this recent slump, the Oilers have lost two consecutive games to Arizona and one to Toronto. All three contests were games the Oilers should have won.
Yet, all three games ended in losses and Tuesday's game was the closest thing the Oilers have shown to a performance that resembled the lottery team fans have been accustomed to in the past decade. It was a lackluster effort with terrible defensive breakdowns, a horrendous power play and a lack of ability to find the level of effort needed to beat a beatable team. The outward appearance of offense was there, but the shots weren't of the dangerous nature and legitimate scoring chances were few and far between.
Many are starting to question the makeup of the roster. Perhaps, justifiably so.
You take out both Slepyshev and Pitlick out and put in both Letestu and Hendricks, your line-up suddenly loses a lot of speed.

A lot.

— David Staples (@dstaples) November 30, 2016
Questionable Roster Changes
There was a time that the Oilers had a number of depth players unavailable due to injury. Players like Matt Hendricks and Drake Caggiula didn't start the season with the team and their status in the organization meant, if they were healthy, they probably should have. As those players started to heal and become available, McLellan started to play them.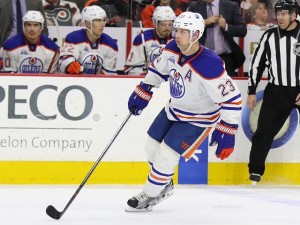 In some respects, a situation like this is understandable. If the team you wanted to assemble to start the year becomes available to you as a coach, it makes some sense to design your roster in that manner. The idea behind this theory is that the best players should usually play. For example, if McDavid had gone down to injury, but in his absence, the Oilers won every game, would you sit him until they lost? Of course not.
The problem with this argument — at least in the Oilers case — is that none of the returning players were anywhere near the caliber of McDavid. They weren't, in fact, able to offer anything beyond what the Oilers, at the time, were already getting from the players on the ice. McLellan made changes at a time the Oilers were winning games. To say the least, it was an odd time to make the switch.
The team was clicking, they were scoring goals in bunches and their power play was registering points. Many would argue, there was a never a better time to let it ride. This isn't what the Oilers did.
Slepyshev and Pitlick Out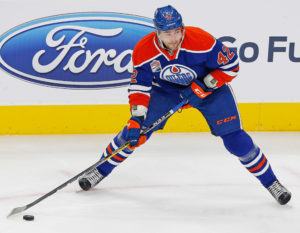 Instead of letting a winning roster roll, McLellan took out players like Anton Slepyshev and Tyler Pitlick. The Oilers also waived Anton Lander. This was done to make room for Matt Hendricks, Drake Caggiula and others, who to that point, weren't being missed. McLellan also slotted Mark Letestu and Benoit Pouliot back into the lineup, which meant pulling players out who didn't necessarily deserve to come out.
Pouliot was a prime example. He clearly had earned his demotion and time in the pressbox. He wasn't productive on offense and was taking terrible penalties. To many, he was a detriment to the team. Yet, in the midst of a winning streak, the Oilers slotted him back in and created a third line that, up until that point, hadn't played a single game together.
Should this losing streak be blamed on Pouliot? No. But, both Slepyshev and Pitlick are healthy and options the Oilers have available to them. Both are sitting. That the Oilers have lacked effort, speed, drive and consistent tenacity isn't a coincidence.
Pitlick is fifth on the team in goals, provides a 100% effort every game and has been moveable up and down the lineup with success. He should be on the ice. Slepyshev has four points in 11 games, a plus/minus rating of plus-two and has been a versatile forward in a depth role. He probably should be too.
Come Thursday, if both are still sitting, as an Oilers fan, it would make sense to wonder about the real motivation behind these decisions.