When the season started, the Montreal Canadiens had a chance to be significant movers and shakers at the NHL Trade Deadline (TDL). They had four unrestricted free agents on the roster and a chance to get essential pieces if those players played to their potential and stayed healthy. Half a season later, Montreal could be on the verge of not making many moves at the TDL and not getting anything significant. Injuries and underperforming players have taken the wind out of any chance of gaining precious assets to help the team propel forward in their rebuild. There is, however, a chance that they could still trade players for lesser pieces and still get something out of what could be nothing. Here is a look at three players that could still be moved at the TDL.
Evgenii Dadonov
Evgenii Dadonov was the return from the Vegas Golden Knights for the Shea Weber contract, and there were high hopes he would produce at least 20 goals and get a reasonably good return at the TDL as a rental for a playoff-bound team. He averaged 23 goals and 50 points a season before landing in Montreal, so there was no reason to think he couldn't be a solid secondary scorer for the Canadiens. His production, however, has been nowhere close to his average totals, and he has only four goals and 13 points in 42 games this season, putting him on pace for only seven goals. The only thing on the positive side for Dadonov so far might be his possession numbers which are relatively good on a terrible Canadiens team.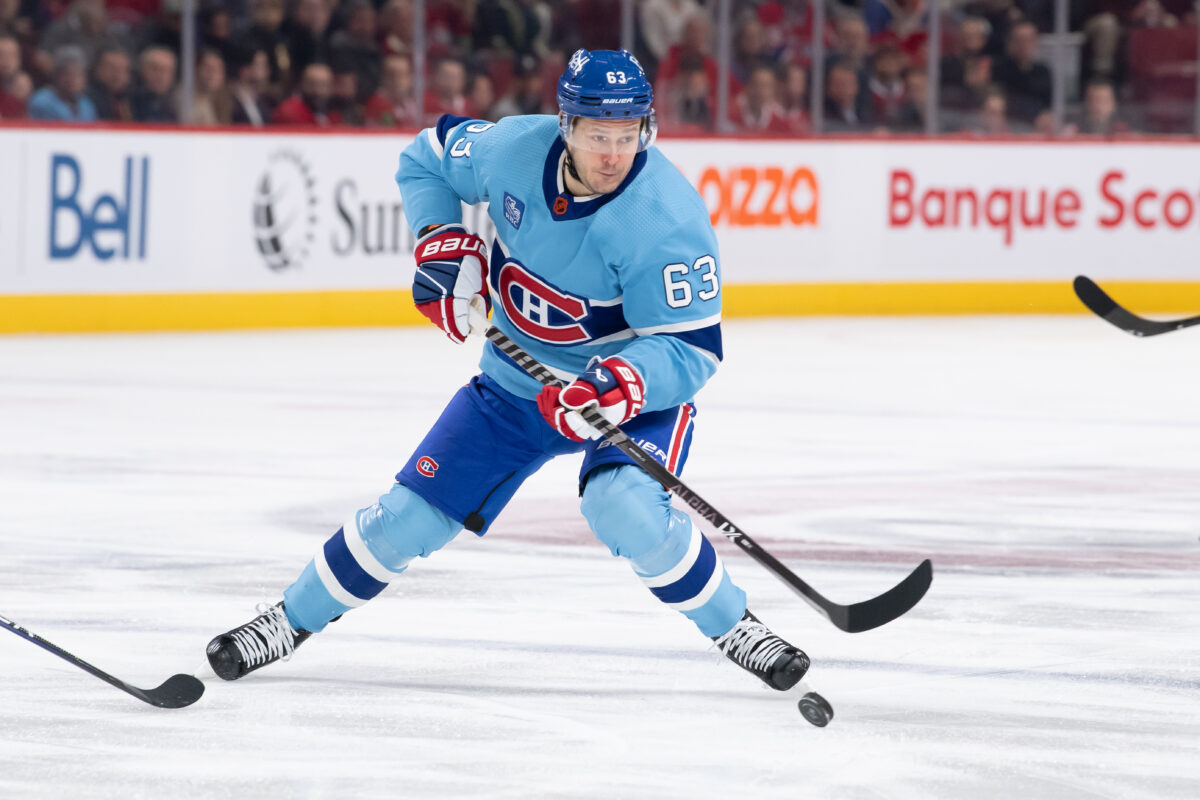 His Corsi is 50.1, which isn't great but solid for playing on a poor offensive team. Possession stats are not going to be what other general managers (GM) want to look at when making a trade; they want production, especially playoff production. Dadonov doesn't have much in that department either, playing in four playoff games with the Florida Panthers in 2019-20 and recording only one assist. If Habs GM Kent Hughes wants to move Dadonov, he has to sell the other GMs on his past production and convince them that his play in Montreal is just an anomaly due to chemistry with the team. If Hughes can do this, he could get a second – if he's lucky and a smooth talker – or third-round pick for the expiring contract or package him in a deal for something bigger. Either way, Dadonov can be moved, just not for anything significant.
Jonathan Drouin
Jonathan Drouin is probably the most polarizing player to ever play for the Canadiens. Former GM Marc Bergevin traded Mikhail Sergachev, a promising young defenseman, for him in the hopes that he would become the first-line center they have been missing forever. Well, things didn't work out that way: Sergachev went on to be a top defenceman on the two-time Stanley Cup champions Tampa Bay Lightning, and Drouin has been an injury-prone, inconsistent player that has averaged just under 50 points a season – if he could play a full 82 games. In the last season of his $5.5 million contract, Habs fans want this rollercoaster and disaster of a trade to be over sooner than later, and it will be. The hope is it will be at the TDL, and they can get at least something in return.
Related: 3 Canadiens Most Likely to be Moved at the Traded Deadline
---
Latest News & Highlights
---
Believe it or not, Drouin could draw some interest, as he is playing much better right now than he was at the start of the season. He has 12 points this season and has been pretty good on a porous power play (PP), he has yet to score a goal, but he is more of a setup man than a scorer anyway. He may not push the needle for any playoff team, but he wouldn't hurt them either; playing out of the Montreal spotlight and as a secondary scorer with no expectations could do wonders for his game. Expectations are low that the Habs even move Drouin, but if they could get a mid-round pick from a team that believes he could help them somehow, that would be a major win. Don't be surprised if teams like the Colorado Avalanche or Dallas Stars take a look at Drouin; also, don't be surprised if he stays with the Canadiens and walks off into the sunset at the end of the season.
David Savard
With all the talk of Joel Edmundson being moved to someone like the Edmonton Oilers, people forget that the Canadiens have another veteran who has played exceptionally well this season in David Savard. He has quietly had a solid season playing top-pairing minutes, which is way above where he should be. Like Edmundson, he does have a term left on his contract and could provide excellent depth for a team looking to have a deep playoff run. Savard also has won a Stanley Cup with the Lightning and has tremendous playoff experience. With the positive play of the Habs' defensive young guns, Hughes can afford to move Edmundson and Savard if he can, but he will more likely trade just one of them, and with Edmudson injured, Savard could be the player teams start focusing on.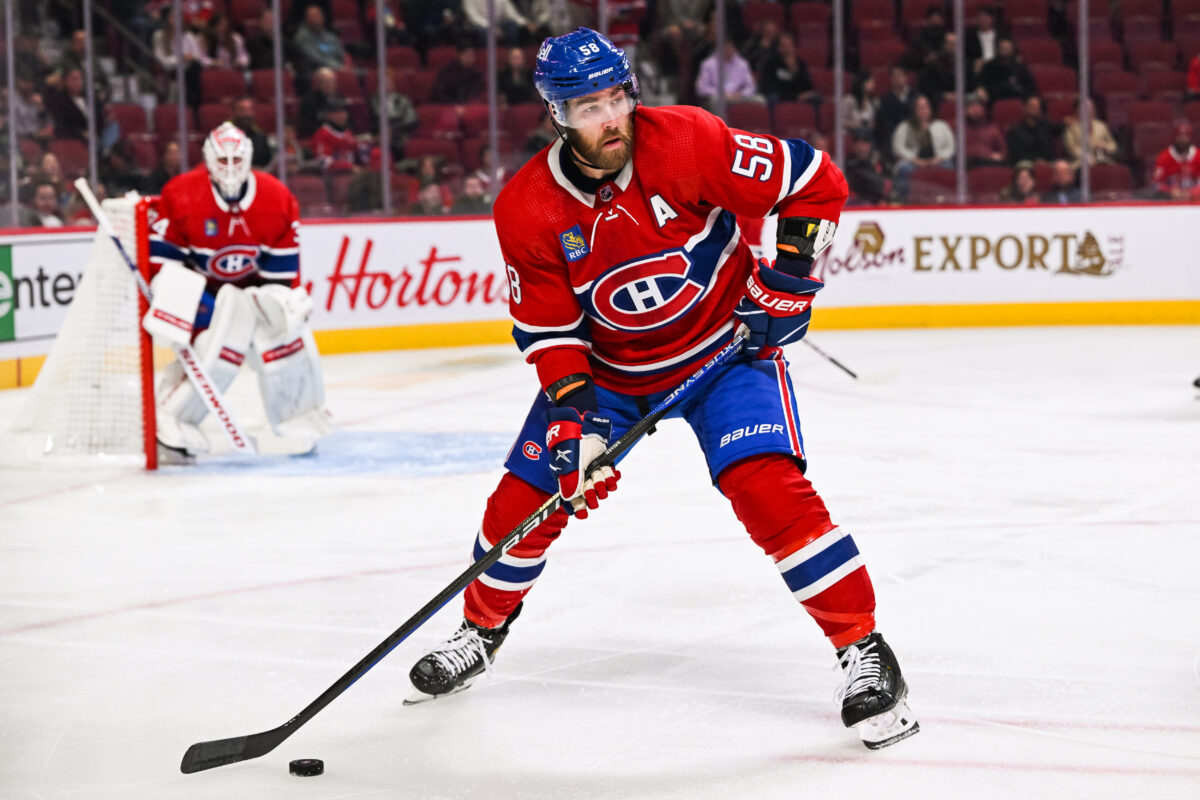 Hughes more than likely wants a top prospect or first-round pick for Edmundson, but it's not likely he will get the same return for Savard. Or could he? Savard has played much better than Edmundson and is less injury prone. He also has more playoff experience than former Montreal defenceman Ben Chiarot, who fetched Hughes an unprotected first-round pick last season. Savard could be that surprise move at the deadline that gets the Habs the extra first-round choice they covet if they retain some salary or take an expiring contract back to help a team acquire another player. Savard probably won't get the first-round pick, but a second is not out of the question, and when your team is rebuilding, the more selections you get, the better.
Sean Monahan is another player that will probably be moved at the TDL if he's healthy. He will undoubtedly get Hughes his first-round pick and maybe more, but only if he's healthy and can produce as he did before he was injured. Trading any of these players will require cap management from any team receiving them, so it wouldn't be a surprise if the Canadiens retain some salary. It will be a massive surprise if any or all three are moved at the TDL. Hughes doesn't have much to work with, but he has worked some magic before. Isn't that right, Florida Panthers?