The Montreal Canadiens were sellers at last year's trade deadline and have known for a while they will be in a similar situation in 2022-23. Despite a better than expected start this season, the Canadiens' chances of making the playoffs evaporated long ago.
Related: Canadiens Future Core on Defence is Taking Shape
This time of year, focus shifts to the trade deadline. With the Canadiens sitting in second last place in the Eastern Conference, they will be looking to sell off assets before March 3rd. That is what they did last season. They shipped out Ben Chiarot, Tyler Toffoli, Artturi Lehkonen and Brett Kulak, receiving a pair of first-round picks, a second-round pick and a third-round pick as well as prospects like Justin Barron, Emil Heineman and Ty Smilanic.
It was once hoped that this year's trade deadline would yield a similar haul of picks and prospects. But that looks unlikely now. In fact, even though the Habs are clearly in the sellers category, it is starting to look like things will be quiet in Montreal at the trade deadline.
Sean Monahan, Joel Edmundson Injuries Diminish Value
The main reason for a quiet deadline in Montreal is injuries. The team's two most valuable trade chips, Sean Monahan and Joel Edmundson have been out of the lineup for a significant period of time. Monahan has not played a game since December 5th with a rather mysterious foot injury.
Edmundson left a game early on January 26th and has been listed as day-to-day for 27 consecutive days. It was announced at the time that he was out of the game with a lower-body injury but then the next day the team said he has an upper-body injury.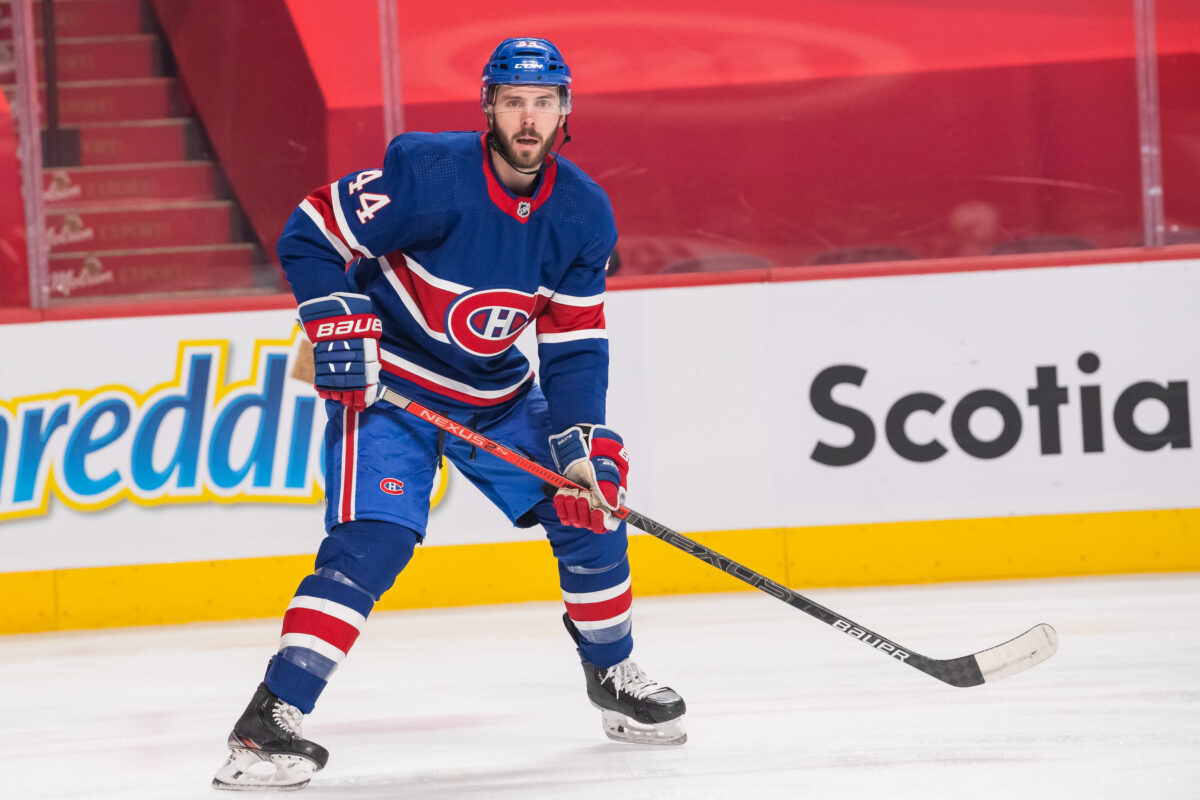 Both of these players could have landed a big return if they remained healthy. Monahan scored 17 points in 25 games to begin the season and likely would have been traded for a first-round pick if he continued at that pace. Edmundson is a big, physical, minute-munching, penalty-killing defenceman that general managers around the league absolutely love. There is plenty of reason to believe a healthy Edmundson would have been traded for a first-round pick plus a decent prospect, much like Chiarot was last season.
Unfortunately, injuries have robbed the Canadiens of both of those potential deals.
Jonathan Drouin, Evgeni Dadonov struggling
Aside from Monahan and Edmundson, the next most logical trade candidates are the team's pending free agents. This list includes Jonathan Drouin, Evgeni Dadonov, and Paul Byron. It doesn't appear that the Canadiens will be getting much at all in return for these veterans.
Drouin is an offensive winger who has not scored a goal yet this season. Dadonov has not really fit in with the Habs and has just four goals and 18 points in 48 games. Byron has been injured all season and is not expected to return.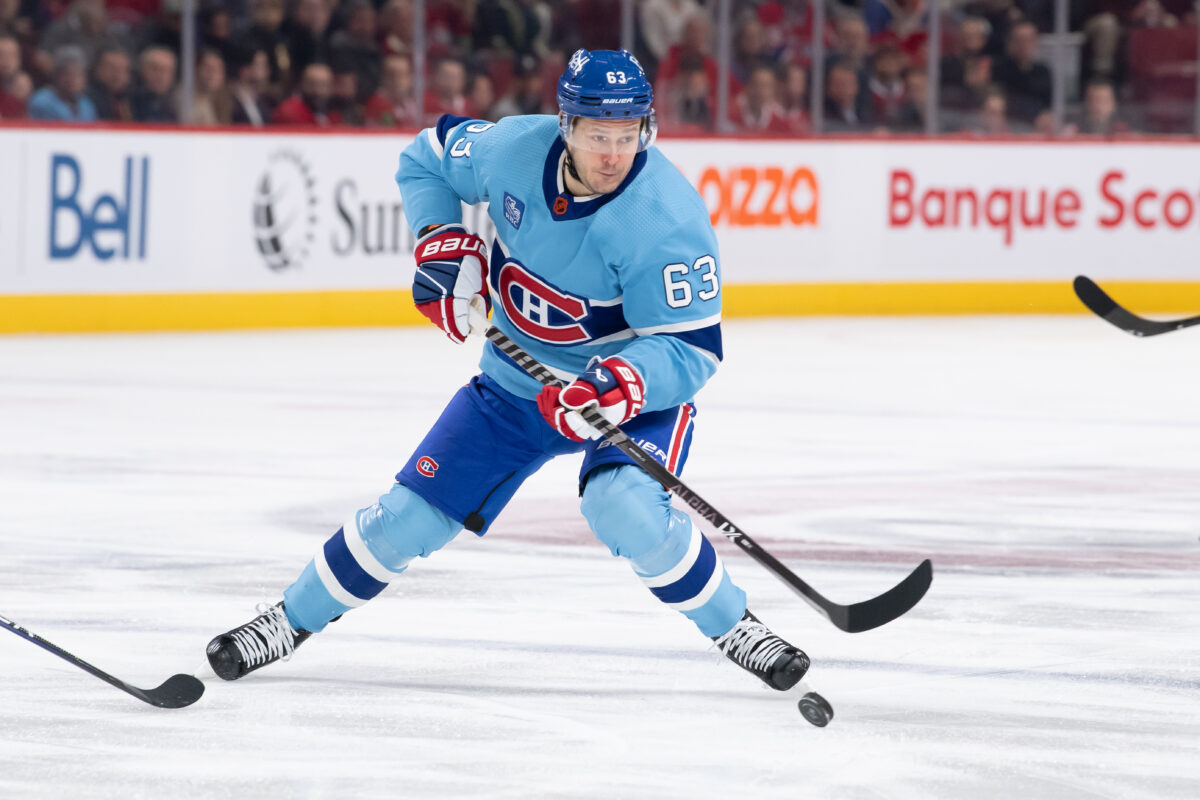 A combination of injuries to valuable veterans as well as healthy veterans not playing well has positioned the Canadiens for a very quiet trade deadline. But, that is not necessarily a bad thing.
First of all, Edmundson's injury was at the worst time to trade him this season, but he does have another year left on his contract. The Canadiens could still trade him at the NHL Draft this summer or even at next year's trade deadline. Defencemen who stand 6-foot-5 and can play over 20 minutes per night have a lot of value around the NHL whether they are on an expiring contract or not. The Habs are not losing out by keeping Edmundson now, since they can just do it later.
Not being able to trade Monahan hurts more because he is in the last year of his deal. However, the Canadiens could now try to re-sign him to a one-year contract with a much lower cap hit than his current $6.375 million. Monahan fit in well with the Canadiens and could re-establish his value in 2023-24 before hitting the open market as a free agent. If the Habs are sellers once again next season, Monahan could be traded at this time next year.
Canadiens Injuries Have Team Depleted Already
Meanwhile, injuries have wreaked havoc throughout the Canadiens lineup. If they were to trade Drouin and Dadonov, they would have to reach even further into the Laval Rocket lineup for replacements. Sure, Rafael Harvey-Pinard and Jesse Ylonen have played well since being called up, but you can only go to that well so many times before it dries up. Getting rid of as many veterans as possible and forcing even more youngsters into the lineup would eventually lead to someone playing way over their heads.
---
Latest News & Highlights
---
Also, the Canadiens have made 49 selections in the past five NHL Drafts, plus traded for a handful of young prospects as well. All of these players need a place to play and the Habs system is bursting at the seams with young talent. Do they really need another sixth-round pick for Drouin or a fifth-round pick for Dadonov?
An argument could be made that more picks are better, but they also have to ice an NHL lineup for 25 more games. We all saw how pathetic last season's team looked and it wasn't good for anyone. One dreadful performance after another was not helping the young players develop their games and stagnation is the enemy of development.
Canadiens Need Positive Environment For Kids To Grow
This season, the Canadiens have a lot of foundational pieces on the ice already. Just look at the defence. Kaiden Guhle will be back from injury soon and will join fellow rookies Justin Barron, Jordan Harris and Jonathan Kovacevic on the back end. Arber Xhekaj is a fifth rookie defenceman who has played well this season but is currently out with injury.
Even if he doesn't play much more this season, a veteran like Edmundson offers a lot of value to these young defenders. Edmundson won a Stanley Cup with the St. Louis Blues in 2019, and plays the game with a selfless, hardworking effort every night. That is something he can pass on to the rookies as they learn the ropes of playing at the NHL level on a nightly basis.
How important are centres and winning the middle of the sheet?

The Habs just competed well with the Bruins with Dach and Suzuki on the ice for 47 of the 60 minutes.

— Brian Wilde (@BWildeMTL) January 25, 2023
Up front, Nick Suzuki and Kirby Dach are developing into a terrific one-two punch down the middle. Add in Cole Caufield and Juraj Slafkovsky, who are both unfortunately injured, and you have two-thirds of a future top six already on the roster. It would be beneficial to have them playing competitive games and developing into better players.
The only real downside to having these veterans around for the rest of the season is they could possibly hurt the Canadiens chances at the NHL Draft Lottery. Of course, at this point in the season, the Canadiens are 11 points up on the Anaheim Ducks and Columbus Blue Jackets and seven points ahead of the Chicago Blackhawks. No matter who the Canadiens trade, they aren't finishing in the bottom three.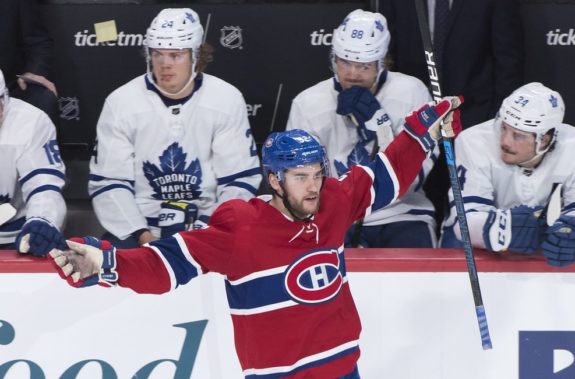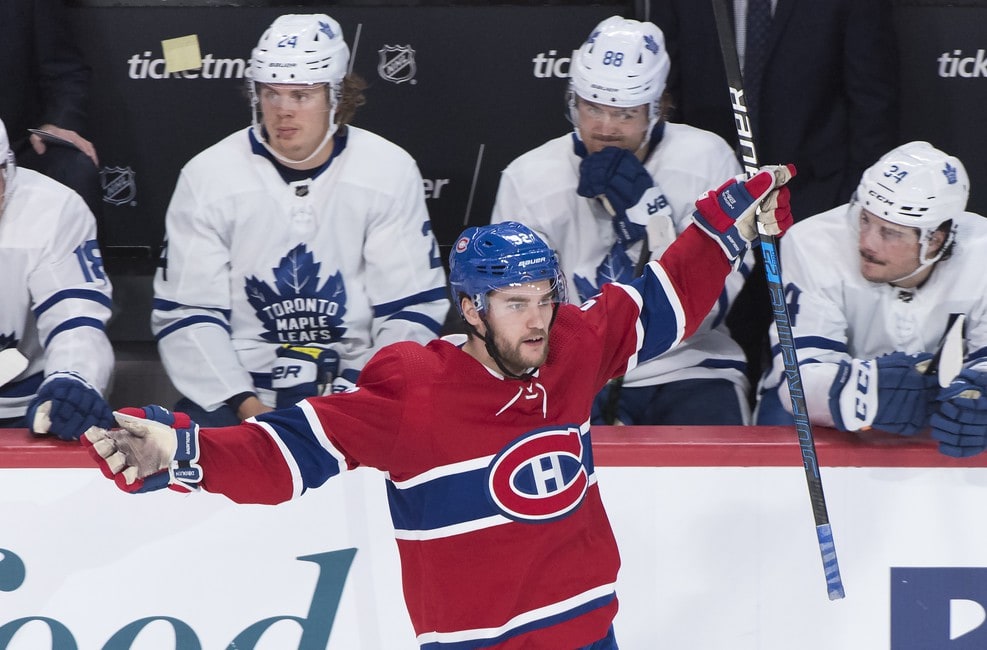 Will stellar play from the veterans down the stretch move the Habs to picking 8th overall instead of 5th? Possibly, but that is the difference between picking two very similar players who both have a real good chance of being an impact player in the NHL down the road. Besides, are Drouin's zero goals and Dadonov's four snipes going to win many more games anyway?
At first glance, seeing that the Canadiens are likely to be quiet at the upcoming trade deadline feels like a letdown. However, they can still trade Edmundson before next year's trade deadline and could re-sign Monahan. In two short months in Montreal, he was able to rejuvenate his career and would be wise to come back for one more season to set himself up for free agency in 2024.
Beyond those two, there are not many valuable pieces anyway. They may be able to get late round picks for Dadonov and Drouin, but they would be just as well off to have them play out the season and not force any young players into the NHL lineup before they are ready.
Josh Anderson's name has been floated in trade rumors recently, but his hefty contract with four more years at a cap hit of $5.5 million would make it easier to dangle him in the offseason.
Canadiens' Young Players Just Need Time, Experience to Continue Rebuild
The Canadiens already have a lot of key young pieces in place. Suzuki, Dach, Guhle, Barron and Harris will only get better as the team plays competitively down the stretch, and they all have the potential to be prominent players on this team in the future. Losing 5-0 every night is not going to help them become better players. It may cost the team a couple of slots in the NHL Draft, but they will also have cornerstone pieces that are a step ahead which is the whole point of development.
The reality at this point is, the Canadiens would have to lose pretty much every game to have the best chance of drafting Connor Bedard. Then, they could still lose two lotteries and pick third overall. It is not worth wasting 25 games of development to try and get a slightly higher draft pick. They are going to get a pick inside the top ten for sure, and maybe even top five, plus they have the Florida Panthers first-round pick which will be in the middle of round one.
The rebuild will continue with two more great prospects being added early in the draft in June. But it will also take a step forward if the young players already on the roster continue to learn and grow in the final two months of the season.
It would be exciting to watch a team that is trading veterans for the biggest return next week, but that is not what the Canadiens need right now. They need time to allow this young defence to grow and allow young forwards to continue developing and actually earning a bigger role.