The Montreal Canadiens are clearly sellers as we approach the 2023 Trade Deadline. Though they know where they stand, thanks to their 23-29-4 record, they may not do a lot between now and March 3.
The Canadiens simply do not have a lot of attractive veteran trade pieces right now. Sean Monahan and Joel Edmundson would have been their two biggest pieces of trade bait but they are both injured, and pending free agent Evgeni Dadonov has not played well enough this season to expect much of a return. Jonathan Drouin was in the same category as Dadonov for most of the season. The skilled left winger just has not put up many points and his $5.5 million cap hit makes any trade even more difficult.

Jonathan Drouin Improved Play Recently
While Drouin struggled mightily to produce early in the season, and still has not scored a goal, he has played a lot better lately. The Ste-Agathe, Quebec native put up just five points in his first 19 games of the season and his trade value appeared to be nil. Since then, he has 12 points, all assists, in 14 games played.
Related: Is It Time Canadiens Trade Jonathan Drouin?
---
Latest News & Highlights
---
That is a pretty terrific run of playmaking and shows what Drouin does best. He is a great skater, a good puck handler and a great distributor. He has exceptional vision with the puck and can find a teammate with a pinpoint pass to set up a great scoring chance. The real problem is the Canadiens have never had great goalscorers to pair up with him.
There is a real possibility, thanks to his recent stretch of solid play, that another team will call about Drouin. It is not hard to imagine him fitting into a deep team's top nine and having success if paired with a couple of goalscorers on his line. He has been stuck on one of the worst power plays in the league for the past six years in Montreal and could flourish on a deeper team's man advantage.
Winnipeg Jets
A lot of people point to the Colorado Avalanche when talking about potential destinations for Drouin. The main reason being his familiarity with Nathan MacKinnon from their time as teammates with the Halifax Mooseheads. That makes sense, but the Avalanche are not really in the market for a winger.
Speaking of Mooseheads magic, are you familiar with how well Drouin and Nikolaj Ehlers played together in Halifax? After winning a Memorial Cup and being drafted third overall in 2013, Drouin was sent back to what was supposed to be a depleted Mooseheads roster. They no longer had MacKinnon or Martin Frk up front, but they added Ehlers who stepped right into a prominent role.
Drouin finished that season with 108 points in just 46 games and Ehlers, a rookie in the Quebec Major Junior Hockey League (QMJHL), scored 49 goals and 104 points in 63 games. Drouin went off in the playoffs, scoring a ridiculous 41 points in 16 games while Ehlers added 28 points. They were surely a dynamic duo capable of providing offence on every shift and could be an intriguing pair once again at the NHL level.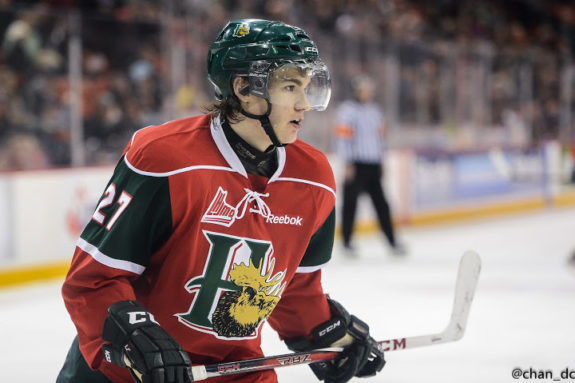 The Jets are quite deep down the middle with Mark Scheifele, Pierre-Luc Dubois and Adam Lowry. They also have some great wingers like Ehlers, Kyle Connor, Cole Perfetti and Blake Wheeler but could use a couple more to add some depth to their top nine. Adding Drouin and putting him on a second line with Ehlers and Scheifele would give the Jets a great offensive line behind Dubois, Connor and Wheeler.
The Jets are one of the few contenders out there that can actually take on all of Drouin's salary which makes a deal easier. It also makes the return slightly lower. We have to keep in mind Drouin is an offensive winger with zero goals scored this season. Though there is a great possibility he looks better on a line with Ehlers and Scheifele than he ever did in Montreal, the Jets are not going to give up a ton for Drouin.
A swap with the Jets would likely net the Canadiens a depth prospect. They could target Dom DiVincentiis who was drafted in the seventh round of the 2022 NHL Draft but is having a strong season for the North Bay Battalion of the Ontario Hockey League. The 18-year-old has a 2.43 goals-against average and .914 save percentage in 39 games this season. He would give the Canadiens a solid goaltending prospect which is a position they are thin at in the pipeline.
Minnesota Wild
The Minnesota Wild are barely hanging on to a playoff spot in the Western Conference. They have also scored the fewest number of goals (167) of any team that is currently in a playoff spot. They need to add some offence at the deadline.
Drouin is not their number one priority, but the Wild may have another motive other than just adding offence. They are in a terrible cap situation moving forward, as the buyouts of Zach Parise and Ryan Suter are going to cost them close to $15 million for each of the next two seasons. Also, the new contract for Matt Boldy will cost them $7 million starting next season. If the Wild can move out some future salary, they would like to do that.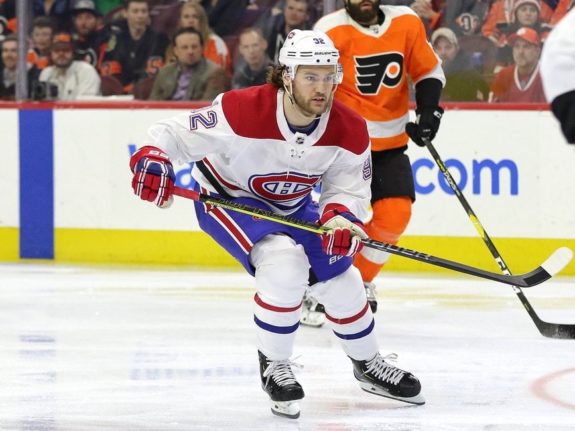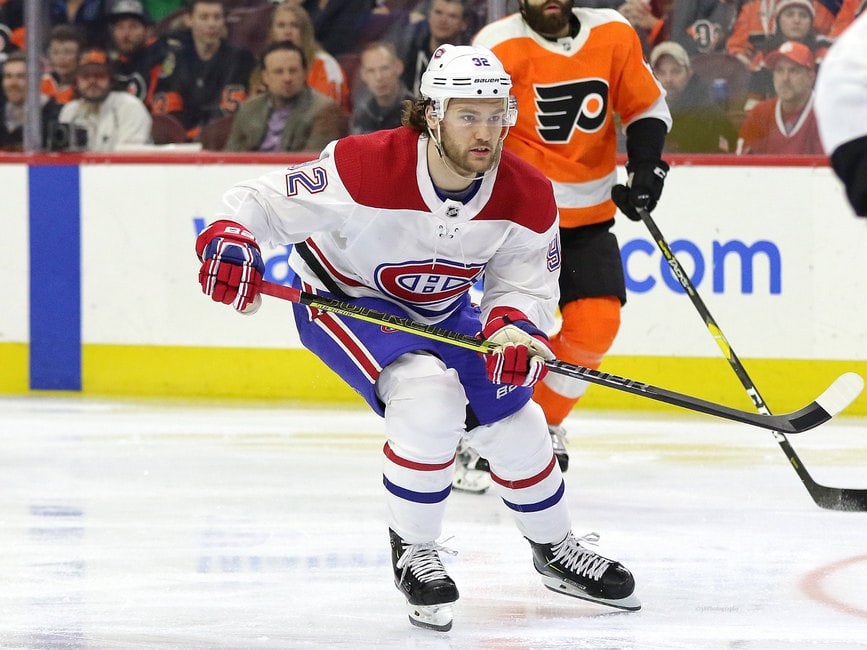 One player they appear ready to move on from is Jordan Greenway. He is an enormous winger at 6-foot-6 but is having an awful season. The 26-year-old has scored two goals and six points in 39 games and seems to have lost his way in Minnesota this season. He is signed for two additional seasons with a cap hit of $3 million and the Wild may want to rid themselves of that contract.
The Canadiens, on the other hand, have a lot of money coming off the books this summer and could use a hulking winger. They already have plenty of small, skilled forwards and could use a bit more size in the bottom six. Trading Drouin for Greenway, and hoping he finds some of his lost offence, would be worth the gamble for the Canadiens.
Tampa Bay Lightning
The Tampa Bay Lightning were the team that drafted Drouin third overall, dealt with a little drama when he refused a minor-league assignment, and traded him away at the age of 21. However, that was under previous management, and Drouin has matured a lot in his six years with the Canadiens.
While the original trade was heralded as a local kid coming home, it appears Drouin would be best served playing anywhere other than Montreal. Moving away from the bright lights of the Bell Centre and the media circus that is the Canadiens would be beneficial for Drouin. Going to a team that is loaded with skilled forwards would allow him to blend in and not be a focal point, but also give him the best linemates he has had in his career.
The Lightning are tight to the cap but there is an easy fix for that, as the Canadiens could agree to retain 50 percent of Drouin's salary, and also take back Vladislav Namestnikov who is signed to a one-year contract with a cap hit of $5.5 million. If the teams can find a third party to also retain 25 percent, it would actually save the Lightning some cap space and allow them to add another player. They could even add Max Domi who is one of the few players Drouin had real chemistry with during his time in Montreal, but I digress.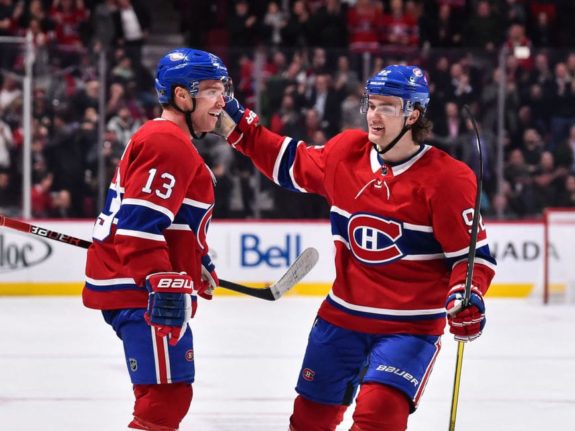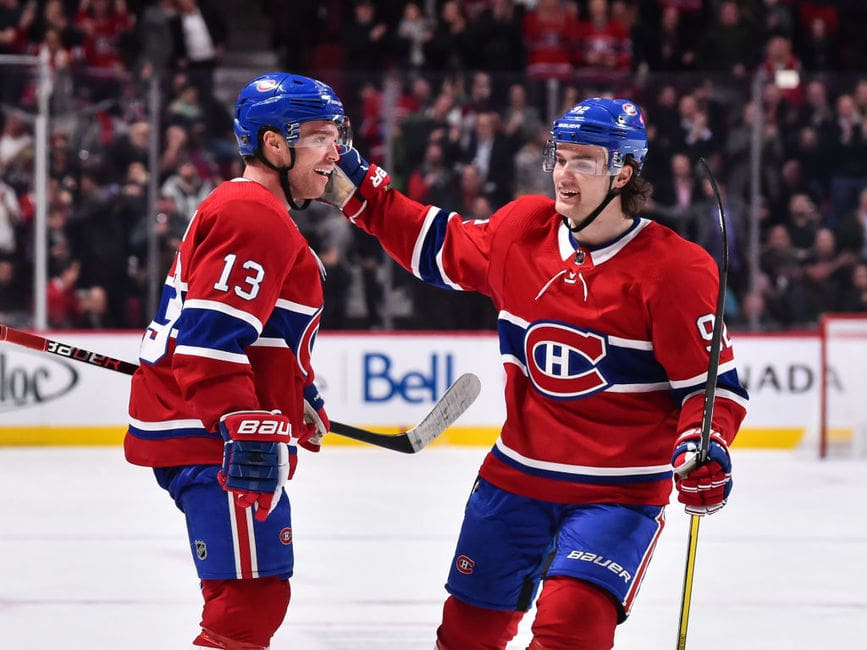 Drouin has not always been a perfect fit in Montreal, but putting him on a skilled line in Tampa Bay would bring out the best in him. He could fit anywhere in their lineup, as the Lightning prefer not to load up their top line and instead balance things out among their top three lines. Drouin could fit on the third line with Nic Paul and Ross Colton. He could also slide into a second line with Steven Stamkos and Alex Killorn or even play on the top line and set up Brayden Point and Nikita Kucherov while allowing Brandon Hagel to play further down the lineup and add more depth throughout the top nine.
With the Canadiens willing to retain money, and take on Namestnikov's remaining contract, they would be able to get a 2023 fourth-round pick for Drouin. They may even be able to retain money on Namestnikov and trade him elsewhere, but he has just 14 points in 53 games this season. Even if they keep him for the remainder of the season, finding a way to get a mid-round draft pick for Drouin would be worthwhile.
The Canadiens may need to get creative by taking back a bad contract, retaining salary or even getting a third team involved to move money around. But there is definitely a path to a Drouin trade with a little something coming back before the trade deadline.