You don't need to tell the Montreal Canadiens that cap space is fleeting. No sooner does their projected cap hit look healthy (for 2023-24 after a season at the top of the league, but as they were toiling at the bottom of the standings) than you hear rumors of forward Cole Caufield approaching a huge extension that will eat up a huge chunk of it.
Of course, any reports a Caufield contract extension is close to getting done are welcome. Even so, it's a sobering reminder how much cap space is like the weekend: enjoyed one day, worried about no longer being there soon thereafter and then gone the next. In the case of an NHL team like the Canadiens though, it's going to have to last them a while.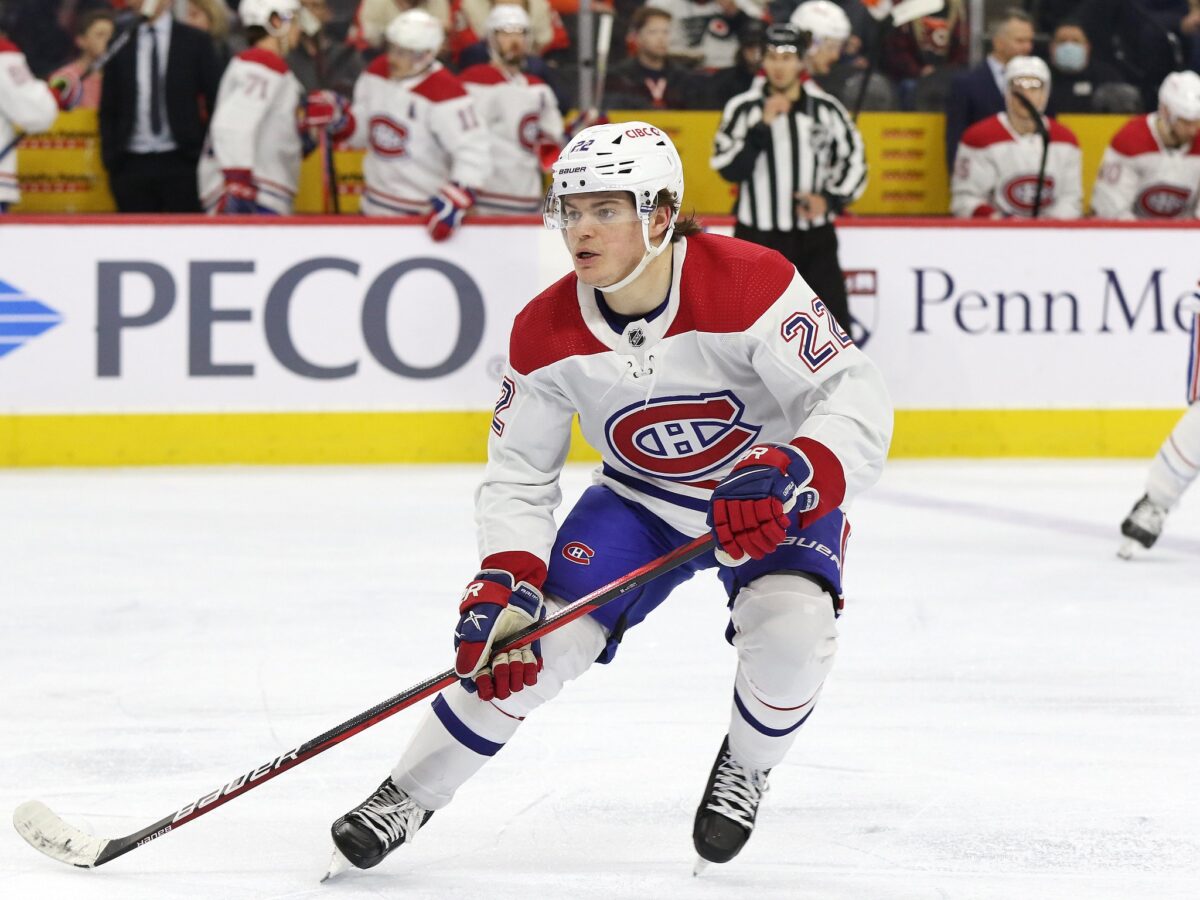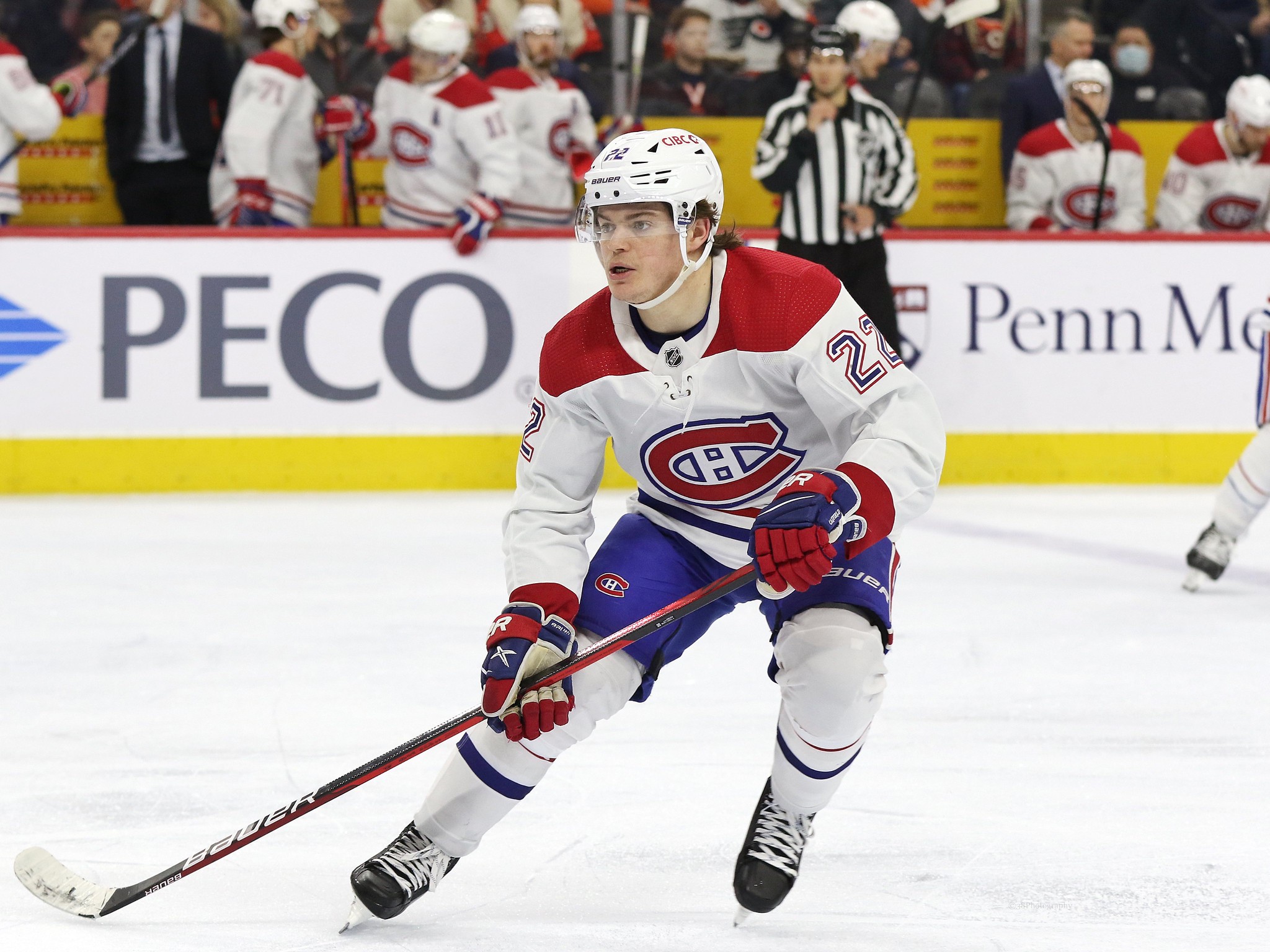 Thankfully, even with the hypothetical Caufield extension, general manager Kent Hughes looks to have his ducks in a row in terms of how his remaining cap space will be used. Here are the likeliest scenarios (ranked in decreasing order from most to least) for what's left:
3. Rafael Harvey-Pinard Extension
Once Caufield's extension gets done and with Michael Pezzetta officially inked (two years, $1.625 million), Hughes is just about done with his re-signings… at least the re-signings he has to make. Denis Gurianov may be another restricted free agent, but he's a special case.
Related: Non-UFA Canadiens Likeliest Not to Return for 2023-24
In terms of Habs players destined to stay/make the team, really just Rafael Harvey-Pinard remains. Obviously, Harvey-Pinard impressively scored 20 points and 14 goals, ending up No. 9 among rookies in the latter category despite playing just 34 games. He may be destined for a smaller role next season, as he only got as much time playing with Nick Suzuki on the top line as he did due to injuries. Even so, barring something unforeseen, he's a veritable lock, because of his versatility, ability to play up and down the lineup, as well.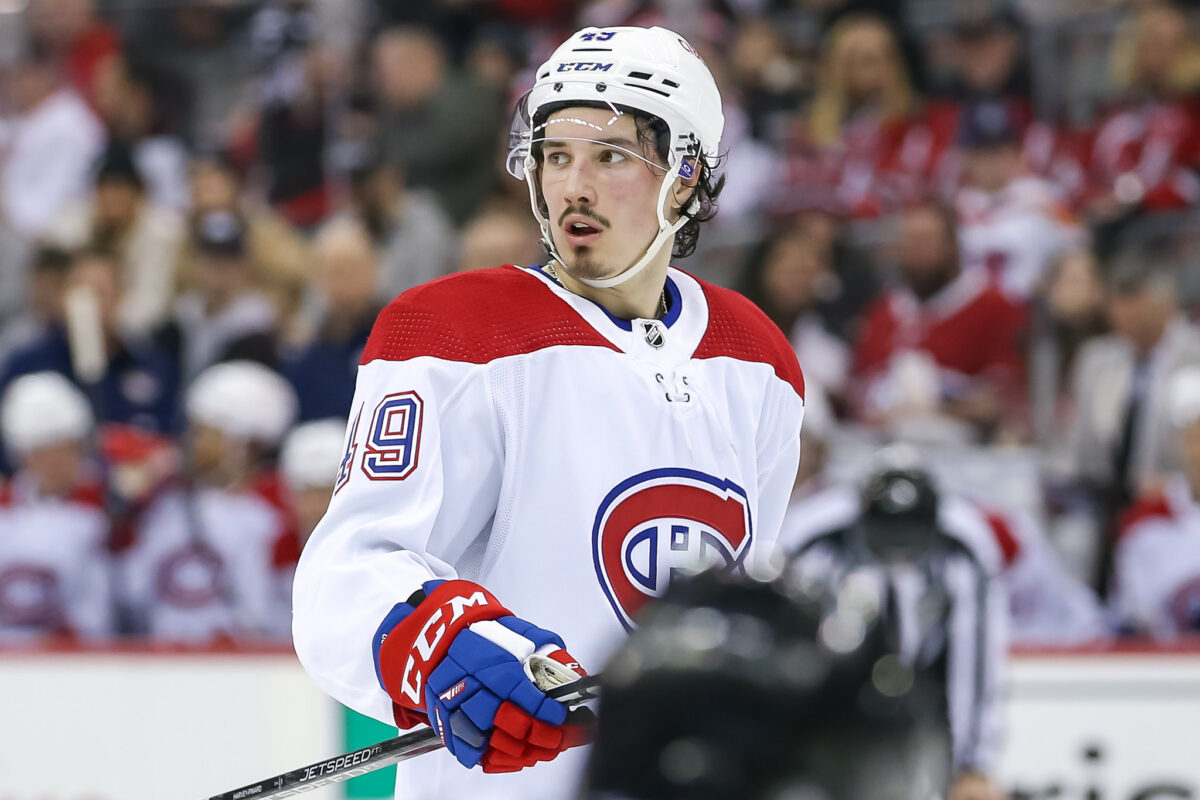 Even so, as a 24-year-old rookie with just 38 NHL games played, Harvey-Pinard won't break the bank. Combined with Caufield's extension, they could potentially come under the projected $83.5 million ceiling without any required salary dumps. Jesse Ylonen may also be restricted and has earned another deal, but, due to a full complement of players on the team already, he's realistically looking at being the first one called up instead (barring a trade).
2. Unrestricted Free Agency Signings
With that in mind, the Canadiens simply shouldn't be hitting the free agent market. More to the point, they shouldn't really want to, either. Their biggest hole is in net, while their supposedly top priority this offseason could be construed as addressing their need for a top-line right winger. However, both can be explained away as not being immediate.
In the case of the latter, the Canadiens can draft someone with their fifth-overall pick at the 2023 NHL Entry Draft. In such an instance, the high-impact player in question would theoretically be just a few years away from hitting their stride, which would effectively coincide with the team's likely timeline to contend.
---
Latest News & Highlight
---
For example, in the case of the former, the Canadiens should wait and see what they truly have in Samuel Montembeault before committing to someone else. As they're not looking to contend right away, they can afford to take their time in that regard. If Montembeault doesn't pan out, why not wait a few offseasons to, as a last resort, sign a goalie who will likely already be on the verge of declining?
With free agency, that's effectively what you're getting regardless of the position. Case in point, the youngest big-ticket free agent is maybe Canadiens forward Sean Monahan at 28. Once a point-per-game player and 30-goal threat, he scored 17 points in 25 games in what was considered the start of a successful rebound season for him after he had been hampered by hip problems the last few campaigns. Then he suffered season-ending injuries of the broken-foot, groin varieties.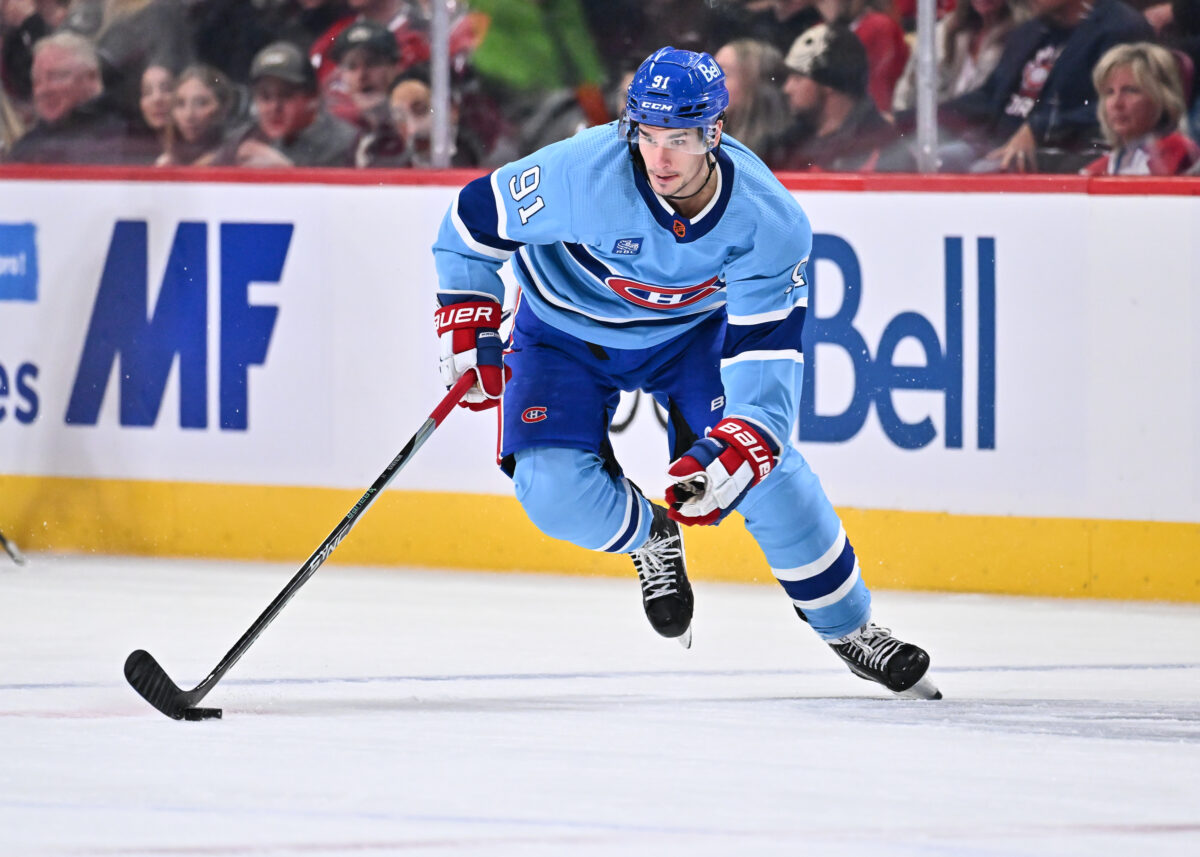 All that to say, Monahan isn't a sure thing. That's true of any acquisition regardless of the circumstances, but it's truer of unrestricted free agents, especially UFAs presumably looking for job security. So, if the Canadiens do go the free-agent route, they'd be going after depth players if anything. However, they'd first have to make room for any such signing to make sense, primarily roster-spot-wise, but also regarding their suddenly dwindling salary-cap space.
1. Another Sean Monahan Situation via Trade
So, whereas Hughes worked his magic last offseason to acquire Monahan (and a first-round pick) for nothing at all, fans should consider it a luxury they can't afford this time around. It is a fluid situation though, in that Hughes could theoretically move on from a few contracts, most notably defenseman Joel Edmundson's and his $3.5 million hit.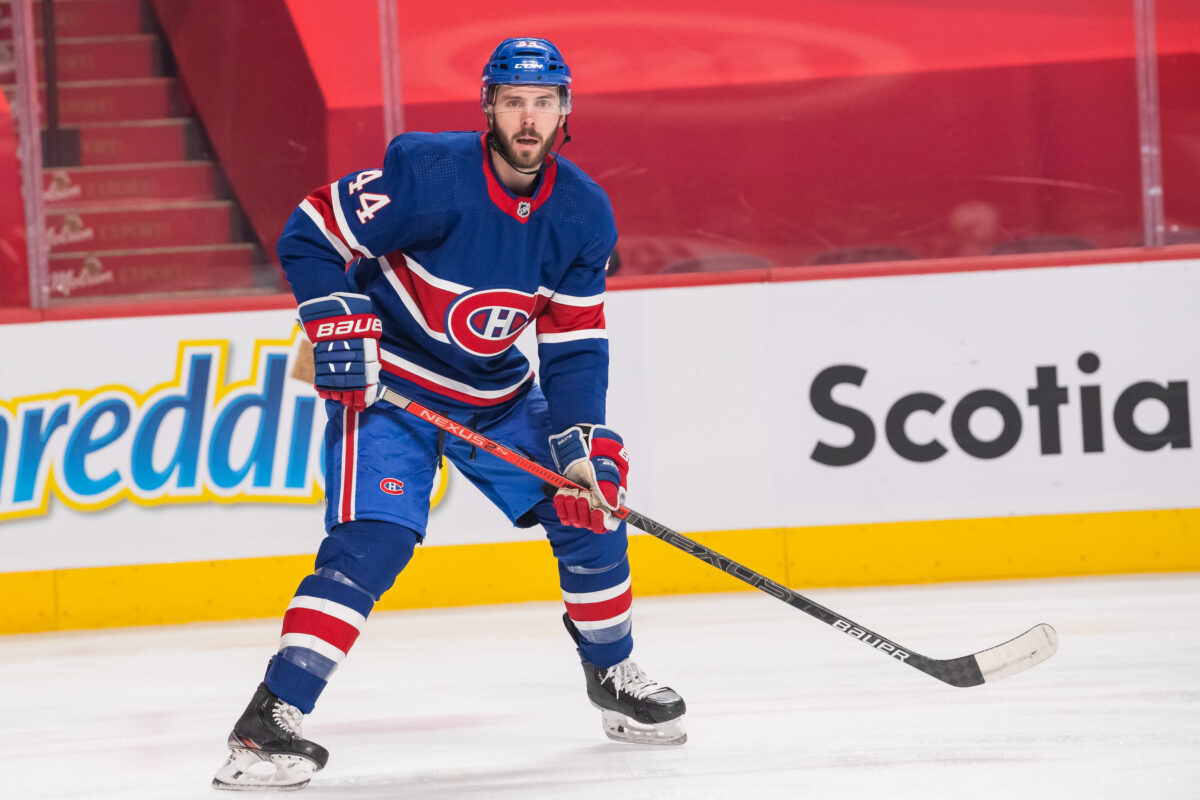 While that's a move almost to be expected, other big contracts like Brendan Gallagher's are probably staying put. However, even if the Canadiens were able to, it's hard to envision them being on board for a similar arrangement just one season later.
Monahan was a special circumstance in a lot of ways. Few expected him to be as useful as he was, so Hughes effectively gambled on him, but it was worthwhile as the Canadiens had been coming off a last-place season and didn't have anything to lose (except, evidently, a shot at the first-overall pick this coming NHL Entry Draft).

Now, after two consecutive losing seasons, the Canadiens probably aren't looking to do anyone any favors, unless it's a quid pro quo, where, for example, the Canadiens take on a bad contract in exchange for goalie Jake Allen (to give Cayden Primeau a shot), in which case they may end up with another blue-chip asset.
However, it's clearly not the priority, as the Canadiens seek to be more competitive this coming season. Monahan may have unexpectedly contributed to such an outcome last season, but bringing him back, even for a single season, is unlikely based on what he'd presumably be wanting himself. Quite frankly, it would even be less than ideal from the Canadiens' perspective, with Kirby Dach in line for more time at center instead.
Ultimately, the Canadiens had the room last offseason for the last year of Monahan's deal, because Caufield wasn't yet a RFA. Now that he is, Caufield is the top priority. Based on recent reports, it's fairly clear Hughes has his priorities in order.