Contending for a playoff spot and simply contending are very different. The Montreal Canadiens are arguably ready for the former in 2023-24, not so much the latter. So, the idea of signing soon-to-be on-the-decline unrestricted free agents once the 2023 market opens should be out of the question.
Canadiens Need to Answer Question in Net
There will of course be holes in the lineup general manager Kent Hughes has to plug. So, in that sense, free agency can be a useful tool. However, the biggest hole is in net following the "retirement" of Carey Price.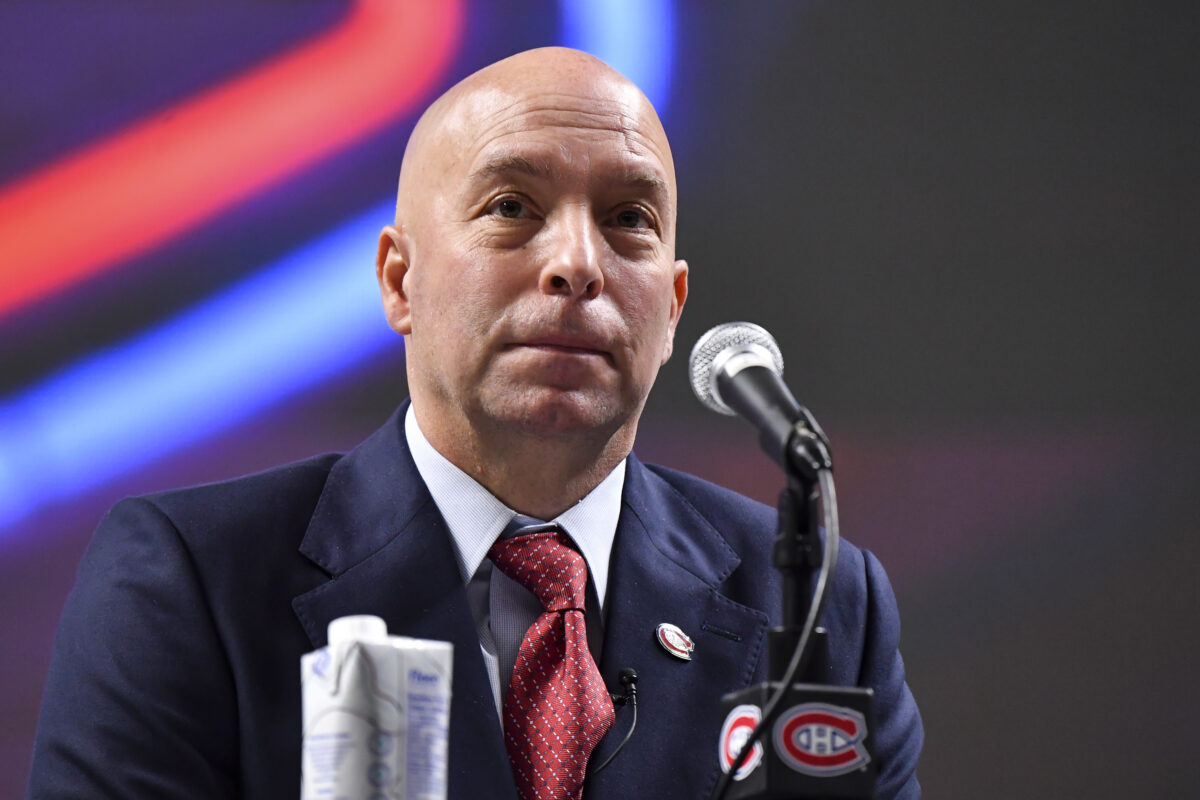 As it stands now, the Canadiens' best option in net is Samuel Montembeault, following a fairly successful season for him personally. He nevertheless has a lot to prove, with a stat line that features a 16-19-3 record, 3.42 goals-against average and .901 save percentage. So, there is undeniably room for the Habs to improve on that front.

However, even if you're of the belief Montembeault's ceiling is only that of a backup, there's little denying both he and Jake Allen would have fared better statistically playing behind a defense that gave up the fifth-most shots in the league (33.6). Even so, there's a general belief that defense has all the tools necessary to be competitive itself in a few seasons, with the corps comprising five rookie regulars in 2022-23 (Kaiden Guhle, Jordan Harris, Arber Xhekaj on the right, Johnathan Kovacevic and Justin Barron on the right).
Goaltending via Free Agency
If the Canadiens (and their fans) are prepared to be patient with their defense, it only makes sense for them to be patient with the rest of the lineup, especially in net. True, the Habs do seem to lack a game-breaking talent in between the pipes in the system currently. As a result, they can stand to add one via free agency for example. However, there's a problem with that strategy.
Firstly, the only "young" goaltenders available via unrestricted free agency this coming summer (at least for now) are Pittsburgh Penguin Tristan Jarry, Detroit Red Wing Alex Nedeljkovic, Vegas Golden Knight Adin Hill and Los Angeles King Joonas Korpisalo. With exception to Jarry, none are truly established as No. 1 goalies in the league, meaning you'd be taking a huge risk signing them, conceivably to term, that they'd suddenly reach another level of play in each of their late twenties.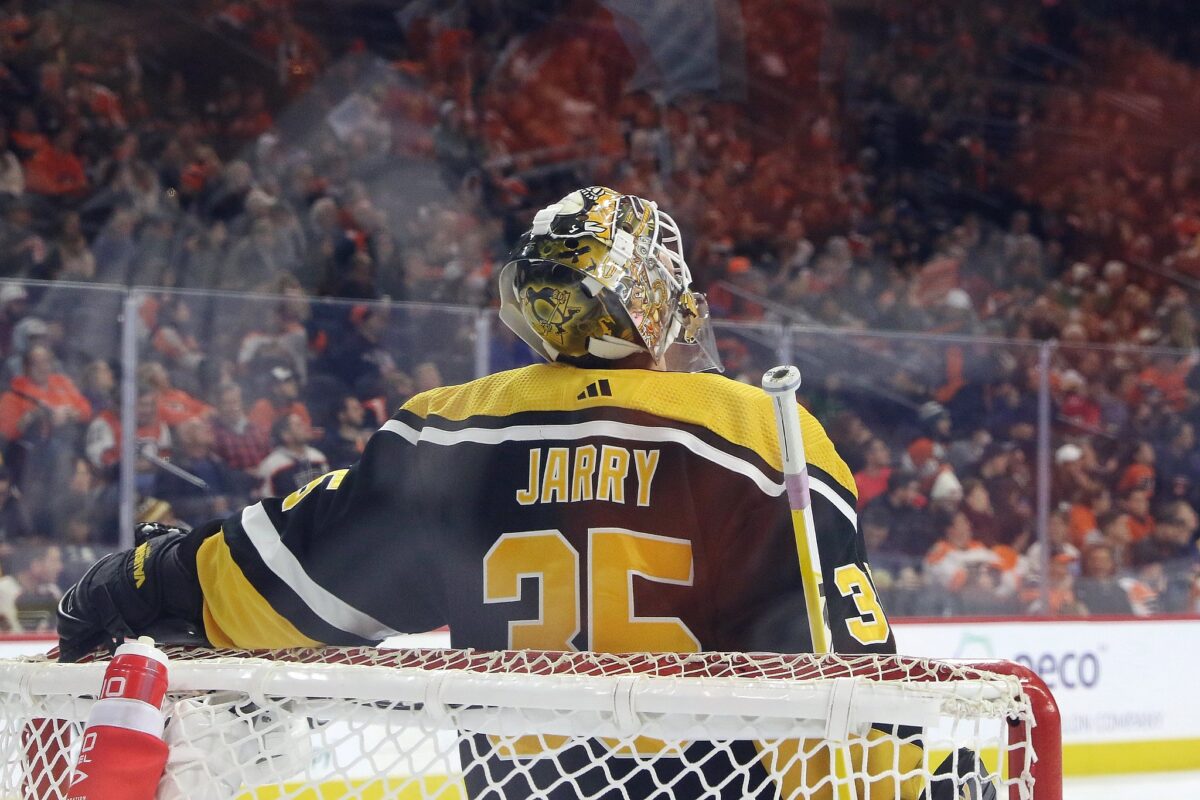 Meanwhile, with specific regard to Jarry, who has to his credit proven himself to be a legitimate starter, you'd also be taking a risk. As established as he is, nothing about his game is what you would consider elite. While you don't necessarily need elite goaltending to contend in general, these specific Canadiens would, to make up for their defensive deficiencies. Plus, at 28, Jarry may be young now, but who knows how effective he'll be in just a few seasons once the roster matures around him.
Related: Canadiens on Right Track to Becoming Next Avalanche
---
Latest News & Highlights
---
You may admittedly have to resign yourself to acquiring a goalie through other means instead of drafting one. After all, Price is the exception and not the rule as a top pick who panned out in net, and, if you can't rely on a top pick panning out, it becomes a crapshoot with later ones.
So, free agency is an option, just more of one in 2024 when names like Winnipeg Jet Connor Hellebuyck and New York Islander Ilya Sorokin hypothetically become available. In 2025, New York Ranger Igor Shesterkin and Nashville Predator Juuse Saros are projected to hit free agency instead. If you're going to invest in goaltending, those are the years to do it, especially with the rest of the roster not yet ready.
Dach -tor's Orders
That goes for up front too, in addition to on defense. The Canadiens have Nick Suzuki and Cole Caufield as two thirds of a legitimate top line and may lack the third component. However, they drafted Juraj Slafkovsky, who at least at one point envisioned himself in that role (from 'Canadiens Notebook: Slafkovsky put on a line with Suzuki and Caufield,' Montreal Gazette, Oct. 4, 2022), first overall last year.
It makes no sense for the Canadiens to sign someone else (presumably to term) just to put an obstacle in the lineup, preventing him from reaching that potential. Right now, Josh Anderson, who can play up and down the lineup, makes for a temporary fill-in. He's not perfect in that first-line role, but he does just fine as the aforementioned duo's most common partner last season into the medium term (after Kirby Dach, who should be pegged to play center on the second line instead).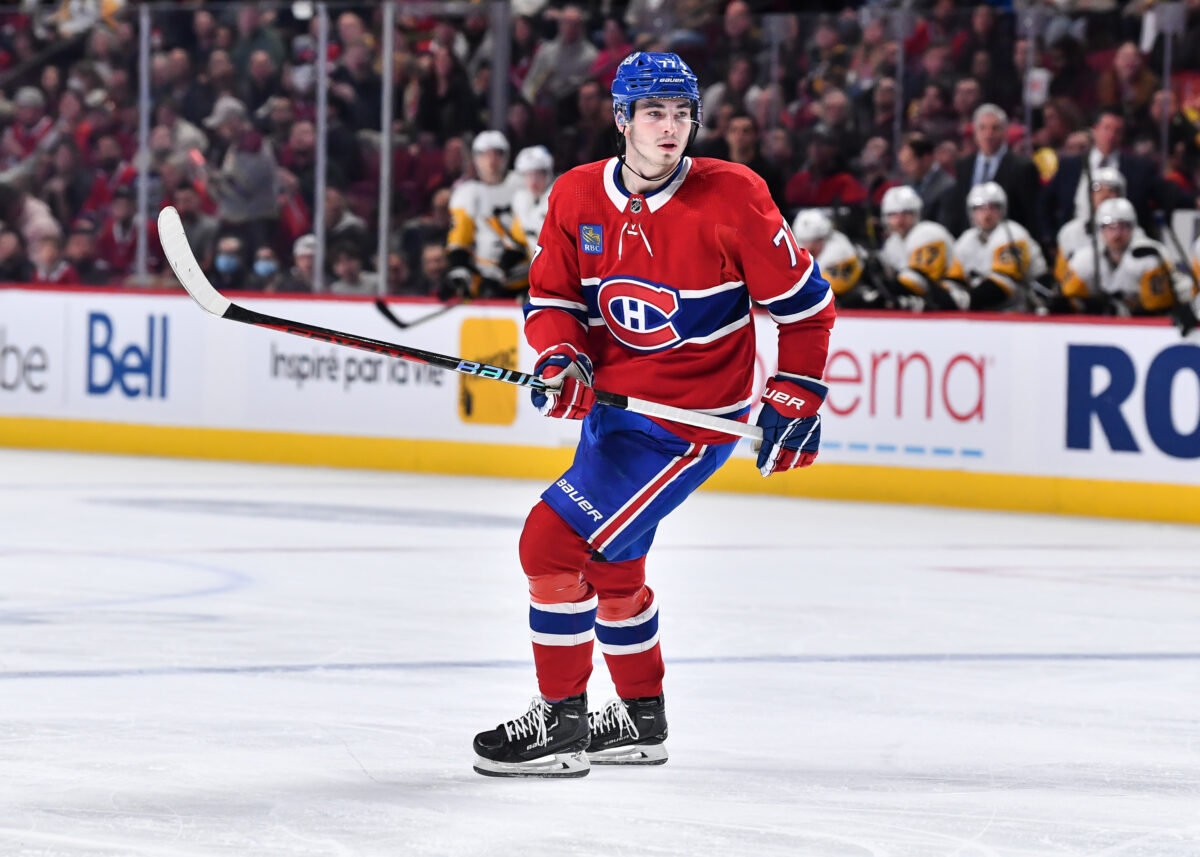 On Dach's left side, you've probably got Slafkovsky and Rafael Harvey-Pinard battling it out for ice time. Ideally, the Canadiens would trade Mike Hoffman, who's best positioned to slot in on Dach's right. Truth be told, he's been a less-than-ideal fit with the Canadiens since he signed on a few seasons ago. The fact the Canadiens are unlikely to get the chance to deal him this offseason serves as a cautionary tale as to how risky free agency can be, especially for a team looking to rely on its young guns.
Just like that, you've got the Canadiens' top six hypothetically spoken for, further suggesting there's no reason to go after any marquee names in free agency. The best conceivable fit is probably center Sean Monahan, based on how well he slipped into the lineup last season, after the Canadiens took on his expiring contract from the Calgary Flames. He may even see it that way himself.
However, Monahan's going to be 29 and doesn't necessarily fit into the team's long-term plans. Unless he's looking for a cheap one-year deal to prove himself after another injury-riddled season, there's no good reason to go that route. Even if they did, they've still got Christian Dvorak and Jake Evans down the middle to fill out the bottom-two pivot positions.
Keep in mind, Dach has just begun to establish himself as the center they envisioned, when they got him at the 2022 NHL Entry Draft. Readding Monahan to the mix would only give them a reason to stunt the former's development. Remember, after several seasons of underwhelming offensive numbers, Monahan working out was a surprise. Hughes only traded for him for the sake of acquiring the first-round pick that came with his huge cap hit, as a favor for taking him off the Flames' hands.
Monahan the Best Fit, but Still Not a Good One
The logical plan had been for Hughes to take on Monahan's deal, using the cap space that fell into their hands when Price went on long-term injured reserve (from ''Disheartening': Canadiens' Price could miss entire season, GM Hughes says,' Montreal Gazette, Aug. 19, 2022). All expected it to be one and done, not for Monahan to provide invaluable secondary scoring and leadership, as the Canadiens surprisingly stayed in the playoff picture for the first few months of last season.
Maybe with Monahan back in the fold (and healthy) they stay in that playoff picture all season. Maybe, instead, they let their younger players take the reins and let the chips fall where they may. After all, you're talking about re-signing an, all due respect, injury-prone forward, as if he's the be-all and end-all, as far as the team's playoff hopes are concerned.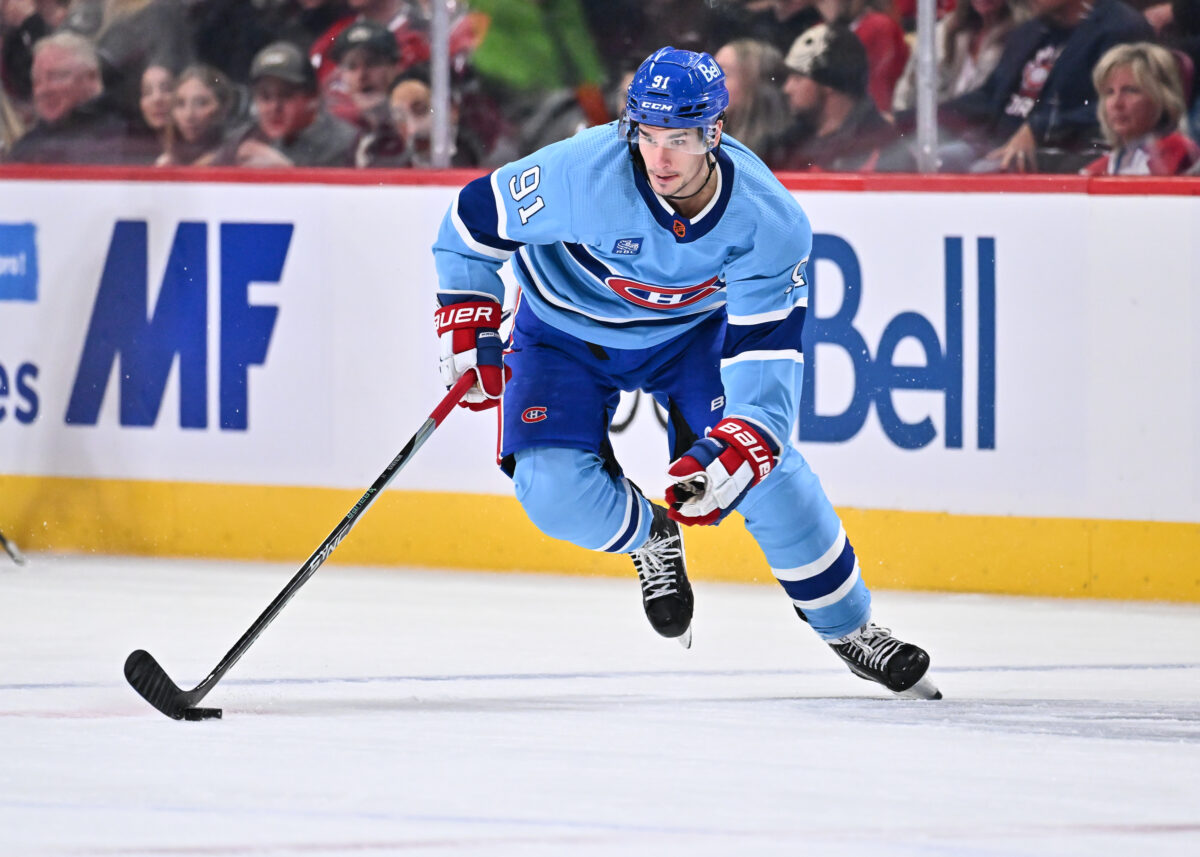 True, if Monahan does get injured, the Canadiens would just be back at square one, forced to go with Dach at center instead. However, there's no reason to overthink Dach being the go-to instead. Ultimately, the Canadiens aren't lacking players. One of the biggest reasons they failed to improve drastically in the standings are all the injuries they sustained, including Monahan's season-ending one last December.
Bringing in a free agent, especially when Monahan is arguably the best fit in this year's class, is indicative of a lack of trust in the process. The fact they brought in Monahan last season was ironically indicative of Hughes far from having eyes on making the playoffs, as they chose to acquire a redundancy at center instead of a replacement for Price in net. Allen and Montembeault weren't supposed to play as well as they did. And, if the Canadiens weren't supposed to make the playoffs last season in the eyes of management, they're probably not expecting to jump right into the fray in 2023-24.
Canadiens Should Wait, but Can Their Fans?
There certainly aren't guarantees Montembeault takes the next step next season. Up until 2022-23, he was generally seen as a career third-stringer. So, the Canadiens don't really know how high his ceiling is, and they won't until they give him the net on a regular basis. Maybe they don't need to sign anyone to replace him via free agency, who knows? And if they don't need to sign anyone to replace their biggest question mark across the roster, they don't need to sign anyone of consequence, period.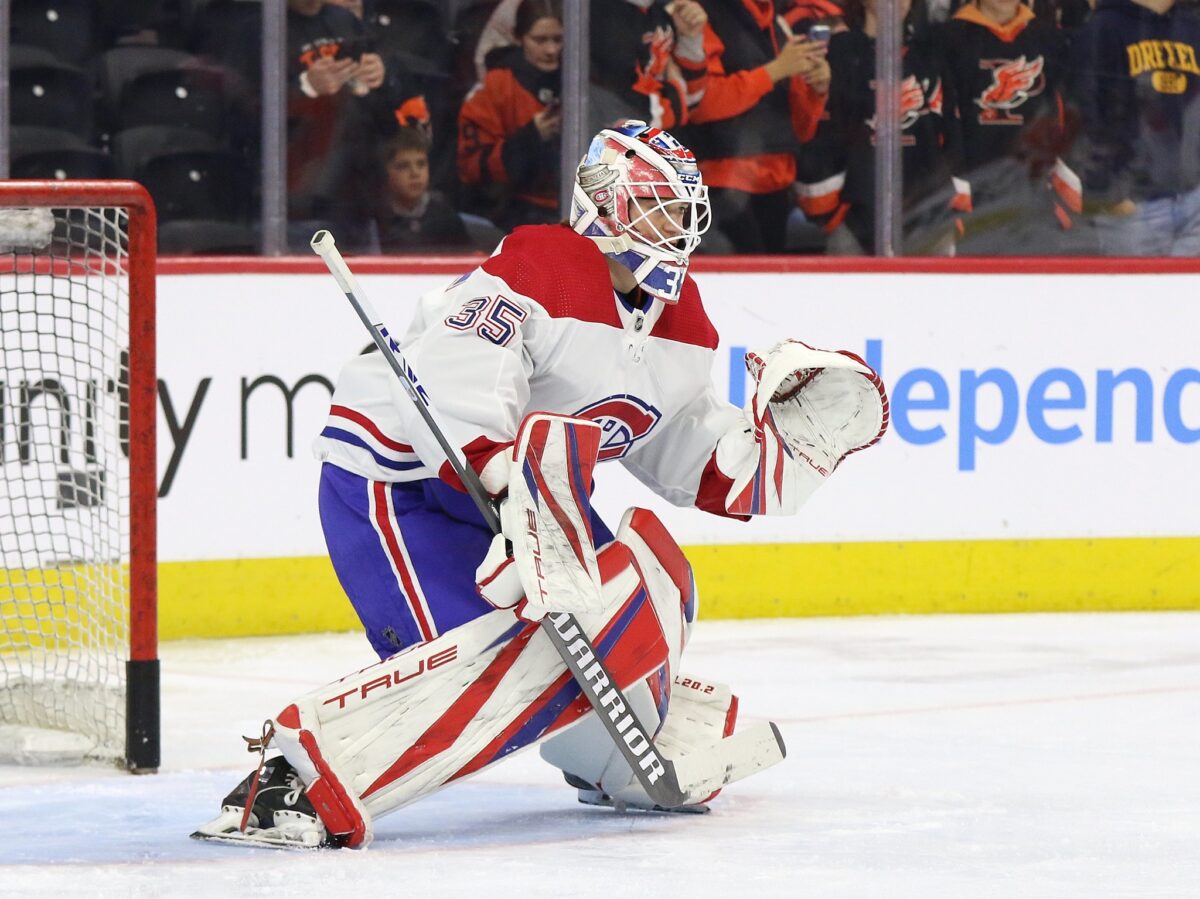 Again, free agency is a useful tool, but only under the right circumstances. There are plenty of examples of signings gone wrong, and the Canadiens don't need to look too far for proof. Beyond Hoffman, they're still on the hook for defenseman Karl Alzner's bought-out contract next season. The right free agent can most certainly put a team over the top, but when you're realistically just hoping to compete for a playoff spot, the top is a long way off. The Habs and their fans need to be patient, because the wrong free agent can throw a wrench into any team's carefully thought-out plans.
If you've trusted Hughes and company up to now, why stray from the beaten path? That goes for Hughes himself, too. He should similarly keep the faith and not rush things, as slow and steady wins the race. It won't be the Canadiens who win it this season (or likely next), but whoever does capture the Stanley Cup will likely be proof positive of just that expression holding true. The Canadiens' time to contend is coming, along with the time to go after free agents. It isn't now.