The Montreal Canadiens isn't just developing prospects and rookies who made appearances on the NHL roster, they still have an American Hockey League (AHL) affiliate, the Laval Rocket, to provide ice time to their younger players. More importantly, Laval is in a playoff race to end the regular season. This perhaps holds as much, if not more, importance for player development as it provides game situations in meaningful games. 
One of these young players, Emil Heineman, is one of the better stories in recent weeks. From his return to North America to the impact he is making at the AHL level to what he can potentially become for the Canadiens.  
Canadiens Prospect Heineman 
Heineman, who originally joined the Canadiens organization in a trade with the Calgary Flames involving Tyler Toffoli, provides the club with many intriguing qualities. He is a player that is unafraid of the physicality of the game, adept at using his speed on the forecheck and enjoys winning puck battles in the corners and playing at the front of the net. The highly competitive 6-foot-2, 194-pound forward already has NHL size and an NHL shot. His strength is his offensive game.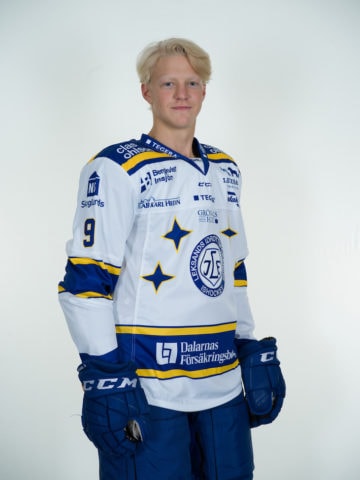 He did have a late start to his season due to injury. He arrived at the Canadiens' main training camp and performed very well. He did seem ready to take the next step in his career and remain in North America, however, contractually, he had to be returned on loan to Leksands IF of the Swedish Hockey League (SHL). During his time there he scored eight goals and 15 points in 35 games played. 
Heineman Has Arrived in Laval
After his SHL club lost their play-in series and were eliminated from the playoffs, Heineman was able to join the Rocket, giving them a much-needed boost of size and speed for their playoff push. The 21-year-old Swedish forward has been the most consistently impactful performer since his arrival, scoring five goals in his five games played with Laval. 
In a discussion with Canadiens Player Development coach Rob Ramage, Anthony Marcotte (the voice of the Laval Rocket at BPM Sports in Montreal), shared that Ramage recently returned from Sweden where he watched Heineman and defenseman Adam Engstrom. In their conversation, Ramage stated that Leksands' defense-first system muted Heineman's power-forward skill set and that his focus was to finally return to North America; he was impatiently waiting for his opportunity. As fans who have been watching Laval play in the last two weeks can see, he has embraced this new challenge.  
With only six games remaining in the AHL regular season, Laval is now holding a tenuous grasp of the fifth and final playoff position in the North Division with 66 points. Their next closest rivals, the Cleveland Monsters, have 65 points but hold three games in hand. Meaning, Heineman's arrival came at the best possible time for Laval as he fills a glaring need for offense. With Alex Belzile, Raphael Harvey-Pinard, and Jesse Ylonen, the Rocket's top offensive players, and the entire top line, called up to Montreal, head coach Jean-Francois Houle lost his best scoring and power-play options. While they could all return for the AHL playoffs and add a significant offensive boost for the Rocket, the problem is that without them, Laval was limping their way out of the playoff picture. Heineman's arrival has helped significantly in getting the team back on track.  
NHL Dreams 
The Toffoli trade hurt the Canadiens in the short term, sending a high-quality player and person to the Flames. In the long run, however, it is starting to look more like a home run for Hughes as he adds two quality prospects in Heineman and Filip Mesar (selected with Calgary's 2022 first-round pick acquired in the trade). Like all prospects, Heineman has some holes in his game that he needs to fill in. Playing in Sweden and now Laval was the best course of action for him since he still needs to refine his game and build confidence. His time in Sweden, getting shuffled up and down the Leksands lineup, seeing first-line and top power play ice time in some games, fourth-line ice time in others, and even being a healthy scratch in between has seemingly made him motivated to prove himself in North America.  
---
Latest News & Highlights
---
This experience he is gaining with the Rocket, even if Laval fails to qualify for the playoffs, can aid Heineman significantly. This time in Laval, his size and skill set as well as his potential makes him a good bet to graduate to the NHL roster next season. He has speed to burn and high-end shooting talent and just needs time to refine his defensive game to adjust for North American ice.  
If he can impress management in training camp as he had last season, the Canadiens could add a top-nine winger with speed and size who can complement their skilled, young core. For now, however, Heineman is proving he is capable of living up to his potential and is providing Laval exactly what they are in dire need of, a top-six, two-way forward with offensive skills, as they claw their way back into the playoff picture. 
---
---