In many ways, drafting is like a game of chance as sometimes the best players on draft day don't live up to their potential. However, when drafting in the third round and beyond, it becomes even more of a shot in the dark. Players picked in the later rounds have talent but also have flaws in their game that need to be corrected, while some prospects simply get overlooked for various reasons.
The development paths of late round picks are interesting because of their unpredictability. While many fade from the game, there are a few who beat the odds to become NHLers. The Montreal Canadiens have chosen some interesting players in the later rounds in recent drafts. This list of four prospects in particular range from rising star to border on obscure.
4. Casey Staum
Staum is a very raw prospect and the defenceman has yet to play at the NCAA level. However, if there is one thing he does have that suggests he could possess NHL potential, it's his skating ability. As detailed in this article, Staum's overall game is lacking but his skating ability is elite. With speed getting even more attention in today's game, it gives Staum an advantage as he moves forward in his development.
A fifth-rounder in 2016, Staum is representative of a late round swing. His best skill (in this case skating) is what makes him an intriguing prospect with upside, but the major flaws like the lack of offence and a consistent all-around game will require a ton of improvement.
3. Jake Evans
With the Habs so weak down the middle, Evans might get an NHL chance next year. Having recently finished four years of college at Notre Dame, he recently inked a two-year entry-level deal with the Habs. Unless he has an outstanding camp, it might be best to start him in the AHL.
The 2014 draft class wasn't a particularly memorable one for the Habs outside of first-rounder Nikita Scherbak, but Evans, who was drafted in the seventh round at 207th overall, has gone from obscurity to bonafide prospect.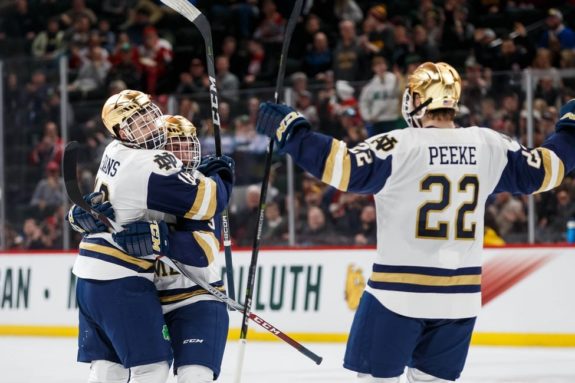 Evans doesn't really possess a standout skill but does a lot of things well. Only one 2014 seventh-rounder has played in the NHL so far (Anaheim's Ondrej Kase has 119 games under his belt), and Evans looks like he is on track to be the second. Playing in an organization looking to get younger and faster, it is a perfect opportunity for him to make an impression, especially as an older prospect whose development is further ahead than the players graduating from junior hockey. 
2. Lukas Vejdemo
Lukas Vejdemo was a very surprising third-round pick in 2015, mostly because a lot of people didn't know who he was. The Habs' scouts seemed excited by the pick at the time and Trevor Timmins loosely compared him to Columbus Blue Jackets centre Alexander Wennberg.
A 22-year-old, 6-foot-2 Swedish centre, Vejdemo's offence took a big step forward in the SHL this season with 22 points in 47 games. Not mind-blowing by any means, but a big step up from the year before when he had just eight points in 48 games. Even former Hab Rene Bourque suggested that Vejdemo will be an NHL player one day. A shutdown centre in the SHL, that will likely be Vejdemo's upside at the NHL level if/when he decides to give North America a try.  
1. Cayden Primeau
The second seventh-round pick on this list, Cayden Primeau quickly became one of the best goalies in the NCAA this season as a rookie. The Habs' scouting staff has identified some good young goalies as of late and Primeau could possibly be the best of the bunch. He has the luxury of time with so many goalies ahead of him on the depth chart.
During his draft year, his numbers in the USHL weren't spectacular and while he had success with Team USA, he seemed to fly under the radar. The fact that the selection already looks like a steal is a testament to how well Primeau played this season and the steps forward he has taken in such a short amount of time.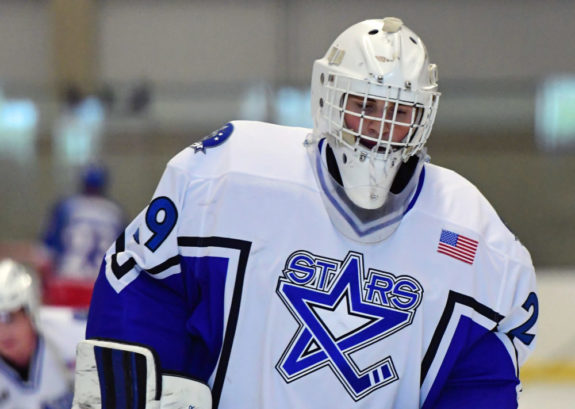 Teams are reluctant to use their first rounders on a goalie so it's not uncommon for netminders to be late round picks. The NHL has plenty of goalies who were picked in the third round or later such as Henrik Lundqvist, Pekka Rinne and Braden Holtby, just to name a few. Primeau's development will be interesting to watch with how far he has come in just one year and he could be on Team USA's radar for next year's World Juniors.
From Potential to NHL
It's rare for late round picks to realize their full potential and become NHL players. In the case of Evans, he will make his professional hockey debut in the fall while Primeau will hopefully build on his excellent NCAA rookie season. For a player like Staum, if he can develop his game far enough, his skating ability alone could propel him far. Vejdemo is a wildcard as some seem to believe he is an NHL player despite being a relatively unknown player.
All four are intriguing prospects in their own right and their individual developments will be ones to watch in the coming years.