The Montreal Canadiens have often been criticized for not having enough local talent on their roster. This was especially true on May 10, 2021, when the Canadiens had zero French-Canadian players in their lineup for the first time in its 111-year history.
This is a franchise that was built on local superstars like Howie Morenz, Rocket Richard, Jean Beliveau, Guy Lafleur and Patrick Roy. To have no players from La Belle Province was a big story, and some started to believe that drafting out of their own backyard was not a priority.
Related: Canadiens Need to be Bold at the Trade Deadline
---
Latest News & Highlights
---
Of course, teams have no obligation to target local talent when better players are available. However, the Canadiens have made some low-risk moves lately to bring in players from Quebec, and they are starting to pay off.
Rafael Harvey-Pinard
The Canadiens drafted Rafael Harvey-Pinard in the 7th round of the 2019 NHL Draft. He had been passed over in two previous drafts but scored 40 goals and 85 points in 66 games for the Rouyn-Noranda Huskies in 2018-19. This put the Saguenay, Quebec native on the Canadiens' radar, and they used a late-round pick on the winger.
Since then, Harvey-Pinard has earned the moniker "Lavallagher" for his work with the Habs' top affiliate, the Laval Rocket, and his resemblance to Brendan Gallagher. Harvey-Pinard plays a gritty, hardworking style and has plenty of skill to go with it. He has scored 36 goals and 81 points in 106 games over the past two seasons with the Rocket and is a constant thorn in the side of his opponents.
Harvey-Pinard n'est jamais bien loin du gardien adverse 😌

We're calling him Rafaël Gally-Pinard#GoHabsGo pic.twitter.com/hVcFH8h7wh

— Canadiens Montréal (@CanadiensMTL) January 22, 2023
He has been called up for six NHL games this season, scoring three goals and four points. The 24-year-old has paid his dues in the minors for most of the past three seasons and is starting to look like he could be a bottom-six winger for the Canadiens for the next few years.
Xavier Simoneau
Xavier Simoneau was also a late-round pick. The Saint-Andre-Avellin, Quebec native was passed over in two NHL Drafts before the Canadiens picked him in the 6th round in 2021.
He then went out and scored 86 points in just 48 games for the Charlottetown Islanders last season. This season, he is on an AHL-only contract and continues to improve with the Rocket. The skilled, playmaking winger now has five goals and 23 points in 35 games in his first AHL campaign.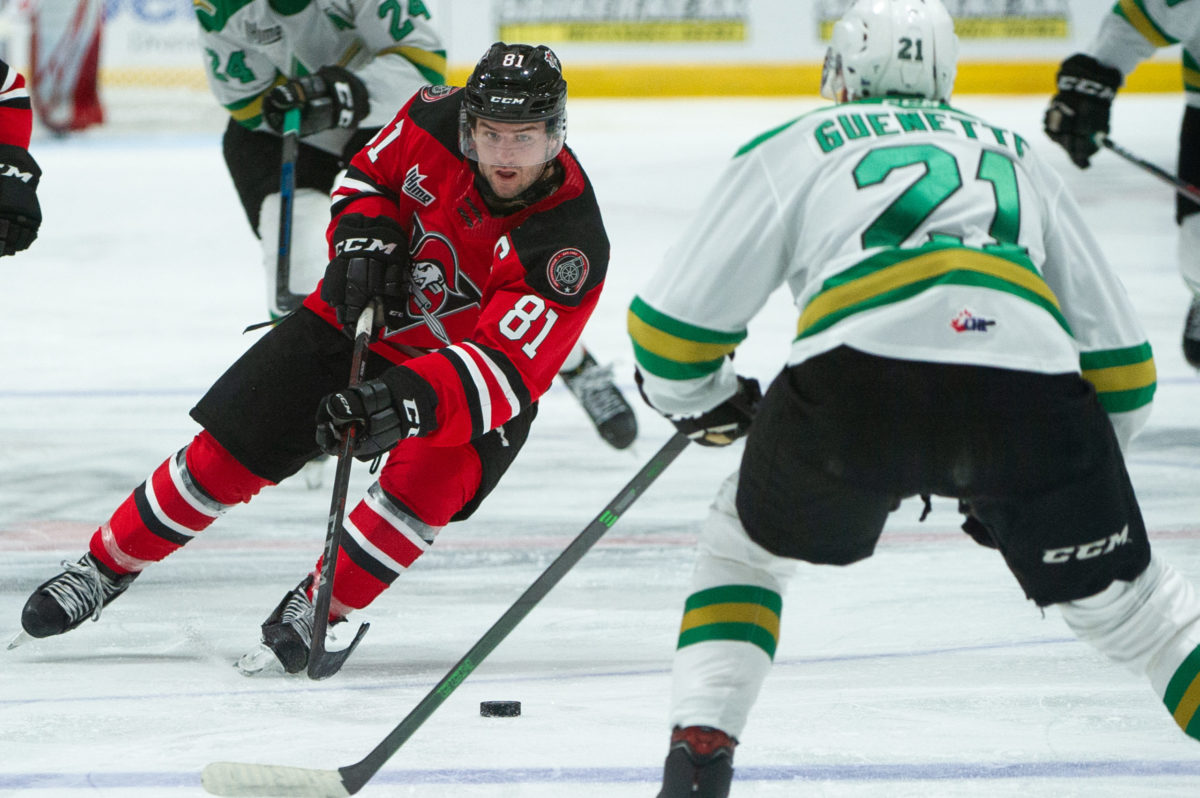 The 21-year-old has taken on a bigger role lately, and if anyone can develop a skilled but undersized winger from Quebec into an NHL contributor, it is head coach Martin St. Louis.
Joel Teasdale
Joel Teasdale was not drafted, but the Canadiens quickly signed him to an entry-level contract in 2018. Teasdale scored 43 goals and 80 points the following season and was terrific in the playoffs, helping the Rouyn-Noranda Huskies win a QMJHL title with 34 points in 20 playoff games.
At 5-foot-11 and 218 pounds, Teasdale plays a tough, physical game and makes life miserable for opposing defenders with a punishing forecheck. Unfortunately, the Repentigny, Quebec native has battled injuries constantly since signing with the Canadiens. After winning a QMJHL and Memorial Cup title in 2019, Teasdale missed the entire 2019-20 season after injuring his knee in the summer. He returned to play in the 2020-21 season, scoring 18 points in 26 games as an AHL rookie with the Rocket, but then he blew out his knee once again.
Teasdale finally returned halfway through the following season but struggled to get his footing. He scored just five points in his first 19 games, but then he found his game and scored 23 points in his last 25 games. He was finally healthy and ready to go this season but scored just two points, including zero goals, in his first 13 games.
Joël Teasdale scored all three goals for @RocketLaval tonight in #HERvsLAV and capped off his hat trick in OT 🎩🎩🎩 pic.twitter.com/9OQg1rRTSW

— American Hockey League (@TheAHL) January 21, 2023
Have injuries caught up to him? Was the 23-year-old winger no longer a legit NHL prospect? It seemed that way, but then he caught fire once again. Teasdale has been among the Rocket's best players since the middle of December. In his last 18 games, he has 13 goals and 20 points. With a slew of injuries at the NHL level, Teasdale should be on management's radar for a call-up soon.
Samuel Montembeault
Another local product who was added for little-to-no risk was goaltender Sam Montembeault. The Canadiens claimed him off waivers on the eve of the 2021-22 season. They needed a little insurance with Carey Price's status uncertain, and it turns out Montembeault is a much longer term solution than originally planned.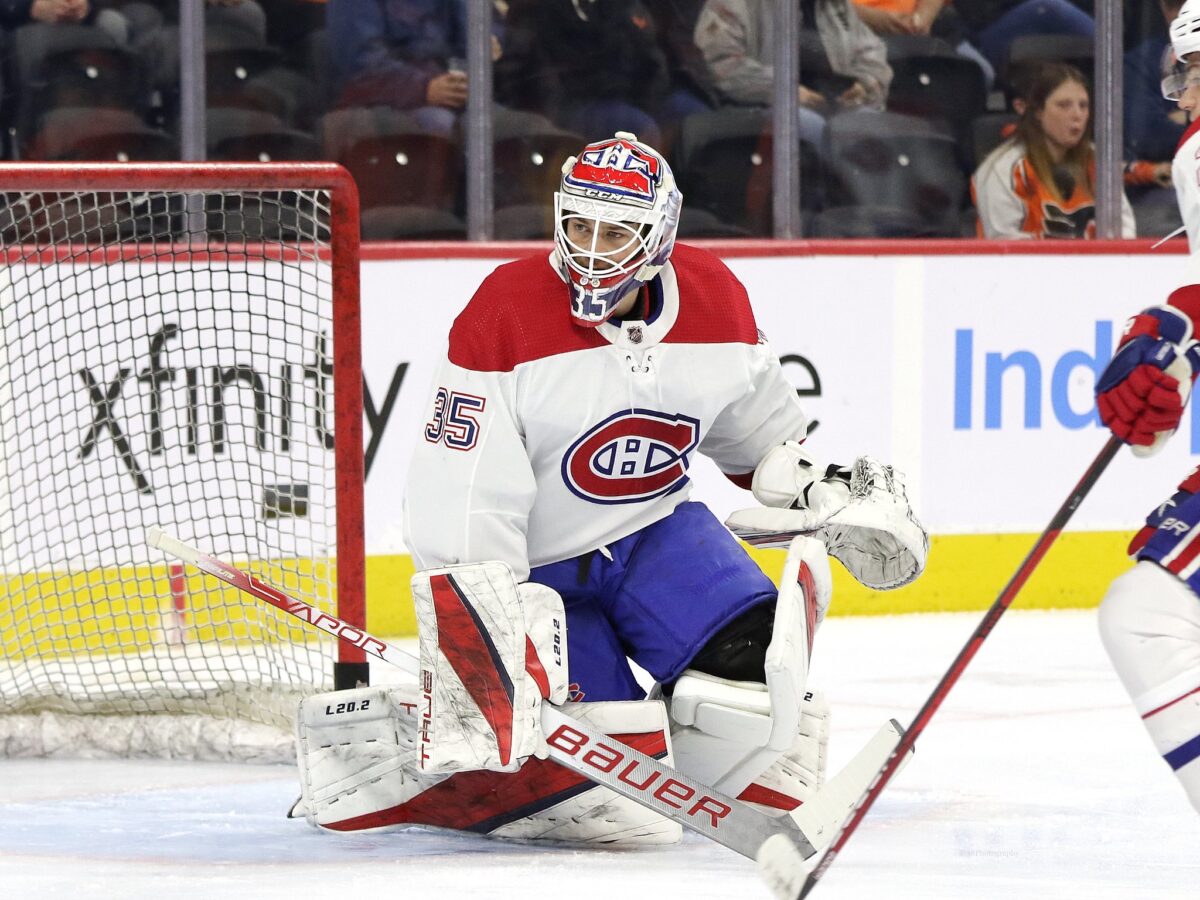 The Becancour, Quebec native has played 22 games this season with a 3.19 goals-against average (GAA) and a .909 save percentage (SV%). He is playing behind a very inexperienced group of defenders, yet has helped the Canadiens stay in many games longer than they should. For a player who was acquired for nothing, he has brought a lot this season.
No one is comparing these locals to the all-time French Canadian greats in franchise history. But after being criticized for not recruiting local talent for years, the Canadiens finally added some low-risk Quebec natives at almost no cost, and these four are starting to look like they will become NHL regulars shortly.
---
---