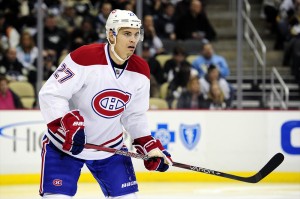 Looking at the Montreal Canadiens' roster needs this off-season, the club finds themselves in a similar position to many teams around the league. Despite the emergence of Max Pacioretty as a legitimate power forward and the surprisingly quick adjustment time of veteran presence Erik Cole to his new surroundings, the Habs still appear to be one scoring winger short of a complete offense.
The top line of Cole-Desharnais-Pacioretty certainly seems to be in no need of adjustment, and the pairing of captain Brian Gionta with centre Tomas Plekanec easily comprises two thirds of a very respectable second unit. Ideally, the final piece of the puzzle would be a big-bodied, shoot-first winger with the ability to drive the net and create offensive opportunities.
The team was hoping Rene Bourque would be that player when they offloaded the diminutive and disgruntled Mike Cammalleri in exchange for him on January 12, but Bourque struggled down the stretch, posting his lowest single season point total (24) since he was with the Chicago Blackhawks in 07-08. With a new coaching system in place and a full off-season to adjust to life under the microscope of Montreal media, fans are hoping the 6'2, 213lb winger can regain the form which saw him post back-to-back 27 goal campaigns with the Calgary Flames between 2009 and 2011.
For a little while, there was talk of Jaromir Jagr donning the bleu, blanc, et rouge…but apparently management thought that offering a one-year deal to a sure-fire Hall of Famer and two-time Stanley Cup champion with a penchant for helping young offensive players develop, and who just happens to be desperate for the opportunity to play alongside fellow countryman and Canadiens' second line centre, Tomas Plekanec, (in addition to being one of very few players who actually wants the pressure that comes with playing in a city like Montreal)…was too big of a risk.
So that leaves the Canadiens with three options for filling the void.
They could get into the free agent sweepstakes and pursue a player like Alex Semin, whose desire to play more important role led him away from Washington, where he was forced to live in the shadow of Alex Ovechkin. He certainly fits the bill in terms of the type of player the team needs, but with so many other clubs seeking his services, the price may be too high.
The majority of other free agent options are veterans such Bryan Rolston and Mike Knuble; players who, based upon their age, would most likely warrant a one-year deal. One has to believe that if the Canadiens were going to go that route, they would have pursued Jagr when they had the chance.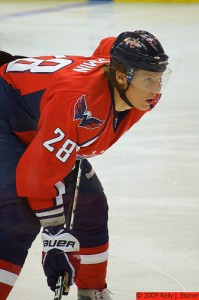 The second option is to pull the trigger on a trade. Of course, the asking price for a reliable winger has become somewhat skewed this off-season thanks in large part to Scott Howson's insistence that Rick Nash be traded for nothing less than a king's ransom, but the trade option is always a possibility, especially with a brand new GM at the helm.
And while the Canadiens are certainly not in the running for Nash's services, they were linked to Bobby Ryan trade rumours on several occasions last season. Ryan could very well be the perfect complement to Plekanec-Gionta pairing, bringing both the size and scoring touch needed to round out the playmaking abilities of the others.
After missing out on blue chip prospect Justin Schultz, the Ducks will be looking for a young player to fill a void in their defence core, and the word on the street is that the signing of Francis Bouillon in Montreal may have signalled the end of Yannick Weber's time with the club. With a package that includes Weber, Rene Bourque, a prospect and/or draft pick, the Ryan deal could make more sense than many critics are willing to admit.
Of course, the most likely option is that the Canadiens will try to fill the gap in their top six internally. If Bourque returns to form, he would fit in nicely, but Michel Therrien does have other options from within his own locker room.
Recently signed Colby Armstrong has shown flashes of brilliance in his career, posting 40 points in just 47 games as a rookie in 2006. He also posted a career-high 22 goals with the Atlanta Thrashers in 2009, but has been plagued by injuries and inconsistency over the past few seasons. If he can stay healthy, Armstrong certainly has top-six abilities…and playing on a one-year contract may be just the motivation he needs to fulfill his once impressive potential.
Brandon Prust could also make an interesting case for a position on the second line. Despite being best known as a tough guy, Prust has also shown the ability to find the net on occasion. Last season, Jon Tortorella used the 6'0, 200lb forward primarily in a fourth line checking role with the Rangers, but Prust did post 13 goals just a season earlier. A relentless forechecker with deceptive quickness and skating ability, Prust could surprise some people if given the right opportunity. He may be a prototypical third-liner, but at $2.5 million per season, it's also possible that the Habs are expecting a little more from Prust.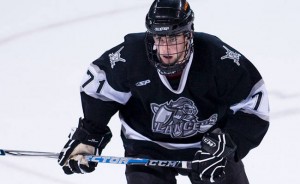 Barring a trade or significant free agent signing, coach Michel Therrien will most likely use a revolving door of second line wingers through the first quarter of the season as he searches for the right chemistry. Expect players like Bourque, Armstrong and Prust to get their opportunities, but don't be surprised if you also see prospects like Louis Leblanc, Aaron Palushaj, and Brendan Gallagher getting their chance to stick with the big club in a top-six role.
From top to bottom, the Canadiens' roster looks to be significantly improved from last season's disastrous campaign, but only time will tell if GM Marc Bergevin has made the right moves (and non-moves).
The team seems to be very close to complete, but with the parity of today's NHL, filling the final gap in the top six forwards could easily be the difference between contending for a playoff spot and contending for another top draft choice.