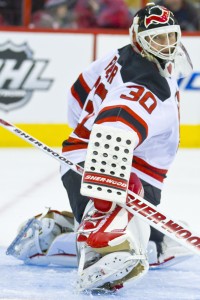 With the skill level of young players getting higher, the amount of young NHL talent has spiked over the years. Every year there is a new crop of future star players shipped into the NHL through the NHL Entry Draft, and these players take the league by storm, setting scoring records, scoring highlight reel goals and making it all look easy in the process.
However, at the opposite end of the spectrum are seasoned veterans that have done their time in the league and are slowly approaching a final curtain call. Some of those veterans still have some jump in their step and continue to be among the top tier of the NHL.
Since this year's free agency has opened several players that are up there in years have been the most sought after players, and have already signed new deals. This trend shows that General Managers across the league aren't as scared of signing that ageless talent like they used to be.
This is all because some of the league's oldest players are still playing like they are the young talent they used to be. So, let's throw away the walkers and take a look at the top ten players that are 35-years old, or older.
(The list includes only active players, trust me I wanted Nicklas Lidstrom on the list too, and is based on the player's age, style of play and the player's impact on the game.)
1. Martin Brodeur, DOB: May 6, 1972, 40-years-old
When you think of old and dominant the first person to come to mind has to be Martin Brodeur. At 40-years old, Bordeur carried his team to the Stanley Cup Finals and beat out elite goalies like, Henrik Lundqvist and Ilya Bryzgalov, who are much younger, on the way last season.
Since being drafted by the Devils in 1990, Broduer has amased over 650 wins during his career, and has won three Stanley Cup titles, all with the Devils.
Sure his play may have dropped off since his younger days, but Brodeur's unorthodox and spastic type of goaltending is second to none and still gets the job done. Brodeur won 31 games last season, and racked up a .908 save percentage and 2.41 goals against average in the process.
Brodeur has done all this while playing in the Atlantic Division, perhaps the toughest division in the NHL, which puts him against names like Evgeni Malkin, Marian Gaborik and Claude Giroux six times a season.
Luckily for Devils fans, Brodeur didn't jump ship during this year's free agency and the people of New Jersey won't have to watch Brodeur in a different sweater for the next two years.
2. Teemu Selanne, DOB: July 3, 1970, 42-years-old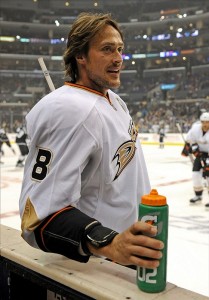 Anaheim Ducks fans got their wish. Teemu Selanne is yet again holding out on retirement and will return to Southern California for one more year of hockey.
Last season, a season of disappoint for the Ducks, Selanne played all 82 games, scored 26 goals and recorded 66 points. Those 66 points were enough to lead the Ducks in scoring, beating out Ryan Getzlaf, Corey Perry and Bobby Ryan, the young talent that was supposed to be carrying the Ducks towards the playoffs.
In a time where young talent seemed to fizzle, Selanne has stepped up big and done so averaging just over 17 minutes of ice time a game. Imagine what the Ducks could have done if they got an offensive output that this 42-year-old put together from some of their young guns.
All in all, it's good that Selanne came back, a player that is that dominant should play as long as possible. For a Ducks' organization that is in the midst of finding its identity and is trying to ship out a disgruntled Ryan, this is great news.
3. Zdeno Chara, DOB: March18, 1977, 35-years-old
Zdeno Chara is a picture perfect defenseman; he is HUGE, defensively sound and leads by example. Chara backstopped the Boston Bruins to a Stanley Cup Championship just over a year ago, and followed that season with play worthy of a Norris Trophy nomination, his third time being nominated.
Chara appeared in 79 games last season, which included his 1000th game played, recorded 56 points, and amassed a plus-33 ranking, while averaging, a team high, 25 minutes a game.
For a large, big-hitting defenseman, a 1000 game career can take a toll on your body. But Chara seems to be only getting better, and continues to shut down some of the World's best talent on a nightly basis with ease.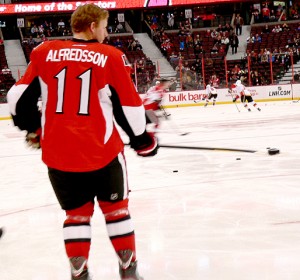 4. Daniel Alfredsson, DOB: December 11, 1972, 39-years-old
Daniel Alfredsson has not announced if he will return next season, something Ottawa Senators fans wish won't happen, so he has not officially retired and is still eligible for this list.
When thinking of the Senators one name comes to mind, Daniel Alfredsson. Alfredsoon has been a center piece to the Senators organization for 17 years now and is the longest serving captain in the NHL. Over those years, Alfredsson has carried the Senators, and at 39-years old nothing has changed.
Alfredsson is still among the top forwards on the team, finishing among the top four players in goals, assists and points last season, having scored 27 goals, dishing out 32 assists and recording 59 points in 75 games.
Alfredsson still has one year remaining on his contract with the Senators, and most hope the Senators' all-time leading scorer will be adding to his totals next season.
5. Jaromir Jagr, DOB: February 15, 1972, 40-years-old
After a brief stint away from the NHL, Jaromir Jagr returned and signed a one-year deal with the Philadelphia Flyers last season.  At 40-years old, some questioned whether or not Jagr would be able to return and be able to produce, and stay healthy through the wear and tear of an NHL schedule.
The critics got their answer in the form of 19 goals and 54 points, 20 of those coming on the power-play, in 73 games. Sure Jagr may have fallen victim to a few injuries,  but there are young studs who miss more games than Jagr, and the guy is years older than them.
Jagr's play did drop off towards the end of last season and into the playoffs. But at full health Jagr is still one of the best forwards the NHL has to offer. Actually, Jagr's play last season must have been convincing enough, because he recently signed a one-year deal with Dallas Stars, a team that has missed the playoffs the last four seasons, and will have chance to be one of the Stars top players come October.
6. Ray Whitney, DOB: May 8, 1972, 40-years-old
Ray Whitney has been a sort of journeyman during his time in the NHL, having played for nine different teams during his career. Some seasons and some time with certain teams have been better than others. But Whitney's play of late has really picked up.
In his last two seasons with the Phoenix Coyotes, he has scored 41 goals, and recorded 134 points in 137 games in the Desert.  Despite being 40-years old, Whitney was a top scorer for the Coyotes last season in assists (53) and points (77).
Whitney scored some opportune goals for the Coyotes last season, including an overtime winner in game one of the Western Conference Semifinals against the Nashville Predators. However, at 40-years-old Whitney will play for the Stars, team number ten, next season.
The Dallas Stars seem to be setting the trend in signing older talent, having signed Whitney and Jagr to contracts this offseason, which will definitely pump up their team's average age.
7. Miika Kiprusoff, DOB: October 26, 1976, 35-years-old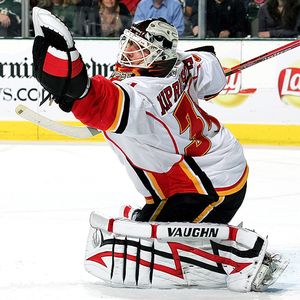 There has not been a goalie more consistent than the Calgary Flames' Miikka Kiprusoff. Kiprusoff has carried the Flames since the '05-'06 season, and by carry, I mean put them on his shoulders and ran a marathon with the team hanging from his back.
Since the '05-'06 season, Kiprusoff has played more than 70 games every season, and has won 35 or more games in each of those seasons. That is 514 games and 273 wins in the last seven seasons for Kiprusoff and the Flames.
Last season, Kiprussoff ranked among the top ten goalies in wins (35), and save percentage (.921), and came in 11th with a goals against average of 2.35. Doing so with very little down time, and few nights off.
The weight Kiprusoff carries is amazing, and he has done it consistently for years. But at 35-years-old, can Kiprusoff continue this pace? His numbers have yet to drop and that suggests that this marathon run can continue if the need presents itself.
8. Shane Doan, DOB: October 6, 1976, 35-years-old
Much like Alfresson and the Senators, Shane Doan has been the center piece of the Phoenix Coyotes for quite some time. Since leaving Winnipeg, the Coyotes have been a starving franchise that has struggled through ticket sales, ownership drama and an uncertain future.
But Doan has been the lone steady fixture through all that time, and plays like there is no tomorrow. Doan, the Coyotes captain, is the perfect power forward, he hits anything that moves, and is not afraid to drop the gloves.
Doan is the type of player you would love to have on your team, but hate to play against. He is the thorn in your side that at every opportunity gives you a painful nudge.This style of play can grind down a player over the years, but in just under 1,200 games played it hasn't seemed to slow Doan.
On top of Doan's physical play he can still produce offensively, he grabbed 22 goals and 50 points, good enough for third on the Coyotes, last season.
At the moment, Doan's future in Phoenix is up in the air, but one thing is for certain no matter what jersey he puts on next season, he will give 110%.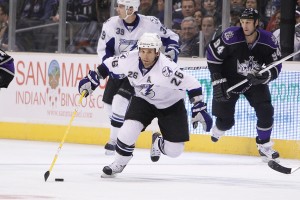 9. Martin St. Louis, DOB: June 18, 1975, 37-years-old
It has hard for a small player to succeed in the NHL. It is even harder for a small player to go undrafted, make the NHL and have a successful career, like the one that Martin St. Louis has strung together.
After going undrafted and working his way into the NHL , St. Louis did not let go. Like a fine wine, St. Louis has gotten better as time has gone along. In his last two-years, St. Louis has notched 56 goals and recorded 173 points in 159 games for the Tampa Bay Lightning.
In hockey, a game full giants, smaller players are often victim to big hits, and unforgiving physical play. In a game where being big is a plus St. Louis has turned it into a weakness, dodging checks and speeding past defenders. It is those players that use their small stature like St. Louis has that succeed.
St. Louis already has one Stanley Cup ring and may make another run at one with some of the promising youth that the Lightning have brought in recently.
10. Patrik Elias, DOB: April 13, 1976, 36-years-old
The New Jersey Devils', Patrik Elias, is just as a cemented figure as Brodeur. Elias is the Devils all-time leader in goals and points and has spent his entire career in New Jersey.
Elias has had an up and down career, where he has dominated one season and had a low points the next two. However, last season Elias put up a very respectable 26 goals, 52 assists, a team high, and 78 points in 81 games, which was good enough to set him in tenth in league scoring.
At 36-years-old, Elias along with Brodeur, were a part of the veteran presence that guided a young Devils team through the Stanley Cup playoffs last season. Elias is a smart player that puts himself in opportune places and cashes in on those chances.
It will be interesting to see if Elias can repeat the season he had, with the added pressure that former Devils captain, Zach Parise's departure will put on him, or if he will follow up a great season with another slump.