It's not only going to be a busy summer for the Montreal Canadiens, but the 2023 offseason is also an important one for the franchise as they look to take a big step forward in their ongoing rebuild. General manager Kent Hughes will be aggressive on the trade market in an attempt to improve the roster and give himself some additional cap flexibility. Not to mention that he's guaranteed to get a top 7 selection in June's NHL Entry Draft and has another first-round selection courtesy of the Florida Panthers.
With training camp set to open in September, the fun is just getting started. Here are four predictions, some bolder than others, about what's to come over the next four months for the Habs.
Caufield Will Sign a Long-Term Extension
At the top of Hughes' to-do list is inking Cole Caufield's new contract and the most passionate fan base in the NHL is waiting impatiently for the much-anticipated news to drop. So, what will the deal ultimately look like? All signs are pointing towards a long-term extension.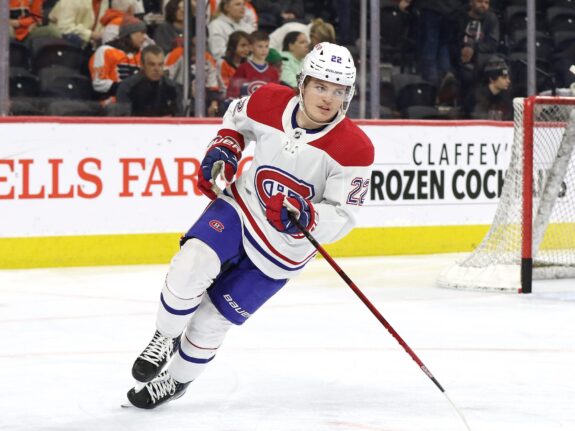 There is a chance that Montreal's star forward, who scored 26 goals in 46 games during his second full season in the NHL, opts to bet on himself with a short-term contract like Jason Robertson did with the Dallas Stars and then cash in at its conclusion, but his strong desire to remain a Hab for the foreseeable future should sway him in the other direction. He's a key piece of the Canadiens' core and his chemistry with captain Nick Suzuki is a crucial building block so it's clear what management will push for.
Hughes and agent Pat Brisson have several recently signed long-term deals to base their negotiations on including those of Matt Boldy and Dylan Cozens. A seven year-contract would make Caufield and Suzuki eligible for unrestricted free agency at the same time which would make a lot of sense for the team's salary cap structure.
Montreal's Second First-Round Pick Will Be Moved
The Habs are poised to select an impact player with their first pick in the draft, but chances are high that they won't be returning to the podium in the first round because the pick acquired in the Ben Chiarot trade is probably going to get moved.
Related: Canadiens Prospects Need More Support in the AHL
There is currently some general panic in and around Montreal that the pick will drop to the very bottom of the first round given the Panthers' performance in the playoffs, but regardless, it will still be a hot commodity in a deep draft class. Hughes will want to pull off more magic by adding a player like Kirby Dach who can help now and in the future. If he chooses to pursue Pierre-Luc Dubois for example, the pick will undoubtedly be a centrepiece in any potential trade along with other elements. The pick is arguably Hughes' most valuable asset for what he's trying to accomplish this summer.   
Edmundson and Hoffman Won't Be Back
The excitement surrounding every offseason is always about which new players will be brought into the fold. On the flip side, there's a need for the Canadiens to part ways with a few veterans not only to improve their salary cap situation but also to make room for the young players who are ready for bigger roles.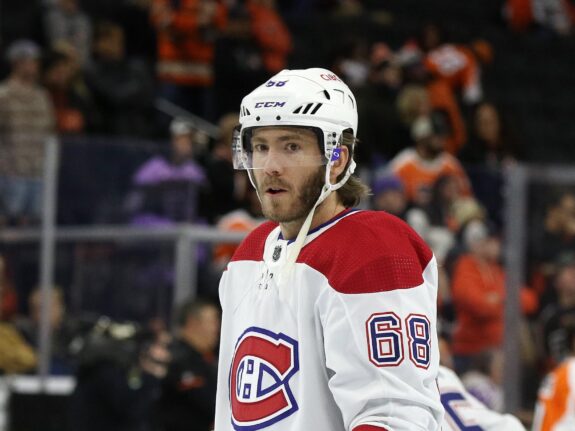 The most likely candidates to be moved are Joel Edmundson and Mike Hoffman. The left side of the blue line is getting crowded, and the math doesn't add up anymore for Edmundson who struggled this season when he was in the lineup, and he continues to deal with back issues. While the veteran defenceman won't generate the same type of significant return as originally anticipated, his experience and leadership on a friendly contract with one year left on it will be of use to certain teams.
As for Hoffman, the time has come to move on for multiple reasons. It will be difficult to trade him without adding a sweetener to the deal and while he's the most obvious buyout candidate, Hughes may hesitate to go that route. The third option is to send the winger to the Laval Rocket at the end of training camp and bury part of his salary in the minors for the final year of his deal. Regardless of which path is chosen, Hoffman won't be on Montreal's opening night roster in 2023-24.
Hughes Will Add a Veteran Defenceman
For much of the 2022-23 campaign, the Canadiens played games with up to 5 rookie defencemen in the lineup, a trend that was not anticipated by anyone. Even though they gained valuable experience, Hughes would be wise to bring in a veteran blue liner on the right side.
---
Latest News & Highlights
---
Ideally, that player would be a top pairing defenceman who can play big minutes in all situations, including a quarterback on the power play, but he can afford to be patient to find the right fit for that role. Still, a veteran is needed even if only as a short-term solution and he could be found in free agency or via trade. Could Hughes revisit the possibility of signing John Klingberg after expressing interest in him last summer? Perhaps an Edmundson trade would garner a right-handed defenceman in return.
After a successful first offseason at the helm, Hughes and executive vice president of hockey operations Jeff Gorton will be feeling the pressure to give a repeat performance as their expectations for the Habs rise heading into the next phase of the rebuild. The fans are expecting more change and history, no matter how short, suggests that they will deliver.