Despite initially being a healthy scratch when Game 1 of the postseason began, Matthew Knies quickly made his mark in the playoffs. When Michael Bunting was suspended for three games, Knies entered the lineup for Game 2 of the first-round series against the Tampa Bay Lightning. 
Related: Minnesota Wild's Penalty Issues Have a Bright Spot
He's never looked back. Although it's unfortunate that only Bunting's suspension opened the door for Knies, the rookie has certainly made the most of his opportunity. 
Knies Has Played Well from the Get Go
How good has Knies been? In just seven games, he has recorded one goal, three assists, and four points. Not bad for a kid straight out of college. In Game 1 of the second round, Knies scored his first career goal. That first goal was highlight reel and was a remarkable display of skill and quick thinking. 
---
---
Among the team's forwards, Knies ranks third in high-danger scoring chances percentage at 61 percent and fourth in expected goals at 60 percent.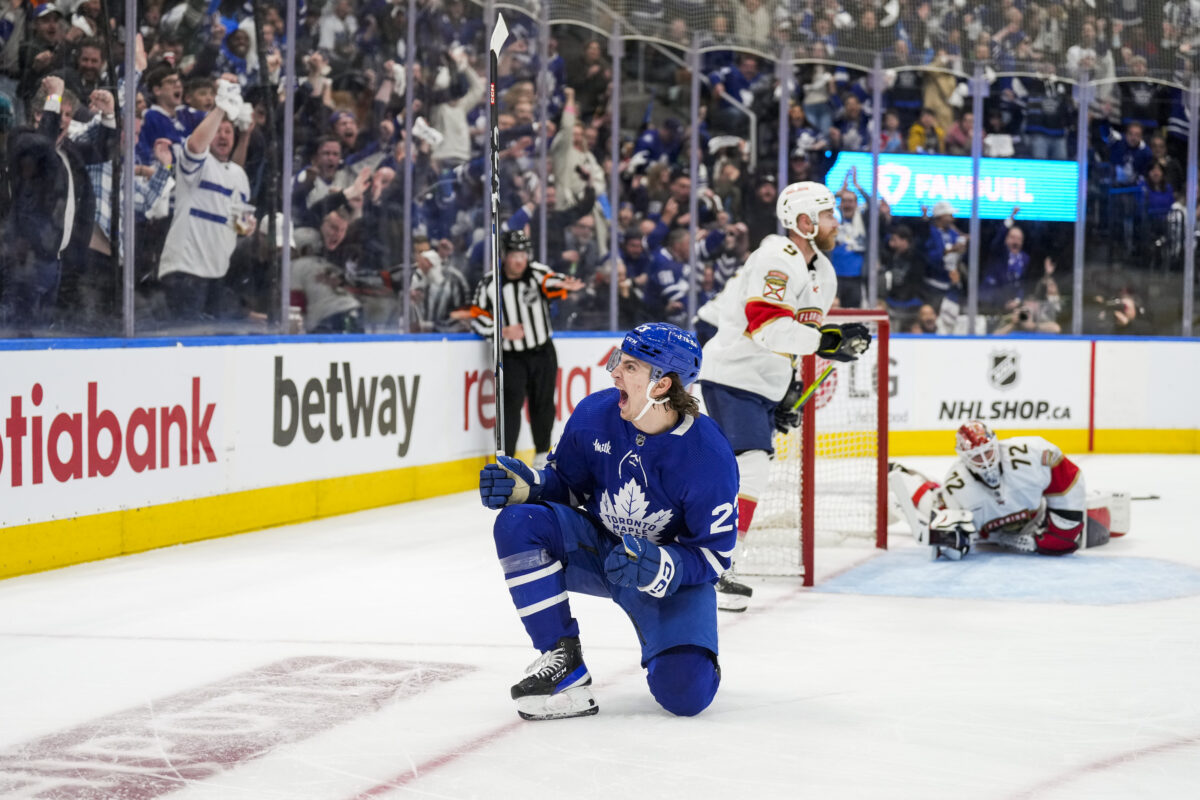 Since signing his entry-level contract, Knies has exceeded expectations and showcased his potential. To suggest how much in the play he's been since taking the postseason ice, he's been on the ice for all three overtime game-winning goals the Maple Leafs scored. He had a direct hand in putting away the Lightning. This impressive performance earned him a promotion to the top line alongside Auston Matthews. 
Related: Maple Leafs News & Rumors: Knies, Minten & New Draft Strategy?
According to head coach Sheldon Keefe, Knies has enhanced the team's depth; and, young as he is, it's tough to find anyone who doesn't think the team is stronger with him in the lineup. Furthermore, all that seems to be the cherry on top of the sundae with a team that was already performing well before Knies suited up. 
The Panthers Wrestled Knies Out of Round 2
In Thursday's game, Knies started on the Ryan O'Reilly line. That line was matched up against Florida's power line of Sam Bennett, Matthew Tkachuk, and Nick Cousins. Tkachuk, as he always seems to do, attempted to provoke Knies with trash talk and hit the rookie hard early in the game. 
Later, Bennett took care of Panther business when he yanked, pulled, and dragged Knies down to the ice during a tangle behind the Maple Leafs' net. While it looked more like WWE Wrestling than hockey, no penalty was called.
---
Latest News & Highlights
---
Coach Keefe announced on Friday that Knies has a concussion and will be out of the lineup for at least the two games in Florida. However, he then added Knies would most likely miss the rest of the second round. In researching past concussions in the NHL, the time lost has usually ranged from a minimum of two weeks to a maximum of months. In serious cases, whole seasons have been missed.  
Knies Already Seems to Be One of Those Players Who Makes Things Happen
Knies, who's now just 20 years old and recently completed his collegiate career, has shown an ability to make things happen on the ice since joining the Maple Leafs. Despite playing just three regular-season games, as noted he's been involved in plays that led to three overtime game-winning goals. He just has that knack for being in the right place at the right time.
Related: Remembering Maple Leafs' Goalie Jonathan Bernier
The question now is whether Knies' absence might be more significant than initially thought. He's had an impact despite his limited experience; in some ways, he's brought more to the postseason with his performance than some of the team's more established core players. How big a problem his absence will be for the team, only time will tell. Nevertheless, there's something intriguing about this young player and his ability to successfully be in the midst of the action.
How Will His Concussion Affect Knies and the Maple Leafs?
As for how the recent smackdown of events affects the Maple Leafs and Knies, we worry that it might be more detrimental to Knies' development than it will be a loss for the Maple Leafs. It's agreed that Knies has played well in his time with the team. Specifically, he's been a surprisingly impactful player for the Maple Leafs. 
Still, the Maple Leafs played great before he was signed and completed his first NHL shifts. It isn't as if the team will fold if he isn't part of their immediate plans.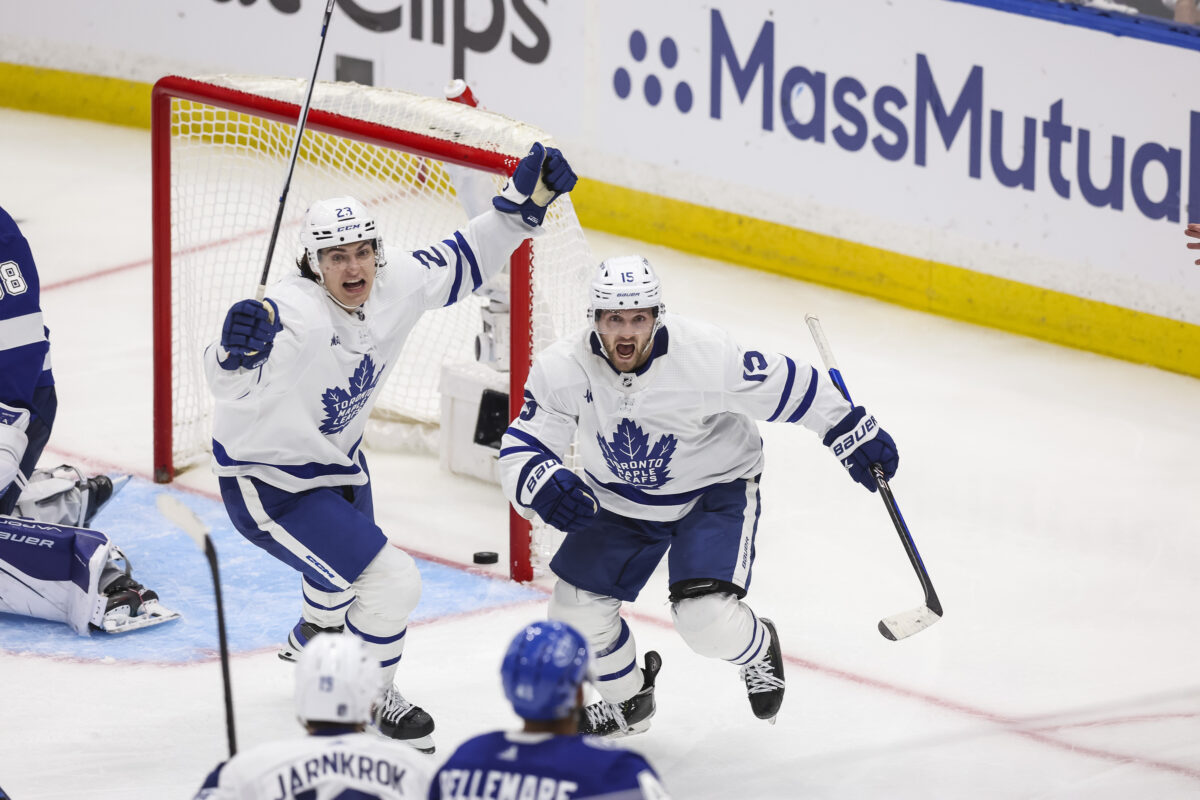 As for Knies, every player's development is different. Rather than being a smooth, steady curve, most player's learning curve has peaks, plateaus, and valleys. It's entirely possible that Knies' development could have stalled at any time. 
However, it was obvious that the one thing he was developing with the quality of his play was confidence and momentum. It's also conceivable that he could have smoothly ridden that momentum into a solid NHL career. Who's also to say he wouldn't have had a steady and positive trajectory toward stardom? 
Related: Tkachuk Shows His Ignorance Discussing Maple Leafs' Campbell Injury
He might have just kept getting better each game and then carried that momentum through the summer into the start of the next season, and even further.  
Instead, he will be idle for a while without a chance to skate or train. Then he'll have to deal with the recovery from the concussion and how that affects future training. It could possibly have a profound effect on his development. 
What a bummer for the youngster. But it wasn't a penalty.
[Note: I want to thank long-time Maple Leafs' fan Stan Smith for collaborating with me on this post. Stan's Facebook profile can be found here.]
---