In my recent post where I researched the criteria that measured the characteristics of good NHL goalies and then applied it to evaluate the Toronto Maple Leafs' best goalie since 1990, my research allowed me to read more about goalie Jonathan Bernier and his time in Toronto. He played for the team for three seasons, from 2013 to 2016. 
---
---
What became interesting to me was that a number of hockey writers and pundits had written that they believed Bernier should be considered one of the best goalies in recent team history, and they might have a point. In this post, I'll expand on that point of view.
---
Latest News & Highlights
---
On the surface, just looking at his numbers, Bernier had an "average" NHL career. However, might those numbers have hidden a more talented goalie? What's his Maple Leafs story?
What Is Jonathan Bernier's History with the Maple Leafs?
Bernier was drafted in the first round (11th overall) of the 2006 NHL Entry Draft. After five seasons as a backup goalie with the Kings, Bernier was acquired by the Maple Leafs in a trade with the Los Angeles Kings during the 2013 offseason. Going the other way were forwards Matt Frattin, goalie Ben Scrivens, and a second-round draft pick (which turned out to be Travis Dermott).
Related: How Much is Jonathan Bernier Worth?
In Bernier's first season with the team, he played 55 games and posted a goals-against average (GAA) of 2.70 and save percentage (SV%) of .922 to go along with a record of 26-19-7. In his second season with the team, he played 58 games with a record of 21-28-7, a GAA of 2.87, and an SV% of .912. In his final season with the team, he put up a record of 12-21-3 over 38 games, with a GAA of 2.88 and an SV% of .908.
When Bernie Was Good, the Maple Leafs Were Not
Bernier was with the Maple Leafs at a time when they were struggling to win games. Although he had some strong performances during his time with the team, he also struggled with consistency (or could it have been the bad play in front of him?). At times, he had a tendency to give up soft goals. But despite those struggles, he was usually seen as the team's best option in net.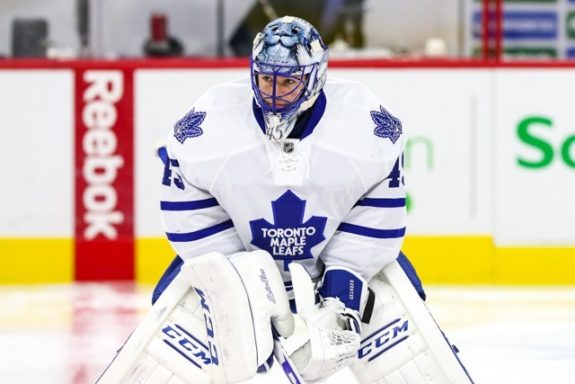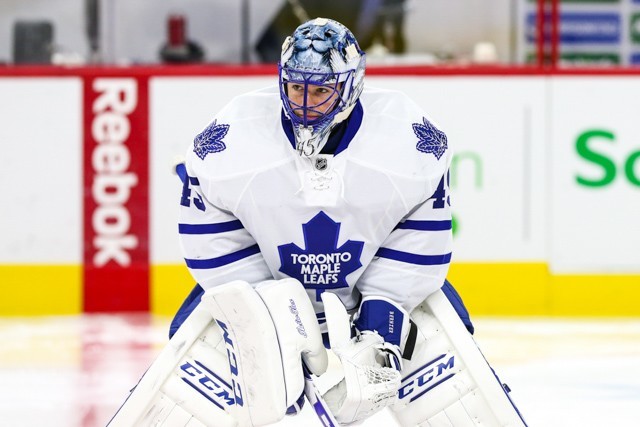 During the 2013-14 season, Bernier had a winning record, but his team was mediocre (or worse). The team was coached by Randy Carlyle that season and had a season record of 38-36-8 (for 84 points), finishing sixth in NHL Atlantic Division and missing the playoffs.
What Kind of a Goalie Was Bernier?
Bernier was noted for his athleticism and ability to make acrobatic saves, making him one of the more agile goalies in the league. However, he sometimes struggled with consistency and confidence. Yet, when he was on his game, he was an especially strong performer under pressure. 
Related: Joseph Woll's Return Carries New Maple Leafs' Goalie Issues
Bernier was particularly good at making saves with his pads and then using his athleticism to recover quickly after making a save. He was also respected for his knowledge of the game and ability to read plays. His communication style was quieter than many goalies; some goalies are vocal on the ice, but Bernier was a quieter presence. That said, he was able to effectively direct his teammates and ensure players were in the right positions. 
Although he was quieter on the ice, Bernier was noted for having a quick sense of humor during his interactions with the media. He once joked that he was "the first star of the losing team" in a game in which he made 48 saves but lost in overtime. 
Bernier's Had Some Memorable Moments with the Maple Leafs
During his time with the Maple Leafs, Bernier experienced a few memorable moments. In March 2014, he went on a three-game shutout streak that set a new Maple Leafs franchise record; he made a total of 110 saves during that streak. In his total time in the Maple Leafs' net without giving up a goal, Bernier brick-walled the net for 1 hour and 43 minutes of game time. (from "Jonathan Bernier sets Leafs record with third straight shutout," The Toronto Star, 16/03/2014).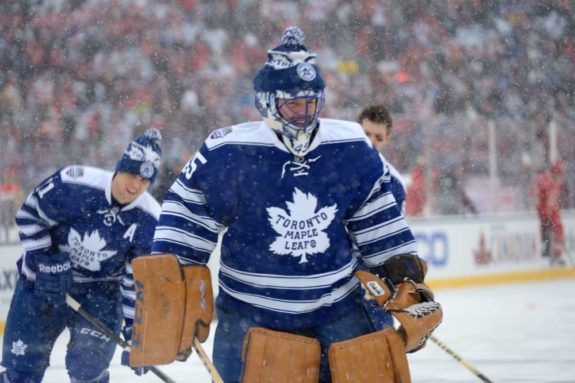 Second, Bernier started in goal for the Maple Leafs in the 2014 Winter Classic, which was held at Michigan Stadium in Ann Arbor. The attendance of that game was a record-setting crowd of over 105,000 fans. There, Bernier made 41 saves in a 3-2 shootout win over the Detroit Red Wings. (from "Winter Classic: Bernier strengthens grip on Leafs' net with another strong performance, The Hamilton Spectator, 01/01/2014).
Related: Ex-Maple Leafs Goalie Michael Hutchinson: Where's He Now?
Bernier's time with the Leafs came to an end after the 2015-16 season. In the 2016 offseason, he was traded to the Anaheim Ducks in exchange for a conditional draft pick. 
Bernier's Career Record Was Average, But His Play Was Strong
Currently, Bernier is recovering from hip surgery. He hasn't played since last season, but he's still under contract with the New Jersey Devils until the end of this season. Sadly, although he's only now 34 years old, his career is likely over. However, that isn't yet official, so perhaps he'll return.
My The Hockey Writers colleague Alex Chauvancy shared with me that Bernier tried to come back at the start of 2022-23 during training camp. While that return wasn't successful, the record book has not completely closed on him.
However, if it does close, Bernier's NHL career would have lasted 15 seasons. Later in his career, he became one of those goalies who lived as a bit of a pilgrim. He often signed with one team and then another – usually teams looking to find a reliable backup goalie.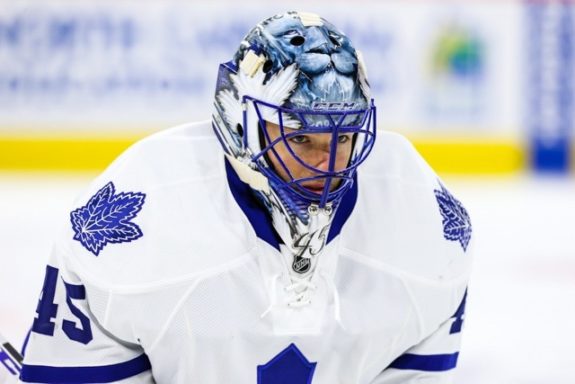 Interestingly, Bernier was a strong goalie for losing teams. During his 15 NHL seasons, except for his first season of four games with the Los Angeles Kings, he never had an SV% lower than .900. And for all the losing NHL teams he played for, he only had a GAA over 3.00 twice.
If 2021-22 was his last season in the NHL, Bernier played a total of 403 NHL games. His record was just two games over .500 at 165-163-40, with his final GAA being 2.78 and his SV% being .912. 
Related: Matt Murray's Legacy with the Penguins
It's hard to imagine what his record might have looked like had he played with winning teams. But, as Bernier joked, he was often "the first star of the losing team." Good luck to him should he attempt a return to an NHL net.