There is an old expression that goes like this: If it looks like a duck, swims like a duck, and quacks like a duck, then it probably is a duck.
Related: Maple Leafs' Matthews & Tavares Call Out Team: No Response & No Gas
The sense of the expression is that how a person behaves can be judged by tracking how that person has behaved in the past. That is, if we're asked to judge the intent of a person's most current actions, a good way to do so is to look at that person's history. In other words, understanding a person's latest action becomes clearer by looking at the person's pattern of behavior. The person's habits, previous actions, and characteristics matter.
The Issue of Matthew Tkachuk's Battle in Jack Campbell's Crease
So, here we are looking at the Calgary Flames' Matthew Tkachuk's recent behavior. During the Calgary Flames most recent game against the Toronto Maple Leafs in Calgary, a game the Maple Leafs won 3-2, an incident occurred during a hard-fought third period when Tkachuk was trying to bang a puck through the Maple Leafs' goalie Jack Campbell.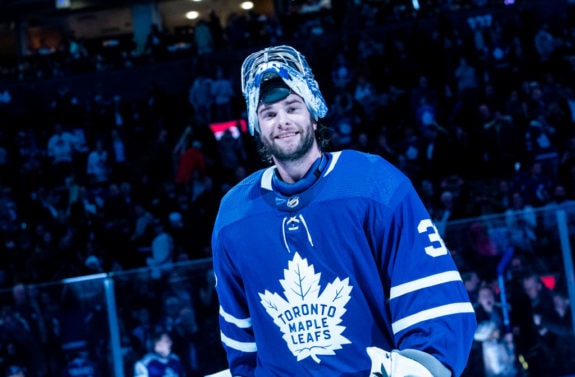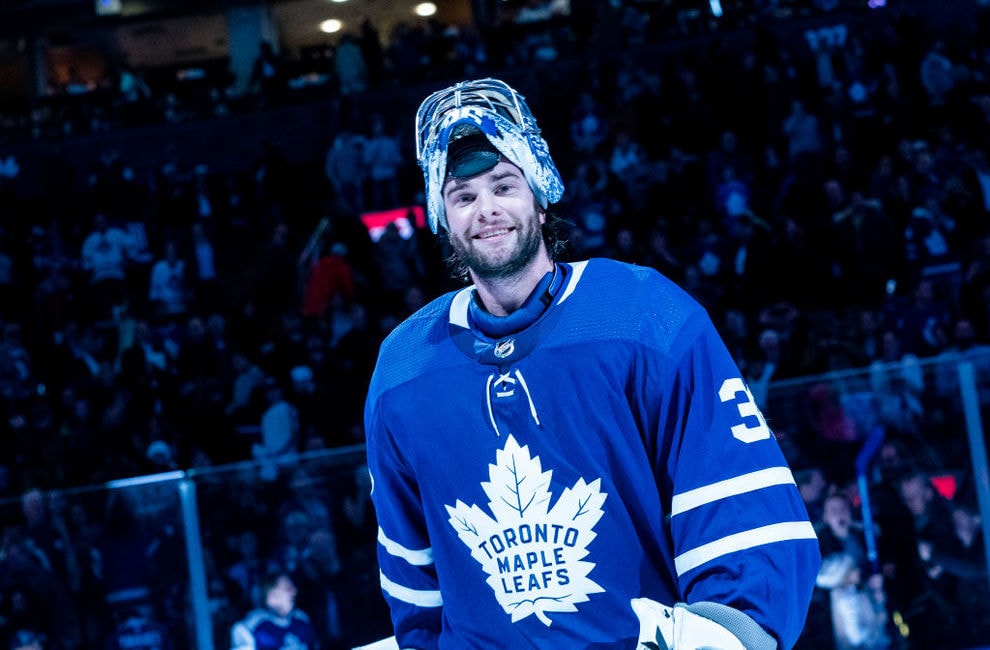 During that scrum and the bumping that ensued, Tkachuk ended up on top of the back of Campbell with both his knees pressed into Campbell's back. Similar incidents regularly happen during NHL games. However, what made this incident memorable is that, after that scrum, Campbell – who we learn later had apparently tweaked something in his lower body just minutes earlier to that scrum – was slow to get up and appeared hurt.
[In fact, today it was announced that Campbell would be out a month with his injury suffered during that game.]
However, Campbell remained in the game and the Maple Leafs won. It was his second straight win of the season in a backup role for Maple Leafs starting goalie Frederik Andersen.
Tkachuk's Comments After the Game Reveal His Ignorant Attitude
As viewers can see when looking at the video of Tkachuk's interview after the game, it's almost impossible – unless you're a Tkachuk apologist and believe nothing he does is over the line – to not cringe at what seems like his cavalier attitude. Specifically, Tkachuk denies intentionally falling on the Maple Leafs' goalie Jack Campbell.
The Maple Leafs' Non-Reactions
To be accurate, Maple Leafs' fans are sensitive about the health of their goalies; and with Campbell ruled out for four weeks, that's a problem to solve. However, the Calgary media person must have heard things I didn't hear. He was wrong about the Maple Leafs complaining – at least formally.
In fact, during an interview head coach Sheldon Keefe was asked this question: "Did you see what happened involving Jack Campbell and Matthew Tkachuk in the dying stages?" 
Keefe responded: "I think I know what you are referring to, but I didn't take it as anything, really. I haven't thought about it or discussed it. It is a non-issue for me."
Even Campbell himself dismissed the "incident" on his Zoom call after the game, saying, "I don't look at him as a menace, I look at him as a really good hockey player."
That Tkachuk Believes People Shouldn't Question His Behaviors Ignores His History
Granted, the Sportsnet interview was conducted by a Calgary hockey writer who, during the interview set Tkachuk up by saying "I can't believe I'm asking this, but I am because Toronto is making a big deal of it." Then he asked "Matthew, when you fell on top of the goalie, how did you see that play playing out?"
Related: The NHL's Best Farm Systems Ranked – 2020-21 Season Update
Tkachuk responded, "Which one? I feel like there's a lot of scrums in front of the goalie throughout the game, which one are they making a big deal about this time?"
The announcer retorted, "Yeah, late in the game you fell on top of Campbell with both knees and he was a little slow to get up."
Tkachuk explained his version of the incident: "It was just a battle in front … six-on-five situation just banging away at the puck. I live in that area, I live in that crease area throughout the games, and I'm just digging for a puck and I was battling with Brodes (former teammate T.J. Brodie) a little bit there and guys started coming in.
"I just got knocked over and obviously I didn't have any intention of falling into him or anything like that. That's a complete … it's just a classic thing to try and accuse me of there."
I have italicized the phrase that makes me cry "Duck!" Tkachuk looks, walks, and quacks like one here.
Tkachuk's Surprise Is Hard to Believe
The interviewer then asked if Tkachuk ever was surprised when an opposing team makes a big deal about something that happened and what comes out of people's mouths. Tkachuk's comment was that he was surprised – in fact, it's a "classic" thing he's blamed for.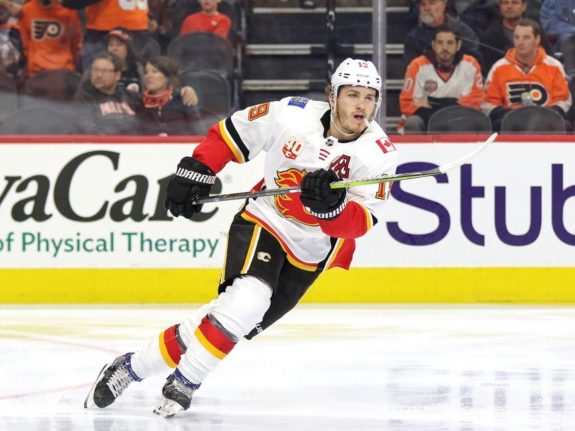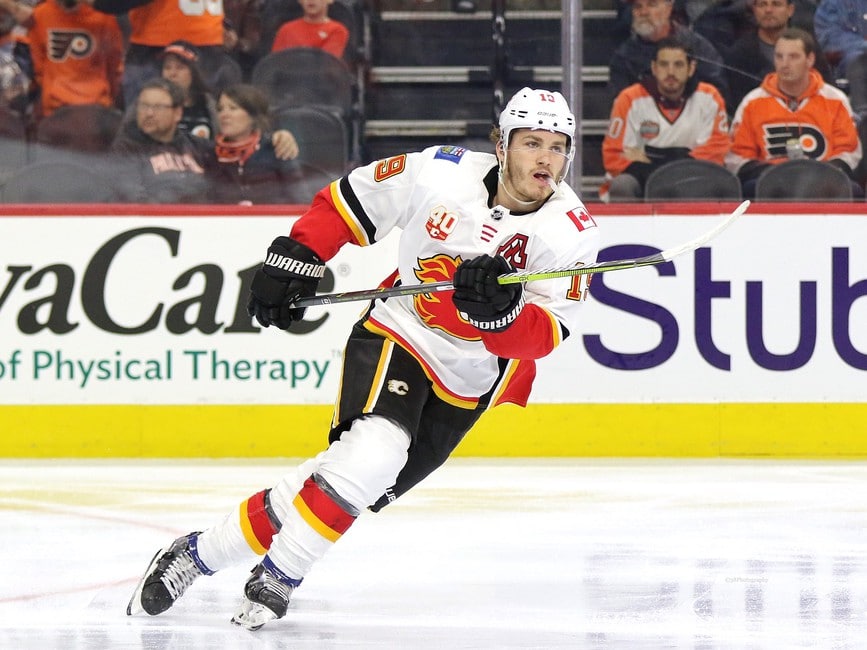 I find it hard to believe Tkachuk's comment about being surprised. He has to be aware of his reputation around the NHL, he's been told often enough. However, the Flames forward expressed ignorance of why anyone should question his motives and even seems to add a "They're always blaming me for such "classic" behavior."
Specifically, he said: "I get very surprised with some things that come out of other people's mouths these days, but it's a good thing I don't listen to it. I just get asked it from other people. Thank god I don't go on my phone I guess too much after games or else I'd drive myself crazy."
Tkachuk's History of Possible Over-the-Line Behavior
The fact is that Tkachuk has a history of such behavior.
Evidence #1: Looks Like a Duck – Mark Scheifele's Injury
During the NHL's postseason in August, 2020, Winnipeg Jets' forward Mark Scheifele collided awkwardly with Tkachuk and was forced to leave the game and miss the rest of the postseson with an injury.
At the time Tkachuk called the Game 1 injury "an accident," adding that he "felt terrible." Jets coach Paul Maurice, however, called out Tkachuk for delivering "a filthy, dirty kick to the back of the leg."
Scheifele's responded, "The way my parents raised me is you forgive everyone and that's all you can do." 
Related: Top 3 All-Time Maple Leafs Goalies
By the way, a similar event occurred on Jan. 16, when the Vancouver Canucks' Alexander Edler was called for an interference minor during a neutral-zone collision with Tkachuk. Edler was cut when Tkachuk's skate came up as he fell, catching Edler in the left leg below the knee. I'm not saying that it wasn't an accident, and no one from the Canucks called Tkachuk on his errant skate; but, is it a coincidence that a similar thing happened to Scheifele?
Evidence #2: Walks Like a Duck – Zack Kassian's Suspension
During a game in January 2020, Tkachuk's old-school body checks ran into the NHL's new-school fighting protocol. Kassian, who called Tkachuk's hits "predatory" in nature, attempted to engage Tkachuk in a fight. Tkachuk turtled and Kassian rag-dolled him to the ice.  
Tkachuk was rightly deemed to be an "unwilling combatant" and Kassian was suspended two games. Kassian claimed a "great memory" and added "He (Tkachuk) messed with the wrong guy. I don't think he realizes we're in the same division."
To Tkachuk's credit, when the Oilers and the Flames next met, he rose to the challenge and engaged in fisticuffs with Kassian. Although there might be continuing animosity the situation was over.
Evidence #3: Quacks Like a Duck – Drew Doughty's Fued
Since 2017, Tkachuk has engaged an on-going feud with Los Angeles Kings' Drew Doughty.  During a game in March 2017, Tkachuk got away with one after dropping Doughty with an elbow directly to the face. No penalty was called on the play.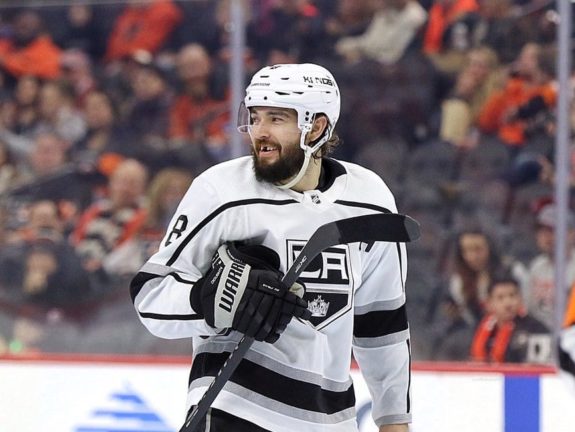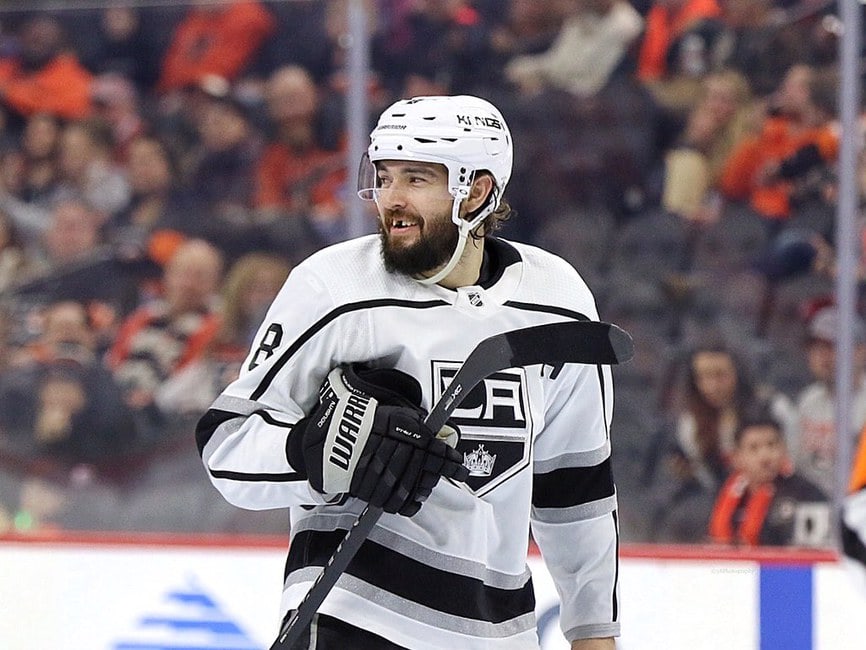 Later, however, Tkachuk was suspended two games for elbowing the Kings' defenseman. Doughty announced that he had "no respect for him, none. I respect everyone else. I'll never talk to him off the ice."
Doughty also noted, "I'm used to it and know how to deal with it. He's entertaining for you guys, but he's not respected by most of the people in the league, it's not just me — that's just a fact."
Calgary's Head Coach Geoff Ward Makes Light of the Controversy
Calgary's coach Geoff Ward noted, "Are we really talking about this?" He added, "Seriously? To be honest with you, if that's anybody else we're not even talking about it."
That's the point. Although the Flames are not talking about it and Tkachuk says he's surprised anyone is making an issue of it, in truth Tkachuk has, through his repeated behavior, earned the right to be suspected for intentional behavior to injure others. How's he's surprised? He keeps doing these same things over and over again.
Ward, who was an assistant with the Boston Bruins for seven seasons offered this note: "We had the same situation in Boston when I was there with Brad Marchand — high-talented guy, can play the agitator role real well. You like having those guys on your team and you hate playing against them." He condones Tkachuk's behavior.
Where the Situation Stands Now
The Maple Leafs and the Flames meet again tonight for their second of nine games this season. I have no idea how either team will react to this incident.
What I do believe is that Tkachuk's feigned ignorance of why anyone should call him out might actually lead to energized behavior by both teams.
As Tkachuk says himself – sometimes it's "hard to believe what comes out of some people's mouths." Personally, perhaps Tkachuk's landing on Campbell with both knees to his back after it was clear Campbell had been hurt earlier in the third period was unintentional. Perhaps not.
Related: Maple Leafs News & Rumors: Tavares, Andersen, Marner & Brooks
However, as I say, no one can logically buy into Tkachuk's pretended ignorance about why others should question his intent.
If it looks like a duck, walks like a duck, and quacks like a duck, is it Wayne Simmonds? I think not, and I wouldn't be surprised if Tkachuk has to duck himself tonight.
---
---