Rumors are circulating that Peter Chiarelli, general manager of the Edmonton Oilers, is actively shopping the 10th overall pick. If that's true, could Marc Bergevin, GM of the Montreal Canadiens, pull off another offseason trade that will shake the hockey world?
Addressing the Problems
After a disappointing 2017-18 season, the Oilers' Chiarelli is in the middle of re-tooling his team. Edmonton has recently let go of its two assistant coaches, and decided to stay put on Todd McLellan as their head coach for now. Roster changes are coming, and a big trade could be on the way.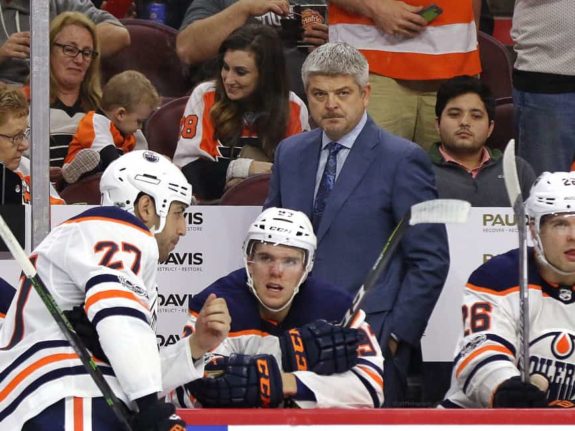 The Oilers are looking for players who can make an immediate impact on the team and help them get back in the playoffs right away. After a strong 2016-17 season where the team made it to game seven of the second round, they were unable to find a way back to the playoffs this season. A combination of defensive woes and lack of scoring depth helped push them out of the postseason hunt this past season.
According to Jim Matheson of the Edmonton Sun, Chiarelli will be fielding offers on the tenth overall pick at this year's draft and Edmonton will be looking for an impact player in return. Chiarelli stated, "A player at No. 9 or No. 10 isn't going to play next year… We'll certainly listen to offers, and if there is a trade, it would probably be on the draft floor."
Oilers Need Goal Scorers
The Edmonton Oilers possess two of the best centers in the NHL today: Connor McDavid and Leon Draisaitl. McDavid is arguably the best player, not just in the NHL but in the world. Draisaitl is one of the game's top two-way centers, slotting in behind McDavid on Edmonton's second line. The two led the team in scoring this season with 108 and 78 points respectively.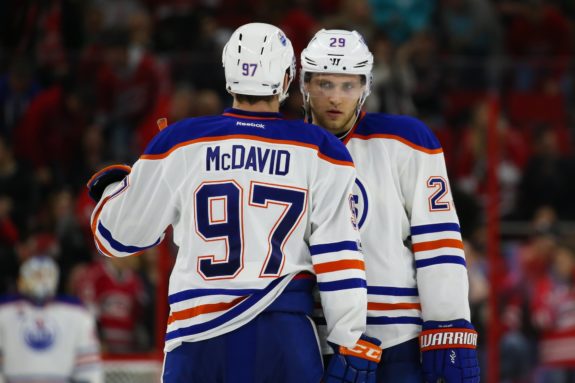 Edmonton's problem is it does not have enough goal scoring from the wing. Ryan Nugent-Hopkins, who is a natural center, played most of this season on McDavid's wing, where the two had great chemistry, resulting in a 24-goal season for RNH.
After trading Taylor Hall for defenceman Adam Larsson and trading Jordan Eberle for Ryan Strome, the Oilers have holes to fill on the wing. In order to compete in today's NHL, especially in a very tough Pacific Division, offense needs to be your biggest strength.
Pacioretty Would Be a Good Fit for Oilers
McDavid and Draisaitl simply cannot do it all on their own. They need some support, which is why the Oilers need to acquire a goal-scoring winger while they have the assets to do so. The Montreal Canadiens could be a potential trade partner.
After Chiarelli declared the 10th overall pick is available, it's possible that the Habs' Bergevin could be interested in making a deal for the selection. The Canadiens have wingers who could become expendable for the right price, one being their team captain.
Max Pacioretty is a name that has come up numerous times in trade talks this year. A UFA after next season, Pacioretty's cap hit is only $4.5 million. A natural scorer with five 30-goal seasons, Pacioretty could be a great fit in Edmonton's top-six forward group.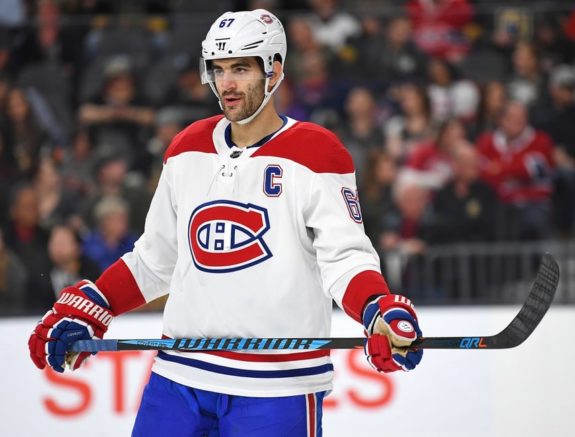 Pacioretty, along with many of his Canadiens teammates, struggled this season. He only scored 17 goals in 64 games, his lowest goals-per-game average since the 2009-10 season. A change of scenery could be all Pacioretty needs, and a chance to play on the top line with McDavid might help Pacioretty finally reach the 40-goal plateau.
While he doesn't possess the foot speed to match McDavid's skating abilities, he is able to find open space in the offensive zone where centers can find him with the puck. He boasts a terrific wrist shot and can finish with ease. Pacioretty was able to score 30 goals with David Desharnais as his center, so there is no doubt in my mind that he could score 40 with McDavid next season.
Zadina Could Make Pacioretty Expendable
The Canadiens have the third overall selection at this year's draft, and there is a good chance they will select Filip Zadina, a gifted goal scorer from the Halifax Mooseheads. Zadina has already expressed his desire to play for the Canadiens and has the potential to be a 40 goal-scorer in the NHL.
Filip Zadina ce matin à #DCSAM: « J'aimerais beaucoup jouer avec le Canadiens. Montréal est la meilleure ville de hockey au 🇨🇦.»

« J'ai beaucoup suivi les carrières de Jagr et Plekanec. Je suis d'ailleurs en contact régulier avec Tomas Plekanec. »@TVASports @jp_tvasports

— CA Sinotte (@CASinotteTVAS) May 8, 2018
Zadina could make the Canadiens' lineup as early as next season, due to injuries to Paul Byron and Andrew Shaw. Both players are not expected to be healthy in time for the season opener.
If Bergevin were to pull off another blockbuster deal, sending Pacioretty to the Oilers, he could ask for the 10th overall selection and a roster player in return. Bergevin also has four second-round picks in his arsenal and could use one or two of those to potentially sweeten the deal.
Who to Draft at Number 10
The Oilers get their goal-scoring winger, a second-round pick, and Montreal gets another top-10 pick. Many scouts have their eyes on Finnish center Jesperi Kotkaniemi of the Finnish Liiga. Kotkaniemi is the highest-ranked center in this year's draft, having posted 29 points in 57 games this year for Porin Assat.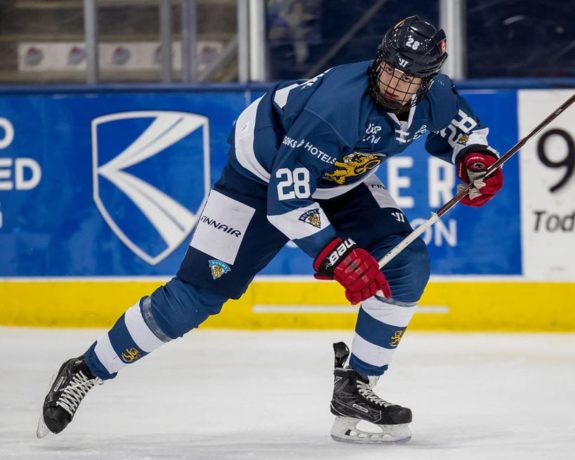 Our own Mark Scheig says, "Kotkaniemi is arguably the best available center in this draft. His upside is that of a top-6 center with top line upside. While he is clearly below the elite level, he does so many things well and has the chance to work his way into a leading role on your team."
Impact on Canadiens
Kotkaniemi could have a similar impact on the Canadiens, a team that needs a center, as fellow countryman Sebastian Aho had on the Carolina Hurricanes. Aho put up similar points-per-game numbers as a U18 player in the Finnish Liiga. A highly-skilled, two-way center with loads of offensive talent, Kotkaniemi could be the top-line center on the Canadiens in a few years to come.
His current rank according to Hockey Prospect is 10th overall. If he is available at number 10 and the Canadiens have that pick they would be wise to take him. After all, the Canadiens have had some luck in the past when they drafted a certain talented center from Finland.