After a great rookie campaign, the Montreal Canadiens' Nick Suzuki will likely expect more of himself in his sophomore season that should start in the next couple of months. It isn't possible to project his point totals without a confirmed number of games, however, one thing is certain, Suzuki should have an expanded role in 2020-21, more like the one he had in the playoffs. With more responsibility will come higher expectations from the organization. Here are the reasonable expectations for the 21-year-old forward.
Offensive Expectations For Suzuki
A 0.7- 0.8 point-per-game average seems like a fair estimate for Suzuki this season. That number could be higher if newcomers Josh Anderson and Tyler Toffoli can score off Suzuki's wing, like they have the potential to do. On paper, Anderson, as a power forward, would be the best fit of the two. The reason for this is that he can fetch the puck in the corner for Suzuki and Drouin. However, having a pure sniper, like Toffoli, could also work well.
In the upcoming campaign, Suzuki will likely start as the team's second-line centre behind Phillip Danault and will be tasked with more offensive responsibility, whereas Danault is a shutdown centre. Suzuki could easily lead the Habs in scoring. The fact that he tied Drouin in points during the playoffs, with seven in 10 games, shows that he's already capable of leading the team in scoring.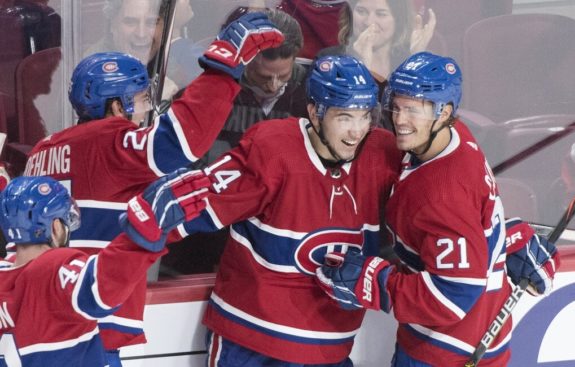 Expect Drouin to start the season on Suzuki's wing as their small sample size playing together in the playoffs showed a lot of chemistry. That alone could help Suzuki's game over a full season. In a 60-game campaign, it would be fair to expect Suzuki to score 45-50 points or something in the 35-40-point range in a 48-game season.
Defensive Expectations for Suzuki
Suzuki may be the best offensive centre on the Canadiens. However, he is no slouch defensively. Last season, he increasingly earned more defensive responsibilities, which included a regular shift on the penalty kill. Given his strong play, it wouldn't be surprising to see him continue to develop on the penalty kill, and he could earn more time than Danault on some nights if he starts as he finished 2019-20.
Suzuki is very good at takeaways. He may not be in the Vegas Golden Knights' Mark Stone area of takeaways, but he can hold his own and help generate offense with his defensive game.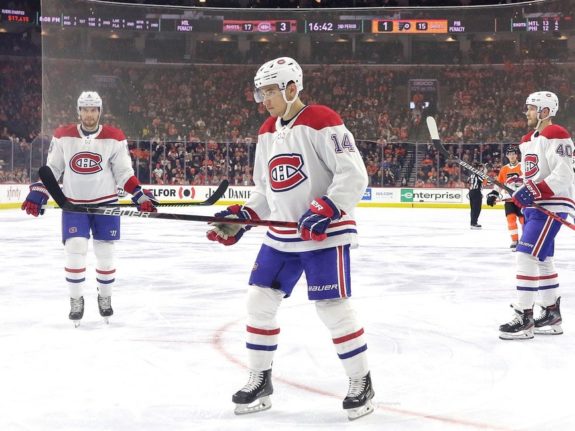 Like many young centres, Suzuki has had his struggles at the faceoff dot, but he was showing signs of improvement before the pandemic. However, his postseason faceoff stats took a dip. He won 46.2% of his 659 faceoffs taken in the regular season but only 40.2% of 179 faceoffs in the playoffs, but that could be due to tougher competition. Expect him to continue to improve in this area in 2020-21 and see him closer to the 50% mark at the dot.
What Role Can Suzuki Expect
Suzuki developed his game late last season and in the playoffs, with that being said he will slot in as the second-line centre. He hasn't surpassed Danault yet, but if his play continues to improve, he could be the Canadiens' top centre by the end of his sophomore season. It wouldn't be a surprise either with his two-way style.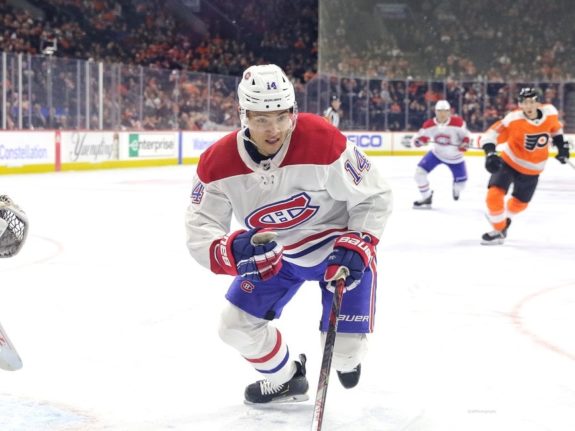 He could suffer the sophomore slump like many before him. However, it likely won't be as bad as Jesperi Kotkaniemi, whose shocking downfall was due to lingering injuries. Still, Suzuki's game could suffer if teams learn how to play against him.
Suzuki is likely to take another step forward toward becoming the team's top centre. The reason for this is the elite hockey smarts that he has mixed with his elite skills. While Kotkaniemi is smart, he's not at Suzuki's level. Expect Suzuki to be a bigger part of the team's success in 2020-21.
---
---