The knock on the Montreal Canadiens over the last few years has primarily been their lack of size.  Tomas Plekanec, Brendan Gallagher, David Desharnais – all speedy guys for sure, but none of them strike fear into their opponents just by looking at them.  What General Manager Marc Bergevin has been able to do lately is add size to the Canadiens' lineup without taking away the potential for scoring up front.
When the Canadiens made their unlikely run to the Eastern Conference Finals in the 2010 NHL playoffs, their roster didn't possess many players above 6-feet who could score goals on a regular basis.  Management has tried since then to change that, but players like Rene Bourque and George Parros were not the answer.  What Bergevin has done lately, may give Canadiens' fans reason for optimism.
Recent Additions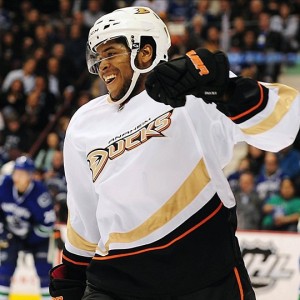 Last season, the Canadiens acquired Devante Smith-Pelly from the Anaheim Ducks, in exchange for rookie Jiri Sekac.  Smith-Pelly was a top-notch goal-scorer in both junior with Mississauga in the Ontario Hockey League, and in the American Hockey League with the Norfolk Admirals.
In Anaheim, he spent time on a line with Ryan Getzlaf and Corey Perry so he's played top minutes while also showing he can be a playoff performer, made evident by scoring five goals in 12 playoff games with the Ducks in 2013-14.  Now, no one's saying that Smith-Pelly will be able to score 30 goals at the NHL level like he did in junior, but what the Canadiens got in him is a bigger player – with scoring potential – without the big cap hit that a guy like Bourque was carrying.
A couple of weeks ago, Bergevin traded Brandon Prust to the Vancouver Canucks in exchange for Zack Kassian in a move that had many people scratching their heads.  There's no doubt that Prust was very popular amongst his teammates and fans alike, and Kassian hasn't quite lived up to the billing that saw him selected 13th overall in 2009 by the Buffalo Sabres.  However, what the Canadiens are getting in Kassian is very similar to the situation with Smith-Pelly.
Kassian is much younger than Prust and possesses a much bigger upside when it comes to scoring.  Add all that to his 6-foot-3, 214-pound frame, and Kassian should provide that much needed size to the lineup, while also providing a scoring touch that was missing with Prust.  While he has struggled at times to find any sort of consistency in his game, his play in 2013-14, where he scored 14 goals and put up 29 points in 73 games – along with 124 penalty minutes – shows that, when put in the right situation he can succeed.  Kassian isn't being touted as a "saviour" by any means, but with his reasonable cap hit of $1.75M, the team can afford to take their time with him and find the best possible fit – whether that's as a top-six power forward, or as a bottom-six checker.
Adding Size for the Sake of it, Not Always the Best Option
The Canadiens have often tried to add size during the offseason but in doing so, they've given up spots for players that would've been more effective scorers.  Bigger players don't necessarily translate into bigger offensive numbers, but the trick is finding players with size who can also chip in on offense on a consistent basis.  For example, Travis Moen is a bigger guy but he was never going to be a consistent scorer for the Canadiens.  The same can be said for Colby Armstrong and Brandon Prust.
Last offseason, the Canadiens gained a few needed inches when they acquired 6-foot Pierre-Alexandre Parenteau – a guy who put up great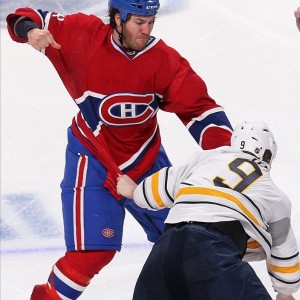 numbers a few years back with the New York Islanders in back-to-back seasons – for Daniel Briere, who stood at 5-foot-10.  Say what you will about his injury troubles in Montreal, he was just not the answer to the Canadiens' scoring problems as he couldn't regain the form that saw him put up those impressive numbers with the Isles.  If Parenteau had a much smaller cap hit than the $4M that resulted in him being bought out this summer, there's a strong possibility that the Canadiens would've hung onto him for one more year to see if they could get that scoring touch back.  But with his large cap hit, combined with the fact that he was not getting any younger, the Canadiens went in a different direction and now have plenty of options when it comes to finding their next top goal-scorer.
It's no secret that Bergevin will be letting his young prospects have every opportunity to make the team this year, and that can only help the situation.  Any of the Michael McCarron's (6'6, 225) or Nikita Scherbak's (6'2, 195), can stake their claim to one of the open spots and make an immediate impact on the roster.  But if that doesn't happen, the Canadiens have plenty of options down the right side with Kassian, Smith-Pelly, Gallagher, and Dale Weise all viable options for increased playing time.  Out of those four players, Gallagher is the only one under 6-feet – although the way he plays, it's easy to forget.
The Habs are getting bigger.  Now it's just a question of whether or not size can score.