The 50-goal plateau has always been a major milestone for the NHL's top goal scorers. As the league has consistently become more defensive-minded and systematically perfected, a 50-goal campaign as become somewhat of a rarity.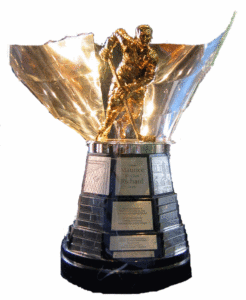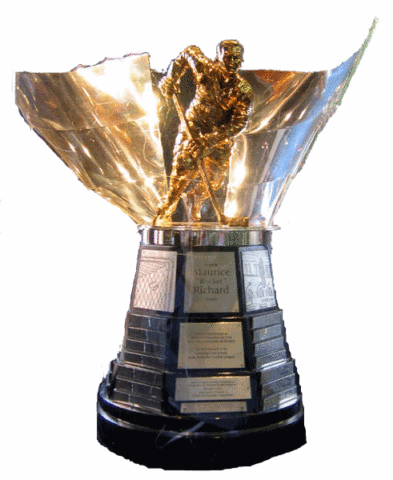 In fact, the 2016-17 season marked the first time since 2003-04 that no one was able to crack the prestigious milestone, with Sidney Crosby taking home the Maurice Richard Trophy with 44 goals.
With that said, there are a number of contenders with the potential to reach the mark in 2017-18. Perennial possibilities include the likes of Alex Ovechkin, Sidney Crosby, and Steven Stamkos. The three have combined for 10 50-goal campaigns since 2005, seven of which belong to Ovechkin.
Of course, with the league turning towards youth more and more each year, there are several young stars who could top 50 in '17-18. Auston Matthews and Patrik Laine posted two of the best rookie seasons in the past decade, and seem to be destined for an eventual 50-goal year. Although he's more of a playmaker by nature, you can't rule Connor McDavid out of this race either, with seemingly nothing holding his potential back.
Sidney Crosby – Pittsburgh Penguins
At 30 years of age, Sidney Crosby is still the best player in the world in the opinions of his colleagues. Coming off of back-to-back Stanley Cups and Conn Smythe Trophies, there's no denying the dominating force that Crosby is on the ice. In potting 44 goals last season, Crosby recorded his second-highest goal total in his career, behind his 51 in 2009-10. He also sported the highest shooting percentage of his career, at 17.3%.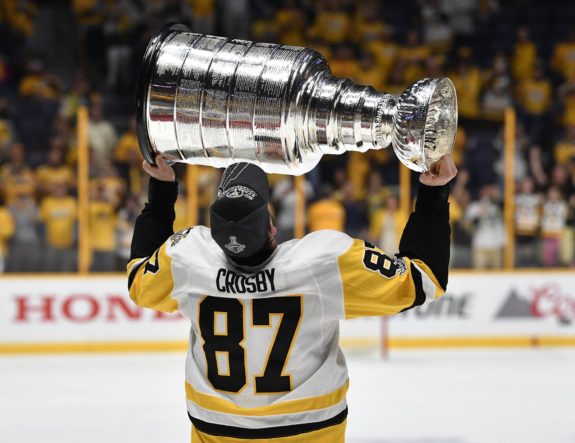 With the Penguins hunting down a three-peat, Crosby has shown no signs of slowing down as he enters his 13th NHL season. He has an unparalleled work ethic across the league and can force turnovers like nobody's business. Crosby's got quick net-front hands and great hand-eye coordination. Combined with tremendous lower body strength and edge work, Crosby remains one of the top goal scoring threats in the NHL. There's no reason to say 50 is out of Sid the Kid's reach.
Alex Ovechkin – Washington Capitals
Since the 2004-05 lockout, Alex Ovechkin owns seven of the 20 individual 50-goal seasons. Despite putting up his second-lowest career total with just 33 goals in 2016-17, Ovechkin had topped 50 goals in each of the three previous campaigns. The 32-year-old has admittedly turned a new leaf towards a more defensively minded approach, but his shooting percentage of 10.5% last year was 2% lower than his career average. Ovechkin's total of 313 shots was also the second-lowest of any non-lockout season in his career.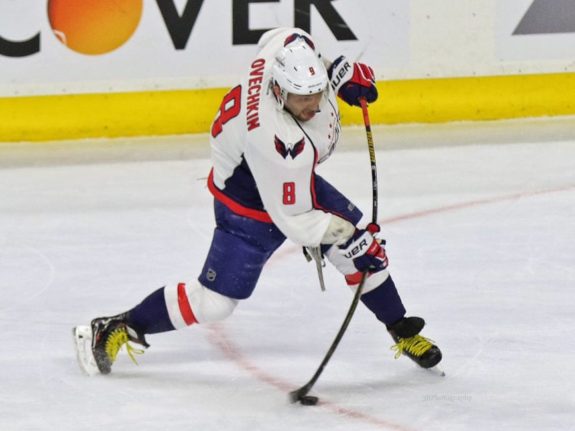 While Ovechkin's Capitals are without a doubt less dangerous than in years past, he remains an offensive threat each time he takes the ice. The Great Eight's best asset comes with his one-timer on the power play, where he's potted 212 in his career. He's got an electric release on the rush as well, meaning he can find the twine from all over the offensive zone. Ovechkin has been the league's most consistent goal-scorer over the past decade, making him the safest best to crack 50 in any given year.
Auston Matthews – Toronto Maple Leafs
The reigning Calder Trophy winner, Auston Matthews became the first rookie to crack 40 goals in his rookie season since Ovechkin's 52 in 2005-06. Matthews showed incredible poise with the puck during his 82 games, along with an innate ability to get the puck on and off his stick in a flash. The 20-year-old showed no signs of slowing down this preseason, tallying five goals in just four games.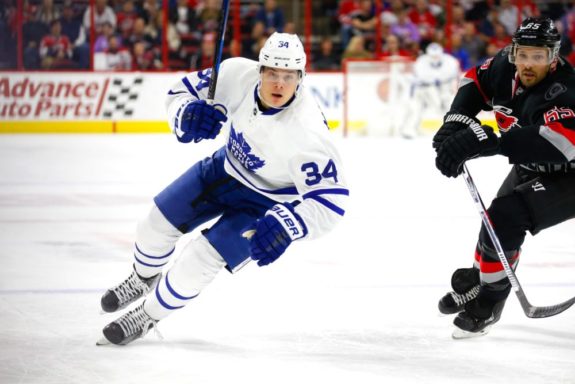 The first overall pick in the 2016 NHL Draft, Matthews followed up on exceptional expectations in the hockey hub of the world, giving Leafs fans the franchise center they've been dreaming of for decades. The upcoming campaign will certainly be a telling one towards Matthews and the Maple Leafs' future as he tries to put the sophomore slump idea to rest. His shooting percentage of 14.3% is sustainable, and 32 of his 40 goals were even-strength, a positive sign towards even greater career totals.
Patrik Laine – Winnipeg Jets
After speaking of the second-best rookie goal total since the lockout, here we are at the fourth-best. Patrik Laine's 36 goals in 2016-17 sit behind only Ovechkin, Matthews, and Crosby. That's some good company. Laine's style compares a lot to that of Ovechkin's, in that they both love to shoot the puck, and both find a majority of their success from one-timers in the high slot. Laine continued to dazzle in this year's preseason, potting five goals and eight points in four games.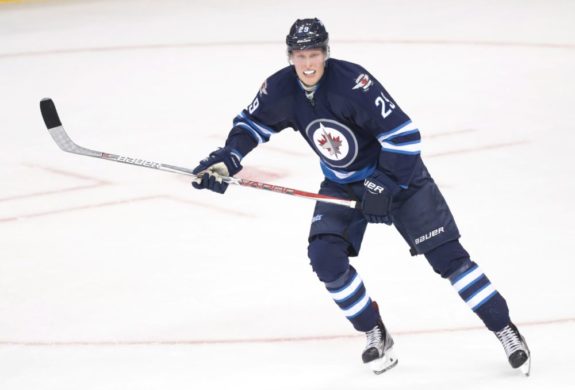 The big Finn scored 27 of his 36 goals at even strength, a testament to his true scoring ability. Picked just one spot below Matthews at the 2016 draft, Laine has instantly become a cornerstone piece for the Jets, and has jumpstarted their path towards the playoffs. With a shooting percentage of 17.6%, the 19-year-old will need to fire more shots on net to compensate for a likely decline in shooting percentage this year.
Steven Stamkos – Tampa Bay Lightning
A goal-scoring machine when healthy, Steven Stamkos is the only other player to hit 60 goals in a season since 2000, alongside Ovechkin. Unfortunately, the injury bug has got ahold of Stammer and won't seem to let go. A two-time 50-goal scorer, Stamkos played just 17 games in 2016-17 after he tore the lateral meniscus in his right knee. Just three years earlier, Stamkos broke his right tibia, forcing him to miss 45 games.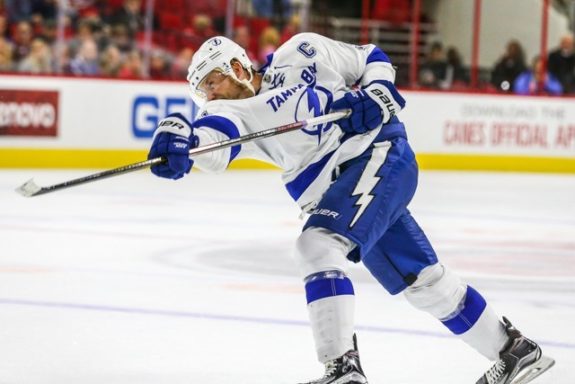 In any case, Stamkos is set to put those issues behind him as he heads into the 2017-18 season with a clean bill of health. With an insane 17.1 Sh% over his career, Stamkos is one of this era's most dynamic scorers, and at 27 years of age, he's still got plenty of gas in the tank. Not to mention, the Lightning are predicted to have a huge year this year offensively, meaning Stamkos could very well be a candidate for both the Maurice Richard and Art Ross Trophies.
Contributor for the Toronto Maple Leafs and Prospects. Scout with the Oakville Blades of the OJHL. For questions, concerns, or comments, contact me at devinslawson123@hotmail.com or on twitter @SlawsonTHW.