With almost every prospect in offseason mode (save for Connor Lockhart with the Peterborough Petes, who is in the Ontario Hockey League Final), it's time for the inaugural Vancouver Canucks Prospect Report Cards. Similar to the report cards given to the NHL players, I will evaluate the season that was and give them a letter grade based on their efforts. Except in the prospect version, I will also take a look at where they are in their development, identify some areas they need to work on and discuss their future with the organization. First up, Surrey native Arshdeep Bains.
Bains' 2022-23 Season with the Abbotsford Canucks
After a wildly successful final season in the Western Hockey League with the Red Deer Rebels where he put up 43 goals and 112 points and won the Bobby Clarke Trophy as the league's top scorer, Bains transitioned to the American Hockey League (AHL) with the Abbotsford Canucks. While he started slow with only two goals in his first 20 games, he turned it on towards the end of the season and finished with a solid 13 goals and 38 points in 66 games. Often a healthy scratch early on, he eventually earned head coach Jeremy Colliton's trust and became a key member of the team in all situations, including the penalty kill where he scored two shorthanded goals in the playoffs – on the same penalty.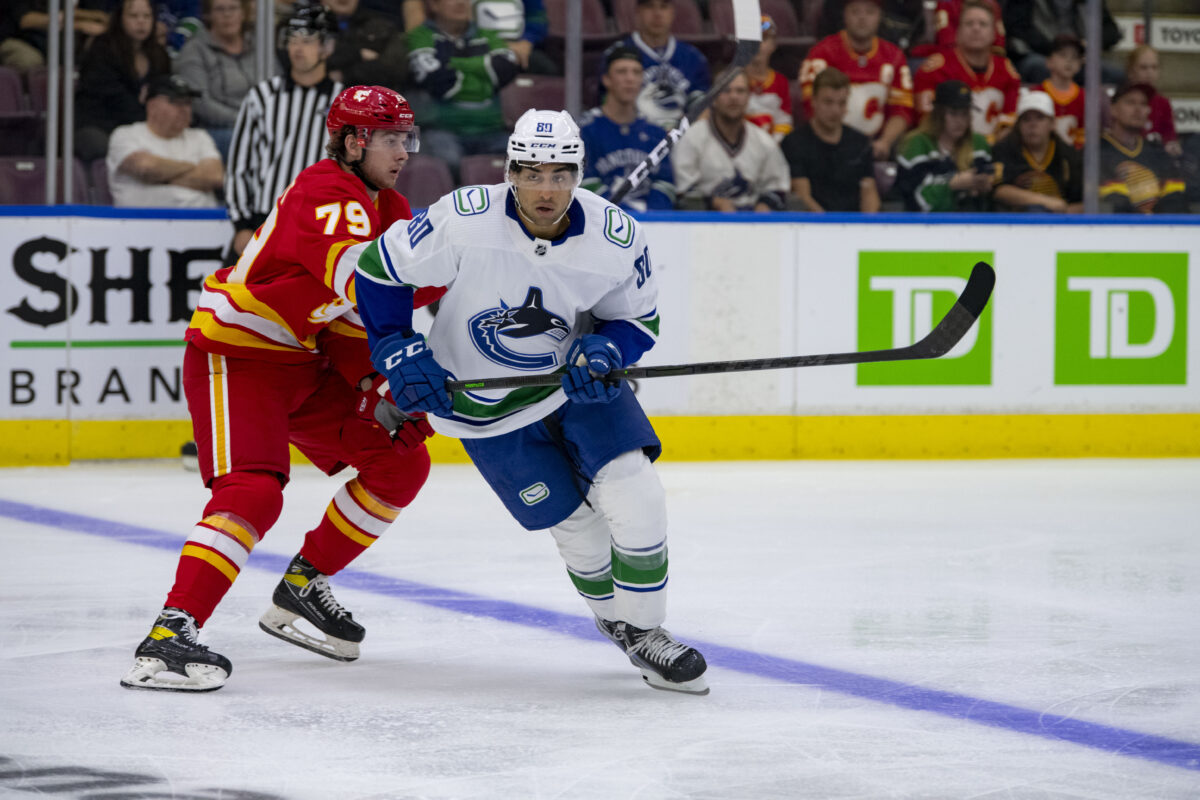 As anticipated, Bains also became a fan favorite in Abbotsford because of his tenacity, work ethic, and overall personality. The fact that he's South Asian playing in a largely South Asian community in Abbotsford has made him an important figure in the community as well. Fans from within Abbotsford and nearby Vancouver come out to cheer him on as he continues to build his reputation on and off the ice as an ambassador for South Asians that want to pursue hockey as a career.
I hope it can push kids to want to play…I'm hoping that more kids of South Asian descent want to play hockey and think they can achieve great things.

Arshdeep Bains
All in all, Bains' first season in the AHL should be considered a success. He found his way in the league and grew throughout the season into a reliable forward for Colliton and a respected teammate in the locker room. He came to play every night and not only contributed on the scoresheet but also brought intangibles like leadership and an infectious work ethic. He even developed some exciting chemistry with fellow prospect Danila Klimovich who was often on the receiving end of some of his NHL-level passes.
Quotables
"He sees the ice better than 98 percent of the world. He has tremendous instincts, too…And now look at him, he went from healthy scratch to playing top-line minutes. He's on the PK and the power play." – Tristen Nielsen (from 'Canucks: Prospects Tristen Nielsen and Arshdeep Bains playing key roles in Abbotsford's playoff push', The Province, 5/4/23)
"He can make plays; he's found a way to produce offensively and move pucks forward." – Head coach Jeremy Colliton
"There's been a ton to like in Bains' game of late. He simply has that NHL look to him with how he processes the play and makes all the right passes in the offensive zone." – Chris Faber, Canucks Army
Future With the Canucks
Bains' debut season in Abbotsford may have gotten off to a slow start, but it finished with a bang. As the season went on, he started showing a playing style that could easily be translated to the NHL. It's not always a given that overagers will succeed at the highest level, but it appears the Canucks might have a hidden gem in Bains. His tenacious forechecking, physicality, hockey IQ and seemingly neverending motor are the attributes that make up not only successful NHL players but heroes in the playoffs.
Related: Canucks 2023 NHL Draft Target: Axel Sandin Pellikka
---
Latest News & Highlights
---
The Canucks don't have a lot of players like Bains in their system. When they traded Tyler Motte and Antoine Roussel, they lost a lot of toughness from their bottom six. Yes, Dakota Joshua replaced some of it with his play last season, but they need more than just one player to provide that type of presence in the lineup. With any luck Bains gets closer to the realm of Alex Burrows or Jannik Hansen, forwards that not only kill penalties and play in the bottom six but also can step into the top six and score 20 goals.
Final Grade For Bains: B+
The only reason Bains gets a B+ is because of his slow start to the season. He struggled to stay in the lineup on a regular basis and had a few growing pains defensively. But he didn't get down on himself when he wasn't playing, instead, he worked hard to improve his game and ended up becoming one of Abbotsford's top two-way players. He found a niche and has seemingly transitioned from the high-end goalscorer he was in junior to a reliable, versatile two-way forward that can play up and down the lineup and inject energy into the roster when needed.
Areas of Improvement For 2023-24
After a relatively successful rookie season in the AHL, Bains appears to be on the verge of at least a few cups of coffee in the NHL in 2023-24. He has a lot of translatable skills in his playmaking, smarts, motor, and overall two-way game. One of the things that could hold him back from a regular NHL job is his skating. As mentioned by Chris Faber of Canucks Army, it's his first few steps that are the problem, not his top-end speed. If he can tweak that part of his skating, his floor is likely a bottom-six forward that chips in 10-15 goals and is one of his coach's primary penalty killers. Given his willingness to put in the work to improve, I wouldn't be surprised to see glimpses of that floor as early as next season.
That does it for our first prospect report card of the offseason. Next up, Bains' linemate Danila Klimovich.