The Boston Bruins are in a transition period this offseason. After a first-round exit saw their historic season end, and with the futures of veteran centers Patrice Bergeron and David Krejci up in the air, there are bound to be some significant ripples felt. This was made clear during the Bruins' end-of-season press conference, which saw Bruins CEO Charlie Jacobs, president Cam Neely, general manager Don Sweeney and head coach Jim Montgomery meet with media to discuss the season and the outlook for next offseason.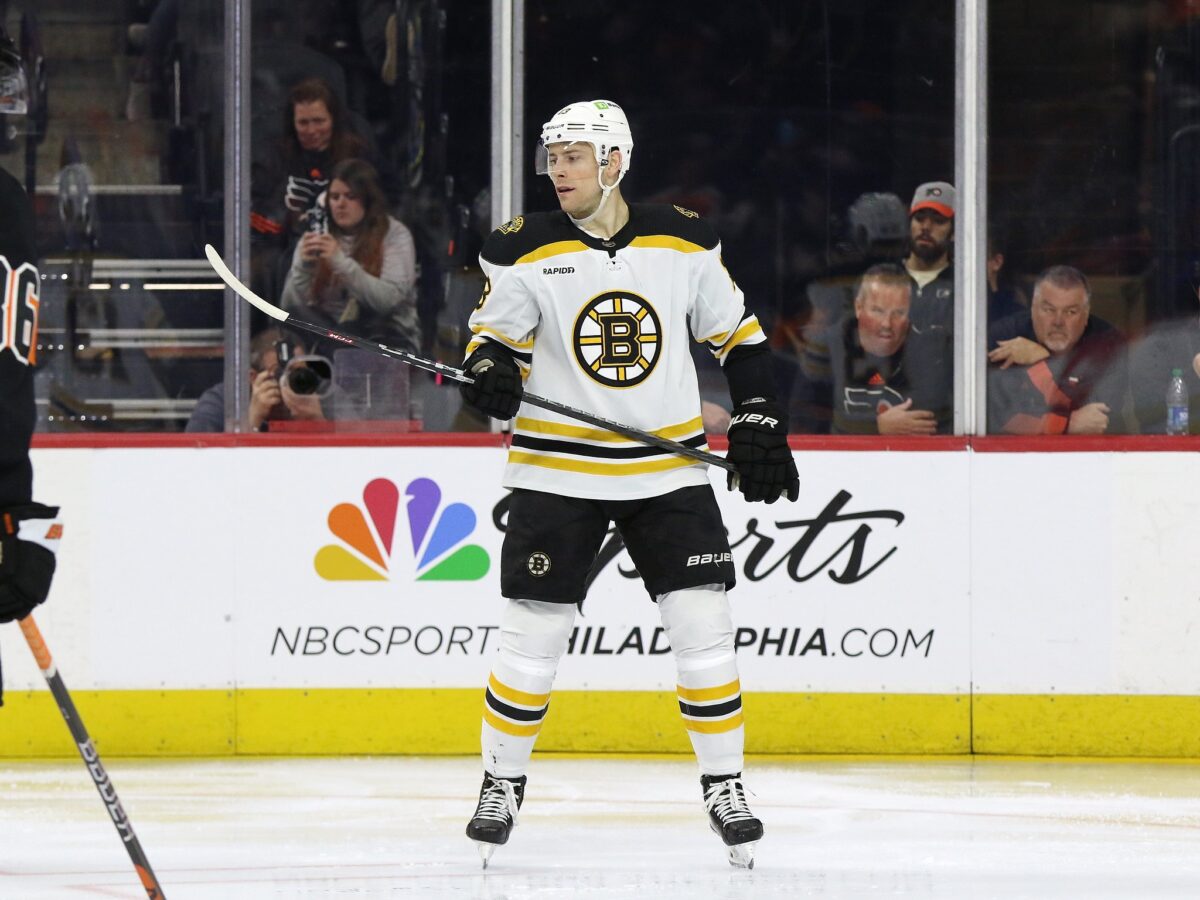 Sweeney discussed the possibility of retaining any of his three acquisitions from the 2023 NHL Trade Deadline in Dmitry Orlov, Garnet Hathaway and Tyler Bertuzzi, and mentioned there was no way he could retain all three. He mentioned very clearly that the team would have to see roster changes due to their situation, including the aforementioned unrestricted free agents, as well as restricted free agents Jeremy Swayman and Trend Frederic up for new deals.
Changes are afoot, but that doesn't mean the Bruins' don't necessarily feel comfortable with the pieces they have who are capable of playing top-six roles next season.
"Ideally, I wouldn't be sitting here. I'll be perfectly honest with you. And I think everybody knows that," Sweeney said. "And I take a lot of ownership in the fact that we're sitting here. So, we have a really good group of young players that are committed to this organization in some key positions for our organization. We have to grow and foster some younger players that will play some roles. So, we feel good about if you look at guys who can go and play a top-six role right now. I think we have to fill the bottom part of our roster."
Coyle and Zacha Primed to Play Top Center Roles
On paper, the Bruins still have Brad Marchand and Taylor Hall at left wing, David Pastrnak and Jake DeBrusk at right wing, and Pavel Zacha and Charlie Coyle down the middle. This isn't the worst top-six in the NHL, but it certainly falls short of where the team was with Bergeron and Krejci down the middle and Bertuzzi somewhere in the mix. The team's depth also takes a hit as a result as Coyle and Hall anchored the team's third line last season.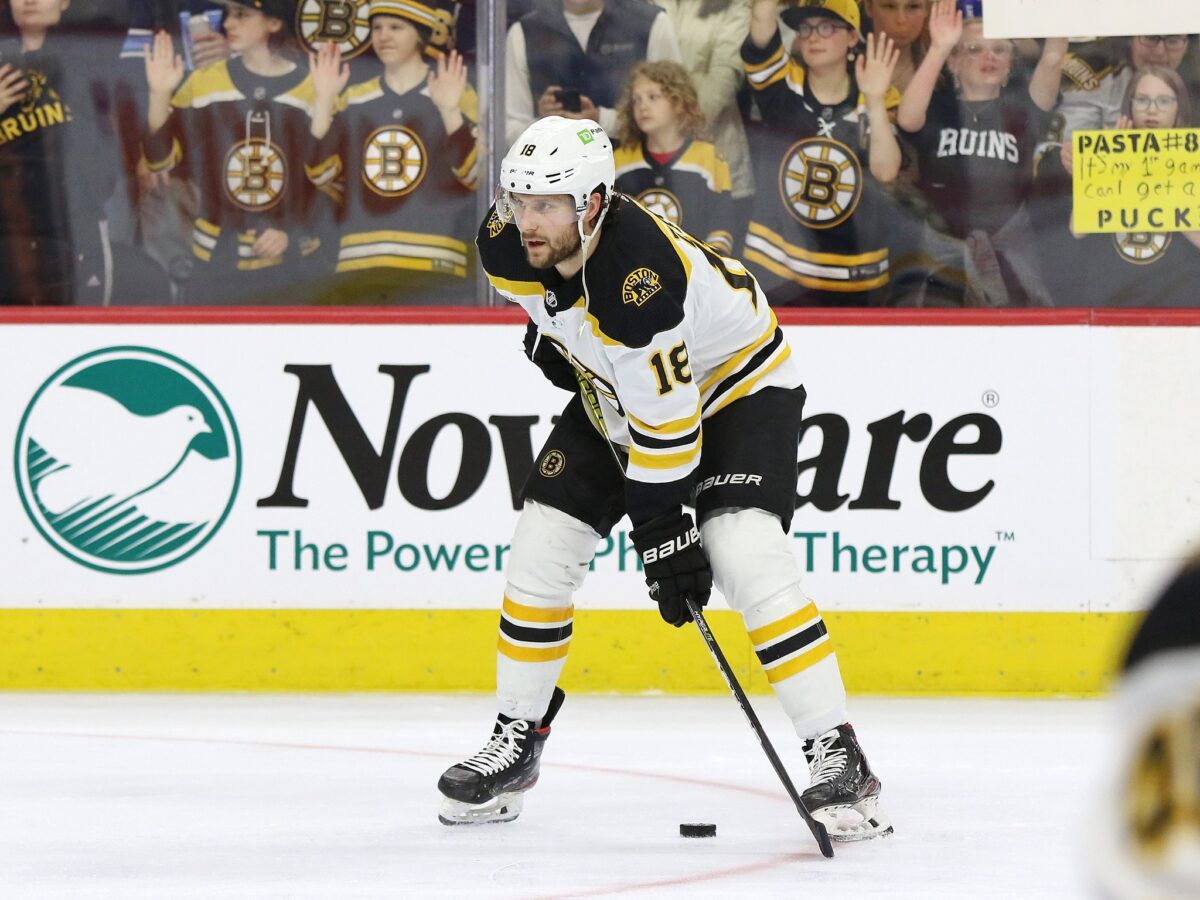 Still, changes are afoot and the Bruins could do far worse than these internal role swaps.
It's important to note that both Zacha and Coyle are very capable centers in the NHL. While the Bruins weren't able to draft and develop a young center to take over for Bergeron or Krejci, they did a good job at finding good players who could step into the role either in a permanent capacity or as a bridge until the next top-tier center comes to town. This doesn't mean that Zacha and Coyle will replace Bergeron and Krejci, but it does mean that the team has the personnel required to fill holes right now.
---
Latest News & Highlights
---
Zacha would put up career-highs of 21 goals, 36 assists, 57 games and 82 games last season and was a major part of the Bruins' success last season. He'd also add six assists through seven postseason games. Coyle, on the other hand, put up nearly identical totals to his 2021-22 season, including 16 goals and 45 points during the regular season and two points in seven playoff games. The point-totals may not jump off the page in the postseason, but arguably no player was more important to the Bruins in the playoffs than Coyle this season.
Bergeron and Krejci's Impacts are Irreplaceable
Nobody is expecting them to fully replace the impact of No. 37 and No. 46, though, as that would be nearly impossible given all they've done for the team and the city.
"The leadership, the exemplary play that both players have left," said Jacobs. "In terms of an impression on this organization, I was fortunate enough to be at the draft table when both of those players were drafted, and it is funny how fate unfolds. The days that we drafted those players, frankly as much as scouts and others want to take credit for understanding how special the player, that both of those gentlemen were going to be, you just don't know."
Jacob would continue by saying:
"And then you get to know those men and understand what they are about, their values, and how they approach their day-to-day work, and they are truly professionals, they are real gamers, for lack of a better term. I use that – gamers are people that are all in and both of those players are gamers, in my opinion, and that is something that is hard to replace. Hopefully the people, the teammates in that locker room find them as leaders and try to mimic and use them as an example for how they approach their own game."
If Bergeron and Krejci return to the team and attempt to "run it back" next season, then the Bruins could look to kick some role changes down the road a bit. This would be ideal as far as competing next season is concerned, but it wouldn't change the fact that this conversation would likely be revisited next offseason. It would also require some interesting salary cap gymnastics.
Related: Bruins Have Options to Insert Young Players Into 2023-24 Lineup
The Bruins will be getting more play from their young players next season and that could give them a more clear indication on their immediate future beyond Bergeron and Krejci's playing careers; using the regular season as a way to test out Coyle and Zacha in a bigger role would also be advisable as it would give the team the opportunity to rest Bergeron or Krejci periodically to keep them fresh come the postseason, should they return.
Is this hoping for the best-case scenario in a league filled with uncertainty? Absolutely. Is it still something that must be considered? Again, absolutely.
This offseason will probably be a difficult one for many Bruins' fans to watch, but it could also prove to start shaping the trajectory of this team for years to come.