The Vancouver Canucks are on the verge of a pivotal decision as they approach the NHL Entry Draft armed with the 11th overall pick. Among the myriad of options available, one intriguing possibility emerges, the potential selection of Ryan Leonard. A highly touted forward from the US National Team Development Program (USNTDP), he has caught the attention of scouts with his exceptional skill set and impressive performance on the ice.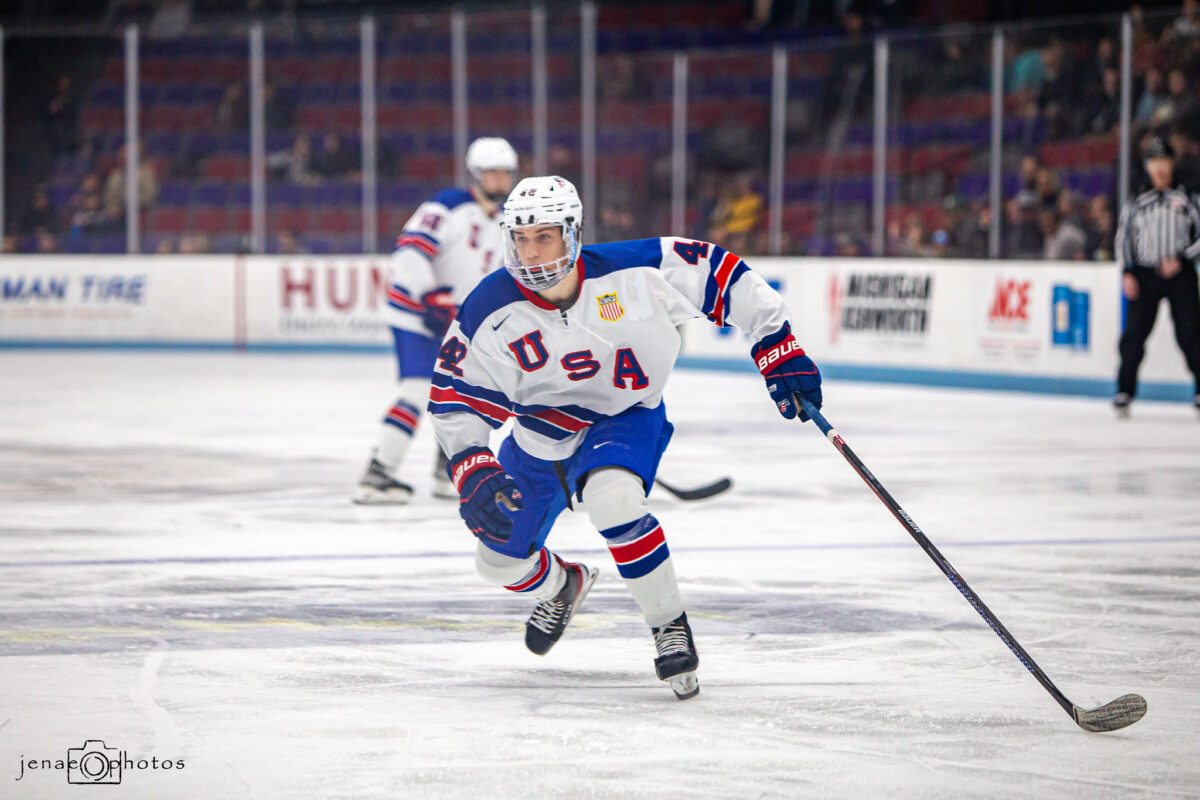 With his dynamic scoring ability, playmaking prowess, and strong hockey IQ, Leonard possesses the tools to make an immediate impact at the NHL level. General manager (GM) Patrik Allvin and his team are undoubtedly evaluating this option carefully as they weigh the potential benefits and drawbacks of adding him to their roster.
Exceptional Skill Set and Performance
Leonard has showcased a remarkable skill set throughout his hockey career, leaving scouts and experts in awe of his abilities. The 18-year-old forward boasts tremendous offensive instincts, lightning-quick hands, and an uncanny ability to find the back of the net. With an impressive scoring touch and a knack for creating opportunities in the offensive zone, he has proven to be a consistent threat against opposing defences. His speed, agility, and exceptional puck-handling skills enable him to navigate through traffic and create scoring chances for himself and his teammates.
Related: Ryan Leonard Draft Prospect Profile
Such attributes make him an exciting prospect with the potential to bring much-needed offensive firepower to the Canucks' lineup. He also represented his country alongside fellow prospects Oliver Moore and Gabe Perreault at the 2022 U18 World Junior Championship where he contributed five goals and six points in six games while winning the silver medal.
Playmaking Prowess and Hockey IQ
Leonard's impact extends beyond his goal-scoring ability. His vision and playmaking prowess set him apart from his peers, making him a complete package on the ice. He possesses excellent on-ice awareness and the ability to make quick, accurate passes to set up scoring opportunities. His hockey IQ is evident in his decision-making, as he demonstrates an understanding of the game that allows him to exploit opponents' weaknesses. This combination of playmaking skills and hockey intelligence could significantly elevate the Canucks' offensive capabilities, facilitating better team chemistry and increasing scoring depth.
Addressing Scoring Woes
One area where the Canucks have struggled in recent years is consistent goal-scoring. While they possess skilled forwards, the team has lacked the offensive depth necessary to compete with the top contenders in the league. Leonard's presence could help address this issue by adding a dynamic offensive threat to the roster. By combining his natural scoring ability with the playmaking abilities of established stars like Elias Pettersson and Brock Boeser, the Canucks could form a formidable offensive trio that opposing teams would find difficult to contain. Leonard's potential impact on the power play should not be overlooked either, as his ability to find open space and unleash accurate shots would provide a needed boost to Vancouver's special teams.
Related: THW 2023 NHL Draft Guide
---
Latest News & Highlights
---
The Canucks' decision at the 11th overall pick should not be solely focused on short-term gains. They must also consider the long-term implications for the franchise. Leonard, with his high ceiling and potential for growth, is committed to Boston College for 2023-24 and would represent a long-term investment in the team's future. By adding him to their prospect pool, the Canucks would secure an exciting young talent who could develop into a cornerstone player for years to come.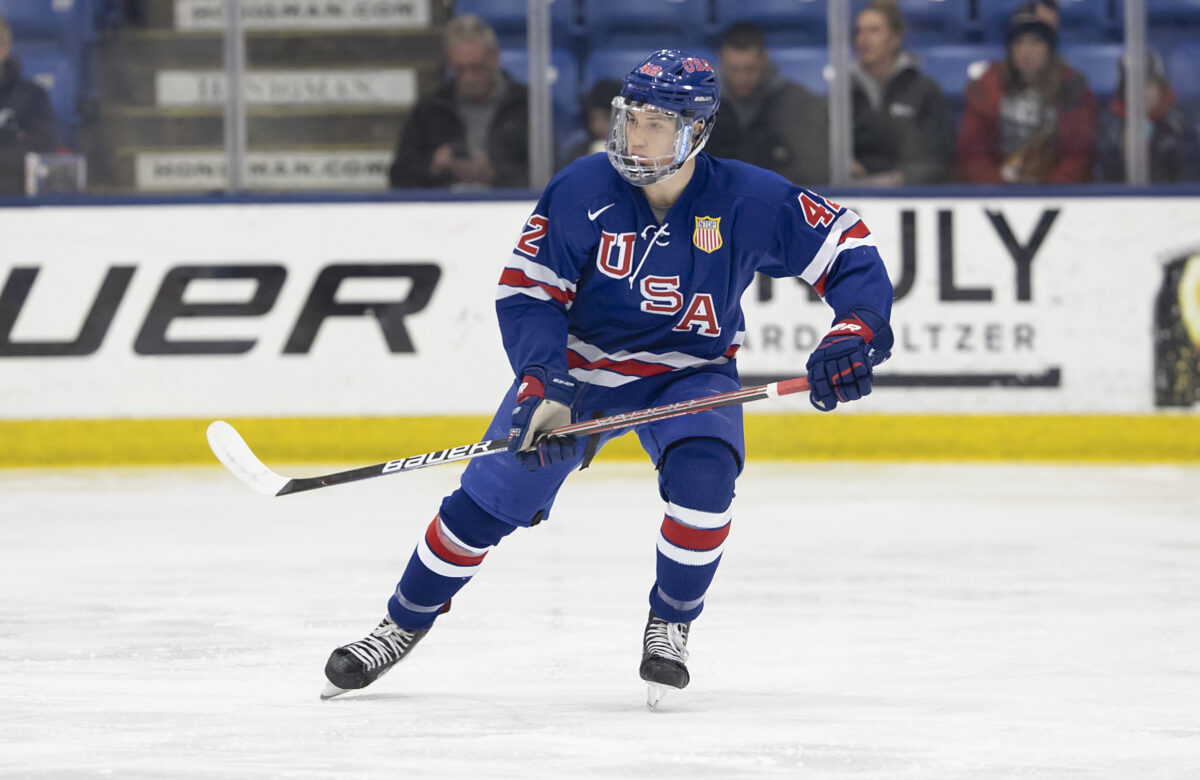 As the Canucks evaluate their options with the 11th overall pick in the 2023 NHL Entry Draft, Leonard emerges as a compelling choice. His exceptional skill set, playmaking ability, and ability to address the team's scoring woes make him an enticing prospect for the franchise. Moreover, his long-term potential as a cornerstone player aligns with the Canucks' vision for sustained success. As the draft approaches, the Canucks' management and scouting staff must weigh the potential benefits and drawbacks of selecting Leonard. Ultimately, choosing him with the 11th overall pick could prove to be a positive franchise-altering decision that shapes the team's future success.
---
---