The Vancouver Canucks have the 11th overall pick at the 2023 NHL Draft (if they don't end up trading it and moving down). They also have picks 75, 89, 105, 107, 119, and 171 – again barring any trades. As we approach the real thing in Nashville on June 28 and 29, I will be conducting a few mock drafts with the picks the Canucks currently have in their arsenal. Like always, I will probably get most – if not all of them – wrong. But mocks are fun, so let's get going with the first one!

**Note: I used Draft Prospects Hockey's draft simulator with 65 percent randomness and the draft order as of June 9.
11. RD David Reinbacher – EHC Kloten (NL)
Surprisingly, in this mock draft, Axel Sandin Pellikka was selected by the St. Louis Blues at 10th overall as the first defender off the board. That left David Reinbacher, the top-ranked defenceman according to NHL Central Scouting, still available for the Canucks to select. Of course, with their overwhelming need for a potential top-pairing right-handed defenceman, drafting him was a no-brainer.
Reinbacher is arguably the most well-rounded defenceman in this draft class and could be playing in the NHL (or at least the American Hockey League) as soon as next season. He was playing with and against men in the Swiss National League and held his own to the tune of three goals and 22 points along with a plus-7 in the plus/minus column.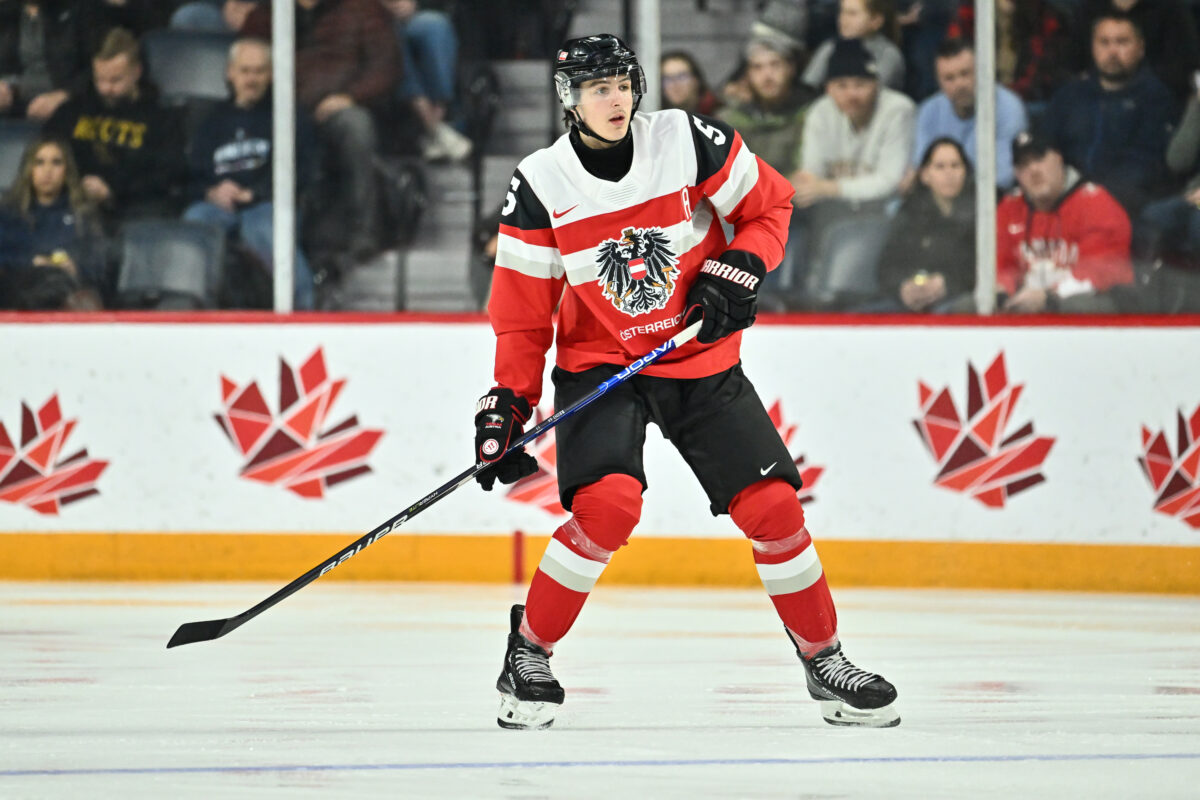 At 6-foot-2 and 187 pounds, Reinbacher has the size every scout likes in a defenceman and the skating to compete in the high-paced modern NHL. He also has the hockey IQ, physicality and calming presence that winning teams need on their blue line. If the Canucks actually drafted him, he would hands-down be the perfect partner for Quinn Hughes.
"He's the kind of guy you put on the ice when things are going badly and he can settle everybody down against top lines because he has the emotional and mental attributes. Very composed. Very resilient." – Shane Milloy, NHL prospects scout (from 'Canucks: Why 'glue guy' defenceman David Reinbacher should stick as draft option', The Province, 6/7/23).
75. C/LW Anton Wahlberg – Malmo Redhawks J20 (J20 Nationell)
Without a second-round pick for the second draft in a row, we jump to the third round where I decided to select Swedish center/winger Anton Wahlberg. Filling a need with this pick, the Canucks don't have a lot of depth down the middle, especially when it comes to potential third-line two-way pivots. THW's own Peter Baracchini sums up his game nicely in his prospect profile:
"Wahlberg is a strong and impactful two-way centre that fits the mold of a prototypical power forward that could excel in today's game. He uses his size effectively to his advantage and is constantly engaging in battles to regain possession of the puck. He has good mobility for his size and displays a strong work ethic every single shift. There are rarely moments where takes one off and is always making his presence felt on both sides of the puck."
Related: THW's 2023 NHL Draft Guide
---
Latest News & Highlight
---
If Wahlberg is actually available in the third round when the Canucks are selecting at 75th overall, I could see the Canucks taking him. He is Swedish after all and general manager Patrik Allvin has always been plugged into the European leagues going back to his time in Pittsburgh. In fact, Wahlberg is probably on his actual list of targets going into the draft.
89. C Felix Nilsson – Rogle BK J20 (J20 Nationell)
Rogle BK has become a bit of a hotbed for draft-eligible prospects housing the likes of Nils Hoglander, Moritz Seider, and Marco Kasper in recent years. I chose to go back there for the Canucks' second third-round pick (acquired from the Toronto Maple Leafs for Luke Schenn) and select another center – and Swede – in Felix Nilsson. Like Wahlberg, Nilsson is noted for his two-way game and potential to become a solid third-line center in the NHL.
"Breaking down Nilsson's game, one thing that stands out is just how smart he is with and without the puck. In the defensive zone, he can read bounces off the glass extremely well, which allows him to get to loose pucks and start the transition game." – Adam Kierszenblat, The Hockey Writers
As I said earlier, the Canucks need more centers in their system, and adding two middle-six options with upside in Wahlberg and Nilsson fills that gap almost perfectly. A lot of rankings have Nilsson going in the late second round, but if he ends up falling into Allvin's lap at 89, expect him to be a Canuck at the end of Day 2.
105. LW Aydar Suniev – Penticton Vees (BCHL)
Now we get into the fourth round where the Canucks have three of their picks in this year's draft. This is also the round where swings are taken with the hopes of hitting a home run. After staying in Europe for the first three selections, the Canucks head back home and choose someone from their backyard in the exciting and potentially high-ceiling Aydar Suniev.
Teaming up with Bradly Nadeau, Suniev dominated the British Columbia Hockey League (BCHL) in his draft year with 45 goals and 90 points, showcasing his lethal wrist shot and one-timer. The Penticton Vees were a force in 2022-23, mostly because of the dynamic duo of Nadeau and Suniev. While his skating mechanics need to be tweaked with the help of a skating coach, his hockey IQ, work ethic, and tenacious forechecking cannot be denied. He might turn out to be one of the biggest steals of this draft – especially if he ends up falling to the Canucks at 105.
107. LW Aiden Fink – Brooks Bandits (AJHL)
Moving west to the Alberta Junior Hockey League (AJHL) and the Brooks Bandits, I decided to select yet another potential steal in Aiden Fink. Like Suniev, Fink dominated his league with 97 points (41 goals). In fact, he led the charge in that category, winning the Ernie Love Trophy, which is the equivalent of the Art Ross Trophy in the NHL. He also was named the MVP of the Canadian Junior Hockey League (CJHL) and the league's top forward overall. Talk about a year for the trophy case. While he's undersized at 5-foot-9, Fink has the shot and touch of a natural goalscorer. He also knows the value of hard work and the hours it takes to become a consistent producer on the scoresheet.
"I worked on a lot of stuff regarding my scoring touch like my one-timer. I feel like I improved it a lot. My shot accuracy is something I am trying to improve so I can score even more goals…Regarding my scoring touch, I worked on my re-directs, every scenario how to score a goal. That's what I worked on" – Aiden Fink speaking to EP Rinkside (from 'The Anatomy of a Goalscorer: Aiden Fink', EP Rinkside, 1/28/23).
If Fink is available at this point in the draft, the Canucks should take a swing on him, even though he's undersized. His versatility (he played on both the power play and penalty kill with the Bandits), goal-scoring ability, and drive to improve his game are all markings of players that succeed at the NHL level. I would not be surprised if we are talking about Fink as a late-round gem in a few years.
119. RD Mazden Leslie – Vancouver Giants (WHL)
For the final fourth-round pick of the day, I chose someone from the Canucks' literal backyard, the Vancouver Giants. While they normally shy away from picking players from their hometown WHL team, 2023 needs to be the year that changes – especially when there's a right-handed offensive dynamo like Mazden Leslie on the board. Yes, he's raw defensively, but his hockey IQ and overall anticipation in the offensive zone cannot be taught.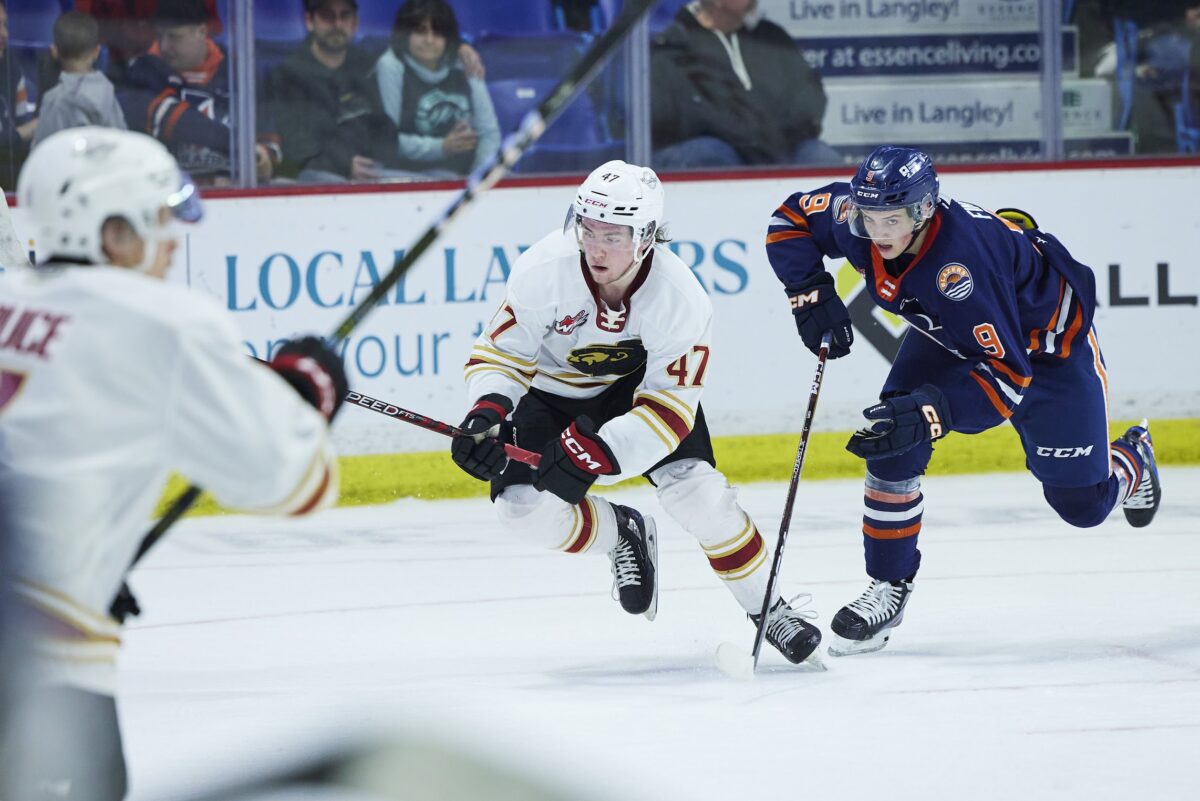 Leslie is also a right-hand shot, something the Canucks are severely lacking in their system. As I said in his prospect profile, defence can be taught. And with the likes of Adam Foote and Sergei Gonchar in the organization, he should have plenty of teachers to help him develop that part of his game. The bottom line is, Leslie's offensive upside and stylistic fit for the modern NHL should be too difficult to pass up, especially this late in the draft.
171. C Ty Halaburda – Vancouver Giants (WHL)
For the Canucks' final pick of the 2023 Draft, I went with another pivot in the speedy Ty Halaburda. Speed is definitely his calling card, but his two-way game is what might ultimately get him to the NHL one day. His hockey IQ is exceptional away from the puck, and that combined with his work ethic and motor could make him a very effective bottom-six player in the future. The fact that he's already a top-notch penalty killer in the WHL is just an added bonus given his already well-rounded defensive game.
Related: Ty Halaburda – 2023 NHL Draft Prospect Profile
Halaburda could become the Canucks' next Max Lapierre, quick, pesky, and very hard to play against. He was never the biggest scorer in the NHL, but he was highly effective in his role as a third/fourth-line center. Championships are won on the backs of those types of players and the Canucks would be getting a good one if they drafted Halaburda in the sixth round.
Canucks Walk Away With Some Needs Met & Potential Late-Round Gems
If Reinbacher makes it past the Arizona Coyotes in real life, it would be a miracle, but in this mock, he fell to the Canucks. That means they finally got their top-pairing right-shot defenceman that could potentially line up alongside Hughes for years to come. They also filled their need for two-way centers in Wahlberg, Nilsson, and Halaburda and added some exciting offensive potential in Suniev, Fink, and Leslie. All in all, if this ended up being the Canucks' 2023 Draft class, I would be ecstatic. But as always with these things, I rarely get it right. Luckily there are only 19 days left until the real thing gets going and we can stop speculating and start talking about who the Canucks actually selected.