The Vancouver Canucks don't have a second-round pick this year – again – as they traded it away to the Detroit Red Wings for Filip Hronek. Last year was the same story, having traded it to the Arizona Coyotes in the now-infamous Oliver Ekman-Larsson deal. As was the case last season at around this time, I am writing an article about how the Canucks could recoup that second-round pick and gain re-entry to a round that has previously unearthed players like Jason Robertson, Nikita Kucherov, Sebastian Aho, and Alex DeBrincat, amongst many others.

I have said many times on Prospect Corner and The Grind Line that second-round picks in 2023 are the equivalent of a first-round pick in previous years. That's why I was disheartened to find out that general manager (GM) Patrik Allvin had included one in the Hronek trade. Luckily, the Canucks have a path to not only get that pick back but also rid themselves of a bad contract at the same time. Here are a couple of teams they could partner with to do just that.
Detroit Red Wings
The Detroit Red Wings have three consecutive second-round picks this year. Coincidentally, one of those used to belong to the Canucks, as they included it in the aforementioned Hronek deal just before the trade deadline. With the number of draft assets the Red Wings have, GM Steve Yzerman could look to move one of them to speed up the rebuild or simply move up in the draft.
In this case, Yzerman would be doing both. Considering the Red Wings have to spend money to hit the cap floor, taking on a bad contract like Tyler Myers' would make sense. But as my colleague Tony Wolak brought up on a recent episode of The Grind Line, Brock Boeser could also be a target – and a better one at that. He would fit more into the long-term plans of the Red Wings rather than the short-term and provide a similar added salary ($6.65 million average annual value) to hit that cap floor. He's also signed for two more seasons rather than one and he's only 26 years old, making it more likely that he would fit in with the new core built around Dylan Larkin (who's also 26), Lucas Raymond, and Moritz Seider.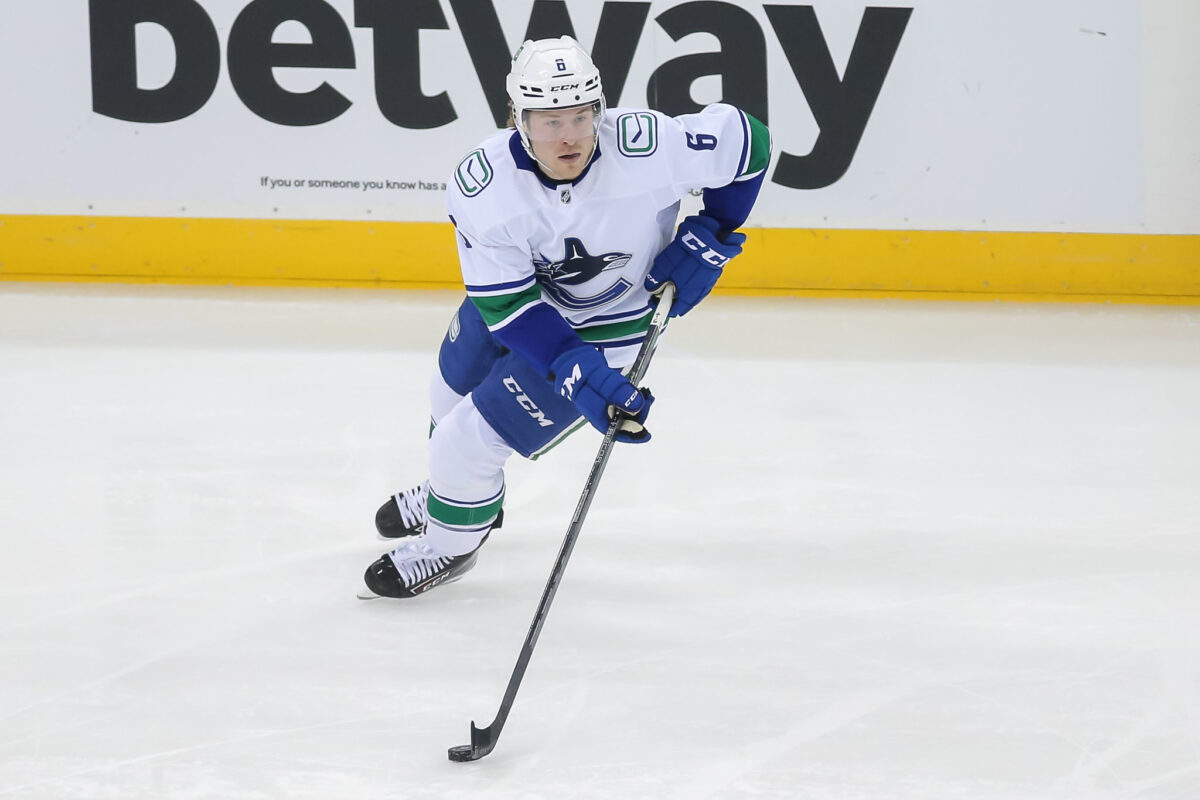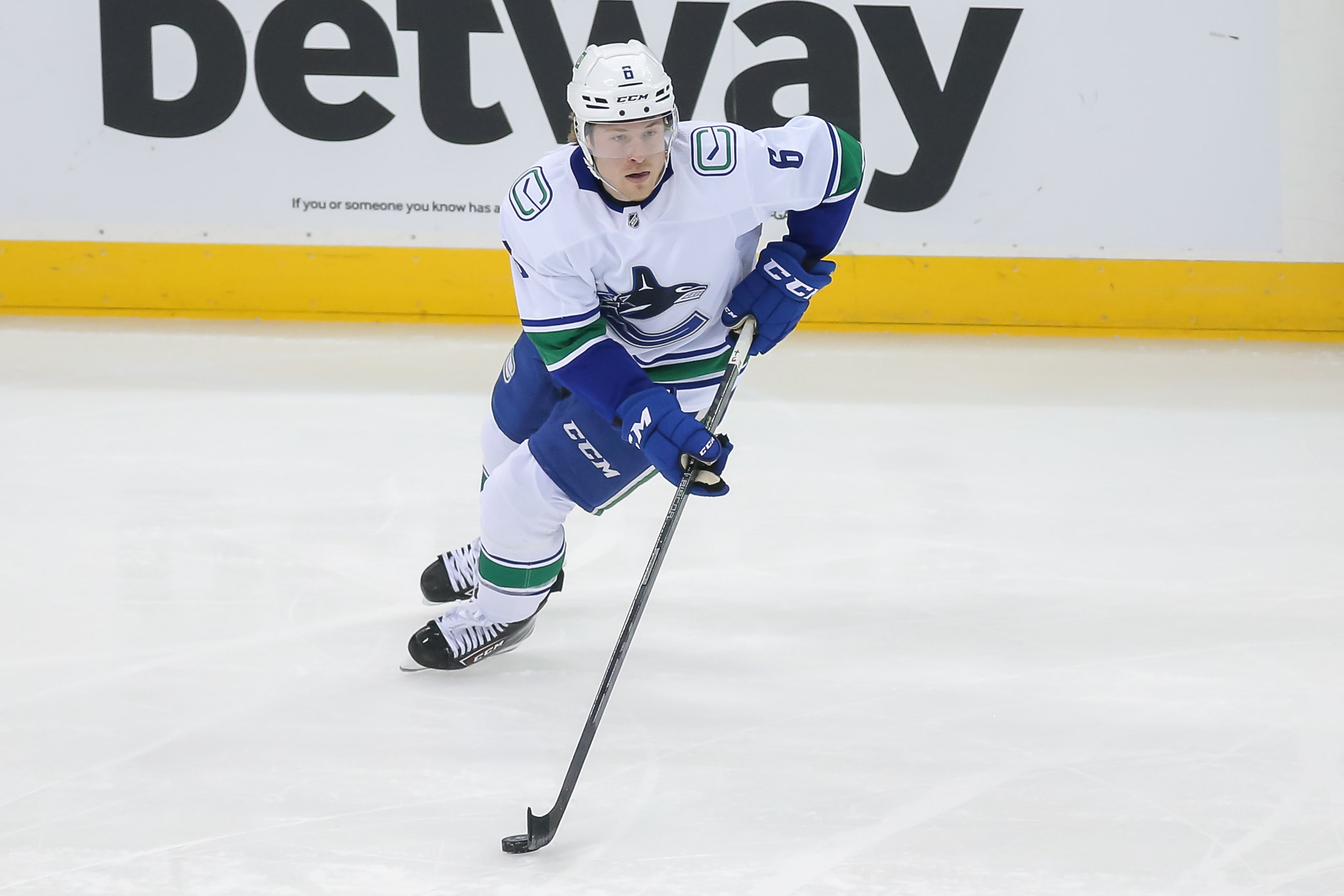 By adding Boeser to the equation, the Canucks could also ask for more than just a second-rounder and the Red Wings' 17th overall pick. Would Yzerman be willing to include a prospect like Red Savage in the deal?
Savage has the pedigree of a future third-line center that every team needs to win a Stanley Cup. Think Kris Draper, John Madden, and Manny Malhotra. In his prime, he will be the pivot on the ice in the final minute, winning a key faceoff in the defensive zone or blocking a shot with the game on the line. No, he won't help the Canucks' retool right now, but he will most definitely help them down the road. Going into his junior year at Miami University (Ohio) in 2023-24, he has 13 goals and 30 points in 67 games along with some stellar two-way performances with Team USA at the 2022 and 2023 World Junior Championships where he had five goals and nine points in 12 games.
To me, he's the 200-foot player that every team needs…He can be very aggressive on the forecheck and in the neutral zone it's not a problem for him to have the puck and make a play…In the D zone, that's probably where he probably excels the most. He kills a lot of plays, really bears down taking draws.

– Former NHL goaltender John Vanbiesbrouck who oversees USA Hockey national teams
Related: Canucks 2023 NHL Draft Target: Matthew Wood
---
Latest News & Highlight
---
This deal helps both teams. The Canucks get to remove $6.65 million off their books, add a potentially impactful third-line center to the coffers and supplement their farm system with two high-end prospects rather than just one. On the other side, the Red Wings get a legitimate top-six forward in Boeser, the opportunity to draft another top-15 prospect at 11th overall, and still have two second-round picks. All in all, a solid deal for both sides, at least in my mind anyway.
Chicago Blackhawks
The Chicago Blackhawks have been floated as a trade partner in the past. They have, of course, the first-overall pick which they will use to select generational talent, Connor Bedard. They also have the 19th overall pick that they acquired from the Tampa Bay Lightning in the Brandon Hagel trade. Finally, they have the cap space to take on a bad contract.
In this scenario, that contract would likely be Myers' $6 million cap hit that expires at the end of 2023-24. He would be a good mentor to the young defencemen on the Blackhawks and just a solid veteran presence overall. While the trade partners would probably increase once his $5 million signing bonus is taken care of on July 1, that doesn't help the Canucks right now who are not only trying to shed salary but also gain more assets in a deep 2023 Draft.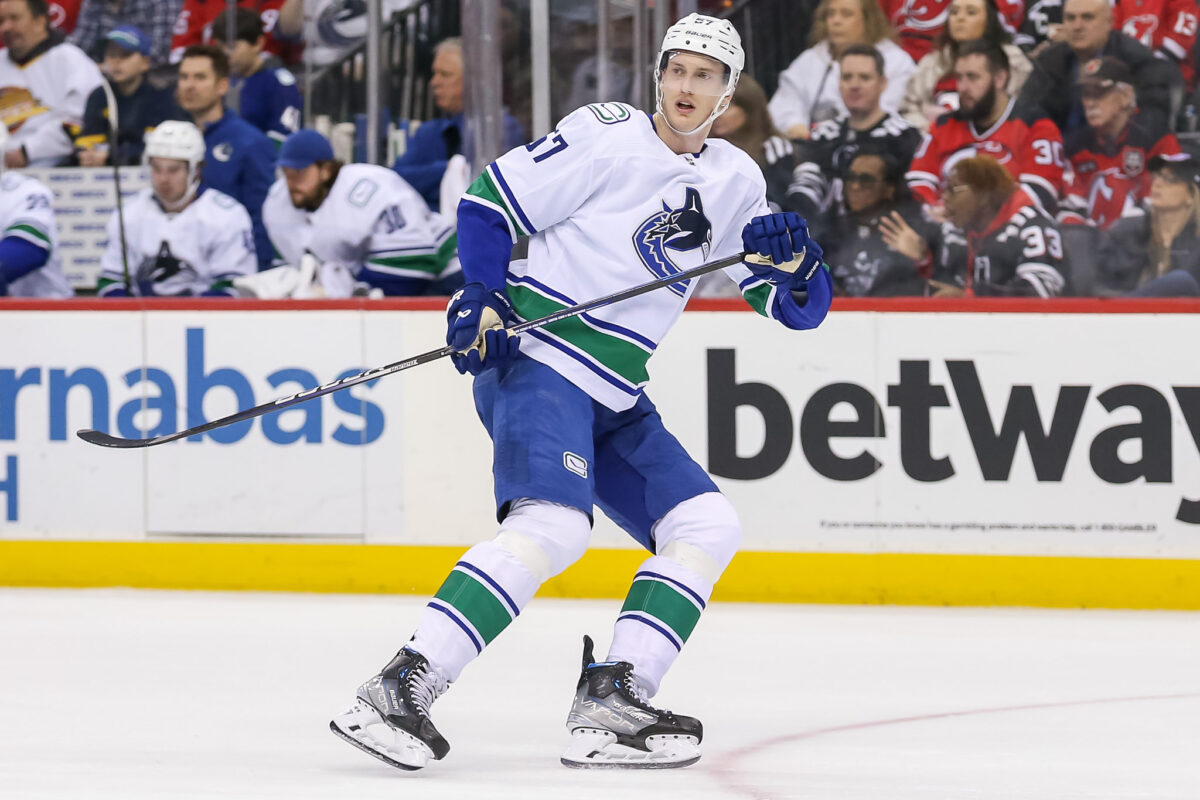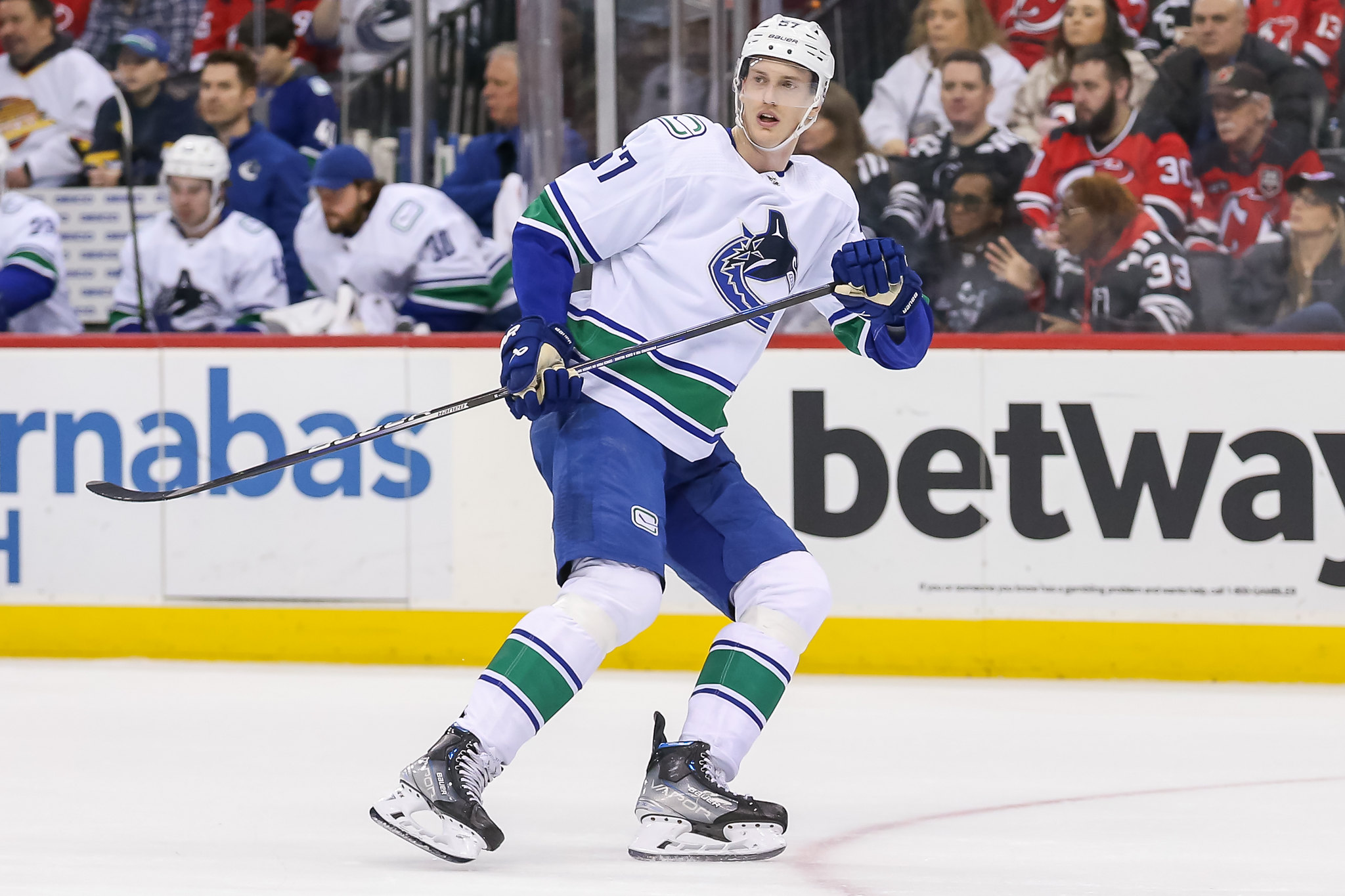 The Canucks would acquire the Blackhawks' 19th pick and a second-rounder for Myers and the Canucks' 11th pick. Depending on how Myers performs during the season, they could then turn around and potentially move him at the trade deadline for a second-round pick or a mid-tier prospect to aid in their ongoing rebuild. He would be an easy asset to move, considering his actual salary would only be $1 million and his cap hit would be $3 million.
Canucks' Path To Salary Cap Relief Will Cost Them the 11th Pick
As the only team above the salary cap right now, the Canucks absolutely need to shed some money between now and the start of 2023-24. While they don't have any major unrestricted free agents to sign, they do have Ethan Bear as a restricted free agent and only four regular defencemen under contract. That means unless two – or maybe three – of Akito Hirose (who also needs to be re-signed as a 10.2(c) free agent), Christian Wolanin, Noah Juulsen, or Jack Rathbone step up and instantly become full-time NHLers, they will need to sign some players.
Related: THW's 2023 NHL Draft Guide
The Canucks' front office has been looking high and low for options to shed salary. Unfortunately, nothing has come of the search…yet. Moving down in the 2023 Draft might be the way to go. In a draft as deep as this one, the 17th or 19th picks will still net them a blue-chip prospect. Whether that is Swedish defenceman Tom Willander, sniper Matthew Wood, two-way center Otto Stenberg, or [insert another high-ceiling prospect here], they will still walk away with someone substantial to add to their farm system.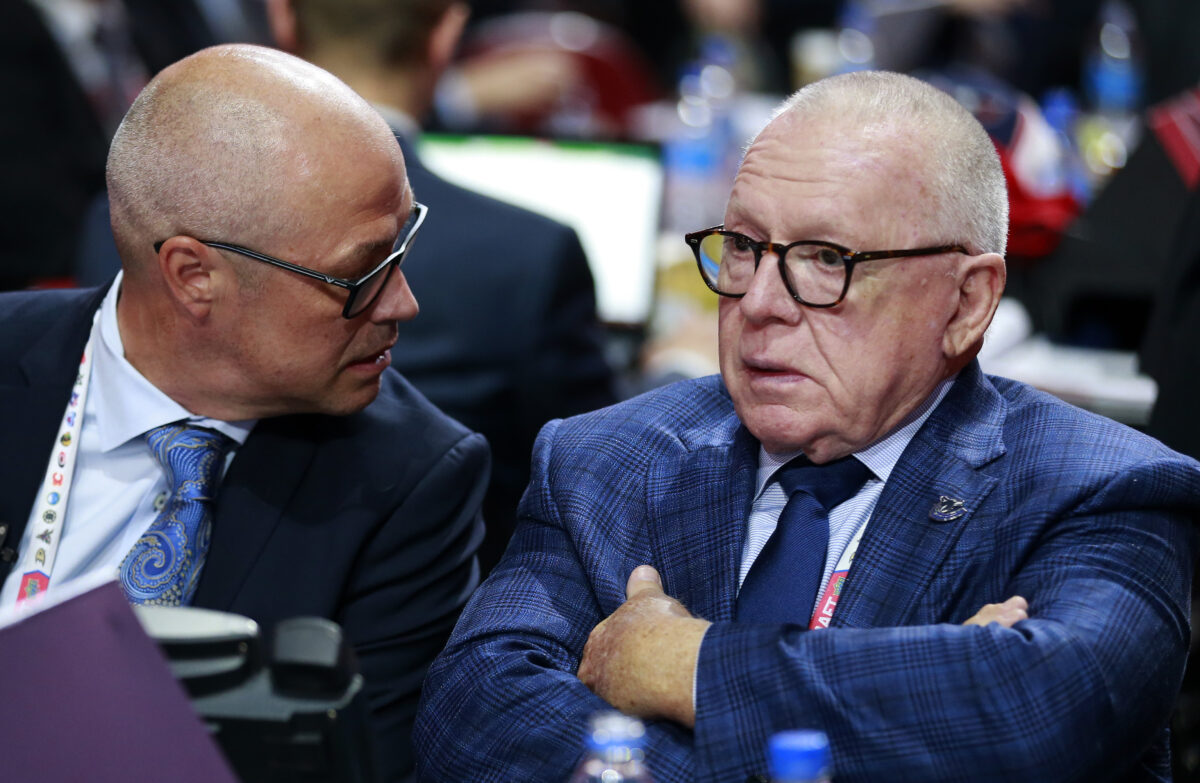 By moving down, the Canucks will also be able to add a second-round pick that they don't have at the moment. As I said at the outset of this article, the beginning of Day 2 (especially in 2023) will have first-round talent still available. Defenders Theo Lindstein, Tanner Molendyk, Etienne Morin, and forwards Daniil But, Bradly Nadeau, Anton Wahlberg, and many others will all still be on the board. The bottom line is, the Canucks need to shed salary and get back into the second round, and sacrificing the 11th overall pick might be the only way to do it.