The Chicago Blackhawks have two first-round picks in the 2023 NHL Draft (for now), including the first overall pick. The consensus is that Connor Bedard will go first overall, but who the Blackhawks will select at 19th overall is up for grabs. This year's draft class is loaded with center depth, even at the later spots, so it would be easy to assume that the team may go center if that position is the best player available. However, there should be an emphasis on the right side. Chicago doesn't have a lot of strong right-wing prospects in their pipeline or on the current roster, so if they want to target that side, one name could appeal to them in the first round: Ethan Gauthier.
Gauthier Has Desirable Traits
In this year's draft, the Blackhawks are sticking to a specific script when targeting players beyond first overall. Director of amateur scouting Mike Doneghey stated, "Hopefully we get a guy that can skate really fast, has quick hands, has a high hockey IQ and is competitive." Okay, mission accomplished. Look no further than Gauthier. The 18-year-old has been with the Sherbrooke Phoenix of the Quebec Major Junior Hockey League (QMJHL) for the past two seasons. This season he was the third-best scorer with 69 points in 66 games (30 goals, 39 assists) and was a plus-29. He was the first-overall draft pick of the Phoenix and also received the Michael Bossy Trophy, which is given to the top QMJHL prospect for the upcoming NHL Draft.

He took a significant jump this year, as during Gauthier's first season in Sherbrooke, he tallied 39 points in 65 games (18 goals, 21 assists). Moreover, getting extra playing time at the Hlinka Gretzky Cup for Team Canada U18 where he recorded seven points in five games in Aug. 2022, likely helped his point increase and development, and he is now considered an impressive first-round talent. There's a reason for that.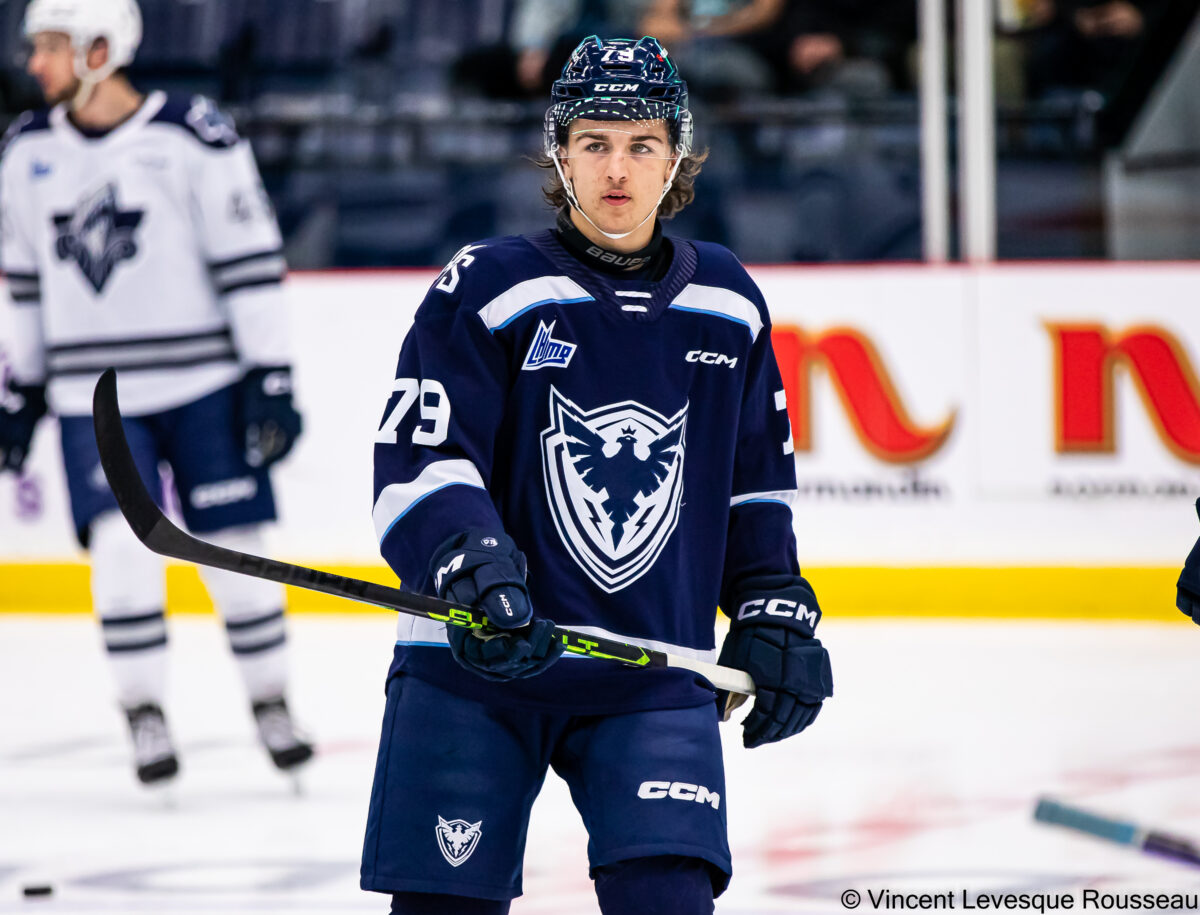 Gauthier is not the biggest player on the ice at 5-foot-11, 176 pounds, but he makes up for it. When watching his highlights, he is so shifty and crafty that it almost looks trickster-esque. He can avoid tough situations with his feet and hands. It's very hard to defend him when he gets on a roll because he is able to evade defenders and get to the net. He has an extremely strong net-front presence, where one-timers seem to find him seamlessly. He has an extremely quick shot and is not a pass-first player by any means. Once he has the puck, it's fired off within seconds.
Related: Ethan Gauthier – 2023 NHL Draft Prospect Profile
Most of Gauthier's scouting reports center around his hockey intelligence, which Sherbrooke head coach Stephane Julien mentioned when talking about his strongest attributes. "I think it's his offensive game as well as his domination around the net. He makes a lot of plays you notice more on video and does all the details well. His above-average hockey sense ensures that he will always have a place to play, and he already has an NHL caliber shot."
When talking to Logan Horn, THW's Director of Prospect Coverage, he mentioned that Gauthier has a meanness to his game, which is a big part of his compete level and physical play. That is one of the best compliments in hockey and helps tie his game together. Horn did note that the one gripe about his game is that he tends to rush plays under pressure and needs to calm things down at the NHL level. That immediately reminded me of prospect Lukas Reichel. When he made his NHL debut with the Blackhawks in 2022, he tended to panic and tried to do too much at first, which sometimes resulted in costly mistakes. But this past season, he was a completely different player and was much more confident. So, I don't believe that will be a long-term concern and something he will learn.
Gauthier's Fit With Blackhawks
What would make Gauthier a fit with the Blackhawks is precisely for the above reasons. His NHL player comparable was listed as Calle Järnkrok (Toronto Maple Leafs) (from '2023 NHL Draft Ranking: Connor Bedard leads Corey Pronman's tiers of the top 142 prospects,' The Athletic, 5/30/2023). Players like him are the types you need on your team to win — players who compete hard every shift and show up in big moments — which is why Järnkrok is a highly sought-after player in the NHL. Gauthier stated that he models his game after Brady Tkachuk (Ottawa Senators) because of his competitiveness, physical play, and being hard to play against.
He might not be a player that will be the most "elite," but that is perfectly fine because he has a skill set that not a lot of players have. However, he could show up big with the Blackhawks' depth. They will build the top six presumably around Bedard and Reichel, so Gauthier could make a great addition as a smart, tenacious hockey player who could get them the puck but also create chances on his own. He could be aggravating to play against, and you can never have too many players like that in the pipeline.
Related: 6 Players to Watch at the 2023 CHL/NHL Top Prospects Game
---
Latest News & Highlights
---
Overall, some of the Blackhawks' right wing group includes Ryder Rolston, Joey Anderson, Brett Seney, MacKenzie Entwistle, Taylor Raddysh, Reese Johnson, Colin Blackwell, and Anders Bjork. Besides the fact that some of these players are free agents and might not return, the group needs a tune-up, and Gauthier could add some instant talent for the future.
The Blackhawks would not miss by adding Gauthier to their prospect pool. He has every quality they are looking for and has that "mean" streak that Chicago fans love. He could be a fun one to watch grow at the NHL level, and with a young, hungry team like Chicago, he could fit right in.
---
---