The Vancouver Canucks have struggled mightily to stay afloat this season, despite the best efforts of their head coach Travis Green and his assistants Nolan Baumgartner, Chris Higgins, Jason King, and Newell Brown. They have not won back-to-back games since Jan 27 and currently sit perilously close to the basement of the Scotia North Division with nearly half the season gone already.
Related: 5 Takeaways From Canucks' GM Benning's Mid-Season Press Conference
With Green nearing the end of his contract, missing the playoffs for the third time in his tenure probably won't go over too well with ownership and could jeopardize his chances at a new deal. To make matters worse, a new general manager might be at the helm next season, which could complicate things, given the fact that they usually want to choose their own head coach when they take over. Basically, there's a very real possibility that the Canucks could have an entirely new coaching staff when the puck drops on the 2021-22 season.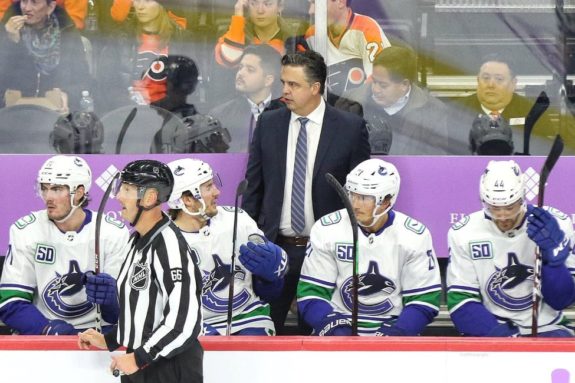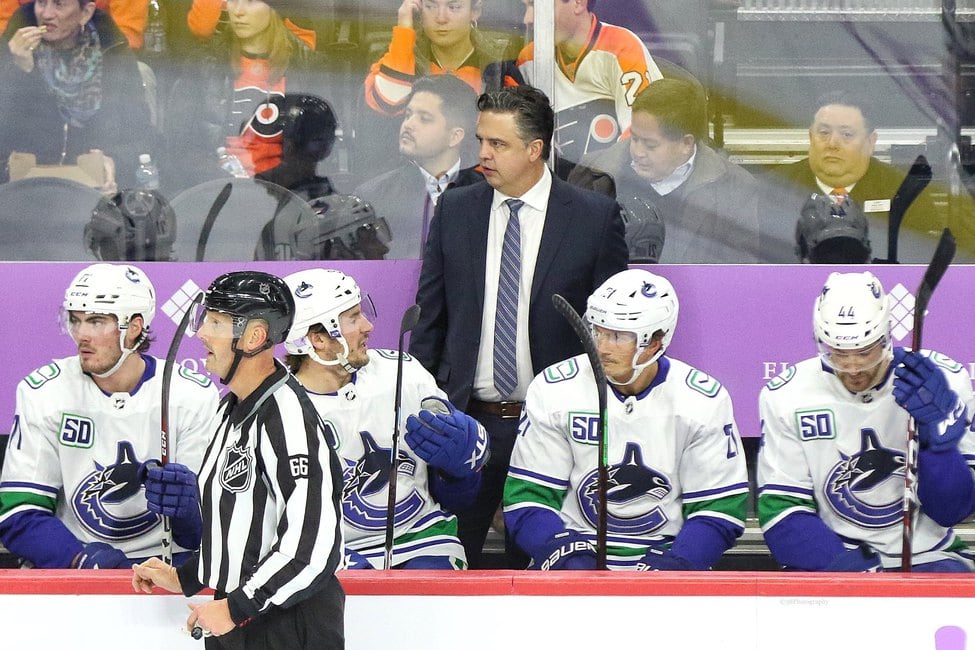 So with that possibility in mind, let's take a look at four coaches the Canucks should be looking at if Green does not return next season.
Gerard Gallant
Dismissed 49 games into the 2019-20 season with a decent record of 24-19-6, Gerard Gallant probably won't be out of a job for long. In fact, he could be hired by someone before the lights go out on the 2020-21 season. The Seattle Kraken and many others will probably be looking at him too, so there will be no shortage of competition for his signature on a contract. But for the sake of this article, let's say he is still available if the Canucks are looking for coaches next season.
Related: Seattle Kraken Need to Move Quick on Head Coach Pick
Gallant is a player's coach, there's no doubt about that. He demands respect and accountability and his teams usually play out of their mind to execute his system to a tee. The Vegas Golden Knights were a perfect example of that, as they banded together as a family of misfits to surprise everyone on their way to a berth in the Stanley Cup Final, in their inaugural season no less. They were insanely tough to play against too, boasting a system of speed, intense forechecking, and line after line of pressure in every zone of the ice.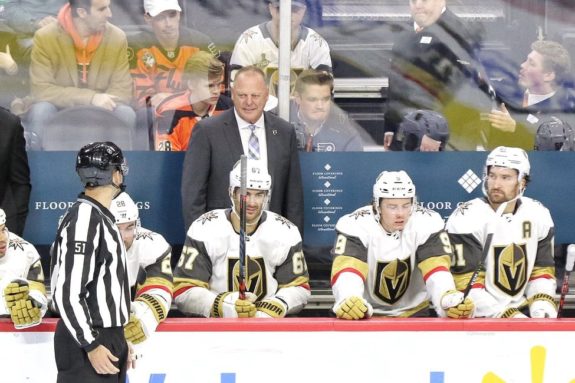 Gallant's personality and the way he worked with his players were a big reason why the Golden Knights were so successful, as he never got hot-headed when one of them made a mistake or had a bad game.
Those guys are accountable guys and they work hard and they don't got to apologize to me. They just go to go out and play their game and get better every shift they can do. You got out there and if you worry about making mistakes, you're not going to play a good game. I want you going out there and thinking you're gonna make the good plays and do the right things on the ice. So don't worry about your mistakes.

Gerard Gallant on not getting angry at his players for making mistakes
If the Canucks ultimately move on from Green next season, Gallant would be the perfect choice to take over. He has a history of working well with young players and veterans and has a proven system that is both effective and entertaining. In two and a half seasons with the Golden Knights, he had a record of 118-75-20, made the playoffs twice and as mentioned before, almost won the Stanley Cup in his first season behind the bench. Not to mention he won the Jack Adams Trophy when his team won 51 games and ran away with the Pacific Division finishing with 109 points.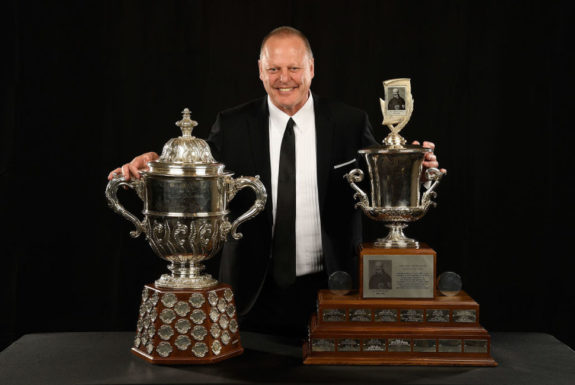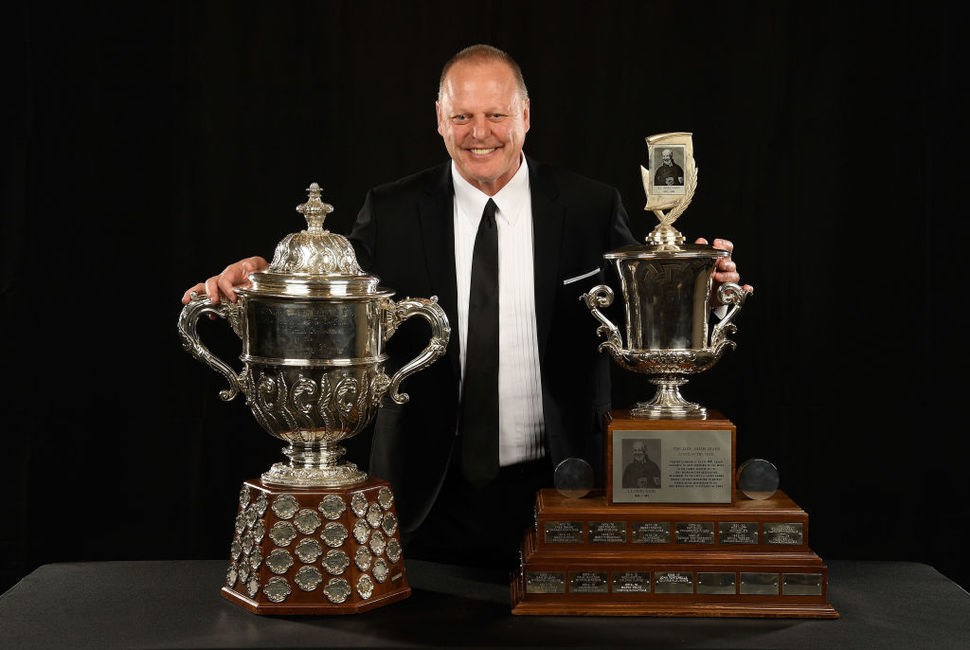 If you don't believe me, take it from the players, who were both shocked and disappointed after he was fired. One of the most outspoken and emotional ones was Nate Schmidt, who played for Gallant the entire time he was there.
I'm just disappointed in myself that we didn't do more to keep him around…He's a great man and I loved playing for him. I just hope whatever happens here, he lands on his feet and somewhere where he's happy.
Schmidt played some of his best hockey coached by Gallant as he had career seasons in goals and points and was one of his most trusted defencemen. If the Canucks end up hiring him, I'm sure Schmidt will be the first to sing his praises and get the rest of the team on board with his system.
Sam Hallam
Should the Canucks decide that they want a new voice with a new perspective, they should look no further than Sam Hallam, head coach of the Vaxjo Lakers in the Swedish Hockey League (SHL). Now working on his eighth straight season behind the bench, the 41-year-old has taken the league by storm, boasting a record of 196-123-59 and winning two SHL championships along the way. His teams have also never missed the playoffs.
During his time with the Lakers, Hallam has without a doubt been the most successful coach in the SHL. His use of advanced stats and analytics along with an open mind towards new ideas from different sports have made that possible. When asked about that very subject on a podcast in 2018, he was very candid about making use of tactics and strategies from sports like soccer, American football, and basketball to enhance his power play and overall way of doing things.
Hallam's philosophy is pretty simple, provide a positive atmosphere where individuality is encouraged and coach a system that is not only exciting for the players to play but also leaves room for flexibility in its execution. He isn't set in his ways like most veteran coaches, which could be the best kind of coach to lead the Canucks' young core into the next season of their development.
I want to provide the best kind of place for the players to have good development, to have good practice to have a system that's pretty fun to play…I mean it's all about having good defense to win, but still having a system that's pretty easy and fun to play that gives every player some room for individual decisions.

Sam Hallam on his coaching style
Hallam also has familiarity with Canucks superstar Elias Pettersson. He coached him during his record-breaking season in the SHL when he posted 24 goals and 56 points in 44 games and led his team to the championship with another 10 goals and 19 points in the playoffs. He knows all about how to get the best out of him, so he might be the ideal coach to guide him through his prime years in the NHL.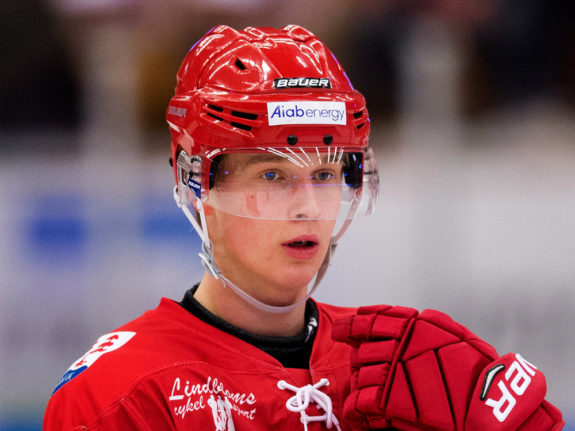 All in all, Hallam is an intriguing option to take the coaching reins in Vancouver. Yes, he is young and inexperienced, but maybe a new perspective and new philosophy might be just what the Canucks need in order to take the next step in their development from a rebuilding team into a contender. He knows what it takes to win championships, and he doesn't hesitate to change things when stuff isn't working, which is something this team hasn't had in a long, long time.
Manny Malhotra
During his time in the NHL, it became clear that Manny Malhotra had a future in the coaching world. His leadership and character in the locker room along with his hockey IQ just screamed coach. Towards the end of his career, he was basically a player-coach, mentoring young centermen in the art of faceoffs and two-way hockey.
Malhotra had his fair share of adversity throughout his career, as he had to adjust from being a highly-touted draft pick with the New York Rangers to transforming himself into a two-way faceoff guru that could be counted upon in key situations. He never met the expectations of his seventh overall selection back in 1998, but he did become one of the best defensive centermen in the NHL and ended up carving out a 16-year career that spanned seven teams and 991 games.
Former NHL coach Ken Hitchcock said it best when he described Malhotra as a "glue guy" because that's exactly what he was with the Canucks and with every team he was a part of.
He was the ultimate glue guy. He was the guy where if you want to know how to work, look at this guy. You want to know how to play the right way, look at this guy. You want to know how to act and behave as a professional, look at this guy. We had someone that we could point to. And it was Manny.
Malhotra also had to deal with a gruesome eye injury that threatened to prematurely end his career. Like always, he fought back to return to the game that he loved and ended up playing another four seasons in the NHL before officially retiring in 2016.
After hanging up his skates as a player, Malhotra became an assistant coach with the Canucks where he primarily focused on faceoffs and the penalty kill. He was an important part of Bo Horvat's development into a solid two-way centerman and was one of the main reasons why they were one of the top teams in the NHL at faceoffs throughout his time with the team.
Malhotra is now a member of the Toronto Maple Leafs' coaching staff, as he was lured away during the 2020 offseason. He is already garnering positive reviews, as he's led their power play to an NHL-best 31.7 percent efficiency rate and his coaching style has resonated well with the players too.
He's very precise. He gives you the gameplan and what you want to do…He's detail-oriented.

Wayne Simmonds
It's been great to have him…Another guy you can talk to on the bench and just ask him what his thoughts are on some plays.

Mitch Marner
You know he's a nice voice just to talk to. He knows a lot about the game, he played a lot, been in a lot of situations, a lot of experience, so he's been a great help to us.

Jake Muzzin
The Canucks already know Malhotra and his personality, so it's almost a no-brainer to bring him aboard as their next head coach. His success so far as an assistant coach with the Leafs just confirms that fact.
Alex Burrows
From one former Canuck to another. Recently promoted to an assistant coach position in the NHL with the Montreal Canadiens, Alex Burrows has quickly risen through the coaching ranks from the AHL's Laval Rocket and is well on his way to a head coaching gig in the near future.
Related: Vancouver Canucks' Successful History With Undrafted Players
Burrows' journey from riding the buses in the ECHL to riding shotgun with two future Hall of Famers in the Sedins has been widely chronicled. His hard work and never-say-die attitude brought him from the outskirts of hockey to NHL stardom, and now he's imparting his knowledge and experience in a coaching role. He's basically the definition of the saying "anything is possible".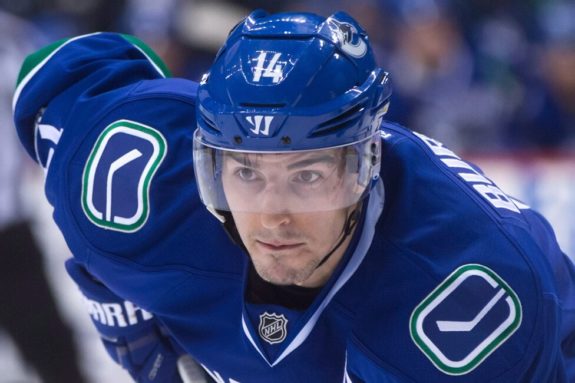 If Burrows returns to Vancouver in a coaching role, Canucks Nation would lose its collective minds as he was a fan favourite throughout his tenure with the team. He also knows the value of hard work and can relate to veterans and young players alike because of the fact that he's been through more battles than most. He's also sharp as a tack, as evidenced from his time with Henrik and Daniel Sedin. You don't get to be that successful with them without an astute hockey mind.
He was so smart…We played with other smart hockey players, but I think Burr really understood how we wanted to play hockey and where we wanted the puck. In a sense, he was no different for me than playing with Daniel. Burr was the same type of player as we were. I think a lot of times people mistook the way we played as fancy or flashy. But it was just putting the puck in the right area where the other guy wanted it. And that was him.

Henrik Sedin on Alex Burrows' success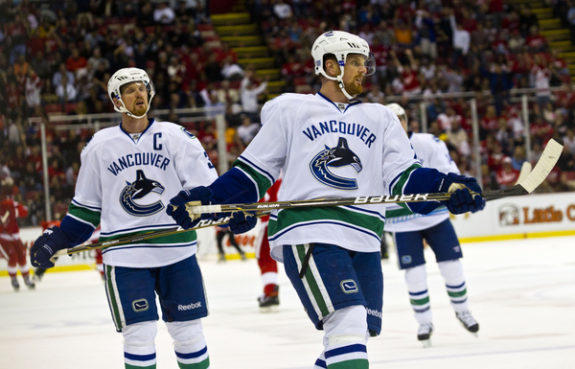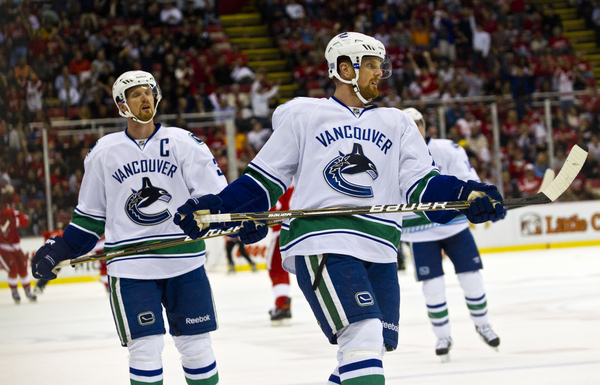 On top of all that, Burrows has proven to be an effective communicator and leader in any dressing room he's been in. He was always the perfect teammate, ready to step up when needed. Like Malhotra, he was destined to become a coach in the NHL. That's why it didn't take long for Rocket's head coach Joel Bouchard to see his potential and offer him a position on his coaching staff back in 2018.
We are very lucky to have a candidate of Alex's caliber join our new coaching staff. His recent experience as an NHL player and the extent of his background in professional hockey will prove to be excellent assets for the development of our players…Alex perfectly matches the profile we were looking for; in addition to being an exceptional individual, he is a very good communicator. His rich experience will be an invaluable resource and many players will be able to relate to the perseverance he showed throughout his career.
Now that Burrows has tasted coaching life in Montreal, could he be enticed to come back home to Vancouver? Time will tell, but I don't think it would take a lot of convincing unless his family doesn't want to move back to the West Coast. After 12 years playing for the Canucks, and putting down deep roots in the community, it shouldn't be too difficult to get everyone on board with the idea.
Canucks Are Heading For a Cross Roads
For the first time in four seasons, the Canucks are once again at a crossroads with their head coach. Green has only made the playoffs once in his tenure, and despite it being a long run, could end up being as successful as the much-maligned Willie Desjardins when all is said and done.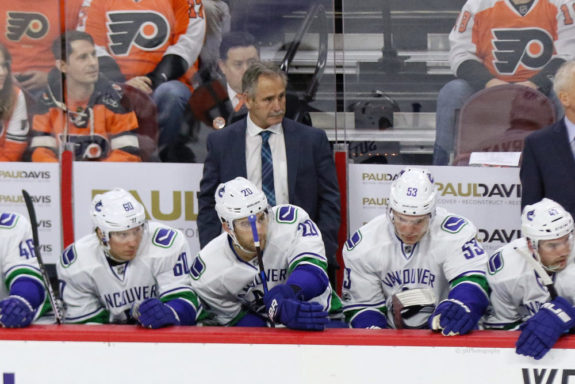 Green has grown as a coach throughout his time with the team, but with the clock ticking on the primes of Elias Pettersson, Quinn Hughes, Brock Boeser, and Bo Horvat, the time is now to start succeeding on a consistent basis.
With Green's contract running out at the end of the season, the Canucks have to answer a simple question, is he the right man to transform this team into a contender? They are in a unique position with several young talents heading into their prime years, so which path will they take, more of the same with Green or a new direction with a new coach at the helm?
All of that will be answered in one of the most important offseasons in recent history, as Pettersson and Hughes are also up for new contracts. All I have to say is, I don't envy what Canucks management has to deal with in a few months' time, be it a new management team or not.