Another week has gone by and that means it's time for another edition of the Vancouver Canucks prospects report. Highlights include Jack Rathbone's first professional goal in the AHL, Jonah Gadjovich's team-leading seventh goal of the season, and another dominating performance from Linus Karlsson in the SHL. Elsewhere in the KHL, Vasili Podkolzin made the headlines with his first three points in the playoffs.
Related: Vancouver Canucks 2020-21 Prospect Pyramid
That and a whole lot more as we continue to recap and analyze the performances of all the prospects throughout the Canucks pipeline.
Jack Rathbone Scores First AHL Goal
What's not to like about Rathbone's game right now? He looks more than comfortable in his first foray into the professional leagues, showcasing his hockey IQ, smooth skating, and big shot against supposedly tougher opponents in the AHL. He scored his first goal on Wednesday against the Rochester Americans with a cannon of a one-timer and now has five points in his first three games. He looks like he could be playing in the NHL right now, that's how good he has been.
If Rathbone is not a part of the Canucks' defence core next season, there's something wrong. He has been everything you could want out of a first-round pick, and he wasn't selected until the fourth round. That's right, 94 players were selected before this kid, and he could end up becoming a legitimate top-pairing NHL defenceman when all is said and done. Imagine this, Quinn Hughes and Jack Rathbone manning the point on the first-unit power play next season. I will give you a minute to wipe the drool off your chin before we continue.
Jonah Gadjovich Continues To Roll
Gadjovich doesn't look like he's slowing down any time soon. He scored his seventh goal in only his eighth game of the season on Wednesday and is now six goals away from matching his entire total from last season. Like I said last week, he could be up to 13 by the end of the month if he keeps up this pace.
Related: Canucks Can Get Prospect Dmitry Zhukenov's Career Back On Track
Gadjovich has now increased his lead by two in the goal-scoring race and is tied with Kole Lind for the team-lead in points with eight. His goal on Wednesday was scored in Gadjovichian fashion too, as he crashed the net to clean up the garbage from a Will Lockwood shot. The man they call The Big Man is sure living up to his name right now.
Kole Lind & Lukas Jasek
Lind did not score in the game against the Americans, but he did draw the second assist on Gadjovich's crease crashing goal 59 seconds in. Another point for the winger turned center brings his total up to five goals and eight points in eight games.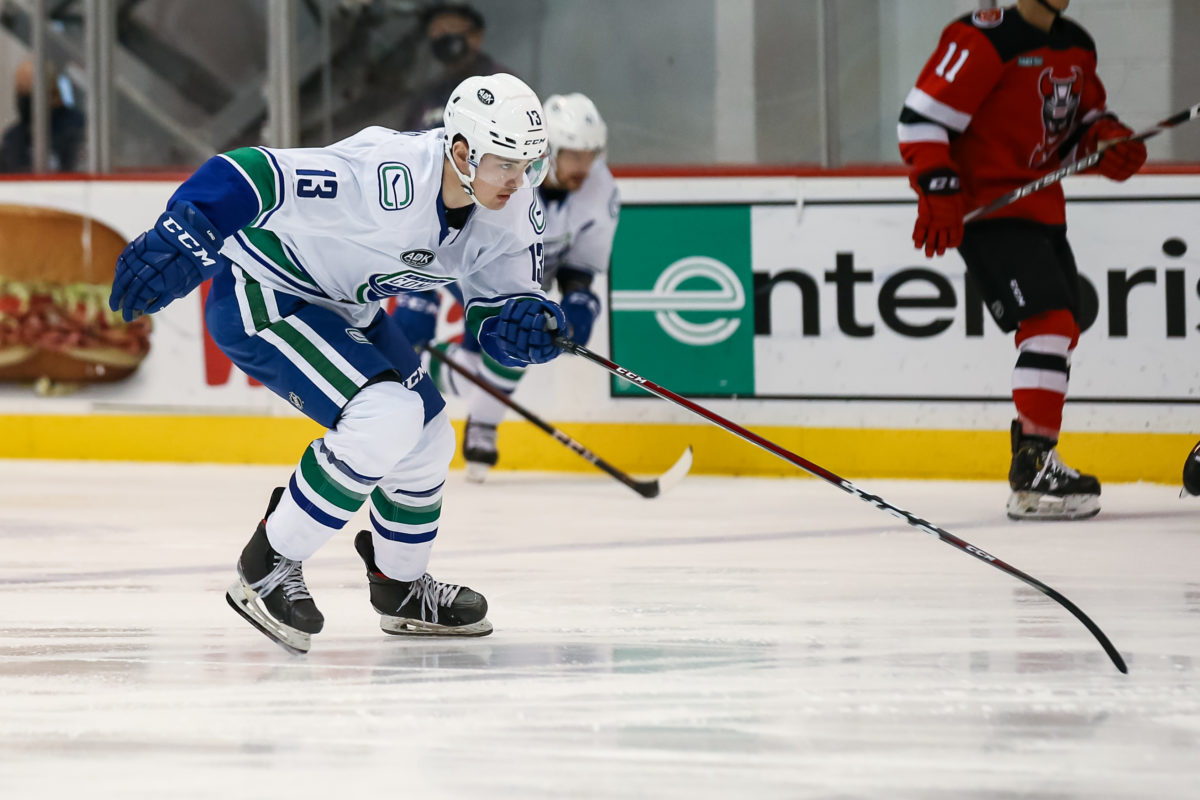 Lukas Jasek continued his hot start with the second assist on Rathbone's first in the AHL. He now has only been shut out twice this season, bringing his total to seven points in eight games. He was a minus-3 in the plus/minus column though, as the Americans walked away with a 4-2 victory.
Will Lockwood & Jett Woo
The firecracker known as Will Lockwood was at it again this week with another intense night of forechecking and never-ending energy. This time he added a game-high seven shots and was once again, not shy about throwing his 5-foot-11 frame around. He also added an assist on Gadjovich's goal to bring his total to three points on the season.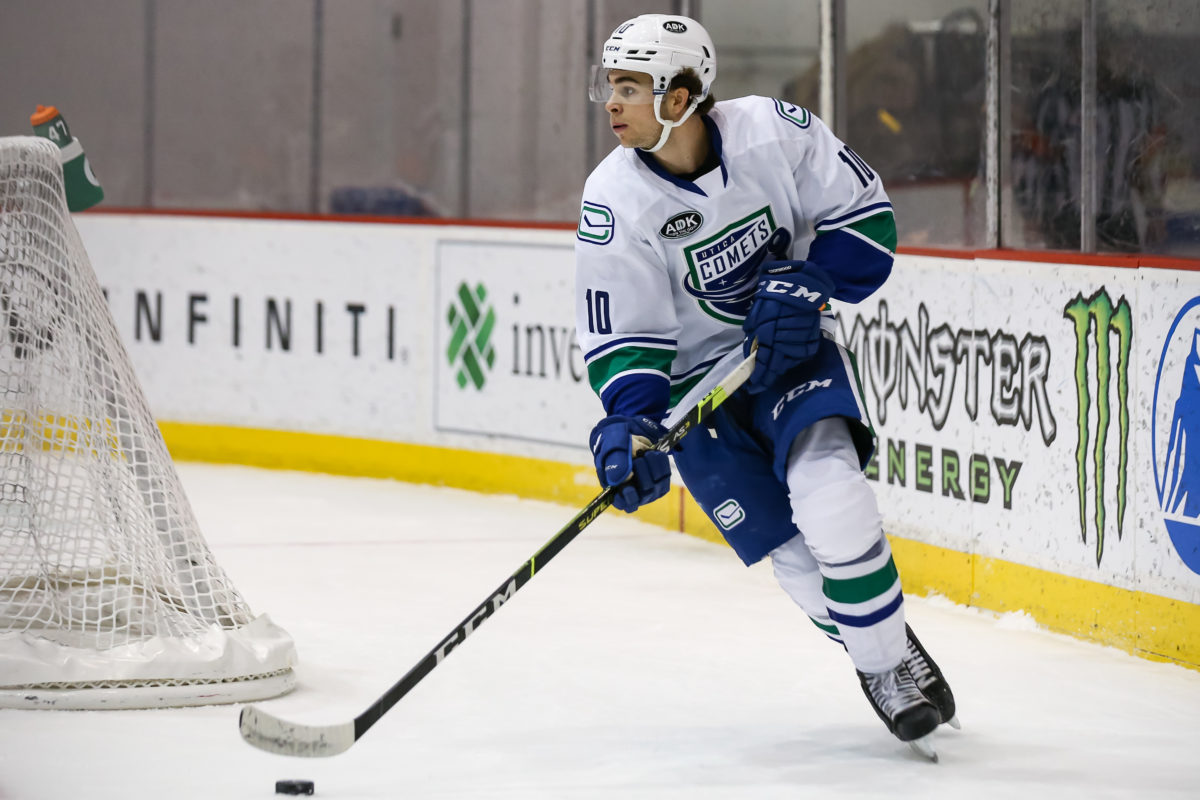 Partnering Woo with Rathbone might turn out to be Trent Cull's most astute decision of the season. They have been arguably the Comets' most dynamic pairing since they were paired together on Feb 26 against the Americans and could turn out to be an NHL match made in heaven. Woo has fit like a glove with Rathbone and despite not putting up any points this season yet, now leads the team in plus/minus with a plus-five in eight games.
Playing with a guy like Jett makes life really easy on me…He's got a really high hockey IQ. He's someone who is a smart player, can shoot it and he's got that offensive upside to him.

Jack Rathbone on partnering with Jett Woo (from 'Canucks prospects tracker: Playoff Podkolzin, the grapes of Rathbone', The Province, 3/7/21)
Utica Comets' Next Games: Mar 10 vs. Rochester Americans, Mar 12 vs. Syracuse Crunch, Mar 13 vs. Rochester Americans
Vasili Podkolzin Starts Off Strong in Gagarin Cup
SKA St. Petersburg began its quest for the Gagarin Cup this past week with three games against Dinamo Minsk. They ended up winning all three of them, which naturally led to a 3-0 lead in their first-round series. Podkolzin was a factor in all three of those games, as he recorded two goals and three points. His first goal was an absolute snipe from the point in Game 1 and his other was an empty-net goal that salted away a 6-4 victory in Game 2. He also helped set up former Canucks forward Linden Vey for the game-winner in Game 3 to put them on the cusp of moving on to the second round.
Podkolzin continues to step up when his team needs him the most. His first goal was a game-winner, his second sealed a victory and then he set up another game-winner in overtime. Oh yes, he has eight points in his last 11 games overall playing on SKA's fourth line. That's definitely something for the 21-year-old, as he continues to inch closer and closer to bringing his physical, high-energy style to the NHL with the Canucks.
Unfortunately, Game 4 saw Podkolzin's momentum come to an abrupt end as he got benched for the final two periods after a penalty in the first. Head coach Valeri Bragin apparently thought it was the best course of action to sideline one of his most impactful forwards in a crucial game where they could move on to the second round. Yes, he took a penalty, but that alone shouldn't remove him from the game entirely, especially when it's such an important one.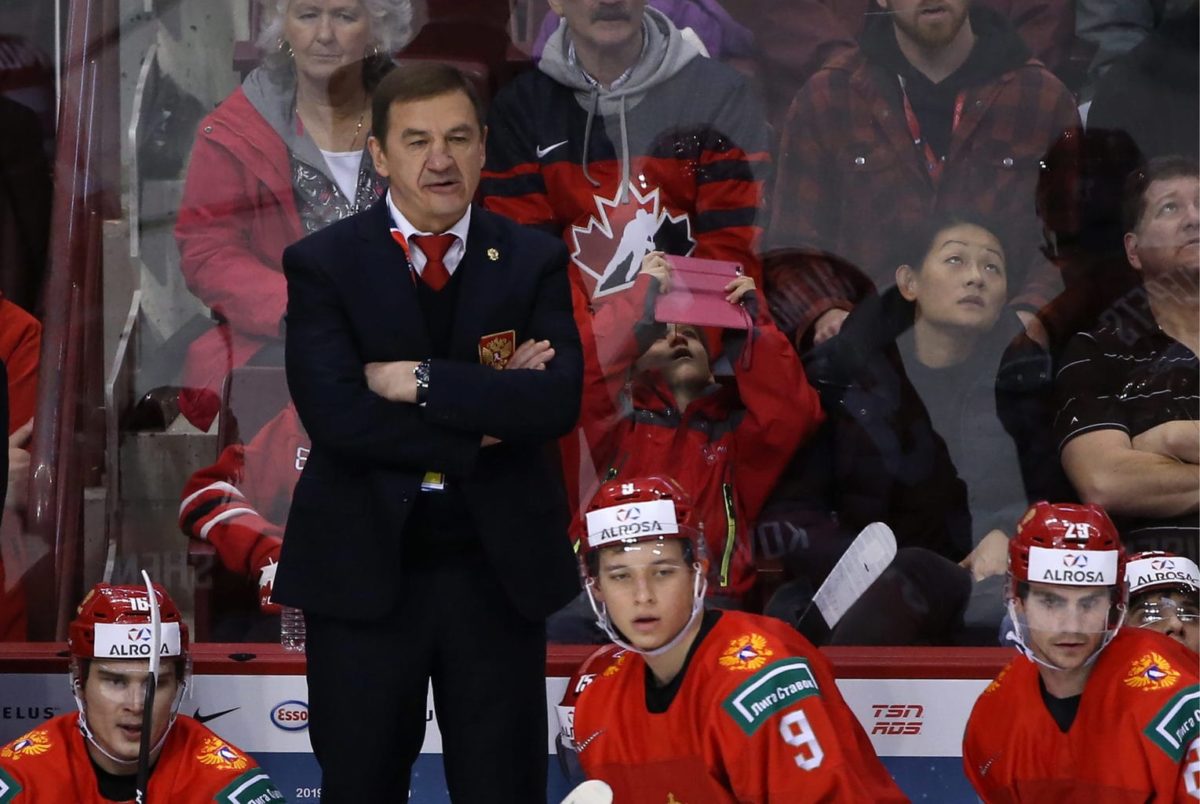 Podkolzin's ice time took a drastic hit, as he only saw 8:15 in Game 4. With how much he has done in the series so far, it really isn't a surprise that his team lost 2-1. If Bragin permitted him to play a regular shift, I have no doubt that he would have willed his team to the second round. Now they have to play a Game 5 on Wednesday, and there's no guarantee that Podkolzin will be out of his dog house by then. All I have to say is, the day can't come soon enough before he's in North America full time and more importantly, free from Bragin's shackles.
Next Game: Mar 10 vs Dinamo Minsk
Aidan McDonough & Jackson Kunz
Aidan McDonough, who was February's first star of the month, added an assist in his team's 4-2 setback to powerhouse Boston College on Friday. He set up Zach Solow's tying goal in the second period before Casey Carreau and Matt Boldy salted it away for Boston in the third period. With the point, he upped his total to ten goals and 20 points in 20 games, making him a point-a-game player so far this season. His team will now head to the single-elimination Hockey East Tournament which begins on Wednesday.
Next Games: Mar 10 vs. TBD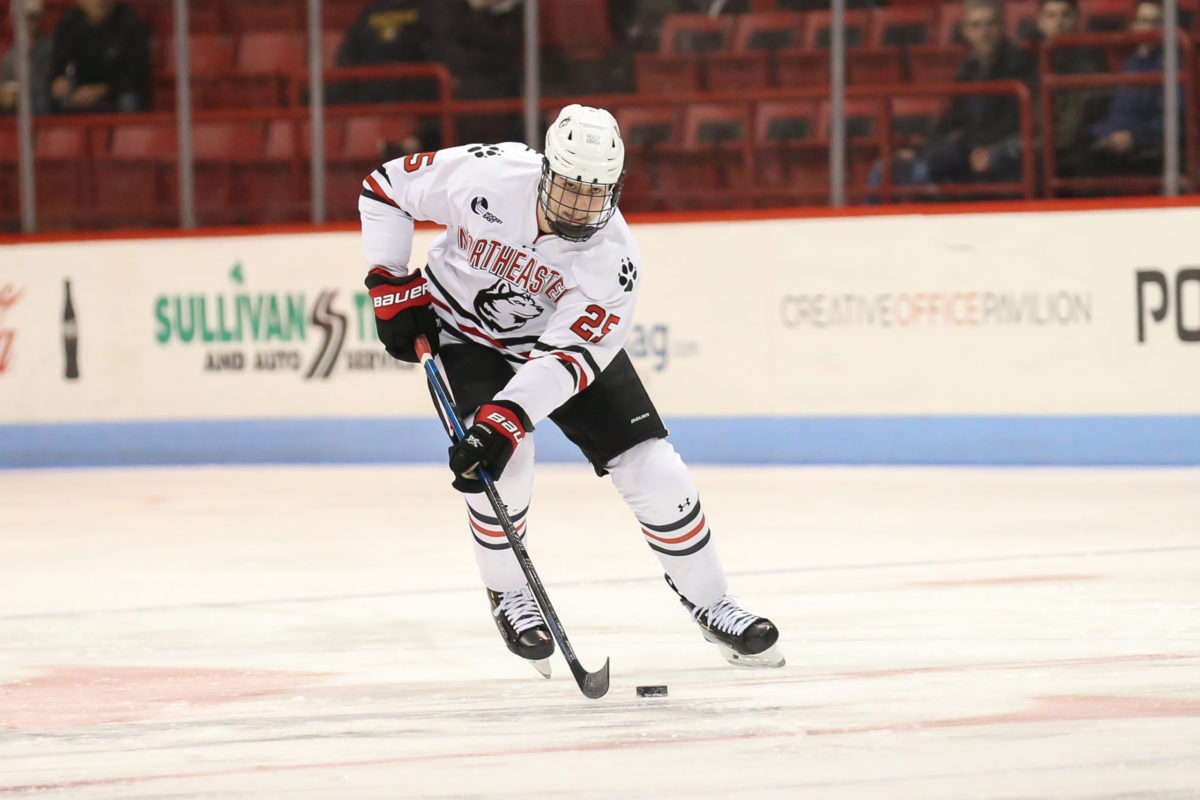 Jackson Kunz continued his impressive season in the USHL with goals 15, 16, and 17 this past week. He also stretched his goal-scoring streak to four games and now has scored at least one in nine of his last 11 games. Suffice it to say, he is well on his way to solidifying his place on yet another three stars of the month ballot. His team, the Green Bay Gamblers face a stiff test this week as they will meet goalscoring machine Matthew Coronato and the Chicago Steel in a two-game set that starts on Friday.
Next Games: Mar 12/13 vs. Chicago Steel
Joni Jurmo & Toni Utunen
After scoring his first two goals in the Mestis last week, Joni Jurmo added an assist to his total on Thursday against KOOVEE. He also continues to play a lot, recording his fourth game with over 20 minutes of ice time. He now has two goals and four points to go along with a plus-five in six games. I think it's safe to say that he's finally found a groove after playing his first 24 games in two different leagues to start the 2020-21 season.
Next Games: Mar 12 vs. Peliitat, Mar 13 vs. K-Vantaa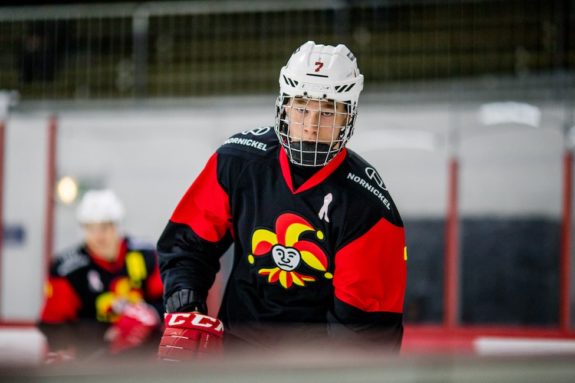 Toni Utunen has not seen the scoresheet much this season, but he did record his first point in 12 games on Wednesday in a 3-2 win over Kookoo. His coach has increased his ice time too, putting him over 17 minutes three times in the last five games. The defensively-minded blueliner has three assists in 34 games playing for Tappara in the Finnish Liiga.
Next Games: Mar 9 vs. IFK Helsinki, Mar 10 vs. KooKoo, Mar 12 vs. KalPa
Linus Karlsson Continues To Dominate
If I was Canucks general manager Jim Benning, I would be getting on the phone with Linus Karlsson's agent right now. He dominated the scoreboard again this week with another two goals and five points, and now has 18 goals and 48 points in 49 games playing for BIK Karlskoga in the HockeyAllsvenskan.
Karlsson may not record those same point totals in North America, but he definitely has the skill to be a factor somewhere in the lineup. His playmaking abilities alone would add a new wrinkle to the power play, as he regularly plays the right point for BIK Karlskoga's head coach Staffan Lundh. Long story short, I think it's time to finally get some value for that Alex Burrows trade Benning made a few seasons ago.
Karlsson has now started a new four-game point-streak and is well on his way to upgrading himself from an honourable mention to a three-star selection this month. If he can continue to put up the points, he may end up seeing a first-star in his future.
Next Games: Mar 10 vs. Vasteras, Mar 12 vs. AIK, Mar 14 vs. Modo
---
That does it for another edition of the Canucks prospects report. Stay tuned for more next week as we continue to bring you all the updates from here and overseas!
---
---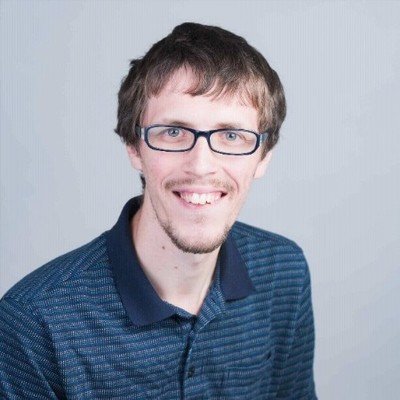 Matthew Zator is the assistant managing editor at THW and a writer who lives and breathes Vancouver Canucks hockey, the NHL Draft, and prospects in general. He loves talking about young players and their potential. Matthew is a must-read for Canucks fans and fans of the NHL Draft and its prospects. For interview requests or content information, you can follow Matthew through his social media accounts which are listed under his photo at the conclusion of articles like this one about Tyler Motte.
Matthew also hosts The Hockey Writers Prospect Corner on YouTube and is the co-host of The Hockey Writers Podcast & Western Centric Podcast.