The Vancouver Canucks finally have most of their prospects playing hockey again. After months of uncertainty, the AHL finally began their 2020-21 season with modified divisions and a truncated schedule. They also opened with fewer teams than normal as the Springfield Thunderbirds, Milwaukee Admirals, and Charlotte Checkers opted out of play due to COVID-19 concerns.
The Utica Comets will house the Canucks' prospects for the fifth straight season, even though there were concerns about having them play in the United States. Due to the restrictions imposed by the Canadian government, it will be virtually impossible to have any call-ups, so head coach Trent Cull should feel secure in the makeup of his roster unless the St. Louis Blues come calling for their prospects. The Canucks won't be doing so unless they can afford to wait two weeks, which is highly unlikely.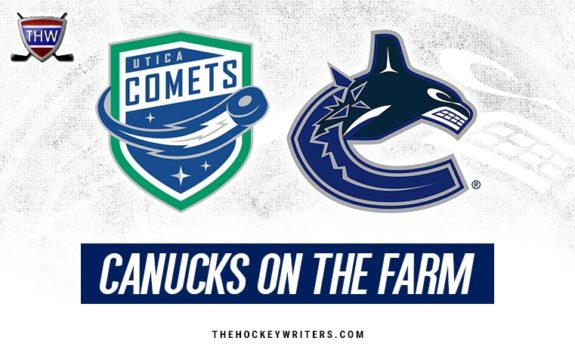 Long story short, we finally got to see the likes of Will Lockwood, Jett Woo, and Carson Focht make their 2020-21 professional debuts. In addition to the ones playing in the NCAA and overseas in the KHL and SHL, the Canucks now have a total of 31 prospects taking part in actual games this season. As always, I will endeavor to keep you up to date on all of them in this weekly column. So without further ado, let's get to this edition of the Canucks prospects report!
Professional Debuts of Lockwood, Woo & Focht
It took a few months, but Lockwood, Woo, and Focht finally had their first taste of professional hockey when they suited up for the Comets on Feb 5. Even though none of them made it onto the scoresheet, it was still nice to see three of the most anticipated prospects outside of Vasili Podkolzin and Jack Rathbone take the next step and test their mettle in the AHL.
Related: Canucks Prospect Spotlight: Jett Woo
I've always had an eye on Lockwood since he was drafted by the Canucks in 2016, just because of his speed and tenacity on the forecheck. His style is reminiscent of former Canuck Jannik Hansen, who played ten unforgettable seasons on the West Coast. So if he can translate his game to the NHL, he will end up being a valuable member of the bottom-six in no time. In his first three games with the Comets, he was his usual speedy and tenacious self, generating three shots and even taking faceoffs for his line as a winger.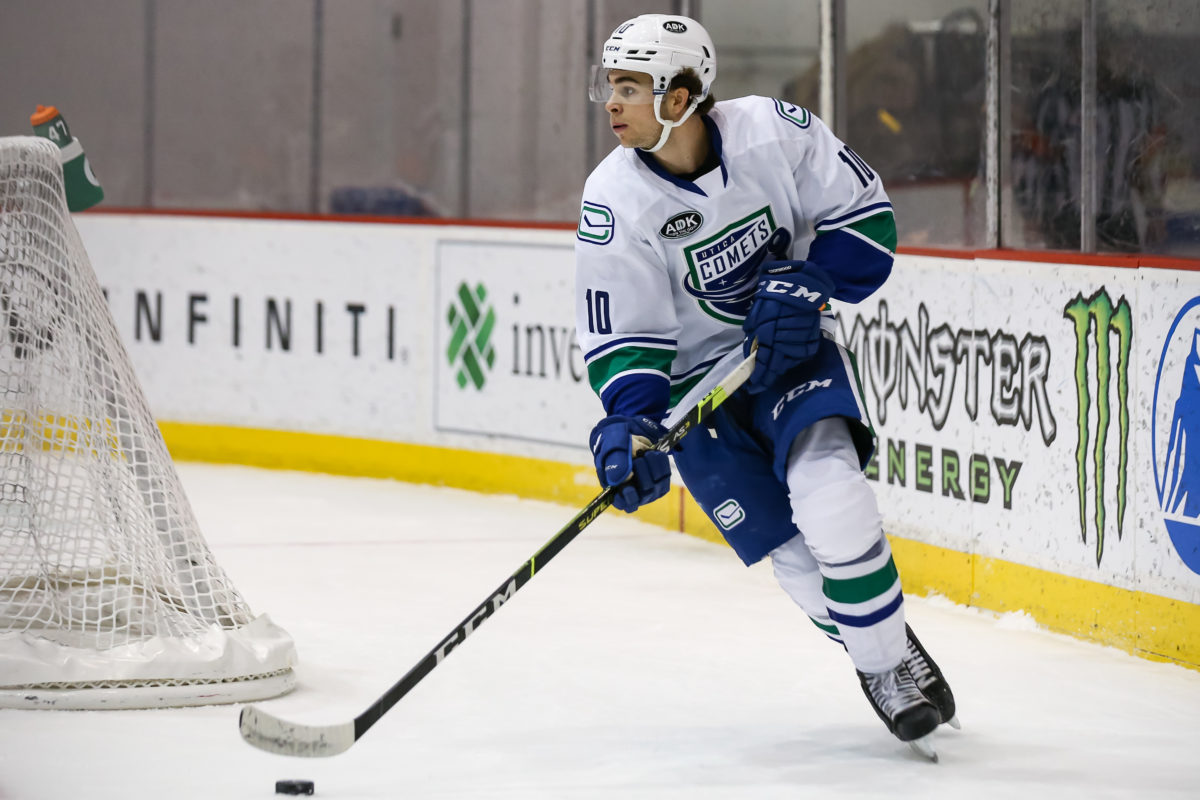 After two seasons of ripping up the WHL with the Calgary Hitmen to the tune of 58 goals and 120 points, Focht finally signed his entry-level contract and made his debut in the AHL. In his first three games with the Comets, he quickly gained the trust of head coach Trent Cull and not only played a regular shift but also spent time on both special teams. He also was relied upon to protect a lead in the final moments of the first game against the Rochester Americans when his team was up 3-2. In addition to all that, he scored his first AHL goal on Saturday against the Binghamton Senators and leads all skaters in shots with 11. Suffice it to say, he had a memorable first three games.
Related: 3 Canucks Prospects From 2019 Draft Who Could Surprise
Rounding out the debut brigade was Woo, who has seen his stock drop a bit in recent seasons. Don't get me wrong, the 20-year-old Winnipeg native is still a promising prospect in the Canucks' pipeline, but defencemen like Rathbone and Joni Jurmo have surpassed him in many rankings after he was arguably their second-best defensive prospect after Olli Juolevi.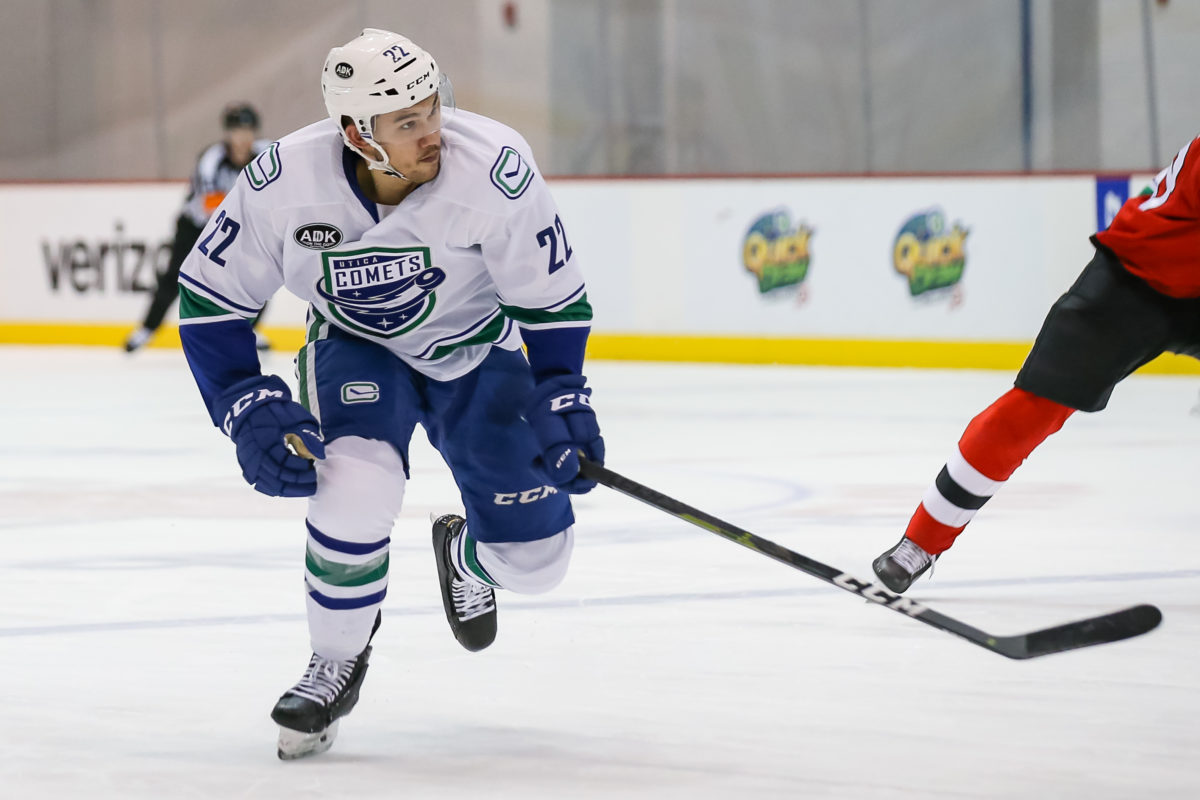 Nevertheless, he is still projected to be an NHL defenceman with his size, mobility, and physicality highlighting the package he brings to the ice. As for his debut, he seemed to struggle in his first game but was solid in his second go-around, despite his team's inability to limit the goals against in a 6-1 setback. He also stuck up for Lukas Jasek against the Senators when Cam Darcy caught him with a dirty hit, so I wouldn't give up on this kid just yet.
Kole Lind & Jonah Gadjovich
The start of the AHL's 2020-21 season also saw the return of a pair of 2017 second-round picks in Kole Lind and Jonah Gadjovich. Now 22-years old and into their third AHL seasons, we should start seeing a major shift in their development if they hope to be more than just call-ups or career-AHLers. Fortunately, it appears they have put in the work and are ready to take that next step.
Related: 3 Canucks Prospects Ready for the NHL
Lind burst into his third campaign with two goals against the Americans, including an absolute snipe off a Sven Baertschi pass in the second period and a blast on the power play off a seeing-eye pass from Sam Anas in the third. He also played center for the first time in his career between Baertschi and former Iowa Wild playmaker extraordinaire Anas (who was loaned to the Comets by the Blues and led the AHL with 50 assists last season). He looked amazing too, generating chances all over the ice and winning a lot of faceoffs, despite not playing his natural position.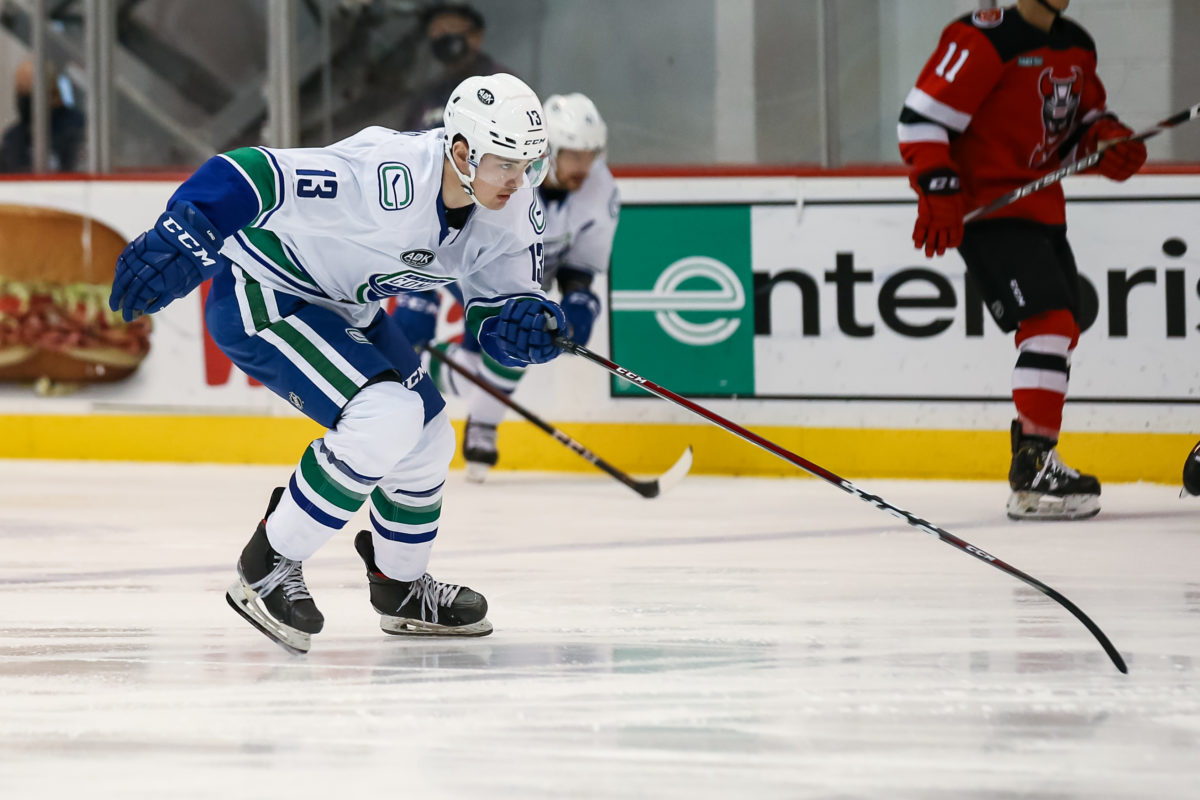 Lind continued his goal-scoring binge on Saturday versus the Senators by burying another two, both assisted by Anas. At this rate, the Canucks should look at acquiring the 5-foot-8 assist machine to play with him, because they are quickly becoming fast friends on the scoresheet. Lind now has four goals in three games and shares the league lead with Seth Jarvis of the Chicago Wolves and Gabriel Dumont of the Iowa Wild.
Gadjovich also scored in his debut and showed off some improved skating in the process. I must say that is a welcomed development from a guy that was criticized for his lack of footspeed in his draft year and in his first two seasons with the Comets. Combine that speed with his size, snarl, and willingness to go to the net and the Canucks could have the makings of a perfect winger for their bottom-six.
Comets' Next Games: Feb 17 vs. Syracuse, Feb 18 vs. Rochester
Aidan McDonough's First NCAA Hat Trick
After several games were put on hold because of the pandemic, Aidan McDonough returned to action this month with the North Eastern Huskies. He was slow out of the gate at first, but he broke out in a big way on Friday against New Hampshire with his first-ever NCAA hat trick, which eventually led to a 6-2 victory. He jokingly admitted that all the goals looked exactly the same with him one-timing a shot from the right circle on the power play, but a hat trick is a hat trick, and he should be very proud of the accomplishment. Ironically, his three-goal performance was the first one since former Canucks' prospect Tyler Madden did it versus Maine on Nov 22, 2019.
McDonough continued his hot streak against New Hampshire on Saturday with another two goals and an assist, which included the game-winner that broke a 4-4 deadlock in the third period. He now has five goals and six points in two games and is the hottest prospect the Canucks have right now.
Drafted in the seventh round by the Canucks in 2019, McDonough could be another late-round pick that turns out to be a solid NHLer down the road. He has good size, an NHL shot, and has a pretty good one-timer as well. Playing in his sophomore season at North Eastern, he has eight goals and 14 points in 15 games after posting 11 goals and 27 points in 31 games during his freshman season.
Next Game: TBD
Vasili Podkolzin & Dmitri Zlodeyev
Vasili Podkolzin has finally arrived in the good books of the SKA St. Petersburg coaching staff. Over the past few weeks, his ice time has skyrocketed and he has points to show for it as a result. It's as if head coach Valeri Bragin realized that more ice time for the big Russian means more wins for his team, regardless of his contract status. Since his coach's revelation, Podkolzin has three goals and five points and continues to dominate the ice with his insanely high Corsi-for percentage (CF%).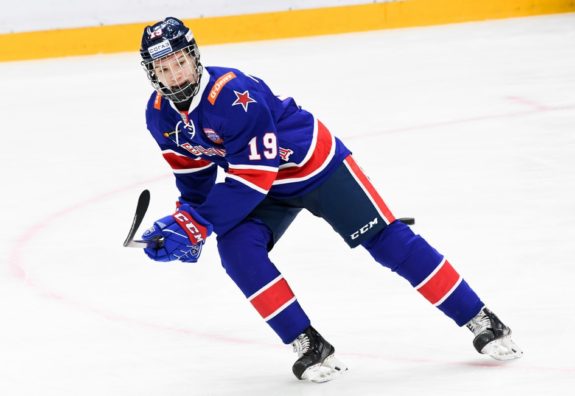 According to Chris Faber of Canucks Army, he had a 64 CF% in his last game against Jokerit, along with a goal, three shots, and a hit. After a strong showing at the 2021 World Junior Championship, he seems to have turned his season around and is now well on his way to joining the Canucks in the very near future.
Over the past week, Podkolzin has been participating in the Beijer Hockey Games in Sweden. After being held off the scoresheet for two games, he broke out in a big way on Sunday with a goal and two assists against the Czech Republic in a huge 7-4 victory that allowed them to win the entire tournament. After winning the Karjala Cup before the 2021 WJC, he now has been part of two championship teams in the past few months. He will now return to the KHL and hopefully continue his solid play with SKA St. Petersburg on Wednesday.
Next Games: Feb 16 vs. Sp. Moscow, Feb 18 vs. Dynamo Moscow, Feb 20 vs. Lokomotiv Yaroslavi
The other Russian prospect on Canucks fans' radar is Dmitri Zlodeyev. He's not as high-profile as Podkolzin, but he's arguably the most intriguing. The 18-year-old's potential is off the charts, and he was surprisingly selected in the sixth round. When you watch him play, you can't help but think of Pavel Datsyuk, as he plays a deceptively smart two-way game along with a ton of creativity. He is currently playing in the VHL with Dynamo Krasnogorsk where he has seven goals in 19 games. Unfortunately, since scoring a goal in his return to the lineup, he has missed his last three games presumably because of another injury.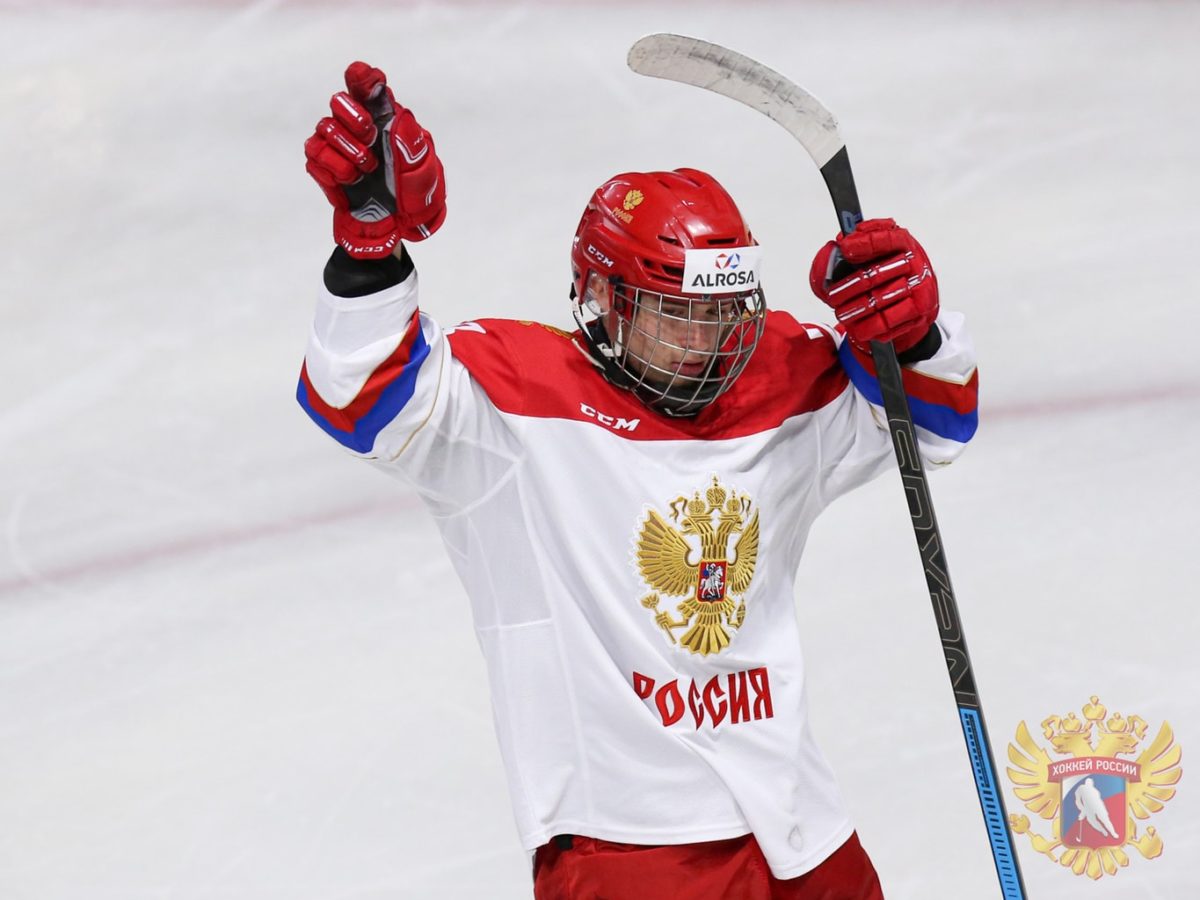 Next Games (if healthy): Feb 15 vs. SKA Neva, Feb 17 vs. Dinamo St. Petersburg
Jack Malone & Jackson Kunz
Ever since he returned to the USHL with the Youngstown Phantoms, all Jack Malone has done is put up points. In January alone he put up 14 points in 12 games and had six multi-point games. He also had a five-game point streak and never went more than four games without a point. In fact, he is on a three-game point streak right now. Despite his team's sub-par record of 6-14-3, he leads everyone in assists with 15 and is currently second in points with 18, which is just four behind the undrafted Georgi Merkulov who has 22.
Next Games: No games this week
Jackson Kunz also turned heads in the USHL since our last update. Plying his trade with the Green Bay Gamblers, he put together two goals and seven points in nine games, including a game on Feb 5 where he had a three-point night and figured into all three of the goals his team scored in a 7-3 defeat. He also scored a couple more goals against the Muskegon Lumberjacks on the weekend, and now has 11 goals and 20 points in 22 games this season.
Next Games: Feb 19 vs. Dubuque Fighting Saints, Feb 21 vs. Team USA
Linus Karlsson
Since our last update, Karlsson has ripped up the SHL with points in almost every other game. Since Jan 9, he has seven goals and 14 points in 13 games and is currently on a four-game point streak where he has four goals and seven points. On Sunday against Vita Hasten HC, he recorded his second four-point game and tenth multi-point game of the season to bring his total to 16 goals and 41 points in 43 games. That ranks him seventh overall in points and 20 back of the league leader, former Canucks prospect Jonathan Dahlen who has 61.
The Canucks won't see Karlsson over in North America until the 2021-22 season at the earliest, as the pandemic has virtually eliminated any movement from the European leagues unless a player is on loan. General manager Jim Benning also will have to sign him to an entry-level contract as he remains unsigned to this point. It will be interesting to see if he can translate his point-producing ways to the AHL and eventually to the NHL, as he appears to have a lot of skill both in the art of playmaking and goal-scoring. On top of all that, he is a good defensive player as well, which should impress Travis Green and the coaching staff.
Next Game: Feb 20 vs. Sodertalje
That does it for another edition of the Canucks prospect report. Stay tuned for the next one as we continue to keep you updated on all things prospects. In the meantime, if you have any questions, you can contact me on Twitter @MatthewZatorSC or just leave a note in the comments below!
All stats were provided by Elite Prospects and are current as of Feb 15, 2021
---
---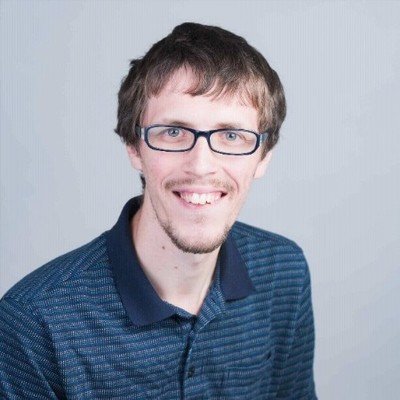 Matthew Zator is a THW freelance writer, media editor, and scout who lives and breathes Vancouver Canucks hockey, the NHL Draft, and prospects in general. He loves talking about young players and their potential. Matthew is a must-read for Canucks fans and fans of the NHL Draft and its prospects. For interview requests or content information, you can follow Matthew through his social media accounts which are listed under his photo at the conclusion of articles like this one about Tyler Motte.
Matthew also hosts The Hockey Writers Prospect Corner on YouTube and is the co-host of The Hockey Writers Podcast & Western Centric Podcast.