The Vancouver Canucks added another crop of young talent to their prospect pool this past October when they selected three defencemen and two forwards in the 2020 NHL Draft. At least three of the five have intriguing potential and are already leaving strong first impressions overseas with their respective European clubs.
With all changes that have happened since I last did a detailed look at the Canucks prospects, I thought it was time to do an update of the current state of the pipeline. Though instead of my top-20 rankings I did last summer and in January, I am going in a different direction this time. It's always difficult to decide who should be ahead of who in a subjective list of rankings, so I decided to follow the lead of my THW colleagues and try my hand at creating a prospect pyramid instead.
What is a Prospect Pyramid?
Sportsnet correspondent Steve "Dangle" Glynn first created the idea of the prospect pyramid for the Toronto Maple Leafs and since has become one of the primary standards of sorting prospects in an organization. Dangle states that rather than attempting to sort prospects in a numbered list, ranking them according to various tiers makes more sense than trying to figure out who's 15th or 16th. The tiers look at their potential and group them accordingly rather than trying to rank them subjectively like I did last season.
This pyramid should give everyone a better overview of who the Canucks have in their prospect pool and the overall potential they will have in the NHL.
To explain the six tiers, here is an excellent breakdown from THW's own Brandon Share-Cohen:
Tier 1 – Elite talent (Quinn Hughes, Auston Matthews, Connor McDavid-level talent)
Tier 2 – Very, very good prospects with a real chance of being top-six forwards, top-two defenders or good starting goalies)
Tier 3 – Good players who fall just short of tier 2, perhaps due to lower ceilings, but who are distinctly better than tier's below them
Tier 4 – Distinct shot at making an NHL roster and being a contributor (top nine forward, bottom-four defender, fringe starter or backup goaltenders
Tier 5 – Players who likely don't project to be anything more than a role player in the NHL as their ceiling – these players chances of making the NHL aren't very high compared to their comrades (sometimes due to being relatively unknown at this point)
Tier 6 – Players who have an uphill battle to make the NHL, or there isn't enough information to make an informed decision
Also, there's always the question of who qualifies as a prospect. The Athletic's Corey Pronman does an eloquent job of describing it, so I will let him take it away.
A skater no longer qualifies as an NHL prospect if he has played 25 games in the NHL in any campaign, regular season and playoffs combined, or 50 games total; or reaches age 27 by Sept. 15

A goalie no longer qualifies as an NHL prospect if he has played 10 games in the NHL in any campaign, regular season and playoffs combined, or 25 games total; or reaches age 27 by Sept. 15

Corey Pronman (from 'Pronman: 2019-20 NHL Farm System Rankings', AthleticNHL, 9/5/19)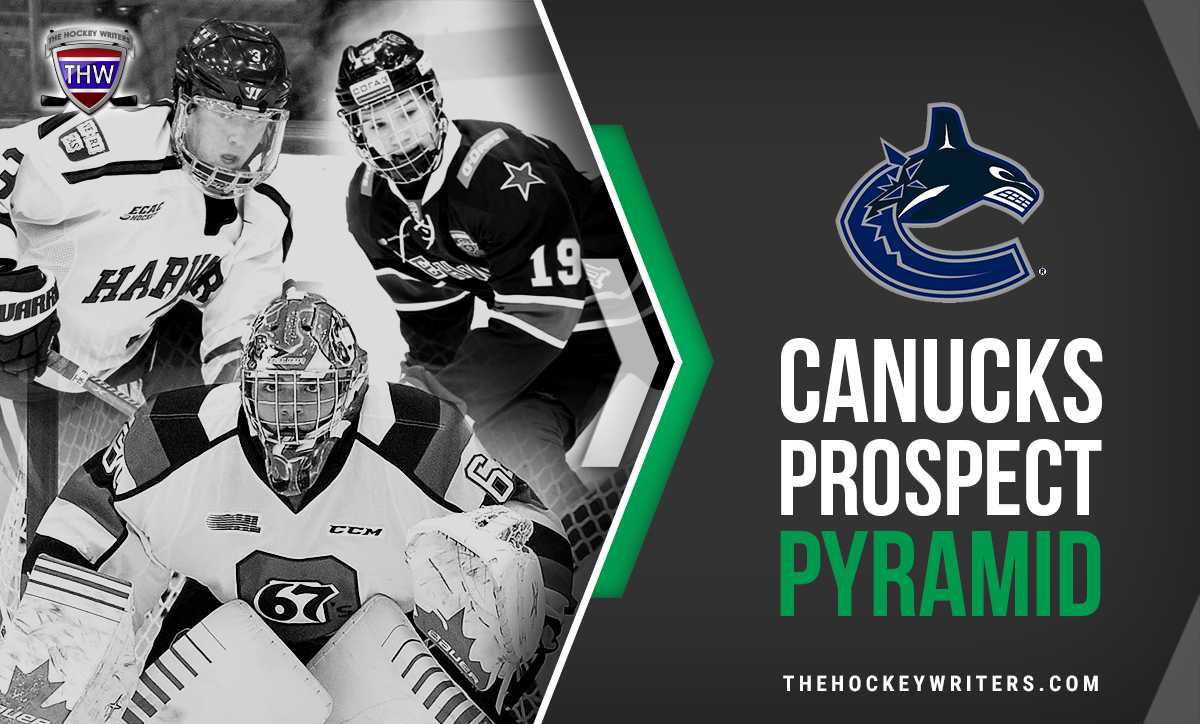 With all that said, here is the inaugural version of THW's Canucks prospect pyramid!
Additions, Subtractions, and Graduates
Even though this is the first version of the pyramid, there were some included in Josh Bell's farm system rankings and my own rankings back in January. Since then there have been some additions, subtractions, and graduations which are detailed below:
Additions
Trades: David Pope
Free Agents: Marc Michaelis
Draft: Joni Jurmo, Jacob Truscott, Jackson Kunz, Dmitri Zlodeyev, Viktor Persson
Subtractions
Trades: Tyler Madden
Graduates
Played more than 25 games: Zack MacEwen, Thatcher Demko
Played more than 50 games overall: Nikita Tryamkin
Tier 1: Empty
The Canucks have had someone in this tier for the past two seasons boasting Hughes in 2019 and Elias Pettersson in 2018. This season, however, they do not. Vasili Podkolzin and Nils Hoglander, arguably their two best prospects right now, are not franchise players, that's just the honest truth of it.
Tier 2: Podkolzin, Hoglander, Rathbone, DiPietro
Even though the Canucks don't have anyone in the top-tier, they do have a few players who have a real chance of becoming something special in the NHL. Three of them were selected in the first two rounds of the draft, but one of the most intriguing of the bunch was taken way down in the fourth round in 2017. With that said, let's delve into tier two which includes Podkolzin, Hoglander, Jack Rathbone, and Mike DiPietro.
The battle for the top spot on the pyramid is a two-horse race between Podkolzin and Hoglander. Right now it's Podkolzin's spot to lose, but Hoglander is definitely nipping at his heels.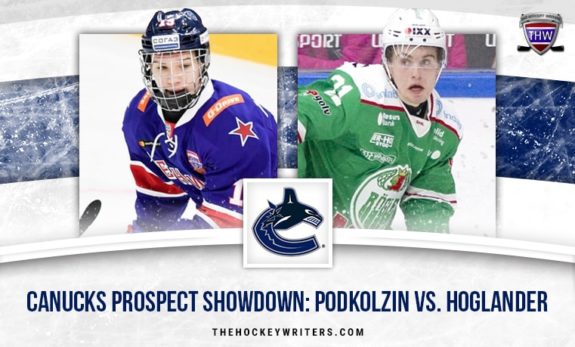 Despite Podkolzin's struggles to find ice time in the KHL this season, he still has demonstrated the elite skills and mouth-watering potential that got him ranked in the top-10 and even the top-five on a lot of draft rankings in 2019, including our own. His never-ending motor, intense forechecking abilities, and willingness to go to the net have been on display all season long, even with the minuscule amounts of ice time.
Fortunately for Podkolzin, he was named captain of Team Russia for the Karjala Cup and was given boatloads of ice time by head coach Igor Larionov. He took advantage of it too by dominating the tournament with one goal and five points in three games including a scintillating shootout winner in the second game against Team Sweden.
With that performance, he showed everyone that if given the right amount of ice time, he can do great things. The hope was that he could continue that with SKA St Petersburg in the KHL under the watchful eye of Valeri Bragin, but that did not happen as he went back to his usual 11-12 minutes of ice. He did score in his first game back but has gone pointless in three games since and remains stuck on two goals and six points in 23 games. Time can't go fast enough as he waits patiently to join the Canucks lineup.
Like most Swedes the Canucks draft, Hoglander is a creative, hard-working two-way player. He definitely won't hit the heights of Pettersson and the Sedin twins, but he will become a top-six forward that can generate 20-25 goals at a consistent rate. When he joins the Canucks in December for training camp, he will be a welcome addition to the forward group. He probably will slot in beside Adam Gaudette on the third line and provide some much-needed speed, skill, and forechecking prowess to his unit.
When I watch Hoglander play, he reminds me of Jannik Hansen, but with a lot more natural skill. His ability to win battles on the boards to set up offensive chances stood out to me the most in my viewings, which was a staple of Hansen's game when he was with the Canucks.
Hoglander is also not afraid to go to the danger areas, as evidenced by his many shots taken in the middle of the ice. In fact, over the past three seasons, 51 percent of his shots have been taken from that very spot. Clearly, his office is in front of the net. If he can bring that same sort of tenacity and willingness to go to the net into the NHL, he should be a real treat to watch when he finally makes it over to North America.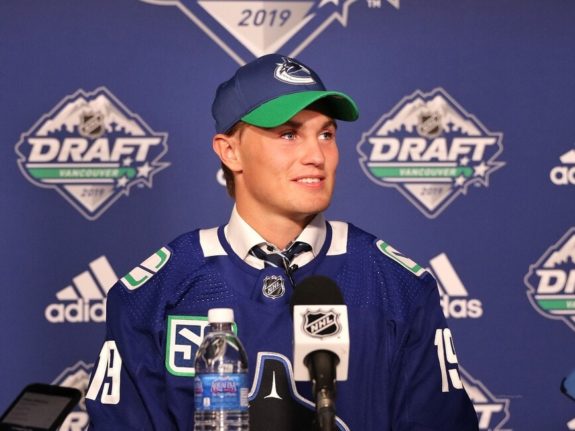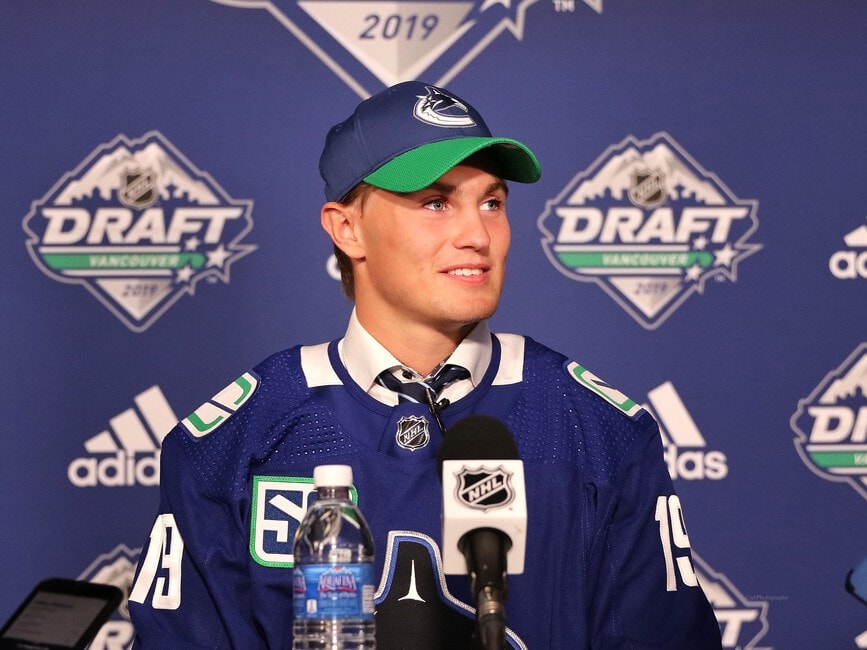 Then there's Rathbone, the man who has probably risen the most since I first ranked the Canucks prospects last season. He came in 11th at the beginning of 2019-20, then jumped to fourth in my midseason update, and now he's in the second tier of the pyramid with two of the best prospects the pipeline has to offer.
As you all probably know by now, Rathbone was chosen during the fourth-round in 2017 but has played like a first-rounder ever since. His skating, hockey IQ, and overall mobility have stood out as major strengths throughout his time with the Harvard Crimson and now he's poised to challenge for a spot in the NHL come training camp in December. He has steadily risen up the Canucks' depth chart to become their top prospect on defence (slightly ahead of Olli Juolevi in my mind).
Now that Demko has graduated out of the pyramid, DiPietro is ready to take his spot as the Canucks' top goaltending prospect. His size might not scream NHL goaltender, but his athleticism, technique, and mental fortitude most certainly do. He not only fought through a harrowing NHL debut but also excelled in the OHL and AHL afterward. Not many players could do that after getting their confidence shaken in the most unforgiving league in the world.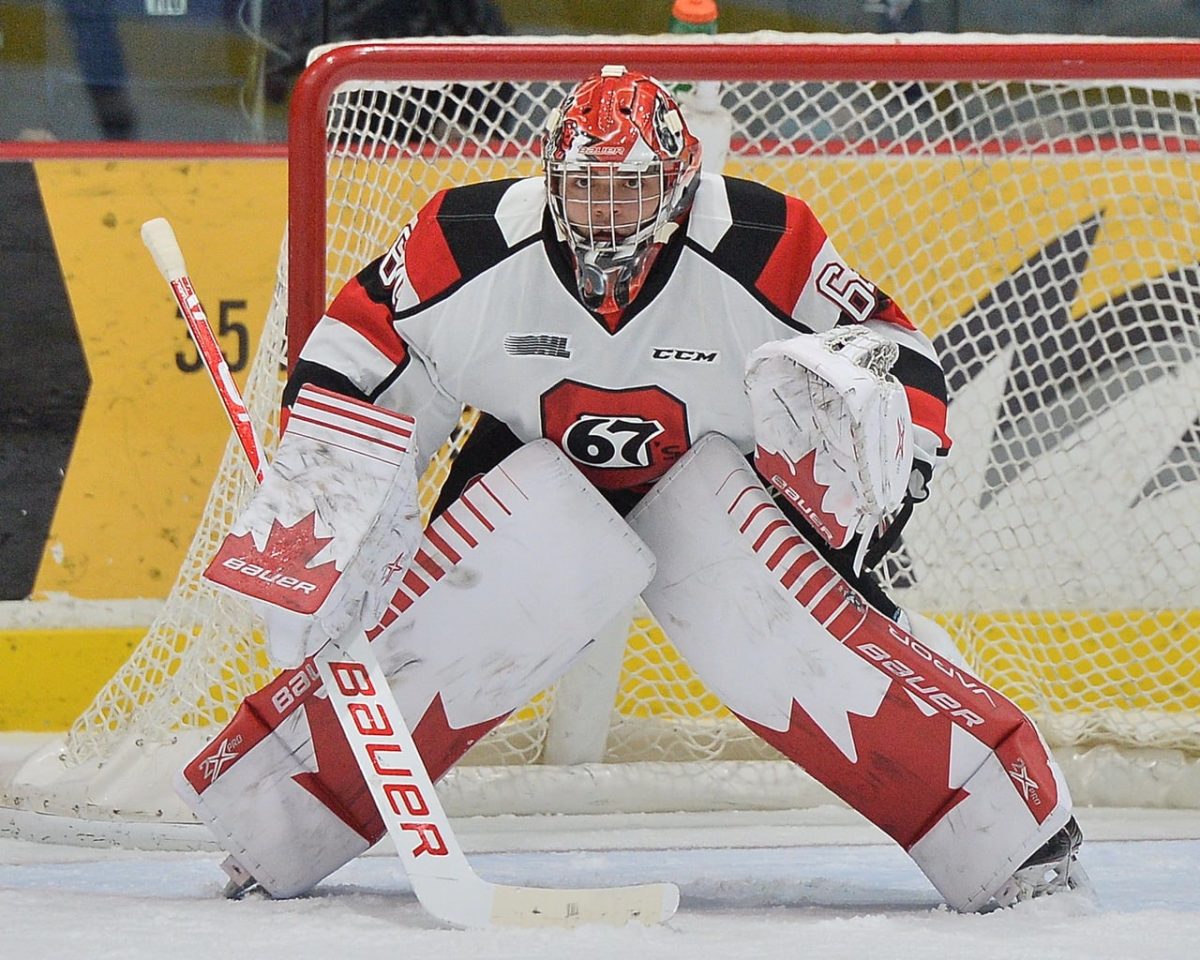 Instead of letting the experience derail his development, DiPietro used it as motivation to focus and get better. He returned to the Ottawa 67s and proceeded to go on a 13-game winning streak in the playoffs and finished his career as one of the most accomplished OHL goaltenders of all-time. To this day he still holds the record for most shutouts with 17.
DiPietro made his professional debut in the AHL during the 2019-20 season with the Utica Comets and just continued to impress. He was their MVP at times and ended up going home with the Bill Horton Award for the most heart and the Dave Armstrong Award for being a "classy guy" at the end of the season. As you can see from those accolades, he's not just a skilled goaltender, he's a character player in the dressing room as well.
Tier 3: Juolevi, Woo, Rafferty, Jurmo, Lind, McDonough, Zlodeyev
Similar to the second tier, this level contains prospects with a lot of potential that could conceivably climb the ladder if things go their way at the next level. I wouldn't be surprised to see two or three of them graduate out of this tier when I update this pyramid in mid-season. This tier includes Olli Juolevi, Jett Woo, Brogan Rafferty, Joni Jurmo, Kole Lind, Aidan McDonough, and Dmitri Zlodeyev.
Juolevi has struggled with injuries since being drafted fifth overall in 2016 but looks to have finally turned a corner in his development. Those injuries are a thing of the past, and the skills that made him a highly-touted prospect in his draft year are starting to bleed through. He was calm and cool in his NHL debut during the playoffs and should be fighting for a spot on the bottom-pairing in 2020-21.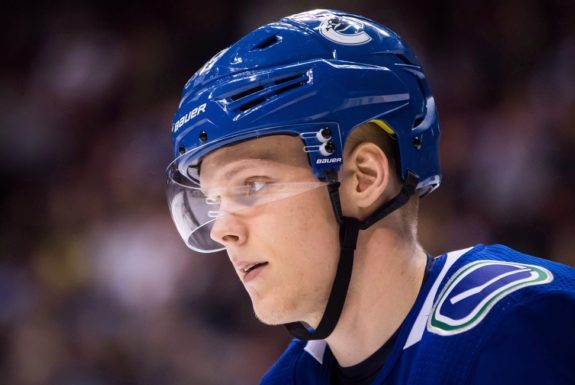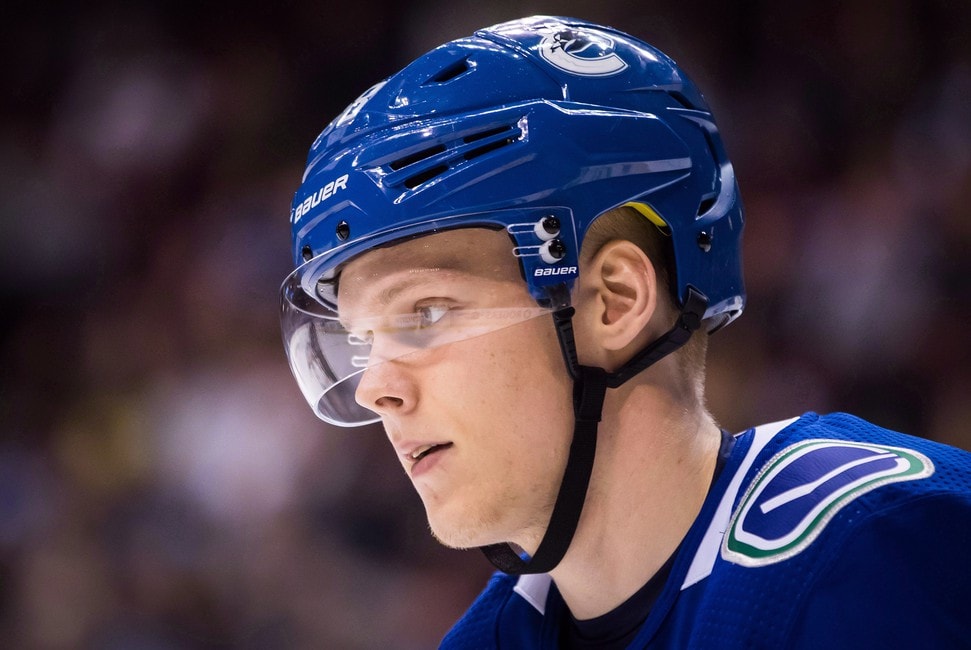 Juolevi still possesses all the attributes of a top-four defenceman. He's smart and precise in his puck movement, calm under pressure, and can play in all situations. According to Hockey Prospecting, he has also seen a massive improvement in his star potential and NHLer probabilities. He now has a 51 percent chance of becoming a star and a 62 percent chance of becoming an NHLer, up from 13 and 56 percent respectively. Those probabilities have turned out to be pretty accurate in the past, so we shouldn't be counting him out just yet.
Woo's swan song in the WHL did not go as planned as he finished 22 points back of the career-high totals he set during the 2018-19 season with the Moose Jaw Warriors. The trade that sent him to the Calgary Hitmen was supposed to give him a better chance at greatness, but it ended up being a bit of a struggle. Defensively he was stout as ever, recording a 58 Corsi-for percentage (CF%), but he dropped a bit offensively, especially in the assists category. Fortunately, that can be explained as he was given more of a matchup role by his head coach Steve Hamilton. He also began 65 percent of his shifts in the defensive zone.
Woo will play in the AHL in 2020-21, hopefully in February if the season starts on time. He should be one of the Comets' top defencemen, as he can eat minutes in all situations. He is mobile, can play the body when needed, and has a strong work ethic. He may not project as a top-pairing defenceman right now, but if he can get all the tools to fit in his toolbox, he could be the perfect partner for Hughes down the line.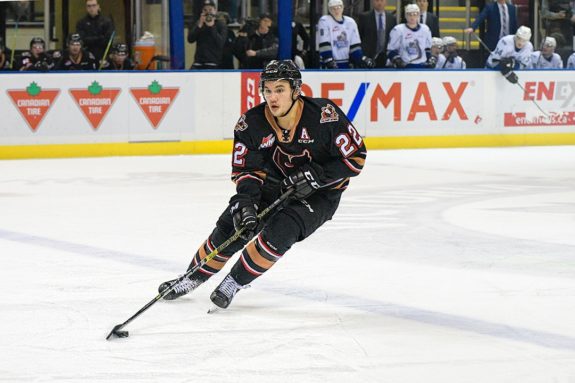 Rafferty has seen his stock rise since being signed as an undrafted free agent by the Canucks in 2019. After dipping his feet in NHL waters at the tail end of the 2018-19 season, he went to work in 2019-20 with the Comets and became one of the AHL's top defencemen. He finished the season with 7 goals and 45 points and established himself as a legitimate NHL prospect. His ceiling is probably no more than a third-pairing defenceman, but that projection is pretty good for someone that no team (including the Canucks) thought was worth spending a draft pick on.
Related: Canucks Ready To Gamble on Prospects To Complete the Blue Line
Jurmo was the first selection of the 2020 Draft for the Canucks, and should have a bright future in the NHL once he figures out his defensive game. His speed and offensive instincts are on point though, as he was praised by several pundits, including myself, as one of the best skating European defencemen in the entire draft. After dominating the junior circuit with Jokerit in 2019-20, he is now in the Finnish SM-liiga with JYP getting limited ice time. He is only playing an average of 10:45 and is struggling to gain any traction. As of this writing, he has no points to his credit and is a minus-5 in the plus/minus column.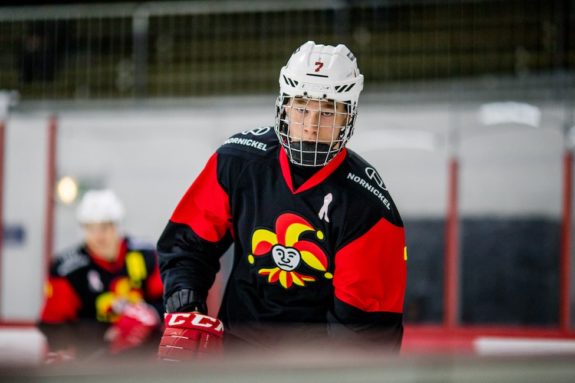 Lind is a prospect on the rise in the Canucks organization as he's coming off a monster season with the Comets where he set career highs across the board. After struggling to gain his footing in 2018-19, he did what he does best and had a sophomore surge instead of a sophomore slump in 2019-20.
By the end of the season, he walked away with 14 goals and 44 points in 62 games and showed everyone why he was selected in the second round in the first place. He has the potential to be a top-six forward in the NHL and could start that journey as soon as 2020-21. His speed, size, and touch around the net were evident all season long as he never saw a crease he did not like.
Another potential late-round steal is McDonough out of Northeastern University. Even though he was drafted way down in the seventh round, he has risen up to become one of the Canucks' most promising forward prospects.
Teaming up with Tyler Madden, who was traded to the Los Angeles Kings in the Tyler Toffoli deal, he scored 11 goals, many of them from one spot on the ice, the bottom of the faceoff circle by the goal line. He just loved to set up there for a one-timer whenever the opportunity presented itself last season, which could be a big asset when he makes it to the NHL. Like a lot of prospects in this tier, if he can translate those offensive instincts to the next level, he could become a top-six forward and rise up the pyramid.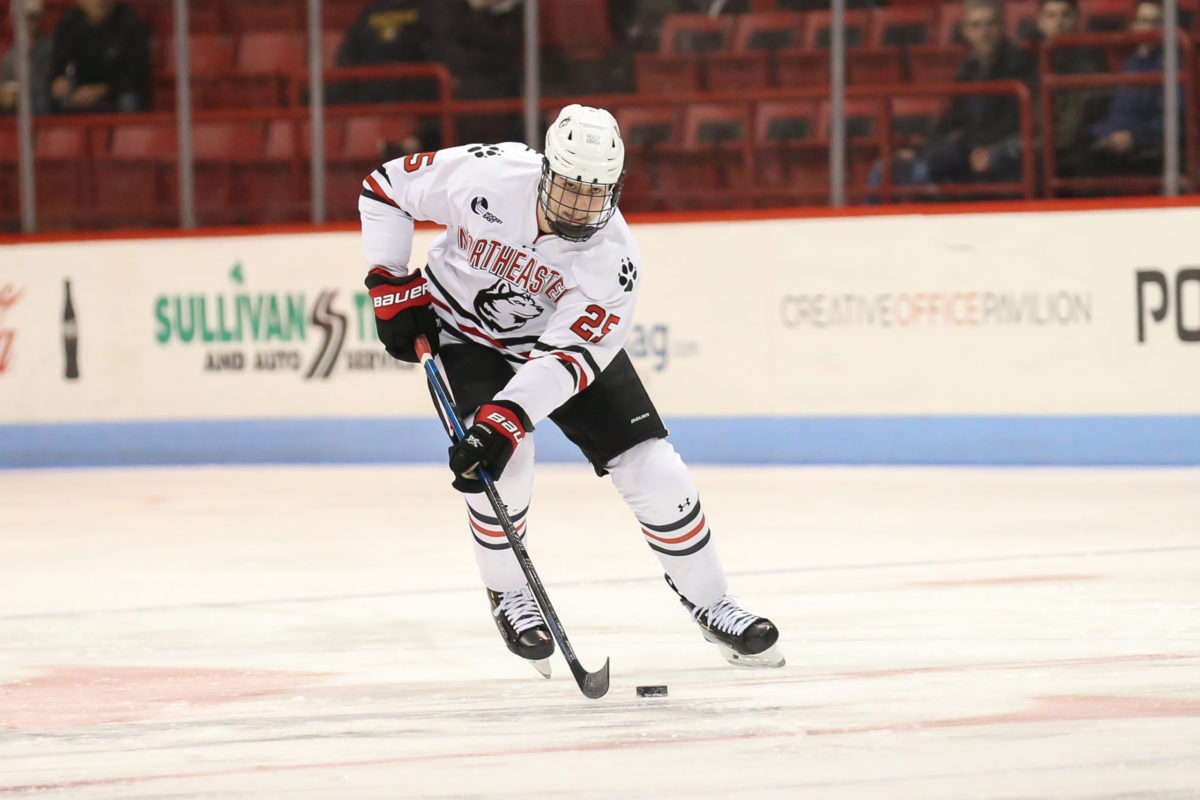 Now we get to the latest Russian attraction in Zlodeyev, the prospect who has taken the 2020-21 season by storm and Canucks Nation along with it. As of this writing, he has 4 goals and 12 points in 15 games at the MHL (junior) level with MHK Dynamo Moskva and 4 goals at the VHL (Russia's equivalent of the AHL) level with Dynamo Krasnogorsk. He's in a bit of a slump right now with only two points in his last five games, but before that, he was on fire with eight goals in 13 games, so he definitely can score when he puts his mind to it.
When you look at how Zlodeyev plays the game, you would be forgiven if you thought he was selected as a first or second-round pick. The 2020 sixth-round pick has all the skills you would want in a top-six center. He can obviously score, but it's how he scores his goals is what makes him special. All of them are scored within a few feet of the goaltender. He has amazing hand-eye coordination for tips and very quick hands in front of the net, which makes him very hard to contain.
He can also win faceoffs, as evidenced by his 54 percent success rate, and play effectively in all situations. Oh yes, he has soft hands and a workman's-like mentality along the boards as well. Basically, what I am saying is, he should have been drafted much higher.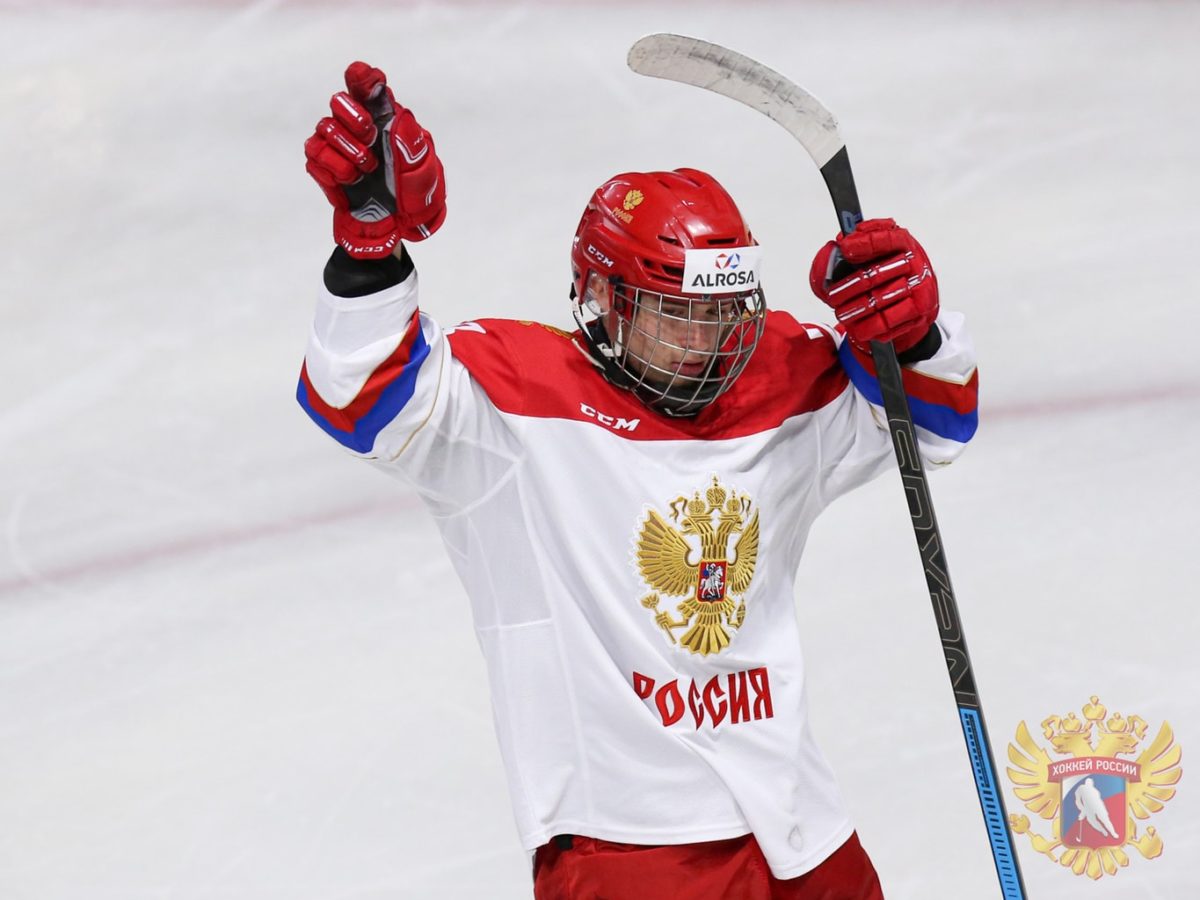 It remains to be seen if he can translate his exceptional two-way game over to North America, but the early signs are very good that the Canucks got a steal of a pick in the later rounds of the draft. Could he become their version of Pavel Datsyuk? Time will tell.
Tier 4: Michaelis, Karlsson, Persson, Utunen, Focht, Jasek, Lockwood
The next tier of the pyramid contains players with NHL potential but maybe not enough to be considered for full-time duty in the top-six forward group or top two pairings on defence. They all could surprise like Hansen and Alex Burrows did and hold their own in the top-six, but most likely they will make their money in the grind of the third line or bottom defence pairing. That said, let's take a closer look at the fourth tier which contains Marc Michaelis, Linus Karlsson, Viktor Persson, Toni Utunen, Carson Focht, Lukas Jasek, and William Lockwood.
Michaelis is one of the most recent additions to the Canucks' prospect pool. The Hobey Baker top-10 finalist hailing from Minnesota State University was one of the NCAA's best forwards in 2019-20 finishing with 20 goals and 44 points in 31 games. He projects as a solid third-line center at the NHL level due to his ability to win faceoffs and play an effective game in every zone on the ice. Not to mention he was the setup man for a certain star German forward playing for the Edmonton Oilers. So he clearly knows how to play with skilled players.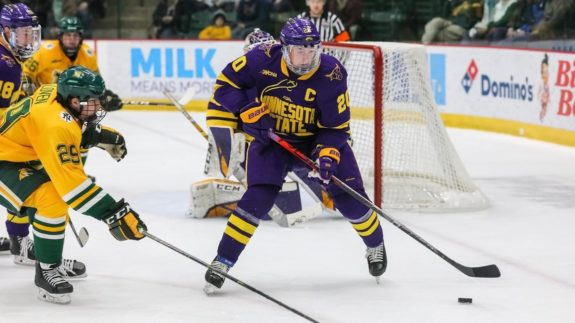 Michaelis showed off those skills recently as a member of Germany's entry to the Karjala Cup where he had two goals and four points in three games. He is currently on loan to Alder Manheim of the DEL league, where he has yet to play a game.
Karlsson, a former third-round pick who was acquired from the San Jose Sharks in the Jonathan Dahlén trade, has shown very well since joining the Canucks prospect pool. Like Michaelis, his ceiling is that of a third-line center who can win faceoffs, play a solid defensive game and produce some offence at the same time. In 2019-20 he had 16 goals and 42 points in 49 games playing in Sweden's HockeyAllsvenskan and he's continued that momentum with 5 goals and 16 points in 17 games already this season.
Another new entry to the pyramid is Persson, a Swedish defenceman who was selected in the sixth round of the 2020 Draft. Like Zlodeyev, he has captured the hearts and minds of Canucks fans everywhere as he is making quite a name for himself overseas right now. His mobility, physicality, quick shot, and willingness to jump up into the play have stood out as the most prominent skills in his arsenal so far, as he already has five goals and nine points in 16 games playing for Brynas in the J20 Nationell. When he comes over to the ultra-physical WHL sometime in 2021 as a member of the Kamloops Blazers, he should thrive as he plays a very North American style of game.
As is the trend so far, the Canucks have another defenceman in the upper tiers of the pyramid. Utunen has fallen a bit off the radar since getting on the map during the 2019 World Juniors, but he still remains a promising prospect for the Canucks. His calm and quiet defensive game along with his leadership qualities will ultimately get him a spot in the NHL one day as it did for former Canuck Chris Tanev.
Despite the shift to mobile, finesse defencemen like Hughes and Cale Makar, there is still a need for players like Utunen who can kill penalties and play a matchup role against the other team's top players. Right now he's playing a very limited penalty-killing specialist role for Tappara in the SM-liiga, but I'm sure he will end up getting more responsibilities soon, given his skilled defensive toolkit.
Focht broke out last season to the tune of 32 goals and 56 points playing for the Hitmen in the WHL. He joins a long line of potential steals in this pyramid as he was selected in the fifth round of the 2019 Draft. The skills he displayed throughout the 2019-20 season turned a lot of heads as he became a dominant scorer and terrific two-way forward for his team.
He also averaged over two minutes on both special teams and finished the season with a very strong 57.1 CF%. That along with his strong work ethic, quick wrist shot, and success on faceoffs (53% last season) could help him become a useful bottom-six center for the Canucks down the road.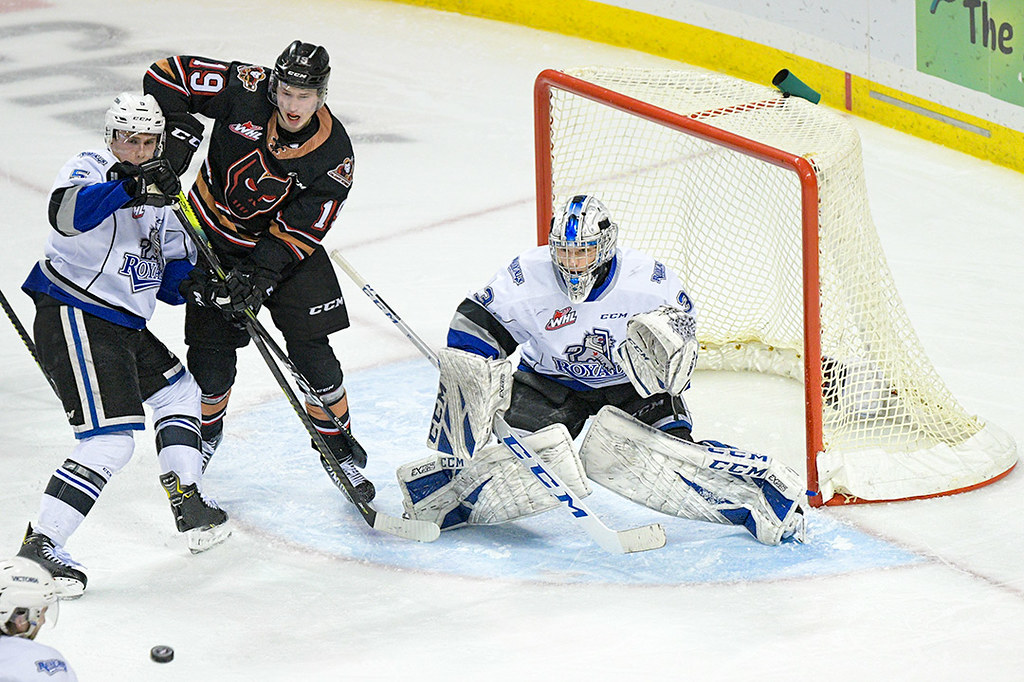 Jasek was a forgotten prospect for a while, going unsigned by the Canucks until he impressed everyone with the Comets during the 2017-18 season by posting seven points in six games. Since then he has continued to build on that performance by becoming one of head coach Trent Cull's most versatile players. He scored a career-high 14 goals and further solidified his status as a legitimate prospect at 23-years-old.
He is currently on loan with Trinec Ocelari HC in the Czech league where he has been on fire with two goals and eight points in ten games. He recently had a six-game point streak snapped which included this nice goal where he showed off his lightning-quick wrist shot.
Finally we have a similar player to Jasek in Lockwood, who was recently signed by the Canucks out of the University of Michigan. He had a bit of a down year in 2019-20 with only nine goals and 23 points in 33 games, but he still showed flashes of why he could be a great checking line winger in the NHL. He was quick on the forecheck, showed great hands in front of the net and was tenacious on every puck he saw.
Lockwood also has character and leadership abilities as he played the role of captain for the Michigan Wolverines last season too. Look for him to challenge for a spot on the fourth line in 2020-21 as he makes the jump to pro hockey.
Tier 5: Silovs, Gadjovich, Brisebois, Costmar, Teves
Now we get to the tier which includes prospects that project to be solely role players in the NHL. Like I said before, they may surprise us in the coming seasons, but they have a long road ahead to become anything more than depth players. So with that said, let's take a look at the residents of the fifth tier which include: Arturs Silovs, Jonah Gadjovich, Guillaume Brisebois, Arvid Costmar, and Josh Teves.
Silovs, a 2019 sixth-round pick and second goaltender on this pyramid, is currently on loan with HS Riga and HK Mogo in Latvia after spending the 2019-20 season with the Barrie Colts of the OHL. He had an up and down season with them finishing with a 3.87 GAA and a .891 SV% in 36 games.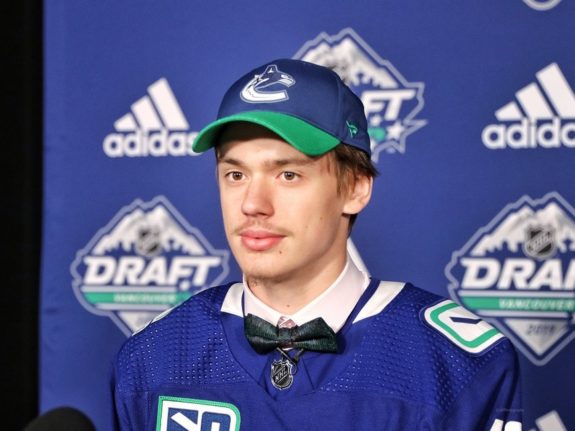 Silovs did have a solid showing a few weeks ago at the Karjala Cup with Team Latvia though, as he left the tournament with a 1.93 GAA and a .932 SV%. As David Quadrelli of Canucks Army wrote in a recent piece, he is an athletic goaltender with quick legs, but he has to work on his puck tracking and technique a little more before the NHL can be in his future. If he can clean that up, he has the potential to be a fringe starter or backup with the Canucks in the future. With COVID-19 complicating things, he probably will spend this season overseas in Latvia, which could stunt his development.
Gadjovich had a bounce-back sophomore season in 2019-20 with the Comets scoring 13 goals and 17 points, but his skating still has to catch up to his powerful 6-foot-2, 209-pound frame. He was a second-round pick in 2017, so the skills are definitely there to become an NHL player. However, I just don't think it will be more than a grinder/character role at that level. His personality in the dressing room and the way he carries himself on the ice made him a fan favourite in Utica, so he could potentially have that same effect in Vancouver. The fact that he improved his game between his rookie and sophomore seasons bodes well for his future though.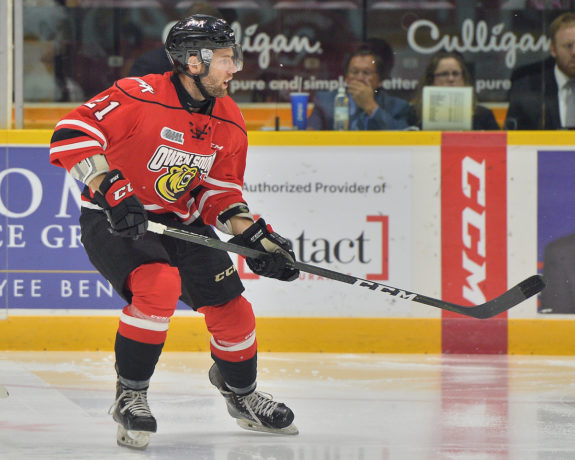 Brisebois has been in the Canucks organization for five years now and has only appeared in eight games at the NHL level. He has been a solid defenceman in the AHL playing in the top-four, but it's looking more and more like his ceiling will max out as a bottom-pairing blueliner.
He skates well enough but hasn't shown any of the offensive potential he displayed during his time in the QMJHL where he put up 120 points in 236 career games. He could be an Alex Biega type defenceman shuttling in and out of the lineup as a seventh defenceman, but when you look at what the Canucks could have had in 2015 with Anthony Cirelli in the third-round, you can't help but wonder what could have been.
As I mentioned in a previous article, Costmar has all the skills to become a player like Sami Pahlsson, who was also drafted in the seventh round. He has solid defensive acumen, can score the occasional goal, and be that trusted center to take draws all over the ice. Not to mention he is also an elite penalty killer.
He has started slowly in 2020-21 with Linkoping HC going pointless in 12 games, but his deployment has been limited averaging only 10 minutes a night mostly on the penalty kill. Once he becomes one of his head coach's trusted players, and you know he will, I would anticipate seeing those totals rise. Though offence isn't usually his primary function on the ice, so I wouldn't worry too much about point totals with him.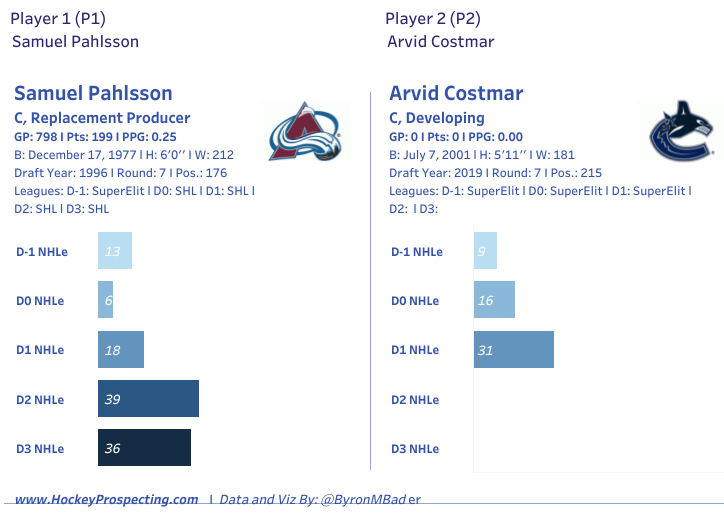 Teves, another collegiate signing by the Canucks, has already played an NHL game when he joined the organization at the end of the 2018-19 season from Princeton University. Though one game is all he has under his belt so far, as he spent the entire 2019-20 season shuttling between the AHL and ECHL. Here is what general manager Jim Benning had to say about him following his signing in 2019,
He has good vision and playmaking ability, and can contribute in all three zones. We're excited to see him play at the professional level.
He didn't get much of a chance to show it off at the AHL level, as he only played an average of 12:33 on the bottom pairing. He could still be a depth defenceman at the NHL level, but he has a long road ahead given that he is already 25-years-old.
Tier 6: Everyone Else
This tier includes the prospects that either are a long shot to make the NHL or have limited data available to make an informed decision about their future.
They include Jack Malone, Petrus Palmu, Karel Plasek, Dmitri Zhukenov, Jackson Kunz, Jacob Truscott, Artyom Manukyan, Jake Kielly, and Matthew Thiessen.
Canucks Have Loads of Wait & See Prospects
The Canucks don't have a lot of sure-thing elite prospects in their pipeline apart from Podkolzin and maybe Hoglander and Rathbone, but they do have loads of wait-and-see potential in players like Juolevi, Rafferty, Lind, Focht, Jurmo, McDonough, and Zlodeyev.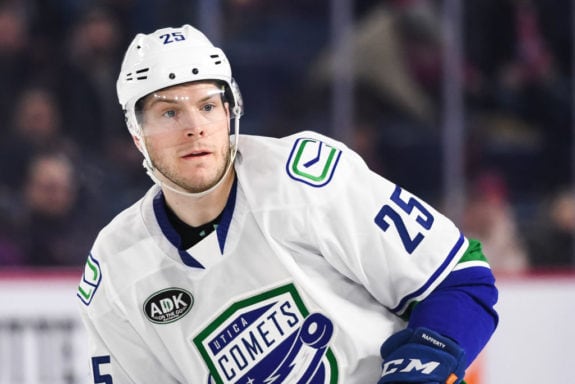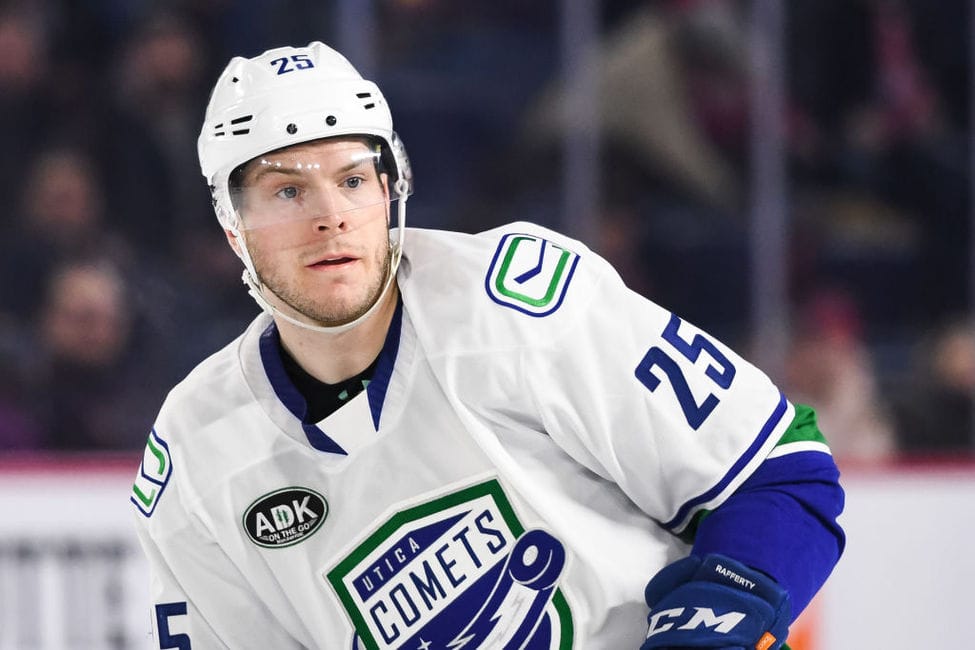 The Canucks will need some of these prospects to hit in the coming seasons because the salary cap will limit additions through free agency. Pettersson and Hughes will take up the majority of the space, so players in the system will have to step up under entry-level contracts for the team to stay afloat in the rabid parity-based NHL.
As you can see with how I placed them in the pyramid, I really think the Canucks have some potential gems throughout their pipeline that could make an impact as soon as next season. So strap in folks, it's going to be a hell of a ride as we continue to follow them throughout the 2020-21 season and beyond.
All stats provided by InStat Hockey