The Vancouver Canucks did not have a selection until the third round of the 2020 NHL Draft, but that didn't stop them from choosing three more players that could potentially be late-round steals when they eventually make it to the NHL. There were a lot of people that were worried about the loss of uber-scout Judd Brackett, but judging by the upside of a few of the following prospects, it looks like he may have left a protégé to take over for him.
D Joni Jurmo
Acquired: Third Round (82nd overall)
2019-20 Stats: Jokerit U20 (Jr. A SM-liiga) – 43 GP – 5 G – 23 A – 28 PTS
2020-21 Stats: JYP (Liiga) – 5 GP – 0 PTS
Joni Jurmo was not even supposed to be available to the Canucks when they were selecting in the third round at 82nd overall. Many outlets had him ranked to go in the second round, so the fact that he was available there was a steal in itself. Though it goes much further than that when you look at the skill he possesses.
Of all the European defenders available in the 2020 Draft, Jurmo could turn out to be one of the best. His skating, transition game, and offensive instincts are off the charts and he has the size to go with it too. As I mentioned in his prospect profile, his defensive game is still a work in progress, but that can be taught. Hockey IQ and knowing when to jump into the play are things you either have, or you don't, and he has both of them in spades.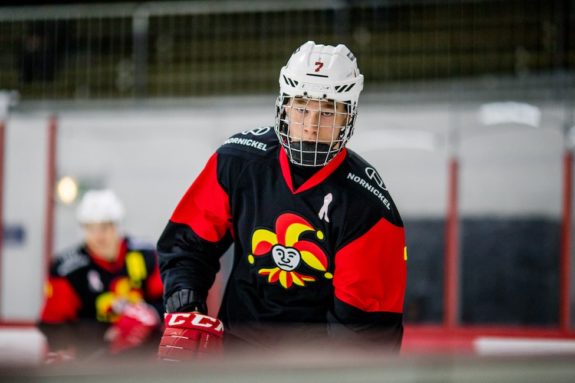 THW's own Larry Fisher went as far as to say that he could become a top-pairing blueliner and be selected in the first round. Obviously, he didn't get chosen in the coveted first round, but he could still become an elite talent that plays regularly on a team's number one pairing. The Draft Analyst's Steve Kournianos echoed the same sentiments in his own profile of Jurmo as well. So I would not be surprised to see him meet those projections, given the knowledge base and experience of those two.
Related: Introducing the Canucks' 2020 NHL Draft Class
Jurmo has graduated to the Finnish Liiga this season and is currently playing with JYP. He does not have any points in his first five games, but it's a long season, and given his age and lack of experience, we should not be worried about his lack of production so far. He also is not seeing the same ice time he saw in the Jr. A SM-liiga, averaging only 6:23 in the Liiga so far. Once he gains the trust of his coaching staff, that number should go up. Though it must be quite an adjustment after being counted upon to be a high-minute man with Jokerit last season.
C Dmitri Zlodeyev
Acquired: Sixth Round (175th overall)
2019-20 Stats: MHK Dynamo Moskva "A" (MHL) – 42 GP – 12 G – 16 A – 28 PTS
2020-21 Stats: Dynamo Krasnogorsk (VHL) – 7 GP – 4 G – 4 PTS / MHK Dynamo Moskva (MHL) – 10 GP – 4 G – 4 A – 8 PTS
Dmitri Zlodeyev is a very intriguing prospect coming out of the 2020 Draft. Since he was selected in the sixth round by the Canucks in early October, all he's done is impress pundits everywhere. Chris Faber of Canucks Army has been particularly smitten with him in recent weeks.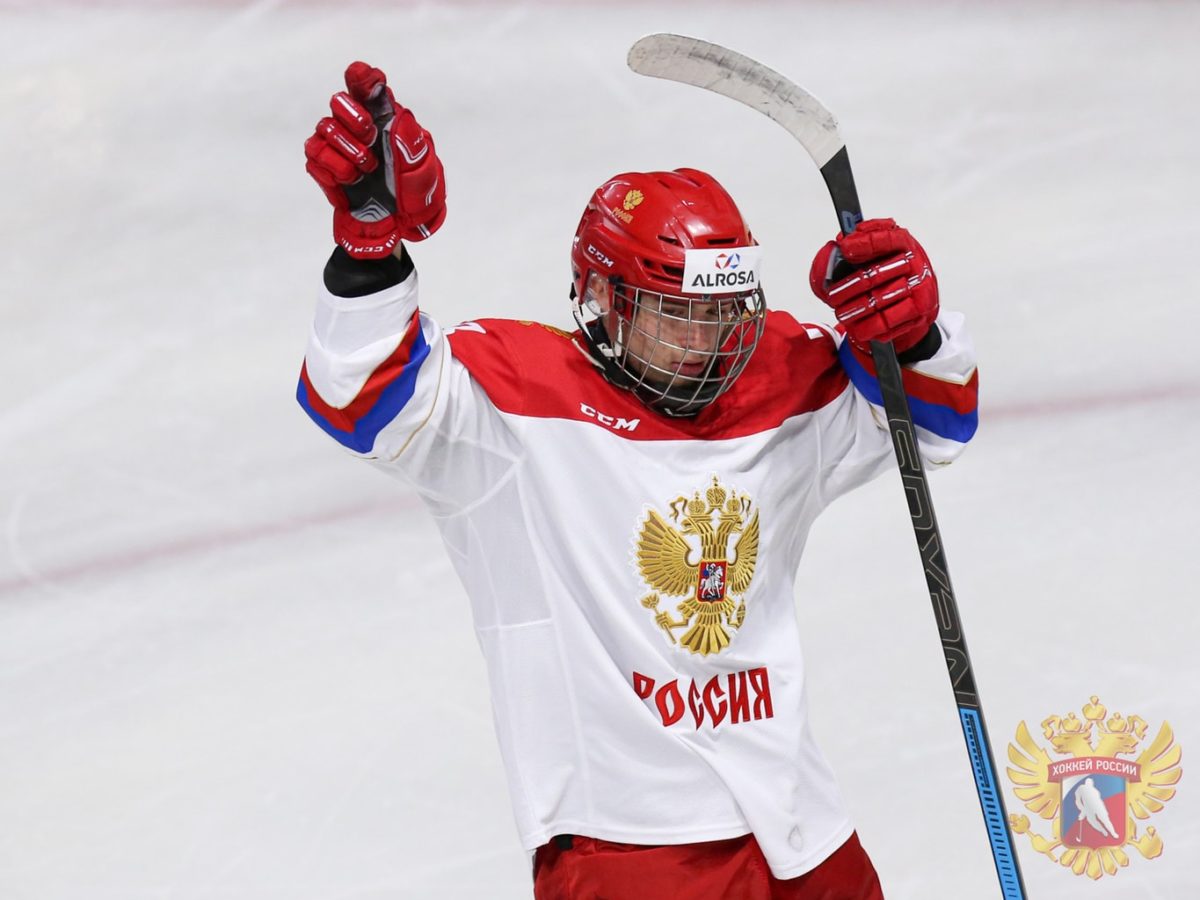 There's a certain way that Zlodeyev attacks the net that just makes you want to see what he will do next. His hand-eye coordination is at a very high level and he doesn't think the game like a lot of players. He is very creative with the ways to get the puck past goaltenders. He is always in front of goaltenders while on the powerplay and tries to get his stick on everything.
THW's own Mathieu Sheridan praised his skating, great vision, and deceptive shot as well as his intense two-way game. Faceoffs have also been tagged as a strength of his too, so it's kind of surprising to see that he was still available in the sixth round. His lack of aggression and willingness to battle along the boards could be a reason for it, but that can be developed over time, especially as he matures physically. He reminds me of another sixth-round steal in Pavel Datsyuk, but that could be a lofty expectation given he had 918 points in the NHL and was considered one of the best two-way forwards in the game.
Related: The Best Late Round NHL Draft Picks
Even if he does not meet that expectation, Zlodeyev could still become a Selke Award winner and an all-around pivot that plays in all situations. He probably will be the first player his coach thinks of when protecting a lead as well. All this sounds like a dream prospect in the sixth round. Hopefully, he can translate that game to the NHL and become another piece to the puzzle that is the Stanley Cup contender the Canucks want to become.
Zlodeyev is ripping up the VHL right now playing for Dynamo Krasnogorsk. He has four goals and eight points in 10 games and doesn't show any signs of slowing down. It will be interesting to see if he can continue that torrid pace as the season continues.
Team Russia has already seen Zlodeyev's potential and will join fellow Canucks prospect Vasili Podkolzin as a callup for the upcoming 2020-21 Euro Hockey Tour. He could also be in the mix for the World Juniors squad, which would be a massive coup for a sixth-round pick. Needless to say, he will continue to be one to watch in the coming months.
D Viktor Persson
Acquired: Seventh Round (191st overall)
2019-20 Stats: Brynas IF J20 (J20 SuperElit) – 26 GP – 5 G – 13 A – 18 PTS
2020-21 Stats: Brynas IF J20 (J20 Nationell) – 13 GP – 4 G – 4 A – 8 PTS
Viktor Persson is on quite a roll to start the 2020-21 season putting up eight points in 13 games so far with Brynas IF. As a defenceman, that is pretty good production, considering he only put up five goals all of last season. That must be music to the ears of the Kamloops Blazers' coaching staff because if the Western Hockey League starts on time in January, he probably will be joining them for the start of their 2020-21 season.
Continuing the trend of selecting mobile defencemen, the Canucks selected the right-handed Persson in the seventh round and if all goes to plan, he could become yet another Swedish defenceman to play with the Orca on his chest. He plays a similar game to Alex Edler and Mattias Ohlund, as he plays a physical game on the blueline and has great vision coming out of his own zone.
At 6-foot-2 and 192 pounds, he definitely has the size to compete in the NHL. He's similar to Edler in size and stature, albeit two inches shorter, and he also will be joining a junior team in the BC Interior. When Edler came over from Sweden, he played for the Kelowna Rockets and posted 13 goals and 53 points in 62 games after being selected 58th overall in the CHL Import Draft. After being selected 56th overall himself, Persson will join the Blazers in January and could see similar success. He plays almost the same type of game as Edler and looks tailor-made for the WHL's ultra-competitive NHL style of game.
Persson has hit the ground running in 2020-21, can he continue that same success in the WHL with the Blazers and eventually the NHL with the Canucks?
Canucks Continue To Get Value in the Late Rounds of the Draft
The Canucks are being led right now by some exceptional first-round talent in Elias Pettersson, Quinn Hughes, Brock Boeser, and Bo Horvat. Though to have continued success in the NHL, you have to be able to find some value in the later rounds of the draft. Ideally, the Canucks will not be selecting in the top half for the foreseeable future, so it will be up to the scouts to find more and more gems beyond the second round.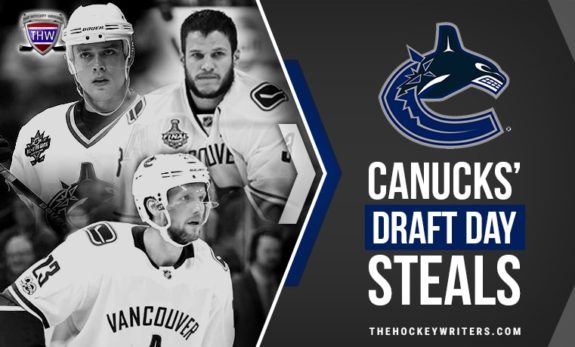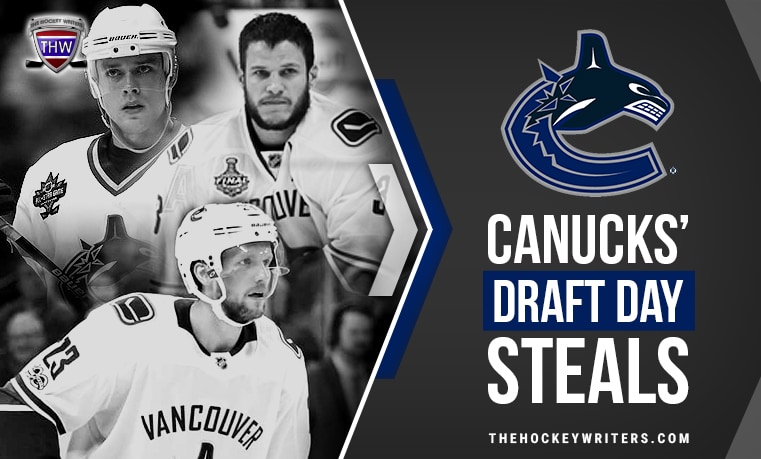 The last two drafts have unearthed some diamonds in the rough with Jack Rathbone, Arvid Costmar, and Carson Focht leading the way. The 2020 Draft saw even more additions with Zlodeyev, Persson, and Jurmo joining the club. If the Canucks can continue that same trend in future drafts, they should have a solid group of prospects to draw from to become and remain a Stanley Cup contender for years to come.
---
---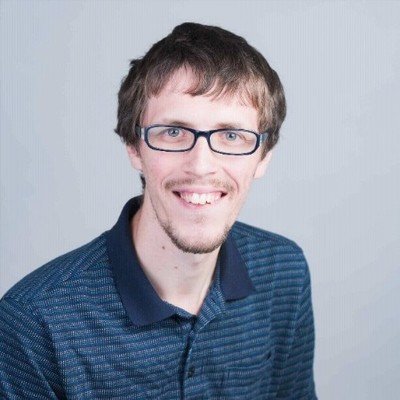 Matthew Zator is the assistant managing editor at THW and a writer who lives and breathes Vancouver Canucks hockey, the NHL Draft, and prospects in general. He loves talking about young players and their potential. Matthew is a must-read for Canucks fans and fans of the NHL Draft and its prospects. For interview requests or content information, you can follow Matthew through his social media accounts which are listed under his photo at the conclusion of articles like this one about Tyler Motte.
Matthew also co-hosts The Hockey Writers Prospect Corner on YouTube.